One of the greatest goaltenders in both OUA and U SPORTS play during the 2010s, a decade that saw an amazing gathering of talent that redefined the phenomenal quality of competition, Valerie Lamenta emerged as a highly celebrated figure that propelled the University of Guelph Gryphons to greater heights. Amassing a superlative career in Gryphons colours bookended by the Brodrick Trophy and the Golden Path Trophy, the native of Montreal, and Mechanical Engineering major, was destined to extend her brilliance between the pipes into the professional ranks.
Considering that the province of Quebec is celebrated for producing some of the nation's finest goaltenders, male and female, for more than a generation, Lamenta definitely established herself as most worthy of consideration in this conversation. Undeniably, a goaltender of her superlative stature, including a pair of All-Canadian honors with Guelph, would have been a top prospect had the CWHL remained in operations for the 2019-20 season.
Instead, Lamenta would bring her brilliance overseas, emerging as one of the EWHL's most prized acquisitions, a tremendous boon for her new club team, Kanadai Magyar Hokiklub (KMH) Budapest. By season's end, Lamenta's presence was literally a "game changer", best defined by an impressive 11 shutouts.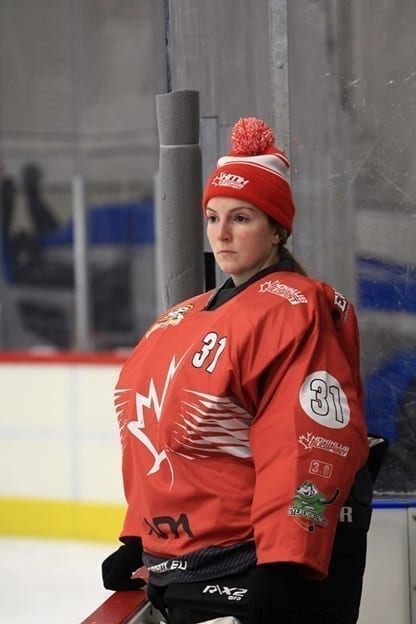 KMH BUDAPEST
Emerging as a key contributor for a KMH club that enjoyed the celebrated milestone of the "Master Three", attaining the OB1, EWHL and Superleague titles, it represented an unprecedented first in franchise history. Certainly, this triumvirate of unique victories marked an achievement that affirmed Lamenta's brilliance as a world-class goaltender.
Displaying tremendous dependability throughout the season, the path towards the Master Three was one that included a defining moment in Lamenta's inaugural season with KMH. As a SuperCup affair versus ESC Planegg would see the championship determined via shootout, a KMH team decimated by injuries, battling back with character to tie the game at three goals apiece, Lamenta's poise was critical in such a highly emotional triumph.
Fittingly, EWHL postseason play also saw Lamenta pace all backstops with a minuscule 0.50 Goals against Average (GAA), along with a superlative .980 save percentage. Ending the season versus MAC Budapest for the EWHL championship, marking the first time that two teams from Budapest faced off in the Finals, a hard-fought yet highly exhilarating 2-1 win marked the crowning touch for a jubilant Lamenta.
In discussing such a landmark season, Lamenta also reveals an admirable candor. From the outset, the transition to the professional ranks entailed a degree of adjustment. Certainly, the use of a different dialect represented a key facet upon her arrival in Hungary, the presence of teammates proved to be essential towards establishing a degree of comfort. Akin to when Lamenta relocated from Montreal to Guelph, Ontario to pursue her competitive endeavours, the spirit of teamwork overcomes any initial obstacles.
"I would say the biggest adjustment was definitely moving to a foreign country. I did not know much about Hungary before arriving and the Hungarian language was very different from anything that I had been exposed to. Joining a team, however, always makes the transition less daunting. As was the case with my university career, I was welcomed by my teammates and able to get to work immediately.
Coming from the Guelph women's hockey program, I was used to being a part of a hard-working and disciplined environment. This was exactly the mindset that I brought overseas with me. Finding motivation and drive is never hard when your full-time job is being a professional hockey player! It was, in many ways, a dream come true for me."
GUELPH GRYPHONS IN BUDAPEST
Enriching such a fascinating time for Lamenta was the fact that the Guelph influence was a highly strong one on the KMH roster. Worth noting, the gregarious goaltender was surrounded by a fantastic group of familiar faces from her halcyon days in the paraphernalia of the Guelph Gryphons. In addition to Averi Nooren, the Gryphons leading scorer in her senior season with 25 points, and a current member of the Hungarian national team, the presence of Stephanie Nehring, who finished with the top Save Percentage in the EWHL, and Kaitlin Lowy held very strong emotions, rekindling fond memories of one of the greatest chapters in her competitive careers.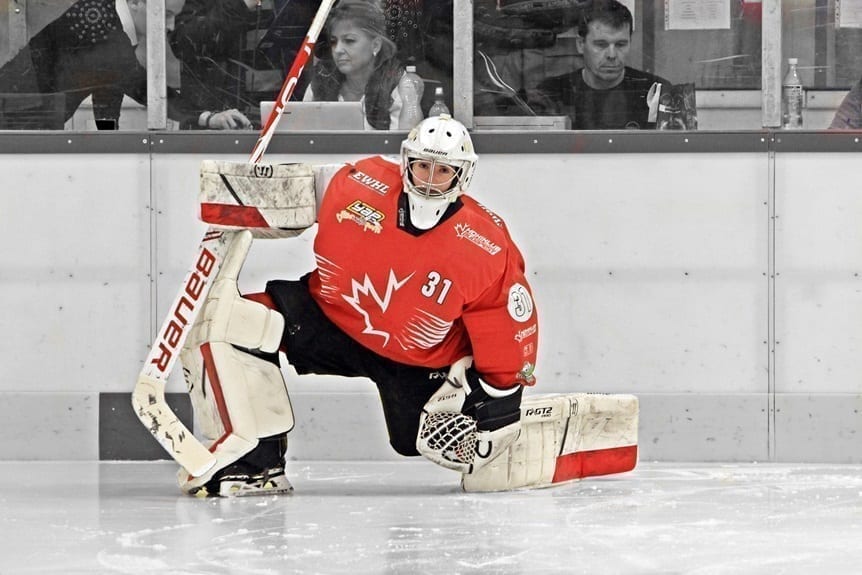 From the outset, Nehring, a Whitby Wolves alum raised in Oshawa, Ontario, had been the first goaltending partner of Lamenta upon her arrival in Guelph. Along with Jessica Pinkerton, another Oshawa product who both skated for the Wolves, and attended Paul Dwyer High School, both were essential in heralding an era of greatness for the program.
Assembling a career that involved 71 appearances between the pipes for Guelph, highlighted by 2012 and 2014 OUA Second Team All-Star honors, plus the team's Rookie of the Year Award for 2011-12, Nehring led the Gryphons to the McCaw Cup Finals in 2015, also participating in that year's National Championship Tournament. In her final season (2015-16), which resulted in a passing of the torch, as Lamenta became the starting goaltender, leading U SPORTS with a 0.99 Goals Against Average, Nehring managed a solid 5-1 mark, her last appearance coming on Valentine's Day 2016, recording 18 saves in a 5-4 overtime win versus the Nipissing Lakers.
Joining KMH in the autumn of 2017, a roster which featured Nooren, plus former rival Stacey Scott, who skated for the University of Ontario Mustangs, Nehring shared goaltending duties with Aniko Nemeth, a member of Hungary's national team. Leading all goaltenders in appearances and GAA during her inaugural season with KMH, while Nooren ranked second in team scoring, she has proven to be a capable competitor for the franchise, her career totals include 19 appearances and a pair of playoff games.
Lowy, the team captain in 2018-19 called Lamenta a teammate in every one of her Gryphons seasons, both contributing towards the greatest era in program lore. This distinguished duo are forever intertwined in Gryphons sporting lore for their heroics in the Golden Path Trophy victory versus the McGill Martlets in spring 2019, the greatest game in program history. With Lamenta recording 20 saves, Lowy scored the game-winning goal in a legendary 1-0 shutout victory, clinching the program's first-ever national championship.
While it is a very rare achievement in any sport for an athlete to close out their collegiate career with a championship, then follow it up in their first season as a professional with another title, it is rarer still to achieve this alongside a former collegiate teammate. The chance to achieve this alongside a highly dedicated and character player such as Lowy only served to enhance their legend as Gryphons, resulting in an exciting series of new milestones.
Serendipitously, Lamenta would play a key role in a superlative performance by Lowy. Challenging the Kärnten (KEHV) Lakers two weeks before Christmas Eve 2019, a 6-0 victory saw Lowy assemble one of the season's best goal scoring outputs, placing her name on the score sheet four times, including on the power play and in a short-handed situation. With 24 saves for the shutout, it marked an early Holiday gift for Lowy and Lamenta, extending their proud Gryphons legacies.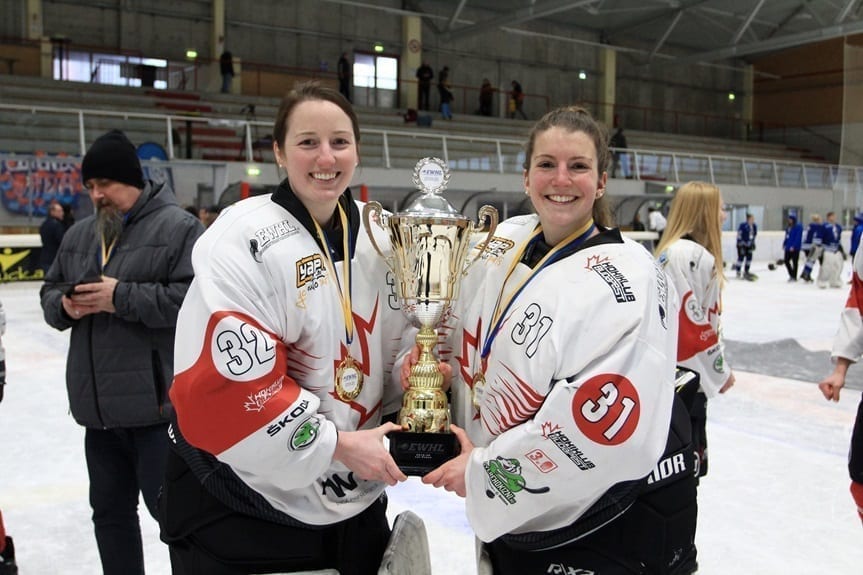 "I cannot say enough how happy it made me to be able to share this experience with two of the greatest teammates! Kaitlin is an eternal competitor and her desire to win is so contagious. Steph was an instrumental mentor for me at Guelph and the most selfless person I know.
To top it all off, they are both incredible hockey players! I knew that having them around every day would make me a better player and person. I am so thankful that Steph and Averi paved the way for Kaitlin and I to join KMH Budapest.
Our team was comprised of a seasoned group of Hungarian players and a few Canadian imports. Most of my Hungarian teammates had been a part of the KMH organization for many years. They made it very clear that the sole objective was to win it all this year.
Throughout the season we refused to accept failure, even when faced with many injuries. All of our hard work amounted to us winning our third and final championship game on March 1st, 2020. What truly made this season remarkable was that, amidst the victories and the successes, a true sense of camaraderie had blossomed within our group.
We all came from different places, spoke different languages and had varied hockey backgrounds, but we learned so much from each other and emerged as a stronger cohesive unit."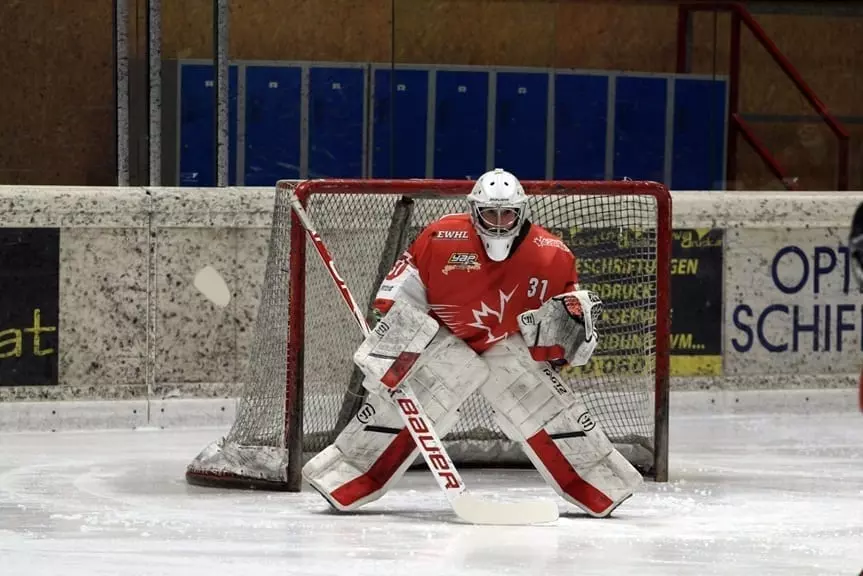 PRO HOCKEY IN HUNGARY
As meaningful as the victories and championships were, reflections on the previous season are those that see Lamenta appreciate a much broader narrative. From the highly positive experience of living in another part of the world, absorbing its unique customs and enjoying its historic sights, the cultural enlightenment added to such a fascinating narrative.
Undeniably, from a hockey perspective, Lamenta transformed KMH into an essential facet of the athletic landscape, bringing a sense of relevance and respect that comes with a dream season defined by the magnificent Master Three. Employing tremendous proficiency guarding KMH's crease, her amazing body of work in 2019-20 involved more than just her team-first approach and appreciation of the game. Quick to recognize how the female competitors in Hungary have taken on a trail blazing persona, building the game domestically and becoming relevant figures in the nation's athletic conversation, such a show of class is testament to what makes the highly gracious Lamenta such a treasured role model and a commendable ambassador for the game.
"What is there not to love about exploring the world while playing your favourite sport professionally? The most memorable part of my experience in Budapest is definitely the people I met along the way. I created many amazing memories with old and new friends alike. I also gained so much respect and admiration for my Hungarian teammates.
These athletes truly built women's hockey from the ground up in Hungary. They are constantly improving the game for younger generations to come. They are trailblazers in their country and I consider myself lucky to have shared the ice with them!"
"All quotes obtained first hand unless otherwise indicated"
Featured image by Viktor Somogyi
Related Articles