Among the finest forwards to have worn the iconic red, black and yellow colors of the Guelph Gryphons, Kaitlin Lowy holds a cherished place among the program's immortals. Scoring the goal that won the Golden Path Trophy at the 2019 U SPORTS nationals, the feat instantly transformed Lowy, the fifth-year senior, who also served commendably as Gryphons team captain into an elite prospect for the professional ranks.
Building on her amazing university legacy, Lowy, a three-time Ontario University Athletics (OUA) All-Star, amassing a sparkling 102 career points, highlighted by 53 goals, in the Gryphons paraphernalia, decided to cross the Atlantic in order to pursue her hockey pursuits. Signing with Kanadai Magyar Hokiklub (KMH) Budapest in Hungary on August 14, 2019, Lowy emerged as one of their premier off-season acquisitions.
🔴 ⚫️ GRYPHIE NOMINEE #4 & WINNER: for Top Gryphon Moment of the Year
'Hockey History' 🎥 ⬇️ pic.twitter.com/puTRQbjEuo

— Guelph Gryphons (@guelph_gryphons) March 29, 2019
This major milestone in Lowy's hockey odyssey brought with it, understandably, the obligatory aspect of change, an inevitable rite of passage for anyone making the leap to the pros. Moving from her traditional residence in the Greater Toronto Area (GTA) to play in Budapest, the capital city of Hungary, also the ninth largest city in the European Union, Lowy acknowledged that there was certainly an aspect of adjustment involved, especially from a cultural perspective.
Rituals such as shopping, or the use of currency, which in Hungary is known as the Forint, of which 1 Forint is worth roughly 0.0045 Canadian dollars, presented a new way of life. Lowy graciously recognized the kind support from her encouraging teammates in developing social familiarity, truly testament to the essence of teamwork that helped to define the proud organizational culture.
"Moving abroad was definitely a huge adjustment. Everything was different from what I was used to. Navigating the grocery store and understanding the currency was so tough at first but my teammates made the transition much smoother than I expected."
Becoming the latest in a growing legacy of highly talented Canadians making their mark professionally in Europe, there was no shortage of Canadian cultivated stars extending their competitive endeavors as members of the KMH Budapest roster. Playing on the blueline, Sarah Knee, who also grew up in the GTA, previously skated for the Ivy League's Cornell Big Red, while Sarah Steele, raised in Prince Edward Island and an alum of Canada's Under-18 national women's team, graduated from the Boston University Terriers in 2017.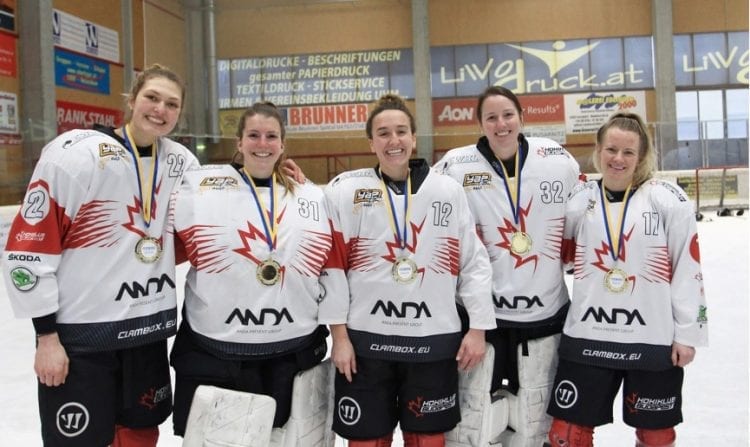 Such an intriguing legacy for Lowy was one enhanced by the unique facet which saw a number of Gryphons alumnae also excel abroad with KMH Budapest. Having called the following as teammates during Lowy's glorious time in Guelph, Stephanie Nehring, a two-time OUA Second Team All-Star and Averi Nooren, who has also skated for the Hungarian national team, there was another celebrated Gryphons garbed in KMH colors.
Former Brodrick Trophy winner Valerie Lamenta had played with Lowy on the Gryphons 2019 U SPORTS National Championship team. Undeniably, the chance for such program luminaries to be teammates professionally in 2019-20 brought a feeling of familiarity and extended celebration to Lowy's inaugural season gracing the ice in Budapest.
"A big reason I decided to play for KMH Budapest was because of my Gryphon ties. We had such great chemistry and friendships as Guelph teammates so I jumped at the opportunity to recreate that in Budapest. We were so comfortable playing together and we got back to our winning ways immediately."
Assembling a very remarkable rookie campaign, Lowy, wearing the number 12, delivered on all accounts. Ranking third on the team in scoring with a superlative 28 points, appearing in only 17 games, complemented by a plus/minus rating of +25, such an overall effort established the highly affable forward as more than just an offensive catalyst.
Essential for a club that was decimated by the losses of Anikó Németh, Bernadett Németh and Alexandra Rónai, also members of the Hungarian national team, while Tifani Horváth was inactive for the 2019-20 season due to maternity leave, Lowy alleviated the feeling of loss. Quickly establishing herself as an impact player, a 4-2 win versus league rival MAC Budapest resulted in a crucial goal. At the 21-minute mark of the game, Lowy's goal, assisted by fellow Canadian Sarah Steele, saw KMH enjoy its first lead of the game, enjoying a 2-1 advantage. Further goals were scored by Jókai Szilágyi and Petra Szamosfalvi, while Alexandra Huszák assisted on both goals.
In EWHL play, Lowy enjoyed numerous highlights, including one of the greatest performances of her career. Contributing an astounding four goals in a 6-0 triumph over the Kärnten (KEHV) Lakers on December 10, 2019, she scored on the power play, shorthanded and on even strength. Worth noting, Steele would assist on Lowy's third goal.
Previous to the dazzling showing versus KEHV, a highly impressive 15-0 whitewash of Olimpija Ljubljana on October 27, 2019 brought with it another memorable performance. Setting a season high for most goals scored among the EWHL's competing teams, the victory was made sweeter by the fact that Gryphon alumnus Nehring earned the shutout. Fittingly, Lowy was one of two KMH forwards that recorded a hat trick, joined by Alexandra Huszák.
🏒 Congrats to our 4️⃣ former Gryphon women's hockey players (Val Lamenta, Kaitlin Lowy, Averi Nooren & Steph Nehring) who recently won a European championship (EWHL) with KMH Budapest! 🏆 #GryphonPride @UofGAlumni pic.twitter.com/zCf3OKtZwR

— Guelph Gryphons (@guelph_gryphons) December 4, 2019
Perhaps the most compelling element of such a sensational season was the fact that Lowy did not allow herself to be consumed by the statistical numbers, one which can add tremendous pressure to any player. Instead, Lowy's first season of professional hockey was one where she approached the unfolding narrative with a willingness to learn while finding admiration in her teammates, finding focus on team accomplishments rather than individual achievements.
"I did not pay much attention to stats this year. I was on a great team that was filled with talent so I was just happy to be surrounded by great athletes. I was able to look up and down the bench and find so many people that were capable of scoring a key goal or making a game saving play. It was a great learning experience to play with so many talented players."
Reflecting on a season that was one of the greatest in KMH Budapest history, Lowy an essential member of the roster, there were many moments destined to be cherished. The one which captured her imagination actually took place early in the season. With numerous tournaments throughout the season, the month of November culminated with the club participating in the Supercup event.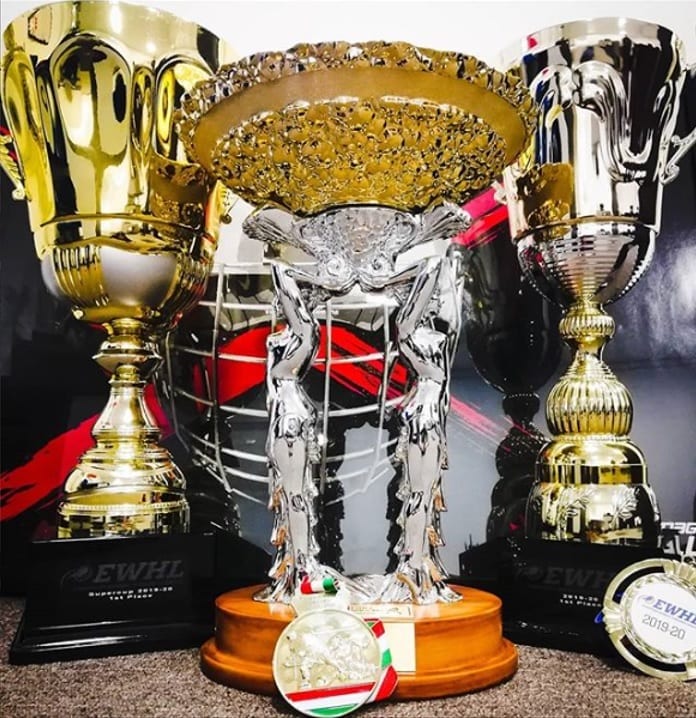 As Lowy recalls, a club, whose biggest obstacle may have been playing through the pain sustained from numerous injuries, which befell the skaters, a character performance entailed the Final to decide the Supercup Championship. Adding to the stakes of this match was the fact that the contest versus ESC Planegg required a shootout to determine the victory. Battling back to tie the game at 3-all, perhaps the most lasting impression of the outcome for a jubilant Lowy was attributed to the fact that a fellow Gryphons alumnae was crucial in victory,
"My favourite moment has to be the Supercup championship that we won at the end of November. Our team was playing with a bunch of injuries and we battled back to tie the championship game in the final seconds. We went on the win in a shootout thanks to a familiar hero, Val Lamenta. It was such a thrill clawing back into the game and then to watch the great players on our team take over and win it for us."
By season's end, KMH Budapest amassed an impressive triple crown of championships; Supercup, OB1 Hungarian League and the EWHL championships. Worth noting, the EWHL Championship marked the first time ever two teams from Hungary clashed for the gold medal as KMH defeated MAC Budapest. Such a sensational string of achievements allowed Lowy the unique privilege of championships in back-to-back seasons; ending her university career with the prestige of the Golden Path Trophy, while the start of her professional journey allowed for the chance to skate for a number of coveted prizes, resulting in an absolutely superlative haul of hockey hardware.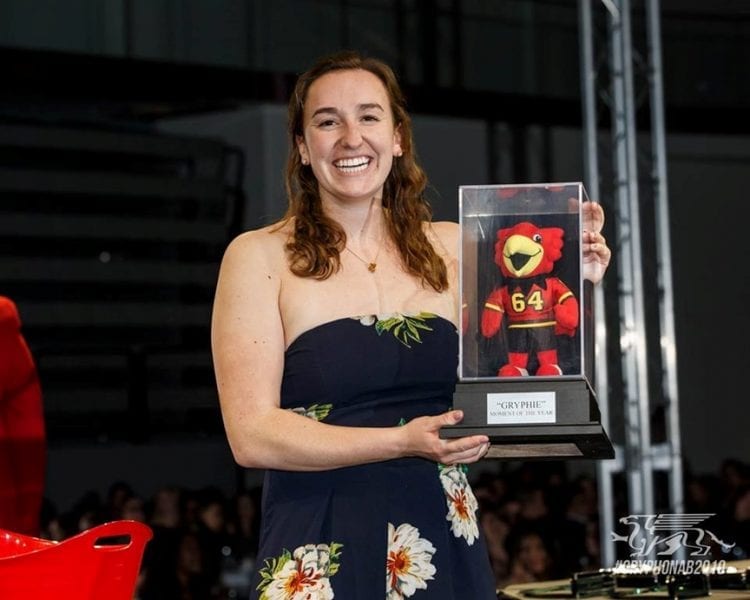 Stirring euphoric emotions in Lowy, remembering the jubilation of ending the previous season, one forever defined by a highly emotional and hard-fought U SPORTS national championship win, the first in the history of the University of Guelph Gryphons' women's ice hockey program. Defeating the dynastic McGill Martlets, followed by a tremendous personal honour, winning the University of Guelph's Gryphie Award for Best Sports Moment of 2019, a crowning touch to such a brilliant university career, its meaning retains a treasured meaning of legacy for a proud Lowy, who continues to accomplish greatness on the frozen perimeter.
"The impact of winning the (2019) National Title continues to grow on me. I am constantly looking back on videos and articles from our championship and feeling the same chills and excitement every time. As time goes on, I grow more love for the championship and the team that it took to pull it off. We were a special group, I know it's cliché but it is the truth. We needed that to win."
"All quotes obtained first hand unless otherwise indicated"
Featured image: L-R: Valerie Lamenta, Kaitlin Lowy, Averi Nooren and Stephanie Nehring
Related Articles