Raised in the Greater Toronto Area, York University Alumni Mark Staffieri, upholds arguably one of the most astonishing writing portfolios in the sports industry. Mark joined Women's Hockey Life (WHL) in 2012, and has recently surpassed 1000 article publications for WHL. His focus covers a wide spectrum, including university, professional and international hockey. However, his kind heart and genuine passion for sharing the untold stories of others, make him the accomplished and artistic writer that he is today.
A Master Editor on Wikipedia since 2007, and a publisher for a blog featuring custom hockey cards. Mark's writing endeavor's have included writing for Bleacher Report (2012-13), and the former CWHL (2012-15), and the Canadian division of the Legends Football League (2013-14). Also part of the team of writers for Hockey Canada at the 2013 IIHF Women's World Championships in Ottawa, Mark contributed features on Jenny Harss, Elin Holmlov, Iya Gavrilova, Kathleen Kauth, Lucie Povova, Alex Rigsby, Julia and Stephanie Marty, and Katie Weatherston, among others. In addition, Mark has covered female tackle football for Canada Football Chat, along with pieces for NowVIZ Magazine (digital format) since its inaugural issue. Also the publisher of allowhertoplay, a website devoted to the heroics of sporting heroines, Mark remains focused on raising awareness of the positive impact of women in sport.
"Writing for Women's Hockey Life (WHL) actually proved to be part of a much bigger story. Things mushroomed rather quickly in 2012 as I began to cover women's ice hockey for Bleacher Report, followed by recruitment with the CWHL's writing team." said Staffieri.
"A key element in cultivating the confidence to write on such a grander scale emanated from experience with Wikipedia, which represented my first online experience with regards to women's ice hockey.
At the time, it was still a struggle to find significant content online about the female game. Not only did Wikipedia present an opportunity to bring about positive change, working within their guidelines also helped to refine my style.
Having also provided content for an online sports encyclopedia, Ice Hockey Wiki, I was adding content to pages about the Boston Blades players. In conducting an online search about Blades charter member Jaclyn Hawkins, WHL was among the first search results.
When I first browsed through WHL, I was equally surprised and inspired that Jaclyn was the founder. Reading her biography on the site, the combination of enthusiasm and entrepreneurial spirit stood out very quickly.
After reaching out, I was immediately impressed by how cordial she was. Although the initial agreement was for one article per month, finding so much encouragement in her positive attitude, the amount of content gradually increased."
Mark's most enjoyable writing moments feature athletes who's sportsmanship and leadership qualities go beyond the rink with a focus on making a positive difference and impact in their communities. "These are the athletes that not only deserve to be written about, but athletes that the readers must know about," says Mark.
"A fundamental approach to my work actually dates back to when I first wrote for the CWHL. At the time, a key initiative from Editorial was to focus on non-Olympic players. It remains a philosophy that I find essential in my own approach. There is so much exceptional talent at all levels of the game.
In addition, the remarkable athletes who manage to balance competition, academics and volunteer work is truly amazing. Throughout the seasons, I have been exceptionally proud to write about the U Sports Marion Hillard Award winners and the respective finalists.
Having also been able to occasionally compose features about Hockey Humanitarian Award nominees and PHF Foundation Award recipients adds a remarkable sense of joy and reward. These are athletes that not only deserve to be written about, but athletes that the readers must know about."
On top of composing features for Women's Hockey Life, Mark, is an avid baseball fan and supporter of the Blue Jays. Therefore, it was no surprise to us when Mark stated that some of his favourite, and most memorable interviews are his articles that include hockey and baseball in collaboration with one another.
"As a lifelong baseball fan, anytime that I have been able to write about women's ice hockey crossing over into that realm is highly enjoyable. Interviews with Autumn Mills, Ashley Stephenson and Madison Willan, all accomplished players that have also worn the Maple Leaf on the diamond were highlights.
Recently communicating with members of the Toronto Six attending Rogers Centre for a pregame ceremony with the Blue Jays was equally fun.
My all-time favorite interview involving hockey and baseball had to be Meghan Duggan. She enjoyed the opportunity to participate in the first pitch ceremony at Fenway Park on three separate occasions.
Following the 2017 IIHF Women's Worlds, where she became the first captain to lead the US to a gold medal on home soil, she was deservedly welcomed back to Fenway. I felt a great privilege in the opportunity to share her story about the most recent experience," says Staffieri.
"Concerning any articles that represented defining moments for me, there were two that definitely stood out. In 2014, when Shannon MacAulay led the Clarkson Golden Knights to the NCAA Frozen Four championship, I enjoyed an interview a few days later. At that time, it marked the first time with WHL that I was able to land an interview with such a prominent figure following a championship event.
Within a few days, the article on MacAulay reached close to 400 likes. Even the Clarkson website reposted it.
Of all the articles I had written, regardless of the website, the amount of likes was unprecedented. To see that my work had such a positive impact held a tremendous feeling of achievement. To this day, the article remains a strong point of pride, an evergreen among my numerous pieces."
The second article that remains most memorable to Mark over the years is one that represented a significant turning point.
"Throughout the first half of 2021, my focus was primarily on Wikipedia, updating many pages, while creating others. Having not written much, although external factors also held an influence, a tremendous loss affected me early in August. With the passing of my father, someone who had accompanied me at so many events, it represented a very difficult adjustment.
My mourning was compounded a few weeks later after seeing a post on social media. With an officiating camp to be held soon in honor of Jamie Huntley's life, there was a terrible feeling of shock. Before 2020 ended, I had completed an interview with her but the article was never completed. With the revelation of her unfortunate passing in a tragic automobile accident in San Diego, I felt a tremendous amount of guilt and embarrassment that the article slipped through the cracks.
In wanting to make amends and own up to the oversight, it was important to bring the article to completion as a way of paying tribute to her life, while attempting to apologize. I had reached out to Jaclyn to breach the topic of finishing the article about Huntley, which would also include quotes from her closest friends in officiating.
With compassion, Jaclyn encouraged me to proceed, graciously allowing me a platform to celebrate Huntley's life. Such kindness also provided me with a renewed purpose to write, sharpening my focus towards positive stories, celebrating great people.
Although the process brought sadness, realizing the visceral impact of a life lost far too soon, writing about such a heroic individual and reaching out to her friends proved essential in helping me deal with my own mourning. I followed it up a few months later with an article about the Elmira Soaring Eagles hosting a tribute game for Huntley.
At the time of the interview, I could never imagine the influence that Huntley would have on my own life. Although she will always have my gratitude and respect, there is no question that the game, and so many lives, would be better if she was still among us."
It's without doubt Mark has an incredible talent. However, it is his kind heart and genuine passion for sharing the untold stories of others, that make him the accomplished and brilliant writer that he is today.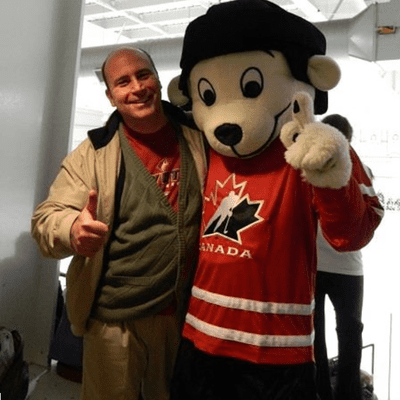 "My time working for Women's hockey Life this far, I have only spoken to Mark via email. However, every one of his messages are without a doubt my favourite to see pop up in my inbox. He always takes the time to ask me how my day or week has been before discussing anything work related. He is one of the most genuinely kind people, and I look forward to reading his articles every time a new one is submitted to our website." ~ WHL Marketing and Social Media Coordinator – Rochelle Richard.
"I am forever indebted to Mark for believing in us and what we set out to build over a decade ago. Mark has been an integral part of the success of WHL from day one. Thank you Mark for choosing to join our family and highlighting the amazing people in our game." ~ WHL President and Founder – Jaclyn Hawkins
While speaking with Mark about his recent accomplishment of writing 1000 plus article for WHL, we asked him, "What do you hope to accomplish moving forward?" His response was as follows:
"As I am going to be 50 in a couple of years' time, my goal is just trying to enjoy my life. At this point, time is too precious to worry about popularity or expectations that are impossible to attain.
My secret to 11 wonderful years with WHL has revolved around a genuine sincerity and appreciation for the game. Certainly, so many of the great players and events that I have covered throughout this time span were unforeseen.
The thought of putting to pen to paper with regards to inspiring players from unlikely hockey locales as India and Israel, two different pro championship teams from Boston invited to Fenway Park, or hockey players excelling as two sport stars in baseball were all unfathomable. Together, it weaves a fascinating narrative, allowing the readers to reach all corners of the game.
Certainly, my biggest priority in terms of writing is to keep striving for positivity, maintaining a focus on bringing stories that celebrate the game, rather than dwell in controversy. If there is one accomplishment for the future, it would certainly be a collective one, as I hope to see women in hockey, basketball, soccer and softball enjoy a living wage in profitable leagues."
Thank you Mark for being a part of the Women's Hockey Life family these past 11 years and for contributing towards raising awareness of the positive impact of women in sport. Congratulations to you and your outstanding achievements throughout the years!
"All quotes obtained first hand unless otherwise indicated"
–
Read more about Mark or connect with him HERE.
–
Mark's six most recently published articles:
Carabins star forward Audrey-Anne Veillette shines for Canada in dream season
Eventful season for celebrated Bobcats captain Zoe Boyd
Theresa Schafzahl shines for Vermont with offensive brilliance
Amy Budde brings great qualities to Buffalo Beauts
Magic of the game captured through the lens of Lori Bolliger (Part Two)
Magic of the game captured through the lens of Lori Bolliger (Part One)
In this article:
#Awards
,
#HockeyWriter
,
#IIHF
,
#NCAA
,
#PHF
,
#ProfessionalWomensHockey
,
#ProHockey
,
#PWHPA
,
#UniversityHockey
,
#USports
,
#WomenInSport
,
#Womenshockey
,
#WomensWorlds
,
grow the game
,
Hockey
Related Articles