Having enjoyed a brilliant career with the McGill Martlets, one of the most iconic and legendary programs in Canadian university hockey, Christiana (Chrissy) Colizza continued a proud lineage of wondrous women representing strong leadership and character. Earning the RSEQ Award for Leadership and Community Service, a fitting honour for the graduate student, her career is one filled with many impressive accolades.
The first Martlets skater to win the Leadership Award since former teammate Emilia Cotter was bestowed the honour in 2020, Colizza, raised in Sault Ste Marie, Ontario, also served as President of the Varsity Council at McGill Council, representing one of the most rewarding experiences at the university. Cotter, also the recipient of the 2020 Marion Hillard Award, was involved with Special Olympics, served as the roster's liaison for Bell Let's Talk and worked on numerous Martlet themed fundraisers including Shoot for the Cure and the Shoebox Project Fundraiser. Serving as a role model for Colizza, her tremendous efforts, including her efforts on this season's edition of the Shoebox Project, served as tribute to Cotter's highly positive influence.
"As a leader, I aimed to inspire and support my teammates to achieve great things both on and off the ice. Finally, to me being a leader is about recognizing that we are all part of a team and working towards a common goal. While at McGill, I tried to create a positive and supportive environment where everyone felt valued and respected, recognizing that we all have different strengths and weaknesses.
One of my former captains, Emilia Cotter, truly embodied this and was what I tried to emulate when I got my chance to lead the team and McGill's varsity community. Emilia was and still is one of the most selfless individuals I know and always went above and beyond to ensure everyone felt valued and respected. While she left big shoes to fill, I tried my best to carry on her legacy here at McGill.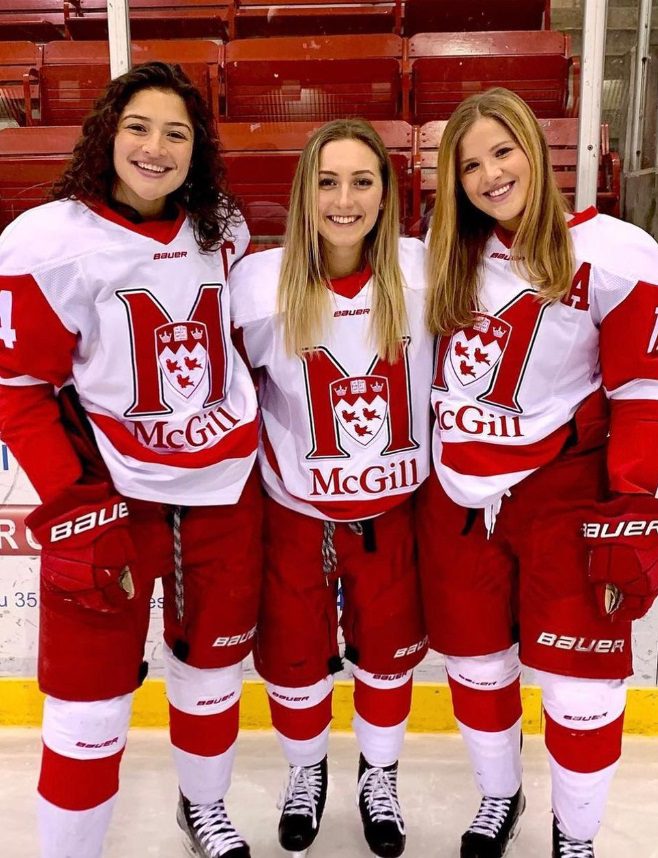 I was truly honored when I found out that I won the RSEQ Leadership Award. After being a part of the RSEQ league for 6 years, it was such a great feeling to be recognized for my contributions to the league. Throughout my time in the league, I would have met so many incredible athletes who not only work hard on the ice and in the classroom but also in the community.
Being surrounded by those types of people really motivated me to continue to lead and inspire others to make positive changes in my community as well. I know there were many other deserving players, but nonetheless, I could not be more honored to have been chosen for this award.
Through volunteering, I have had the opportunity to work on various community outreach projects that have allowed me to impact others positively. Whether it was through donating my time, skills, or resources, volunteering has provided me with a sense of fulfillment and purpose.
Out of all my volunteering experiences, being the Varsity Council President was the most fulfilling. It allowed me to use my platform to connect with athletes and get to know them as more than just athletes. And I must say, I have met so many truly amazing individuals. Aside from that, serving as Varsity Council President has also allowed me to organize events that brought together the greater McGill and Montreal communities."
Part of a rare group to have belonged to the Martlets roster for six years, it was a privilege not taken for granted. As the pandemic caused an unfortunate cancellation of one season, the time employed for reflection provided a philosophical approach and an even more positive outlook on life. Approaching it as one more year to build on her body of work giving back to the community, the level of enthusiasm and enjoyment resulted in a season to remember.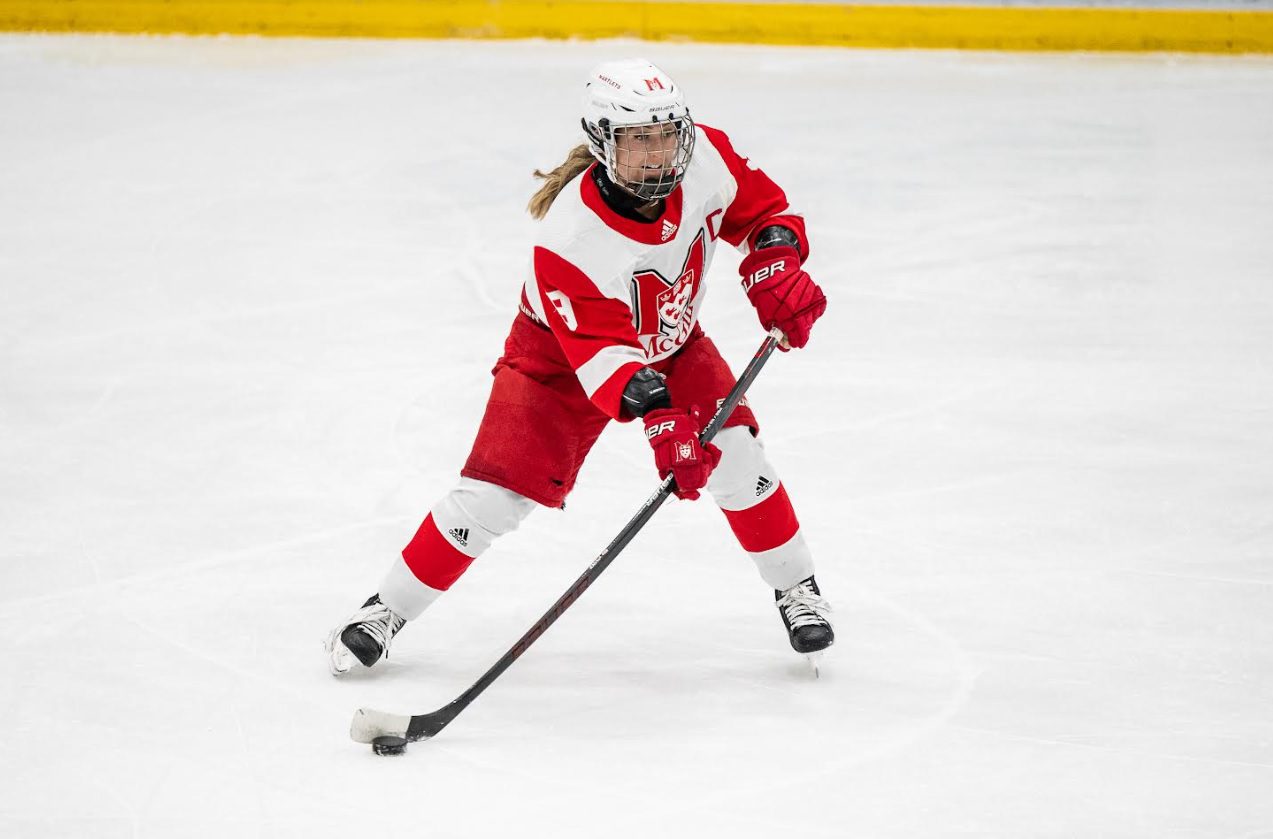 "I just completed my sixth year of hockey at McGill because COVID-19 cancelled one of my seasons, and so I saw this year as a bonus year and an opportunity to help as many people as possible while I still had my hockey platform. During COVID, I had a lot of time to reflect on the fact that I was nearing the end of my career. I was starting to face the scary reality of getting one year closer to being a 'regular person'; so I entered this year with the mindset that I wanted to have one last chance to use my sports platform to connect with the community and to help other varsity athletes do the same.
I have been grateful to be a part of the McGill athletics community for six years. During that time, I have been a part of so many amazing initiatives that have allowed me to give back to the community, and I genuinely believe that it has made me a better person. Sometimes we get caught up in the rat race of life and forget to take a step back to appreciate all we have and connect with those around us meaningfully, and sport allows us to do more of that.
Sports have the incredible ability to bring people together and connect us in truly meaningful ways. Whether competing on the ice, cheering from the sidelines, or just sitting around the dressing room together getting ready, sports provide a common ground for people of all ages, backgrounds, and walks of life to come together and share a sense of camaraderie and community.
Through sports, we learn to work together towards a common goal, to respect and appreciate each other's differences, and to push ourselves beyond our limits. We form friendships and bonds that last a lifetime, and we inspire each other to be our best selves both on and off the ice. In a world that can sometimes feel divided and disconnected, sports have the power to unite us and remind us of our shared humanity. I believe that because we get this incredible opportunity through sports, it is only right that we help others in our broader community through volunteering initiatives."
Undeniably, a highly admired student-athlete, Colizza has numerous role models, hailing from a prominent sporting family. Her great uncle, Vincent Sr. played football with the Hamilton Tiger Cats, and a cousin, Matt Uren was also drafted by the club in 2016. Another cousin also holds a sporting connection to Hamilton, as Joe Rocca played basketball in the CEBL for the Honey Badgers. Additionally, cousin Chris Thorburn played in the National Hockey League for the Atlanta Thrashers and remained with the franchise when they relocated to Winnipeg.
Worth noting, her aunt, Theresa Carriere, a former OCAA basketball champion with Fanshawe College, is also the founder of ONERUN, a 100 km run from London to Sarnia, Ontario, raising money for cancer patient care. Having survived cancer, Carriere's determined courage, participating in the 100 km run numerous times, transformed her into a beacon of hope for the community.
Through her assiduous efforts with ONERUN, the cause has raised over a million dollars. Awarded the Governor General's Meritorious Service Medal in October 2017, Carriere also holds a proud U Sports connection, serving as the Strength and Conditioning Coach for the Western Mustangs women's basketball team.
Also part of Colizza's sporting odyssey, she is also the seventh member of her celebrated family to represent McGill in varsity athletics. A distinguished dynasty in the university's sporting lore, Colizza is the first female member of her family to compete for McGill. Belonging to a lineage that includes her father Vincent Jr., joining McGill Redmen football in 1979, a pair of hockey players include uncles James, who first played at McGill in 1969, and Sam were also members of the football team
"As someone who comes from a large sports family, playing at McGill has always been a dream of mine. With six other family members having played at McGill, including my dad and uncles, I feel extremely proud to continue this great legacy. Family has always been so important to me, and being able to play at the same school as my loved ones is truly one of the greatest honours.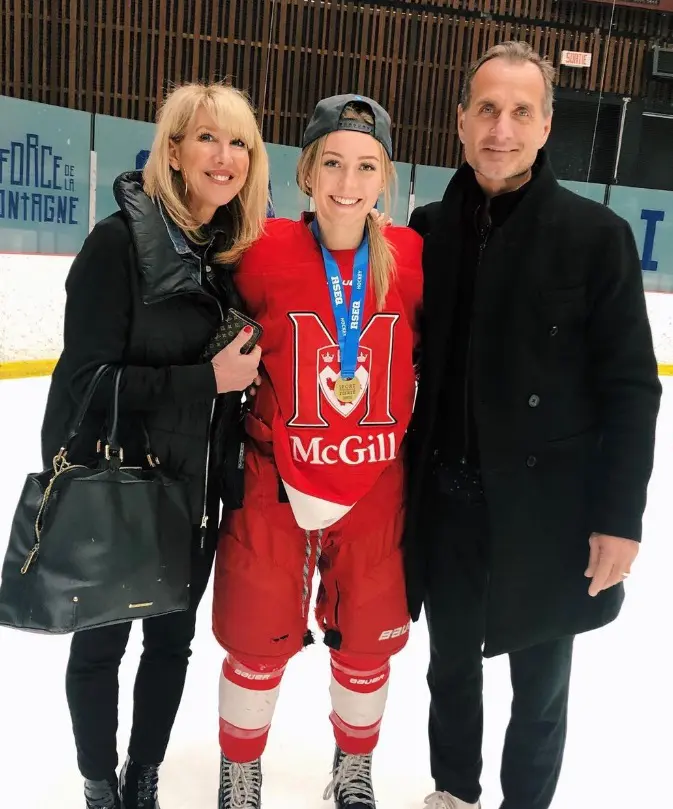 Playing hockey at McGill has given me much more than just the opportunity to continue my family's legacy. It has challenged me to push myself beyond what I thought was possible, both on and off the ice. Hockey has taught me the value of hard work, setting goals, and working together as a team. It has also given me a community of girls that I now call my best friends.
As I wrap up my time at McGill, I am grateful for the platform playing hockey here has provided me. It has allowed me to meet so many incredible people, inspire others, and develop an unmatched bond with my mom and dad. My parents are the reason that my dream turned into a reality. Although I could have easily given up many times on my journey toward being a McGill hockey player, they both pushed me and provided me with everything I could have asked for and more to succeed.
I am eternally grateful for their constant love and support. I wish I could articulate how much these past six years at McGill have meant to me and how grateful I am for everything my parents and supporters have done and continue to do for me, but words will truly never do it justice. So I will just have to leave it at that. I am beyond proud and grateful to have been a part of the McGill athletics community for six years and to have been able to continue the Colizza tradition."
–
"All quotes obtained first hand unless otherwise indicated"
In this article:
#Awards
,
#AwardWinners
,
#leadership
,
#SpecialOlympics
,
#StudentAthlete
,
#UniversityHockey
,
#USports
,
#Volunteer
,
#WomenInSport
,
#Womenshockey
,
grow the game
,
Hockey
Related Articles