As the 2022-23 season signified Chrissy Colizza's final one in the colours of the fabled McGill Martlets, a remarkable sense of momentum ensued. On the ice, Colizza, serving as team captain, assembled another solid season. Reaching the milestone of 150 career games played, the proud event taking place on January 6, 2023 versus the Carleton Ravens, she also eclipsed the 30 goal and 70 point career plateaus.
Over the last two seasons, Colizza also grew into a bigger role on offense, amassing a cumulative total of 45 points. Serving as a team captain, the responsibility is one that she accepted as a personal challenge, constantly focused on giving her team a chance to succeed, providing the younger players someone to look up to. Dedicated towards forging a strong team culture, the privilege of the captaincy also provided Colizza with a tremendous learning experience.
"As a team captain, I am responsible for setting a positive example for my teammates both on and off the ice. Through watching numerous other inspirational individuals, I have learned that true leadership is not about being the loudest voice in the room but setting an example through actions. I strive to inspire them through strong leadership, academic excellence, and community involvement.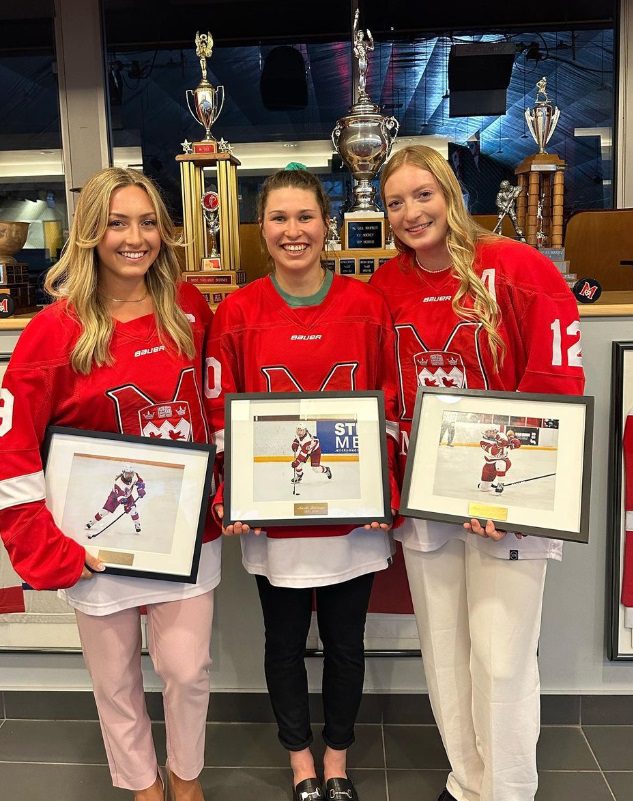 However, I have learned that leadership is more than individual achievement; it takes the form of inspiring and supporting others to be their best selves. In the context of athletics, leadership is particularly important. The sports environment can be physically and emotionally demanding, and athletes often face intense pressure to perform.
Through personal experience, I have learned that a leader must also inspire and motivate their team while providing the support and guidance necessary to help them overcome challenges and achieve their goals. I tried my best to strive to create a team culture that was resilient and supportive with empathy, compassion, and open communication."
Worth noting, Colizza's last three games with McGill, taking place from February 10 to 17 on the road versus division rivals Bishop's, Carleton and Montreal, all resulted in scoring a goal. The final game, a visceral shootout affair versus archrival, Les Carabins de Montreal, saw the Martlets put forth a very valiant effort. Facing a two-goal deficit, Colizza found the back of the net with 46 seconds remaining in the first, trimming Montreal's lead. With assists credited to Olivia Pridham and Elizabeth Mura, Colizza scored on Aube Racine for her final career goal. Fittingly, both further factored into the outcome. As Montreal gained a 3-1 advantage, Pridham earned another assist. In the third period, Mura also scored on Racine, tying the score at 3-3. In the shootout, Colizza also scored, part of a highly exhilarating game in which the effort was emblematic of her work ethic, testament to a season that ended as the team's MVP.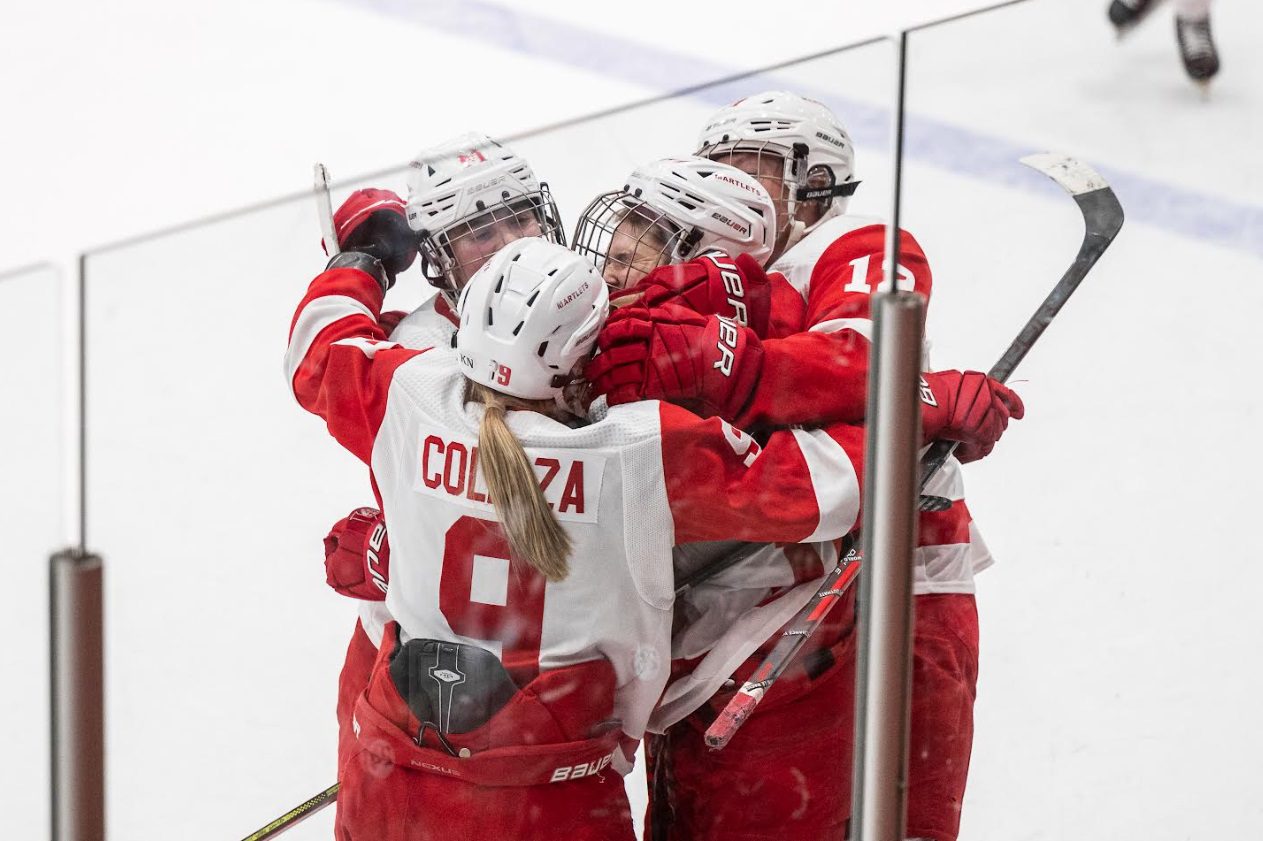 Of all the games this season, perhaps the most emotional for Colizza took place on November 18, 2022. Hosting the Bishop's Gaiters, the Martlets held their Shoebox Project Fundraiser. Dedicated towards assisting homeless women, shoeboxes filled with gifts are provided to homeless shelters throughout Montreal. Not only do the Martlets also have a GoFundMe page for financial contributions, but the annual Fundraiser features a donation bin. In addition to her admirable efforts with the Fundraiser, it represents part of a much more empathic narrative, with numerous other initiatives representing a great body of work volunteering.
"Aside from the Shoebox Project, I have been involved in various other community outreach projects, such as the Canadian Autism Spectrum Disorder Alliance, Sport for Life, and the Grindstone Foundation. Additionally, I have served as a tutor on campus and have been an active member of McGill's Women in Sport program and the McGill Mental Performance Council.
My six years at McGill as a hockey player have had ups and downs, but this experience has been a dream come true. It has provided me with not only the opportunity to excel in a sport that I love but also to give back to the community in a meaningful way through volunteering. As I reflect on my journey, I am grateful for the opportunity to be a part of such an incredible community and for the chance to use my love of sports to positively impact others."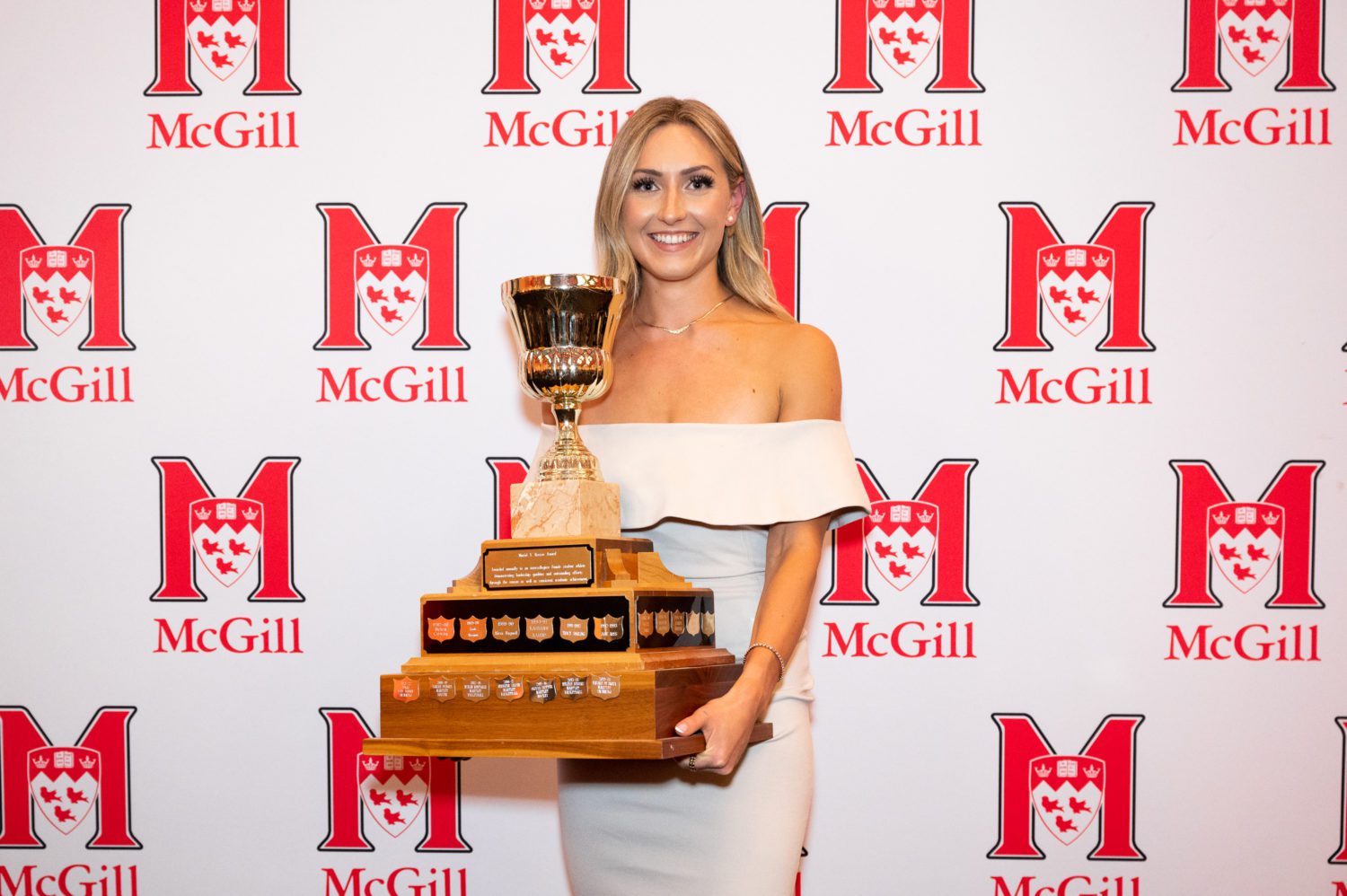 Among the highlights of a very memorable 2022, including Academic All-Canadian honours, a tremendous trio of awards included the university's Jean Beliveau Athletic Award, the Dorothy Nicol Scholarship plus the Quebec Foundation for Athletic Excellence Leadership Award. Recently earning the Scarlet Key Award, an honour first dating back to 1921, in recognition of outstanding leadership at McGill University, Colizza now holds a cherished place among the university's luminaries. With a highly inspiring legacy combining athletic excellence, academic performance and a dedication to improving the community, the Award provided an exciting new luster.
Before the academic year expired, there was one more accolade for a jubilant Colizza. With McGill Athletics holding its Varsity Major Awards Ceremony, Colizza earned the Muriel Roscoe Trophy, given to a female athlete in recognition of proficiency and leadership in athletics.
"Earning Academic All-Canadian, the Dorothy Nichol Leadership Scholarship, the Quebec Foundation for Athlete Excellence Leadership Award, the Jean Beliveau Leadership Award, the RSEQ Leadership and Community Service Award and the Scarlet Key Award this year has been a significant honor and an acknowledgement of my commitment to both academics and athletics.
However, these awards are more than just personal achievements; they represent the immense support that I received from my teammates, peers and supporters. A strong support system is crucial to success in any area of life, including athletics and academics. I was fortunate enough to have an incredible support system throughout my time at McGill, which played a significant role in my ability to achieve so many amazing accolades.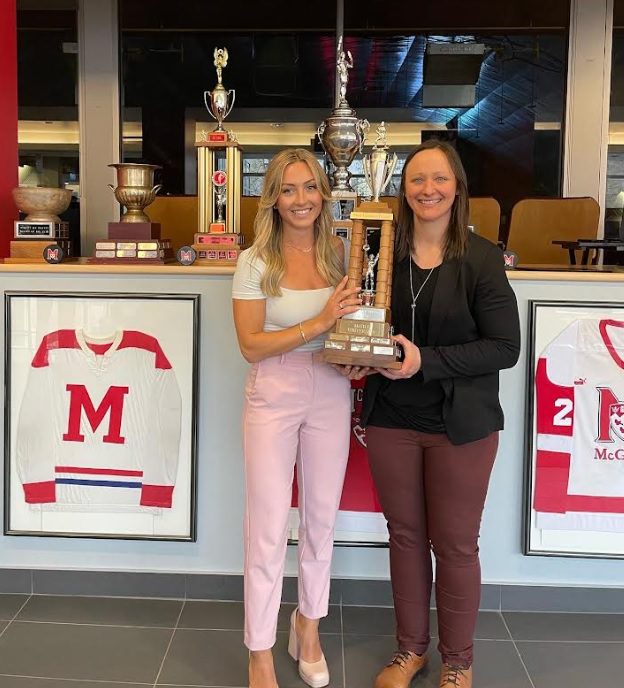 From my parents and family to my teammates and colleagues at McGill, I was constantly surrounded by people who believed in me and supported me every step of the way. Without them, I would not have achieved nearly as much as I did at McGill. Their unwavering support gave me the confidence and motivation I needed to push myself beyond my limits and reach my full potential.
They were there to celebrate my successes and lift me up during challenging times, and I am eternally grateful for their love, encouragement, and support. I have learned that having a strong support system is not only essential to achieving success but it is also critical for personal growth and well-being. Knowing that there are people who care about you and want to see you succeed is a powerful motivator, and it can help you overcome obstacles and achieve your goals. I will always be grateful for the incredible support system that I had during my time at McGill, and I know that I will continue to rely on their support as I move forward in life.
In conclusion, earning these awards has been an incredible achievement, but more importantly, it represents the support and dedication of my family, teammates, peers, and supporters. While I still have much to learn about leadership, I could not be more thankful for the growth I have experienced during my time at McGill, thanks to all of the amazing leaders I have had the opportunity to learn from along the way."
–
"All quotes obtained first hand unless otherwise indicated"
In this article:
#All-Canadian
,
#Awards
,
#AwardWinners
,
#leadership
,
#MVP
,
#StudentAthlete
,
#UniversityHockey
,
#USports
,
#Volunteer
,
#WomenInSport
,
#Womenshockey
,
grow the game
,
Hockey
Related Articles