Looking to get in touch with us?
We love to hear from our amazing community—reach out via email or on any of our social media accounts and we'll be talkin' hockey with you as soon as we can!
Advertising & partnerships
Our Women's Hockey Life community is the best out there, bar down (see what we did there?). Our websites and social media platforms are the landing place for the players, parents, coaches, and fans of the women's hockey world. We provide a place of empowerment, learning, discovery, and connection to our loyal community and we're honoured to be able to share in their hockey journeys with them in rinks around the world.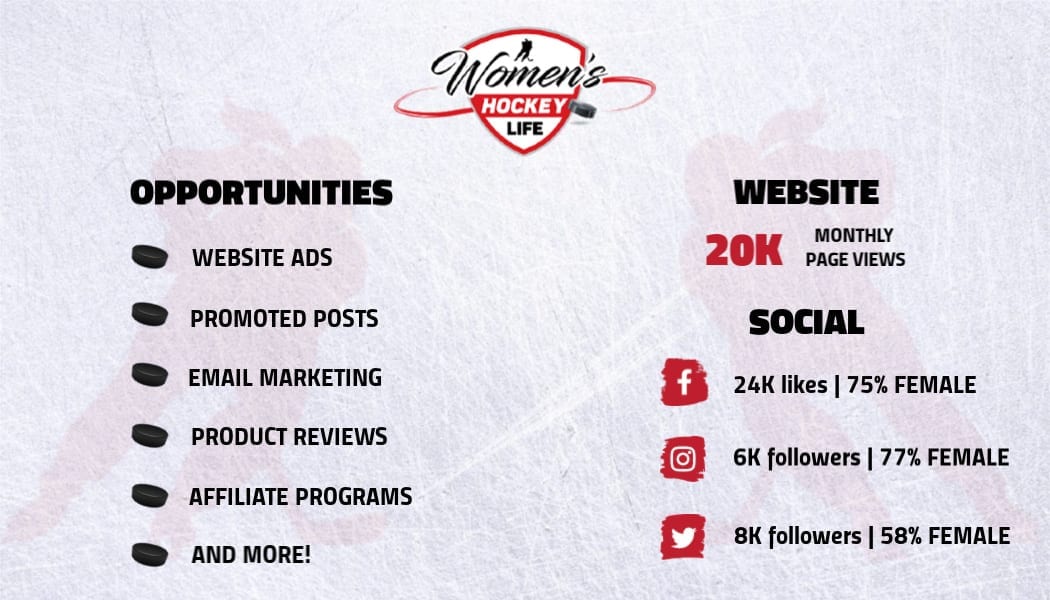 We know that without the support of our loyal audience, Women's Hockey Life wouldn't be able to support the women's game on the scale that we do—our audience is the real MVP.
We're selective when it comes to choosing our team roster, so any time we're hosting tryouts for our team you'll find the details here.
Do you need an internship for school credit in the sports media/communications field?
We love giving students an opportunity to gain experience in the industry! Send an email to [email protected] and let us know the details of your internship and you could be working with us soon!
We're always looking for more writers to join our team (no experience necessary)! Whether you want to write about your team this season, have something to say about women's hockey, or want to cover specific aspects of the game—we want to hear from you!
Do you want to be on Women's Hockey Life's starting lineup?
We're looking for people like you to be a part of our brand ambassador program. If you love the game, are passionate about women's hockey, use social media, and want to make a difference—then we want you on our team.
Our brand ambassadors spread our message of empowerment and passion to the women's hockey world and we sauce them the following in return:
Exposure on our social media platforms
A say in the products and messages we bring to the women's hockey world
First dibs on volunteer and career opportunities with Women's Hockey Life
Access to an exclusive community of WHL Brand Ambassadors