In a year that has seen the hockey community mourn the losses of iconic figures such as hockey dad Walter Gretzky, Miracle on Ice member Mark Pavelich, along with celebrated Hall of Famers Tony Esposito and Rod Gilbert, another name to remember is Jamie Huntley.
Including playing, coaching, and officiating, achieving all these feats in her home state, she deserves to be in the same conversation with the likes of Chelsey Goldberg, Jessica Koizumi, Annie Pankowski and Angela Ruggiero. All wondrous women that helped establish Southern California as a place of relevance on the women's ice hockey landscape.
Having honed her skills at the junior level with the Anaheim Lady Ducks and later, the Cal Selects, Huntley's hockey legacy was one felt from coast to coast.
Earlier this year, Huntley was part of the officiating crew during the NWHL's condensed 2020-21 season, which took place at Herb Brooks Arena in Lake Placid, New York.
Although it sadly became her swan song in hockey, the assignment for Huntley, who officiated NWHL games since their inaugural season of 2015-16, was one filled with tremendous meaning.
With an officiating team featuring nine other women, it marked an historic feat for the league, as it marked the first season that all officials working regular season games were female.
This empowering group also featured Jacqueline Spresser and Jacqueline Howard who also have careers in law enforcement. Reflecting on the initial revelation that Huntley was a fellow police officer, it marked a special point of pride, enhancing their shared hockey journey while strengthening a mutual respect between the two that extended beyond the perimeter of the rink.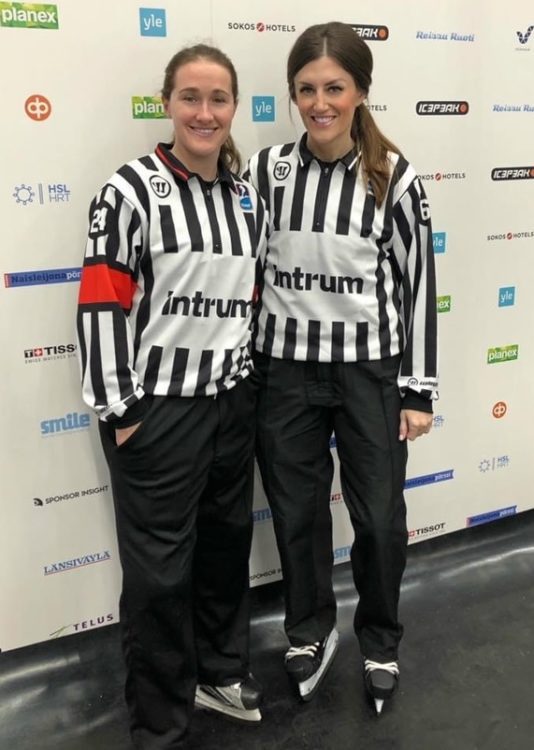 "We bonded the most over our mutual profession as police officers/detectives," Jacqueline recalled. "It was invaluable to have a friend to share every major aspect of life with. With so many commonalities, we were always in sync. Jamie was courageous and she was a protector, both on the ice and at work. Her passion for service was admirable."
Prior to the treasured brush with history in Lake Placid, Huntley had already established herself as a hockey heroine in New York State. A highly talented forward, combining a strong playmaking ability with an element of grit, as evidenced by her 174 penalty minutes (2nd all-time), Huntley enjoyed a solid run as a competitor for the Elmira College Soaring Eagles from 2005-09.
In a career that saw Huntley accumulate a respectable 79 points in 90 games played, her celebrated senior season stood as her greatest in the program's purple and gold colours.
Recording a superlative 40 points as a senior, landing a spot on the ECAC West All-Conference Second Team, Huntley placed third on the squad in scoring. Trailing only Jenna McCall (45 points) and Kayla Coady (56 points), she tied McCall for second on the roster with 19 goals scored, highlighted by nine power play goals, along with a pair of hat tricks.
Running parallel to her on-ice heroics, Huntley excelled on the diamond with the softball program.
"Playing for Elmira College, I was able to play competitive hockey for a top Division III program, as well as play softball", Huntley noted.  "Playing for Elmira, you are able to play sports as well as have a social life along with your academics.  Elmira was a small school and you were really able to make lifelong friendships with different people, not just your teammates.
Four years after graduating from Elmira College, Huntley's hockey career was destined for even greater heights. Having made the transition from player to referee, accumulating numerous milestones in a growing career, it would only take four years to attain the prestige of officiating an international hockey event.
Following the Four Nations Cup, Huntley would add to her officiating resume with other international duties. Including fellow Americans Katie Guay and Kate Connolly, she worked the 2015 IIHF Women's World Championship in Malmo, Sweden.
Fast forward one year later, Guay and Huntley shared the ice at Prudential Center Facility. Alongside Jodi Price and Micaela Frattarelli, this fantastic foursome worked the first-ever game of the Isobel Cup Finals, the signature event of the NWHL.
"I am fortunate to have had the chance to ref with Jamie at numerous tournaments throughout the years," Katie Guay reflected. "From Nationals to the Women's World Championships in Malmo Sweden and the inaugural Isabel Cup Finals, we shared many fond memories on the ice together. Jamie brought her vibrant smile to every rink she entered.
Huntley's Legacy
Although feelings of grief and sorrow remain, the outpouring of love and support are stronger. With several heartwarming tributes, not just remembering, but celebrating a life that will live on in the hearts of those who knew her, Huntley's indomitable spirit stands as her hallmark.
Among the number of tributes, the San Diego Angels organization, where Huntley coached, have established a scholarship fund in her name. Also selling helmet decals with the initials of Huntley and her husband, adorned by the number 23, which she wore throughout her playing career.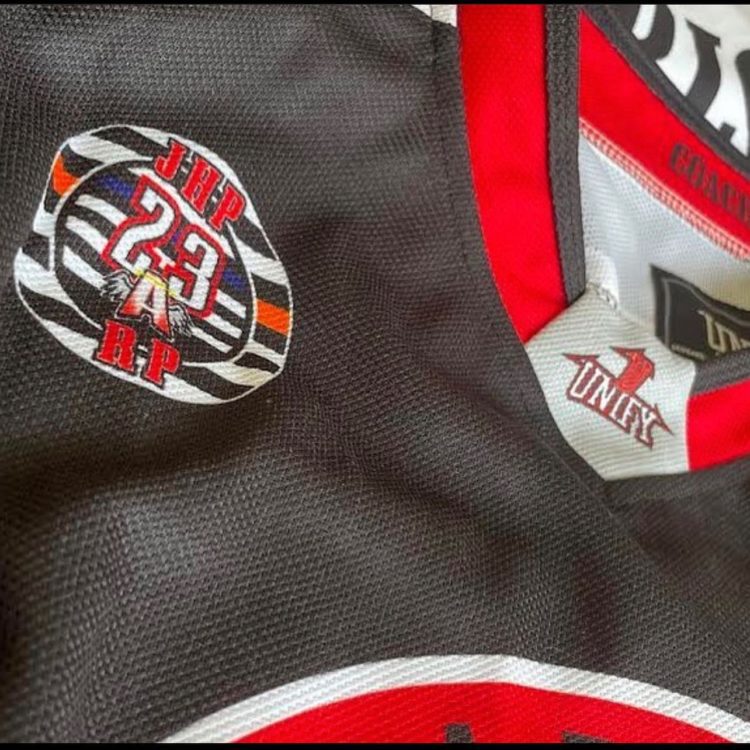 On the last weekend of August, which saw Angels parents and coaches participate in a 3v3 Charity Tournament, with proceeds going towards the San Diego Brain Tumor Foundation, the left shoulder of the Angels jerseys featured the number 23 logo.
Also paying tribute were Huntley's club team at the junior level, the Anaheim Lady Ducks. With an increased number of participants for the organization's alumni game, looking to honor Huntley's life during said game, there was a 23 second moment of silence, in honor of her number.
Former Duck Brittany Trani, akin to Huntley, also transitioned to officiating, delivered a heartwarming tribute prior to the puck drop.
Before the season starts, another tribute sees the Pacific District Women's Officiating Camp, which fulfills USA Hockey's Seminar requirement for the 2021-22 season, in Portland, Oregon, has been renamed in Huntley's honor.
Feature Image c/o Elmira College Women's Hockey Twitter
Related Articles