Representing the gold standard in ball hockey, Nathalie Girouard continues to redefine greatness. Having appeared for her native Canada in every ISBHF World and Masters Championships in this decade, amassing a highly impressive collection of medals, accolades and honors that truly make her the embodiment of the term 'living legend'.
Demonstrating a model of consistency and reliability, the statuesque Girouard, remains relevant in the game, continuously providing the Canadian contingent with an opportunity to be in the conversation for gold. With a reassuring smile and a humble confidence, Girouard, who may be over 40 years young, still maintains a highly youthful exuberance.
Among Girouard's highlights in Kosice, she recorded an exceptional 26 saves in a highly important 4-0 shutout victory over host country Slovakia. Four days later, a 22-save effort was a key factor in Canada's 2-0 blanking of archrival United States, which saw Jess McCann score both goals for the triumphant Canadians.
Girouard would repeat her brilliance against the US in the gold medal game, standing between the pipes in a highly emotional 4-2 win which saw Edie Brenning, a fellow competitor in the Ottawa Vanier Women's Ball Hockey League (OVWBHL) score the game-winning goal.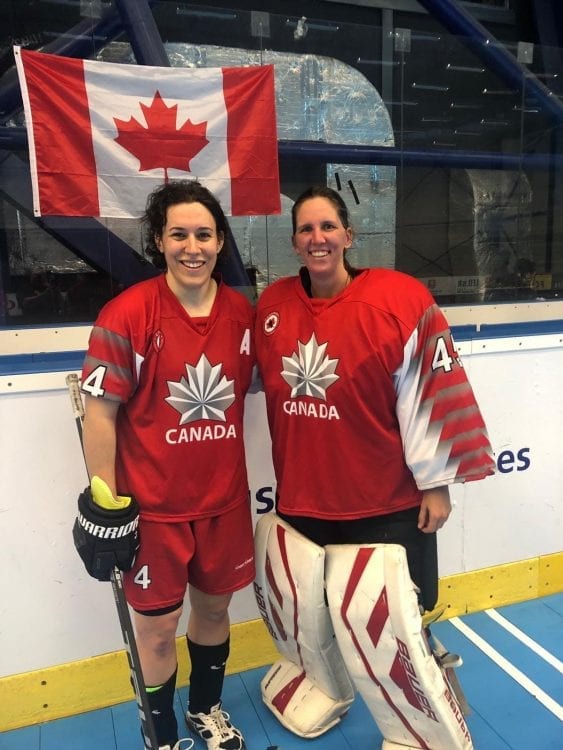 With Canada capturing the gold medal at the 2019 ISBHF World Championships, contested in Kosice, Slovakia, marking the third of the 2010s for the ball hockey power, it also extended the program's streak of seven consecutive podium finishes. Certainly, the triumph had a two-fold impact for the gregarious Girouard.
Rebounding from a visceral bronze medal outcome in 2017, compounded by their first-ever loss to the United States in tournament history, Girouard and the Canadian contingent returned to a familiar place on top of the podium. Defeating the US rivals in an epic gold medal clash, the victorious results of 2019 reflected another example of Girouard's brilliance guarding the Canadian crease, cementing her standing as the greatest goaltender in program history.
"When you suit up for Team Canada, the gold medal is the ultimate goal. It is nice to see that the competition is improving every year, our team included. Needless to say losing to the US in the Semi-Finals in 2017 was a memory that we quickly wanted to erase… and we did."
Honored with the tournament's Most Valuable Goaltender Award, Girouard was part of an Honor Roll which included Stefanie Caban as Most Valuable Defender, while Canadian captain Michelle Marsz attained the prestige of Most Valuable Player.
Undeniably, the honour was truly testament to Girouard's fascinating durability. Representing another celebrated addition to her haul of hockey hardware, including three gold medals during the 2010s in the nascent ISBHF Masters, along with a handful of honors in the Canadian Ball Hockey Association (CBHA), including the prestigious Sarah Butterworth Memorial Award,
Considering Girouard's eligibility in Masters Play, where she has won three Masters gold medals with Canada's contingent (2014, 2016, 2018), her dominance in Kosice placed her into the celebrated status of an ageless wonder. Continuously assembling superlative performances which hold a treasured place in both, Canadian ball hockey lore, and the nation's sporting legends of the early 21st Century, Girouard is equally assured a peerless place among the game's global immortals.
Certainly, the opportunity to compete at the Worlds in Slovakia allowed a gathering of international hockey fans the cherished prospect of appreciating Girouard's brilliance. Considering that the host Slovakians also represent one of Canada's premier rivals in tournament history, the opportunity to don the Maple Leaf in such an environment held a reciprocal feeling, allowing Girouard the chance to appreciate the game's expanding global reach.
"It was evident that Slovakians are really into their ball hockey. The fans were very vocal and quite supportive of their home team. We knew it was going to be important to keep our focus as the arena would be full and loud… however the speed of our team clearly gave us the advantage on the big rink."
Adding lustre to the experience in Kosice was the opportunity to serve as an invaluable mentor to a teenaged goaltending phenom from the Prairie city of Winnipeg. Having first gained notice on the ice, where she played at the 2017 Canadian Boys Under-17 Junior Nationals, earning the Most Valuable Goaltender Award with the Manitoba Bisons, Julianna Thomson was the youngest player on Canada's gold medal roster.
While Thomson enjoyed a significant amount of playing time in Kosice, her international odyssey beginning with the jubilation of a gold medal, she could not have asked for a better start. Benefiting tremendously from Girouard's vast wealth of knowledge, finding inspiration in her highly accomplished background, the millennial Thomson enjoyed a boost to her confidence, playing with a veteran's poise.
Combining to form the finest goaltending duo in Kosice, Thomson and Girouard ranked second and third in save percentage. A sparkling percentage of .984 saw Thomson log 62 saves, while Girouard amassed 71 saves in tournament play, resulting in placing third with a .972 percentage.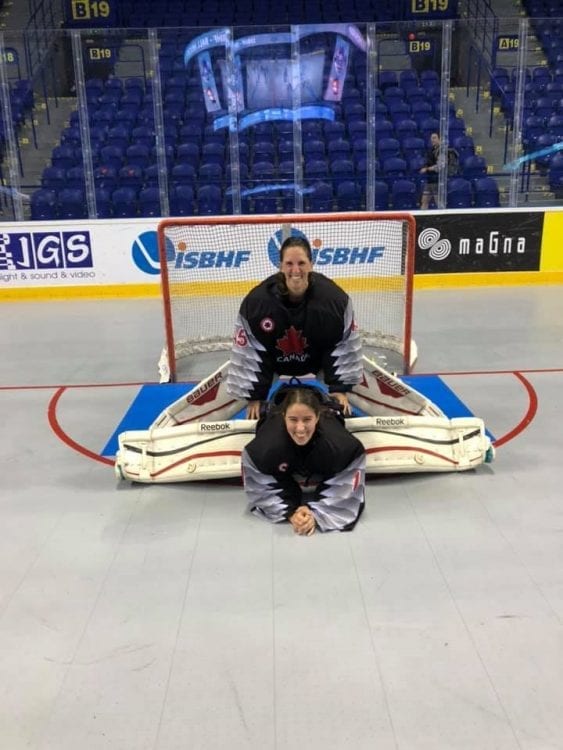 Composing a unique chapter in the Canadian program's narrative, dynasty and destiny colliding as a tremendous pair of world-class goaltenders represented their own distinct generations, Girouard's reflection on the experience is one filled with praise. Recognizing Thomson's ability to excel under pressure, an element of humour also rises to the surface in recalling a consultation,
"We knew coming in that we would have to share goaltending duties throughout the tournament, Julianna brought a calm and confident attitude and was ready to play any game she was assigned to start. There is no doubt that she had faced high level hockey in order to get here and therefore we were able to support each other as the competition went on. The only real advice I got to give her was which size of jersey we should order, (chuckles)"
Although the raison d'etre for Canada's competitors remains the golden pursuit of standing aloft on the podium, each subsequent edition of the national team also brings with it a profound human element. Taking into account that each player's journey represents a highly personal quest, such a facet took on grander meaning in Kosice.
While the opportunity to erase the memories of 2017 were key for Canada's wondrous women in Kosice, there was also a heartfelt moment that stood out as a personal favourite for Girouard. An unexpected delay to a contest allowed for a special occasion for the players to revel in extra time. With all the players sharing their motivations and ambitions, an impromptu round table resulted in solidifying an already strong level of motivation, reinforcing the facets of family and national pride for a proud Canadian contingent.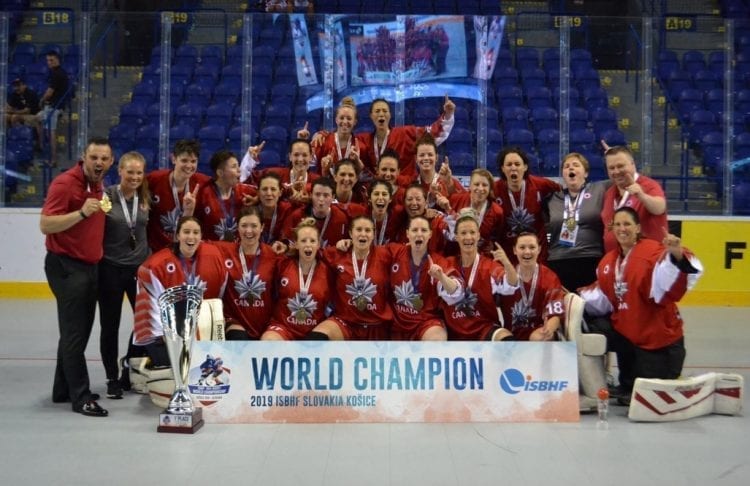 "When Canada plays the US in any hockey events, the level of competitiveness is instantly increased. After having lost to the US in 2017, there was a motivation by everyone in the room to not let that happen again. We ended up playing them three times throughout the tournament. Winning each game made up for the 2017 loss.
One of our games was delayed due to the previous game going into overtime and shoot out. With a bit of time ahead of us, we went around the room sharing the motivations and people we were playing for. Stories and experiences were shared, there was an added incentive that year to bring home the gold, for our families back home that supported us, life partners, dedication to recent loss… let's say a fire was lit…"
Whether it be locally in the OVWBHL, nationally in the CBHA, or among the world's finest on the slab of the ISBHF, representing a fascinating continuity in Girouard's career, every event stands as an opportunity to appreciate her meaning to the game. Combining brilliance, sportsmanship and an ethereal serenity into a compelling body of work that shall be treasured by future generations in the game, Girouard is truly an exceptional competitor whose tremendous heroics has transcended generations, crafting a greatness which has already left a lasting impression among fans, teammates and rivals alike.
"All quotes obtained first hand unless otherwise indicated"
Featured image from the Lori Rowe Collection
Related Articles