With an exciting series of post-hockey pursuits, highlighted by a stimulating career as a pilot, Mallory Deluce reached a meaningful milestone during the 2019 sporting calendar. An NCAA Frozen Four champion with the Wisconsin Badgers and 2011 CWHL Draft Pick, whose sporting interests included soccer plus a black belt in karate, Deluce is equally proficient as a long distance runner.
Participating in the Boston Marathon, one of the most notable athletic events in sporting Americana, attracting athletes from the world over, the gruelling test of endurance and perseverance served as an extension of Deluce's love of competition. A demonstration of her continued commitment to fitness, plus an homage to when she raced cross-country in high school, the Marathon was richly rewarding for Deluce.
Several months before her debut in the Boston Marathon, Deluce engaged in another race, tackling the Scotiabank Toronto Waterfront Marathon on October 21, 2018. Finishing 208 out of 5002 female runners, it marked an encouraging showing. Combining her interest in running with an appreciation for a historical city that she has not only played in, but one of the stops in her current occupation, it served as a backdrop for this latest athletic endeavor.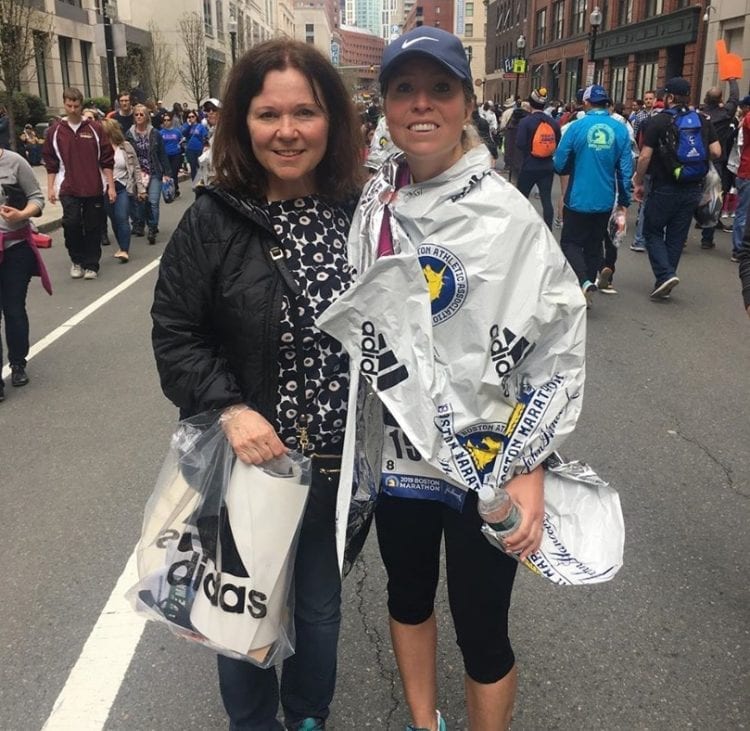 Departing southwest of Boston in Hopkinton, home to the Marathon's Start line since 1924, continuing eastbound on Route 135 through places such as Ashland, Framingham, Natick, and Wellesley, Deluce successfully crossed the finish line at Copley Square near the Boston Public Library. With the number 15489 on her racing bib, her final time stood as 3:44:55.
"It was great to see a lot of people running to support different charities. I am still playing hockey but just recreationally in a weekly women's league.
I always enjoy flying to Boston for work and think it is an amazing city with a lot of history. After I stopped playing hockey competitively, I got into running. I enjoyed running in elementary and high school so it has been fun to get back into it."
Taking into account the physical demands of hockey, the need for self-discipline and a focus on peak performance, it is an all-encompassing commitment easily applicable to Deluce's running endeavours. Reflecting on the effort required to prepare for the Marathon, Deluce recognized how the elements needed to excel in hockey were essential in being better prepared physically to handle the demands of the Boston Marathon,
"Absolutely. The physical demands of hockey and training for hockey in the past helped me when preparing for this marathon. I feel that the tough off-ice training in my past helped me have the mental toughness to push through the long training runs. The knowledge I received from training for hockey helped when it came to nutrition and injury prevention as well."
From a hockey perspective, Deluce enjoyed a fine career, starring on both sides of the border. Raised in London, Ontario, where she starred for the Bluewater Hawks, even earning a call-up as a teenager with the Mississauga Aeros of the original NWHL, she would capture the PWHL scoring championship in 2005-06, registering an astounding 135 points. Having also starred with Team Ontario Red at the Canadian Under-18 women's nationals.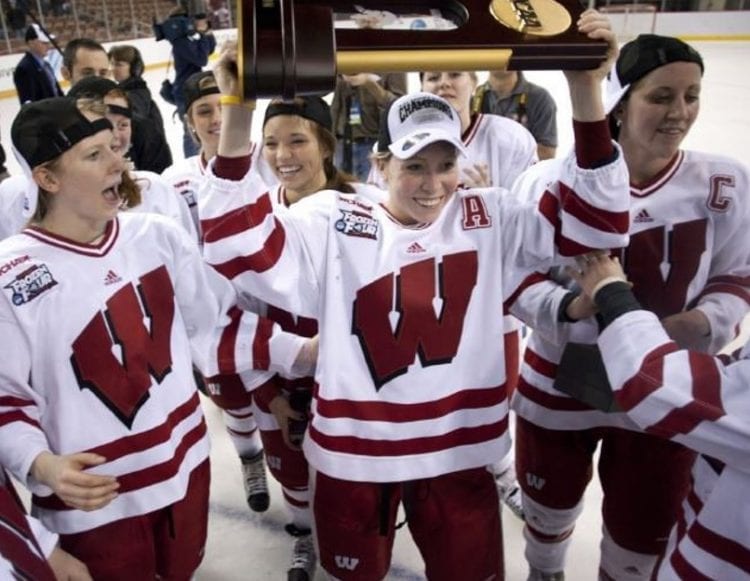 Competing at the NCAA level with the dynastic Wisconsin Badgers, Deluce, a WCHA All-Rookie Team member in 2007-08 and WCHA All-Star selection in 2009-10 amassed career marks of 45 goals and 77 assists, for a sparkling 122 point total. No season would be as treasured in Badgers colors as 2010-11. Capturing the Frozen Four championship on a team that lost only one game, she also served in the capacity of assistant captain, earning All-WCHA Academic Team honors, respectively.
Playing alongside the likes of Brianna Decker, Meghan Duggan, Hilary Knight and Carolyne Prevost, all future CWHL stars, she followed her sterling run in Badgers paraphernalia with an opportunity to star in her home province of Ontario with the Toronto Furies. Selected with the 11th pick of the 2011 CWHL Draft, Deluce instantly paid dividends.
Logging 41 points, on the strength of 23 assists, in her first two CWHL seasons, Deluce quickly established herself as an offensive stalwart for the nascent Furies franchise. Among Deluce's finest achievements in the blue and white of the Furies, she scored a goal in her CWHL debut, also the first goal of the 2011-12 Furies season, with assists credited to Kori Cheverie and Britni Smith, part of a valiant effort in a 4-3 loss to the Boston Blades on October 22, 2011,
Finishing her rookie season as the Furies leading scorer, one point ahead of Kori Cheverie, Deluce's greatest performance in Furies colors took place during a four point outburst on January 28, 2012. Involved in all of the Furies goals in a 4-1 win over rival Burlington, she scored the game-winning tally unassisted at 10:13 of the first period.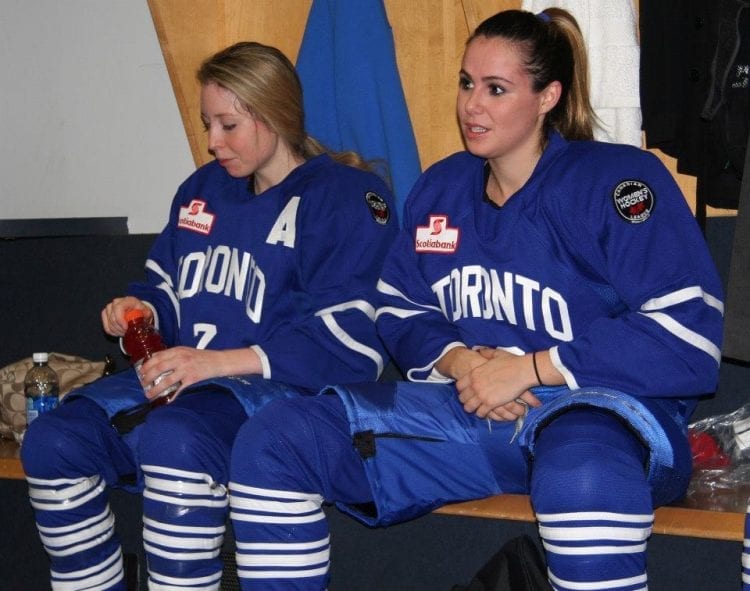 During Deluce's second season, she ranked third in scoring, trailing only Rebecca Johnston (25) and Natalie Spooner (23), ranking second in assists only to Johnston. Perhaps the most unique element of said season was the fact that Deluce, who served as Furies alternate captain, was part of the first-ever CWHL game contested at Toronto's Air Canada Centre.
Of note, Deluce's CWHL legacy would extend beyond her Wisconsin connections and the magnitude of gracing the ice at Air Canada Centre. She would join a handful of other distinguished CWHL players, including Cherie Hendrickson, who skated for the Burlington Barracudas and captured a pair of Clarkson Cups with the Boston Blades, plus Kelly Cooke, another Clarkson Cup champion recently turned hockey official, that have also run in the Marathon.
In addition to the Marathon, the post-hockey focus on fitness has created a fascinating new narrative. Many former CWHL stars have made a seamless transition to participation in CrossFit events including the likes of fellow Badgers and Furies alumnae Prevost, who participated in the 2019 World Championships, along with regional competitors Laura Hosier, a former goaltender for the Brampton Thunder and Emmanuelle Blais, a former Clarkson Cup champion. Beyond CrossFit, the impact of women's ice hockey is visible in the number of players that have taken on the Spartan Sprint and even body building.
"It is really great to see other hockey players continuing to be active after they finish their hockey careers."
Reflecting on the experience of the Boston Marathon, a tremendous number of emotions define the milestone for an elated Deluce. Accompanied by a pair of proud supporters, including her fiancé plus her mother, truly bringing a feeling of a shared achievement, the aftermath of the Marathon supplied its own surprise. With all participants invited to attend the Boston Marathon Mile 27* Post-Race Party, part of the celebration involved the privilege of gracing the iconic and indeed, hallowed, playing surface at Fenway Park, one of the most legendary venues in American sporting lore.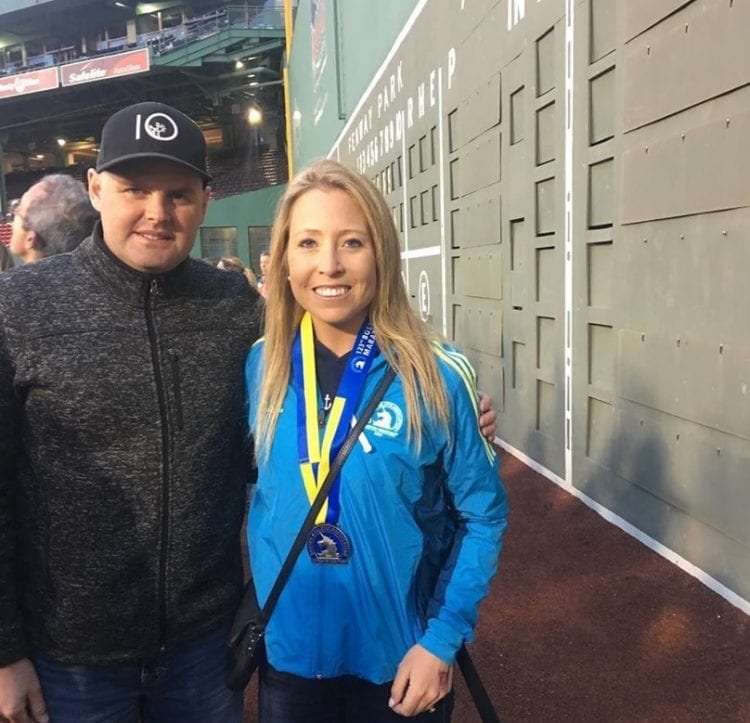 Adding a major league feeling to the achievement of participating in the event, it concluded a distinguished decade of athletic brilliance for Deluce. While she is best identified with the remarkable achievements on the frozen perimeter, becoming a hockey hero on both sides of the border, Deluce's appreciation of athletics, from the self-discipline and desire required to excel, to the sense of celebration and accomplishment, truly established her as more than just a talented hockey player, but a gifted all-around athlete whose status truly lies as a role model, inspiring the next generation of aspiring athletes.
"The thing I enjoyed most about the Boston Marathon experience was having my mother and my fiancé there with me. It was so nice to spend the weekend with them in one of my favourite cities and to be able to run such a historic marathon.
I loved being able to walk the field at Fenway Park after the marathon at the post-race celebration and take pictures with the Green Monster, in the dugout, and with the World Series trophy."
"All quotes obtained first hand unless otherwise indicated"
Featured image obtained from Facebook
Related Articles