Emerging as a highly inspiring and influential figure in the potential future for female officials in ice hockey, Kelly Cooke has already constructed an incredible legacy. With a superlative body of work that continues to grow in score, simultaneously helping to shape the game's destiny, Cooke is both articulate and assiduous.
As a player, a pair of achievements that became part of the modern game's mythology defined Cooke's career. Among a very distinguished group to have won both the Clarkson Cup and the Isobel Cup, achieving the feat in consecutive years, Cooke also took to the ice at Gillette Stadium in the gold jersey of the Boston Pride for the 2016 Bridgestone Women's Winter Classic, the first-ever outdoor game in professional women's ice hockey.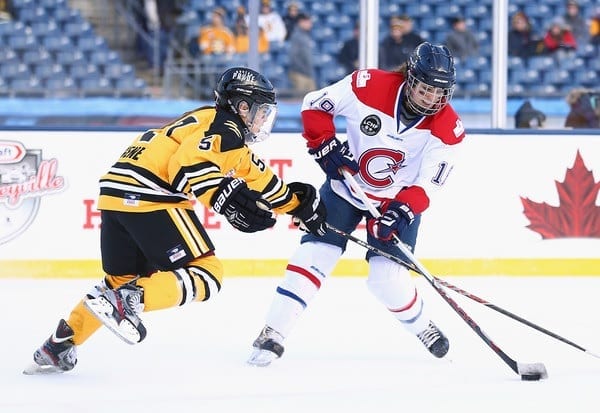 Following the 2015-16 season, which marked Cooke's final one as a professional player, there would appear to be a seamless transition as she found new pursuits in the game. Rapidly developing into an elite level official, Cooke would also take on a prominent leadership role in the NWHL, serving on the nascent league's Player Safety Committee. Having officiated since her teens, acquiring valuable experience and a highly cerebral understanding of the game, a greater focus on officiating propelled Cooke to a series of tremendous assignments.
In 2019 alone, Cooke would not only work alongside Katie Guay in the Finals of the 2019 Women's Beanpot, they would also comprise part of the first-ever all-female officiating crew, including Delaney Harrop and Amanda Tassoni, at the NCAA Frozen Four in Hamden, Connecticut. Certainly, their collective presence at the Frozen Four marked one of the decade's true highlights: a milestone-filled, powerful message about the potential for greatness.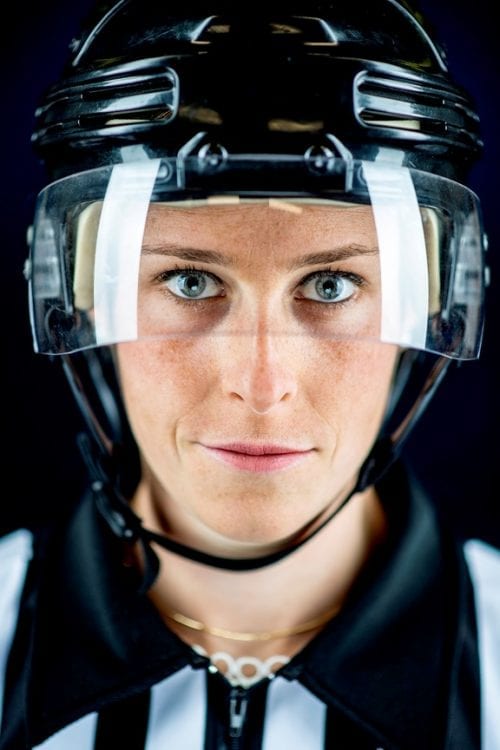 Such an event also served as prologue for Cooke. Towards the end of the summer solstice, Cooke became part of a record-number 11 female officials attending the NHL Exposure Combine in Buffalo, New York, a rite of passage defined by a feeling of encouragement and community, the result was a monumental milestone raising her profile as an excellent official.
Along with Guay, who was also on-hand in Buffalo, both would build on their Frozen Four experience with dream assignments. Joined by Kendall Hanley, whose own experience as an official has spanned over a decade, along with Kirsten Welsh, a former team captain with the RMU Colonials making the transition to officiating in 2019, all gained officiating duties at NHL Prospect Tournaments.
Becoming the first women to participate in such events, Guay travelled to California for a Tournament hosted by the Anaheim Ducks. Welsh remained in Buffalo, as the Sabres served as host franchise, while the league dispatched Hanley to Traverse City, Michigan for the Detroit Red Wings Prospect Tournament.
Cooke officiated three games at the Ford Ice Center in Antioch, Tennessee, as prospects from the host Predators, Carolina Hurricanes, Tampa Bay Lightning and Washington Capitals, participated.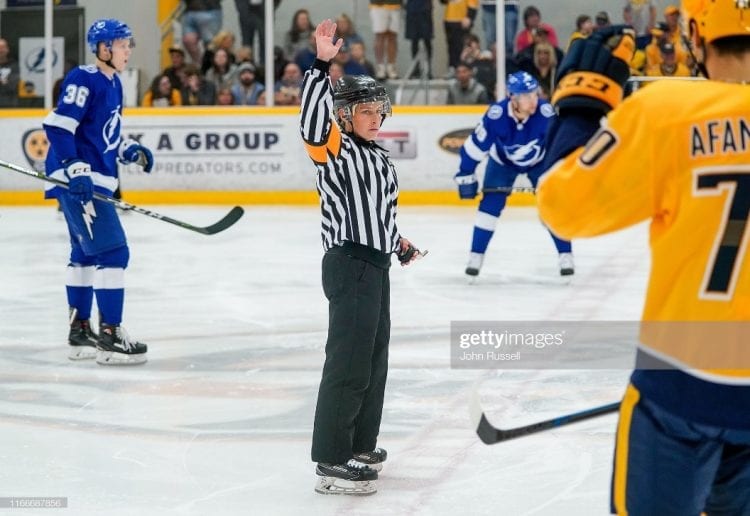 Following that highly empowering experience, the thought of the NHL All-Star weekend was unfathomable. Upon getting the call, gaining the opportunity to work the inaugural NHL Elite Women's 3-on-3 in St. Louis, Cooke was ecstatic and overjoyed at the opportunity. Serendipitously, she was joined by the likes of Guay, Hanley and Welsh, bringing their NHL experience for the 2019-20 season full circle. Considering that in women's ice hockey, officials, akin to players aspire for international competition, the All-Star milestone offered a unique new dimension to the professional aspect.
"I never imagined that I would have the opportunity to officiate at an NHL event, much less during the NHL All-Star weekend. It was a truly humbling experience and it took a while to understand just how important that moment really was for women's hockey.
As a female official, working at the IIHF level was always the ultimate goal. I never in a million years thought that my officiating journey would take me to an NHL prospect tournament or to the NHL All-Star game. That was not a possibility in my mind because it had never been done before.
Yet, my hope is that having female officials on the NHL stage opens the eyes of younger female officials to allow them to dream bigger and set their sights higher than I ever did. If these NHL opportunities help pave the way or inspire those that come after us, we have done our job."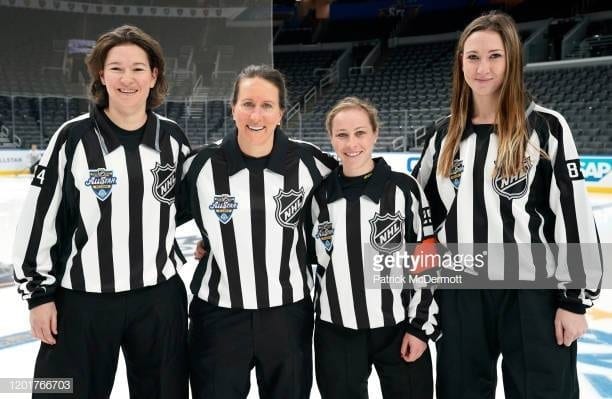 Together on the ice, with the NHL logo adorning their striped jerseys, it was a highly poignant, yet lasting image of what is great about women in hockey. Undeniably, what transpired was a stirring display, which surpassed all expectations. Women's ice hockey at its absolute finest, representing a broader social significance, it also resulted in several familiar faces for Cooke. Of the 10 players comprising the American roster, three had called Cooke a teammate before.
From fellow New Englander Kacey Bellamy to high scoring forwards Brianna Decker and Hilary Knight, all played with Cooke on the Boston Blades, and later the Boston Pride. To have them on the ice went beyond supporting the theme of serendipity. Rekindling fond memories of an earlier chapter in Cooke's proud career, while supplying encouragement towards a new interval, partaking in this fascinating chronicle provided her with tremendous perspective,
"It was amazing to be able to spend some time over the weekend with my former teammates. To share in this milestone with them and to witness a truly historic moment for women's hockey was even more special having seen how hard these women work and how far they have come since I played with them.
There is a mutual respect there – they recognize that the officials are dedicated to being the best they can be and competing at the top level, while we recognize the same for them."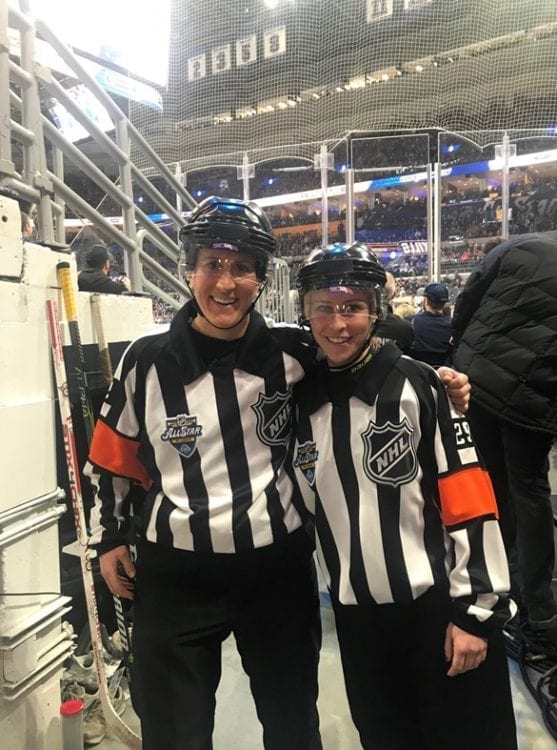 That sense of mutual respect also applies to the opportunity to work with Guay. Both having played at the Ivy League level, Guay with the Brown Bears, coached by Digit Murphy, Cooke in the orange and black of the Princeton Tigers, where she called Denna Laing a teammate, the opportunity for their officiating odysseys to run parallel has contributed towards the composition of a fascinating narrative.
Regarding the more experienced Guay as a mentor, both have developed into highly admirable role models. Their collective presence in previous officiating assignments, including the Beanpot, the Frozen Four, plus the NHL Exposure Combine, has provided a compelling consistency in the expanding prominence of women in officiating, enriching a fascinating time in St. Louis,
"It meant a lot to be in St. Louis with Katie. She has been my mentor since the very beginning, and has taught me so much about not only giving back but also about making sure that we continue to open doors and pave the way for those that come after us. We have shared a lot of amazing moments on our respective officiating journeys, so to be able to add this one was icing on the cake. When I think back on the opportunities I have had and the memories that stand out on this journey, Katie has always been by my side. I wouldn't want it any other way."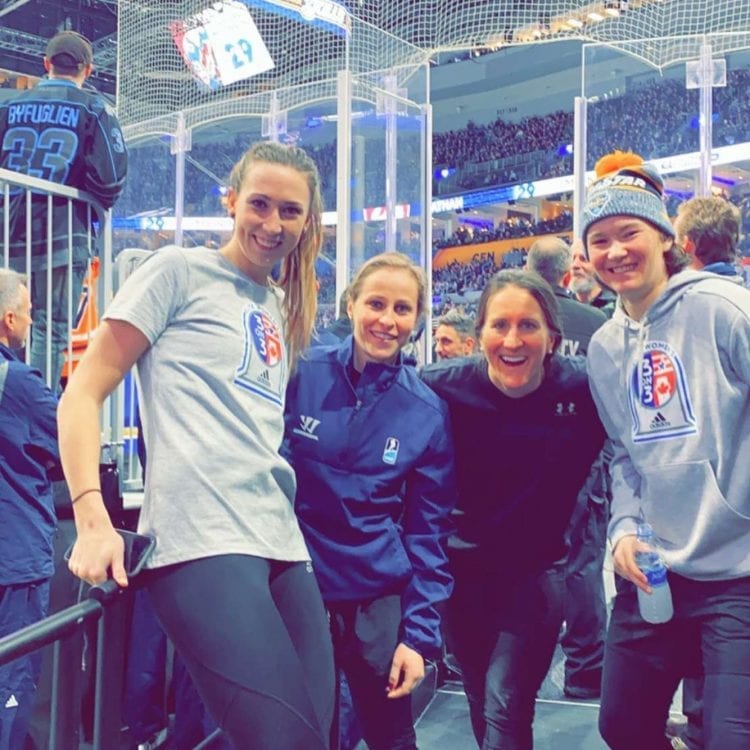 Performing their duties with elegance and grace, imposed with duty and direction, their collective success mirrors the hopes of millennial society, looking to break barriers while redefining convention, geared towards new successes. The feeling of success was one that stirred joyous emotions for Cooke, as reinforced by the vision of the NHL logo on her referee's sweater, a concrete memory with profound connotations,
"The 3-on-3 was truly an unbelievable experience. I could not have envisioned a more perfect way to showcase women's hockey, and we were very lucky to be a part of it. I think the most memorable moment was walking into our locker room before the 3-on-3 and seeing our referee jerseys hanging in our lockers, with the numbers we had chosen, and the NHL logo on the front. That is when it really hit that we were about to be a part of something much bigger than a game."
"All quotes obtained first hand unless otherwise indicated"
Related Articles