With over 12 seasons in the stripes, Kendall Hanley, a member of USA Hockey's Officiating Development Program, brings a multitude of experience to the rink. From calling games in the collegiate, international, and professional ranks, working in the NWHL, her vast comprehension of the game enables her to bring a remarkable expertise to the rink.
Raised in Raleigh, North Carolina, excelling in numerous athletic endeavors, Hanley, who would also reside in Texas, serving an internship at the Dallas Zoo, would make hockey her sport of choice. As a side note, her time in Texas also involved serving as Director of Hockey at the Allen Community Ice Rink, committed to growing the female game in the Lone Star State. Currently calling Minneapolis home, balancing hockey with a career as a sales associate, while amalgamating an entrepreneurial pursuit with her hobby of zoology, Hanley launched a dog-walking venture.
Having played NCAA Division III hockey from 2005-09, spending her first two seasons with the Elmira College Soaring Eagles, Hanley reached the NCAA Tournament as a freshman. Among her teammates with Elmira, Allison Cubberley and Stefanie McLean both went on to compete in CWHL hockey. Following Elmira, Hanley remained in New York State, joining the Oswego State Lakers, playing for head coach Diane Dillon. The move was attributed to the fact that Hanley opted to pursue a degree in Zoology, furthering her interest in animal biology. Recording a total of 69 appearances in Division III hockey, statistically, her final point took place on January 25, 2009, assisting on a first period goal by Kelly Collins in a hard-fought 4-3 loss against the Chatham Cougars.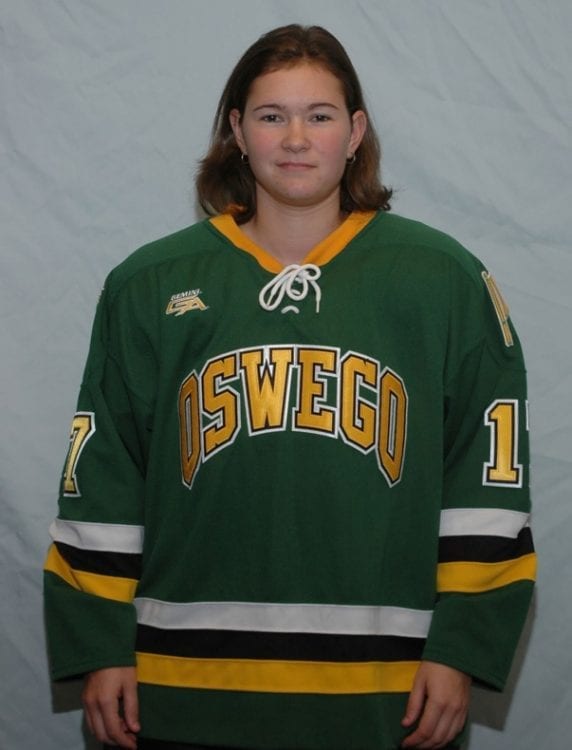 Fast forward a decade later, Hanley retained a presence on the ice. Possessing a luminous smile and a keenness to continue learning, it was somewhat happenstance that a major milestone for Hanley would take place once again, in New York State. During the summer of 2019, she was in attendance at an NHL Exposure Camp for Officials in Buffalo, home of the Sabres.
With a record 11 female officials on-hand, compared to just four in 2018, when Samantha Kline, Vanessa Ley, Elizabeth Mantha and Joelle Ouellette were the participants, Hanley experienced the next breakthrough in her odyssey as an official. Hanley was among four fantastic women, including Kelly Cooke, Katie Guay and Kirsten Welsh, selected to work at NHL Prospect Tournaments during the first weekend of September 2019, marking an empowering new era, defined by the historic first time that female officials were on NHL ice, propelling the mythology of such a pivotal moment.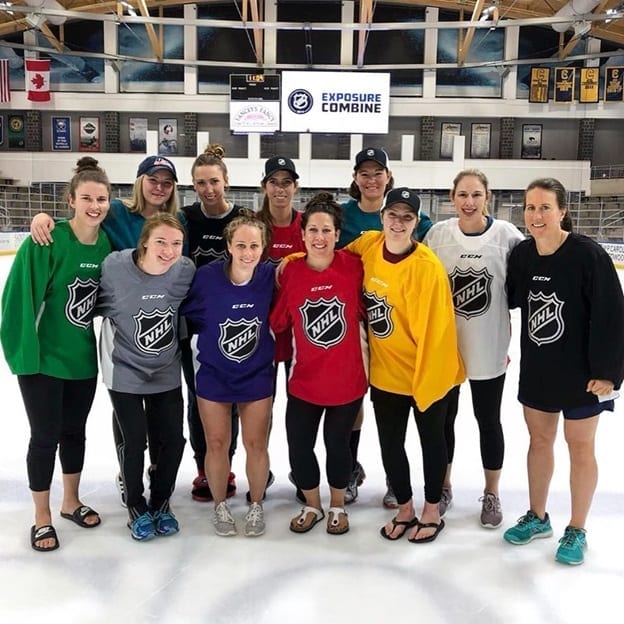 Hanley's assignment involved serving as a linesman in Traverse City, Michigan, site of the Detroit Red Wings tournament at Centre Ice Arena, where she officiated four games, including the Red Wings vs. St. Louis Blues.
Following the experience of the Prospect Camp, Hanley's experience on NHL ice was destined to extend into another exciting facet. With the continuation of NHL hockey involving its annual All-Star Weekend, the list of traditional events took on a new complexion in 2020, as a gathering of American and Canadian stars prominent in the international game, graced the ice.
Destined to be one of the most resonant moments in All-Star history, the beauty of this fabled event saw the involvement of female officials. With Hanley getting the call to serve at the first-ever NHL Elite Women's 3-on-3 showcase, such prestige would take on exceptional luster. Sharing in the All-Star experience alongside Cooke, Guay and Welsh, all previous officials from the Prospect Tournaments, it held tremendous meaning for an elated Hanley,
"It is an honor to be selected for both these opportunities, and it is a testament to the NHL's support of women's hockey and its commitment to developing female officials. Having the chance to work with this crew over the past few months has been an amazing experience."
Among the aforementioned officials, Hanley has called Cooke, a former NWHL player, and champion in two different professional leagues, as a colleague at another highly notable event. Having crossed the Atlantic for the 13th IIHF U18 Women's World Championships, hosted in Bratislava, Cooke and Hanley were the only American officials on-hand.
While Hanley served in the capacity of linesman, Cooke held referee duties. Along with Vanessa Morin, who officiated CWHL regular season games in China, and Justine Todd, a linesman from the 2018 Winter Games, they would all work the bronze medal game, which saw Russia vanquish Finland in a 6-1 final, as Russian captain Ilona Markova led all skaters with three points.
"Kelly and I worked together recently in Slovakia at the IIHF U18 Women's World Championship. We are all pretty spread-out geographically, so anytime I have the opportunity to work with and learn from Kelly, Katie and other talented female officials is a great experience and I am very proud to share the ice with them."
Serving as a linesman alongside Welsh, the youngest among the officiating crew, having transitioned to officiating following graduation from the RMU Colonials program in 2019, Cooke and Guay handled referee's duties. While the aforementioned referees also worked together frequently during the 2018-19 season, including the Beanpot and the Frozen Four, it marked the first time that all four had actually been on the ice together, a collective milestone that changed their lives forever.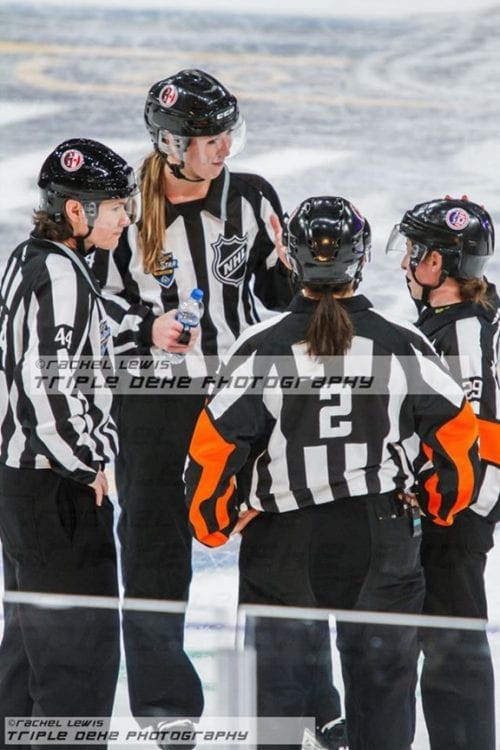 From the outset, the most distinguishing element of the Elite Women's 3-on-3 was the encouraging realization that the jerseys of the officials, and the players, featured the iconic NHL logo. Contributing to a major league feeling for all involved, an exemplary event, which reflected the NHL's expanding effort 'Hockey is for Everyone'. With Mélodie Daoust scoring the game-winning goal in a 2-1 win for the Canadian team, an on-ice clash featuring world-class talent so evenly matched, certainly the sport's calling card in North America, it resembled the same intensity of a Winter Games or an IIHF event.
Considering the remarkable impact from the outstanding all-female officiating crew in St. Louis, their commendable labors also contributed towards a major thaw about any existing negative perceptions about women and officiating. Commenting on the legacy of the event, Hanley is proud of the long-term potential for it to stand as a key moment in the game's development, simultaneously raising awareness about the growing role of women, especially former players, as referees,
"Coming together as an all-female team demonstrates the progress being made. There are many highly qualified women in officiating. We are here because of the doors they opened, and its moments like these that can light the path to inspire the next generation of officials, players and coaches."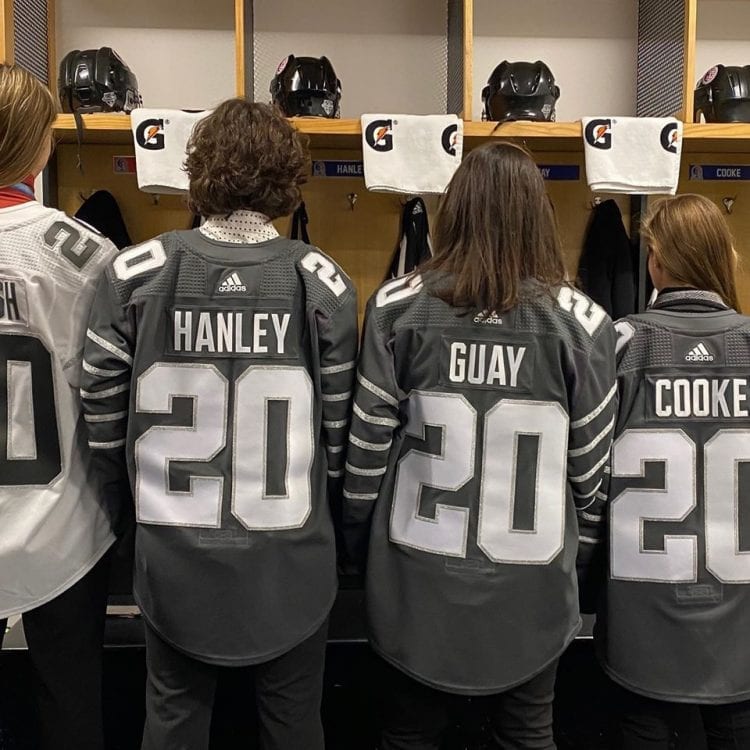 Generating a remarkable credence and cultural currency, generating a tremendous interest, the event took on the overtones of an instant classic, as Hanley, Cooke, Guay and Welsh became inextricably linked in the promise of an exciting new era. With each receiving an authentic NHL All-Star jersey, customized with their names and the number 20 (to signify the year of the event), an imperial vestment that shall hold a hallowed place among Hanley's hockey artifacts, it was the kind of gesture that shall forever preserve the experience of one of their greatest assignments ever.
"I was just blown away. What a thoughtful gesture from the NHL and I cannot wait to get it framed. So many (other) amazing moments, and they were all memorable.
The NHL officials and staff were fantastic to work with and so welcoming. Having the opportunity to wear an NHL sweater, and take part in a great moment in the history of women's hockey is something I will always cherish."
"All quotes obtained first hand unless otherwise indicated"
Featured image obtained from: https://www.nhl.com/redwings/news/chasing-her-dreams/c-309106588
Related Articles