Employing a quiet demeanor and an ethereal serenity, Carly Hill brought a reliability and consistency to the Montreal blueline. Whether it was the nomenclature of Stars or Canadiennes, Hill established herself as an essential contributor to a franchise that enjoyed the most Clarkson Cup Finals appearances in the CWHL's history.
Considering that Hill competed at the forward position with the McGill University Martlets, graduating with a program record 231 games played, she captured the Golden Path Trophy thrice. Including a gold medal playing for Canada at the 2009 Winter Universiade, the transition to defense as a professional marked a highly commendable team-first approach and a very remarkable versatility.
Perhaps one of the most underrated players to have ever graced CWHL ice, the professional roots of Hill, whose experience at the rink began by playing ringette at age five, can be traced back to the original NWHL. During their 2005-06, Hill debuted as a teenager, enjoying a handful of appearances with the Quebec Avalanche franchise.
Based in Laval, the roster featured fellow teen phenom Veronique Laramée-Paquette, while Marie-Andree Joncas and Emmanuelle Cabana shared goaltending duties. With Le Colisée de Laval as the backdrop for a pre-Christmas match against the Ottawa Raiders, the December 17 affair resulted in Hill's debut, gaining the assist on a third period goal by Pearle Nerenberg.
Nathalie Dery, Marie-Eve Cloutier and Veronique Lapierre comprised the veteran leadership for the Avalanche, resulting in a third place finish in 2005-06. Coincidentally, Dery and Hill would cross paths during the first half of the 2010s, calling each other teammates once again, capturing a Clarkson Cup with the dynastic Montreal Stars.
Becoming a full-time professional player in the 2011-12 CWHL season, amassing a respectable seven points, Hill made 22 appearances. Making her Stars debut on October 22, 2011, a 4-1 win against the visiting Brampton Thunder, her first point would take place over a month later. On the road against the Toronto Furies, Hill and Caroline Ouellette provided the assists on a second period goal by Meghan Agosta, in a dominant 12-3 final.
Finding her offensive stride in the postseason, registering four points in four games, en route to her first-ever Clarkson Cup championship. While the prestige of hoisting the hallowed Cup is a rarity for any first-year player, Hill would also enjoy the chance to capture the Cup in her final CWHL season, bookending a brilliant career.
"Being able to win a Clarkson cup in my first and my final season was a highlight of my hockey career. It was definitely an excellent and satisfying end to playing professional hockey."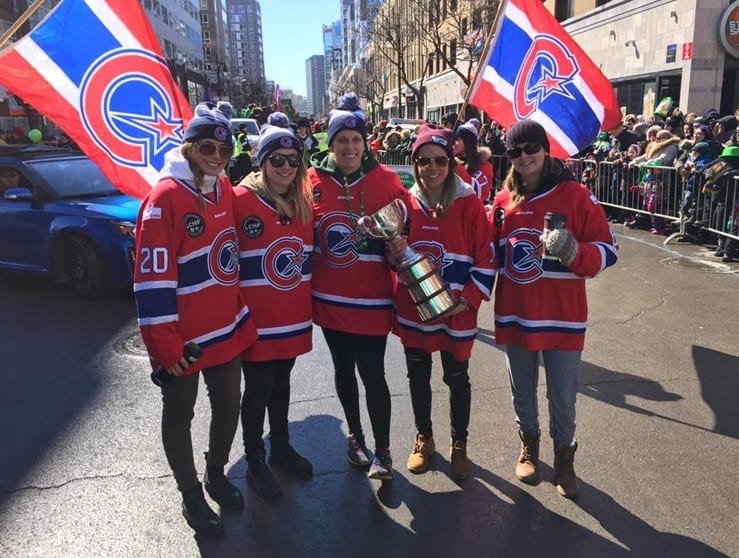 Following Hill's first season of CWHL play, she quickly developed into an integral member of the Stars' defensive unit, gaining playing time on special teams. Possessing a right-handed shot, her playmaking abilities strongly evident in her second season, recording a solid 12 assists, tying Catherine Ward for second on the team in assists by a defender. Trailing leader Cathy Chartrand, who logged 15 assists, Hill also finished with a +13 plus/minus rating and a second straight trip to the Clarkson Cup Finals.
Considering that Chartrand, a future defense partner, and Ward, were also among the numerous McGill graduates that would eventually play for Montreal's entry in the CWHL, the chance to revisit such a memorable and joyous time in their careers proved plentiful. During the preseason, it was not uncommon for the Stars/Canadiennes to compete against university teams from Montreal or nearby Ottawa.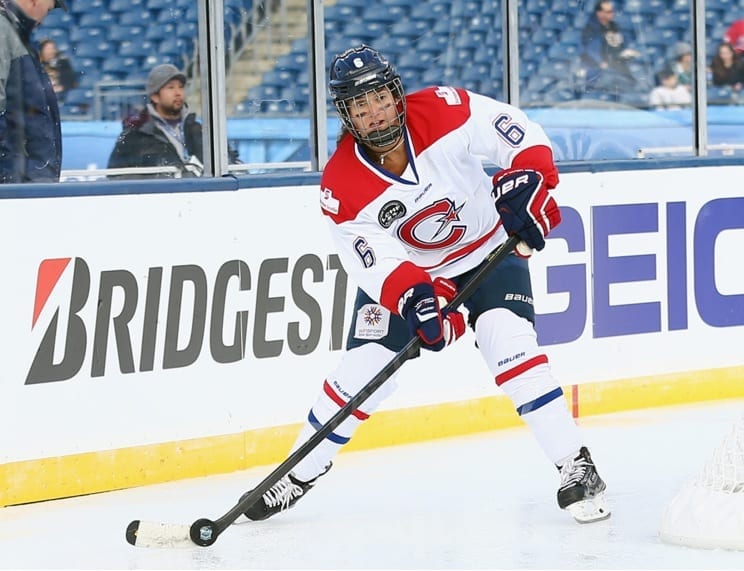 Certainly, the Martlets held a place on the preseason calendar with Hill, who graduated with a Bachelor of Education, and her fellow alumnae enjoying the opportunity to return to McConnell Arena. Although it may have been peculiar to take to the ice as a member of the opposition, it marked a pleasant reminder of former glories. Emerging as a staple of the preseason, providing an element of diversion to the routine of training camp, the theme for both sides was one defined by enjoyment, as Hill recounts,
"I loved playing against McGill. I got to see old teammates and see my old coach. I am not sure what hockey players eat or drink while growing up these days, but the girls always seem so much bigger. I am amazed every time I play against girls 10-15 years younger than me. I am always intimidated (laughs). It is so nice to see the caliber of play increasing every year. I look forward to watching my kids play hockey at McGill one day."
Although Hill would appear in three more Finals (2015, 2016, 2017), along with an historic appearance at Gillette Stadium in the Women's Winter Classic, the first-ever outdoor game in professional women's ice hockey, facing off against the NWHL's Boston Pride, such milestones could not compare with one of the most poignant moments.
Earning a well-deserved spot as a participant in the inaugural CWHL All-Star Game, held at Toronto's Air Canada Centre during December 2014, Lauriane Rougeau, Chartrand and Ouellette joined Hill on Team White. Worth noting, Charline Labonte, also a former teammate at McGill University, elected as captain for Team Red headlined a list of Montreal players including Lisa-Marie Breton-Lebreux, Ann-Sophie Bettez, another McGill alumna, Emmanuelle Blais and Julie Chu, calling Hill et al rivals.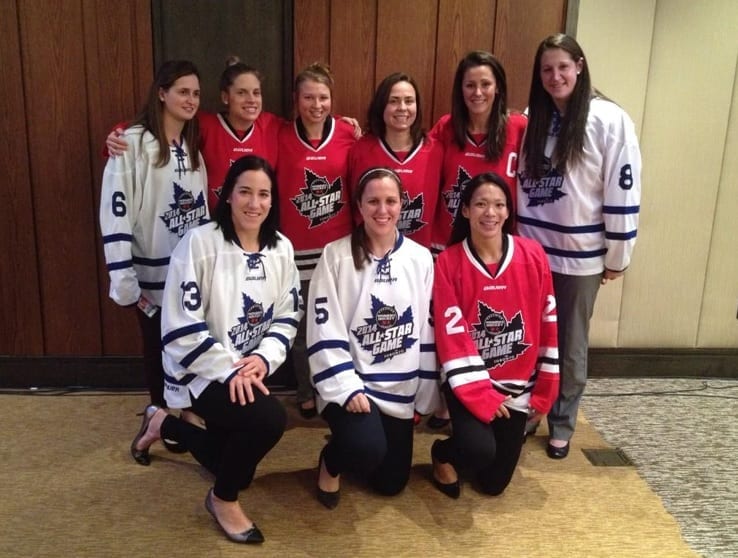 In a career highlighted by so many great achievements, the magnitude of the All-Star Game gained profound meaning for a jubilant Hill by the presence of her grandfather. At 96 years young, the distinguished gentleman appeared on the video screen, tipping his hat to the crowd, receiving a well-deserved round of applause. Undeniably, one of the most heart-warming moments in league history, the moment holds a special place in Hill's recollections of her hockey odyssey,
"I was so happy to see my grandpa in the stands. He used to show up at games and hit the glass with his cane to say hi. He lived in Toronto but every time I played there he came to watch my games. A true supporter and an even more amazing role model. He passed away this past year at 100 years. Being able to have him by my side when I had the opportunity to play in the CWHL All -Star game, is a memory I will forever cherish."
Enjoying more than 110 career appearances in the tri-colore of the Montreal franchise, amassing 45 points, and a cumulative plus/minus total of +68, her final season would encompass the theme of coming full circle, enjoying another Clarkson Cup triumph. Although the second Clarkson Cup represented a denouement in Hill's CWHL journey, she had not yet completed her competitive odyssey.
Enjoying one more season of professional play, Hill was found on the opposite site of the globe, adding to a sparking legacy in empowering fashion. As the only female skater in Thailand's Siam Hockey League (SHL), skating for a team sponsored by Hertz, her familiar number 16 adorning a golden jersey with black trim, she would gain multiple Player of the Game honors during the 2017-18 season.
Running parallel to her profession as an educator with the Canadian International School of Thailand, Hill's acumen was crucial in Hertz capturing the SHL championship. Also playing competitive men's ball hockey during her time there, she would hoist the Mekong Cup. Contested in Phuket, she was the only female with a club known by the sobriquet, the Wood Styx.
Additionally, her Thai sporting experience involved another pair of unique experiences. Making league history on November 15, 2018, Hill, now with the Novotel Bangkok Sukhumvit 20 Spitfires, was joined on the ice by Caley Steinert, from the Aware Group club, marking the first time that two women skated against each other in league play. As a side note, Steinert also played U SPORTS hockey, competing with St. Thomas University.
Of note, Hill was also part of an on-ice instructional session with Thailand's national women's ice hockey team, who won the bronze medal at the 2018 IIHF Women's Challenge Cup of Asia. Sharing a lifetime of experience with a group of players keen to absorb her knowledge, two of their most notable stars include goaltender Wasunun Angkulpattanasuk, Nuchanat Ponglerkdee, and Wirasinee Rattananai, the Challenge Cup's leading scorer.
While Hill is back in La Belle Province, her love of the game has never wavered. Despite the fact that the CWHL now represents an aspect of the female game's history, rather than representing continued growth for its future, its place in sporting Canadiana was one made richer by Hill and her Montreal teammates.
Indubitably, the essence of world-class competition that defined the former league remain strong in Hill's fond memories. While the culture of the Stars/Canadiennes franchise, from its enthusiastic volunteer base to the empowering women garbed in the tri-colore, composed a communal feeling, which was most prevalent.
Such values continue to be a key factor in the continuation of Hill's connection to the game. Reinforcing the themes of consistency and dedication, which stands as the greatest hallmarks of her career, Hill remains a highly valued teammate and a positive influence on the young fans inspired by her heroics, ready to pursue their own hockey dreams,
"I am so fortunate to continue to play non-competitive hockey 3-4 times a week now. I do not miss the ice or team camaraderie because I still get to have that, but I truly miss the competition. I miss competing with a team for an end goal. I miss practicing and pushing teammates and myself to be a better player. I miss feeling exhausted and battling hard to not let my teammates down. Now, I simply skate around and just enjoy the sport itself. I love hockey and I plan on playing as much of it as I can for as long as I can."
"All quotes obtained first hand unless otherwise indicated"
Featured image by Martha Cox
Related Articles