Reputed as one the kindest, most generous people in hockey, Lisa-Marie Breton-Lebreux brought an unforgettable presence to the CWHL, placing her into legendary status. With a heart of gold that endeared her to people throughout the league, a legacy of kindness, perseverance and tremendous character, resulting in a well-earned honor as the league's Humanitarian of the Year Award winner, Breton-Lebreux held many hats during her distinguished run in CWHL hockey.
Very assiduous, Breton-Lebreux earned respect and admiration from teammates, rivals and fans alike by serving in various capacities over the course of a decade. From a co-founder of the league (a distinguished group known as the "Sensational Seven"), General Manager, team captain, Clarkson Cup champion and coach, she was involved in every season of Montréal's entry in CWHL play. The type of person that everyone held in high regard, only positive comments describing her, such a sterling standing is one that Breton-Lebreux reflects on with her typical grace and tact,
"It is touching. Just phenomenal for me to have been able to inspire, doing just what I do naturally. I had the most fun possible. To see other players give their best, and reach their full potential, the league was able to give more players access to more opportunities. It was an honor to be part of it, surrounded by great people."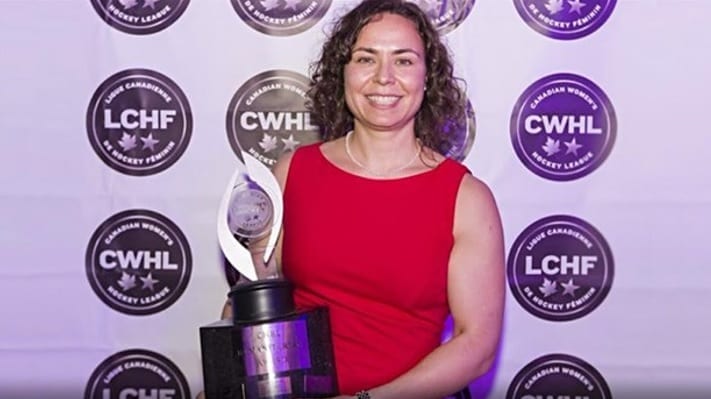 In the early years of the 21st Century, which included serving as the captain of the Concordia University Stingers, Breton-Lebreux's impact in Montréal hockey composed an essential chapter, positively shaping an era defined by empowerment and confidence. Coincidentally, her glories with the Montreal franchise ran parallel to an exciting career at Concordia, where she worked as a Strength and Conditioning Coach for both men's and women's varsity teams. Fittingly, her final seasons with the CWHL also involved serving in a coaching capacity, adding new value to her place in league lore, while emerging as a labour of love.
"I liked the practices (most). Last season at Place Bell, being with Caro (Ouellette), you saw how the game was going to go, see the reaction. Such a great arena, we were so lucky, I was very thankful."
Certainly, Breton-Lebreux's coaching highlights went beyond the opportunity to capture the Clarkson Cup in 2017, becoming the only person in league history to have won the prized trophy as both player and coach. Among the players she coached included world-class talents, most notably, Hilary Knight and Marie-Philip Poulin, "I did not know much about her (Knight) before. She is a nice player. Quiet, but focused."
During Breton-Lebreux's coaching experiences, perhaps the most cherished was the chance to see long-time teammate and former Angela James Bowl winner Ann-Sophie Bettez earn the call to Team Canada, skating at the 2019 IIHF Women's World Championships. Seeing her impact from a coaching perspective, it only made Breton-Lebreux appreciate her brilliance so much more, feeling a tremendous sense of pride in a well-deserved promotion to the national team.
"I was so happy (for her). Getting the chance to train her and seeing her get better. For three years in a row, she was the fittest player at camp. I was really, really happy for her. She worked so hard. Her and Poulin are a great duo."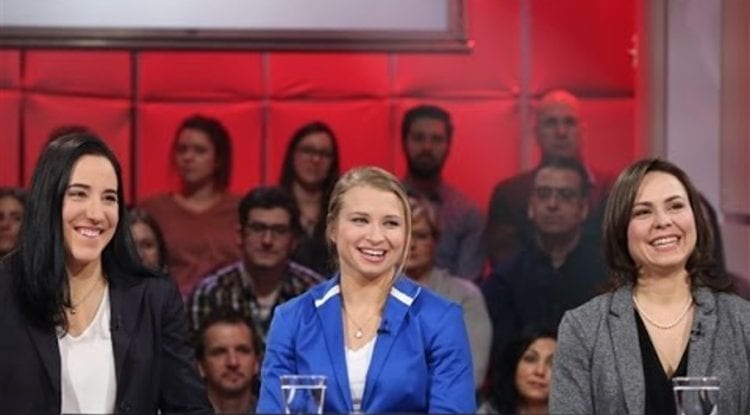 Witnessing a compelling evolution through all of Montreal's CWHL seasons, Breton-Lebreux is among a unique few who were there every step of the way. From the first Clarkson Cup finals, to the excitement of the inaugural CWHL All-Star Game, whose home was based in Toronto's Scotiabank Arena, home of the NHL's Maple Leafs, there was also the privilege of competing on NHL ice in additional venues.
With back-to-back Clarkson Cup finals (2016, 2017) contested at Ottawa's Canadian Tire Centre (home of the Senators), while an epic confrontation versus the expansion Kunlun Red Star, featuring Noora Raty and Kelli Stack, took place at the Centre Bell, the venue the NHL's Canadiens call home, such aspects enriched Breton-Lebreux's odyssey, while affirming Les Canadiennes as worthy of major-league status.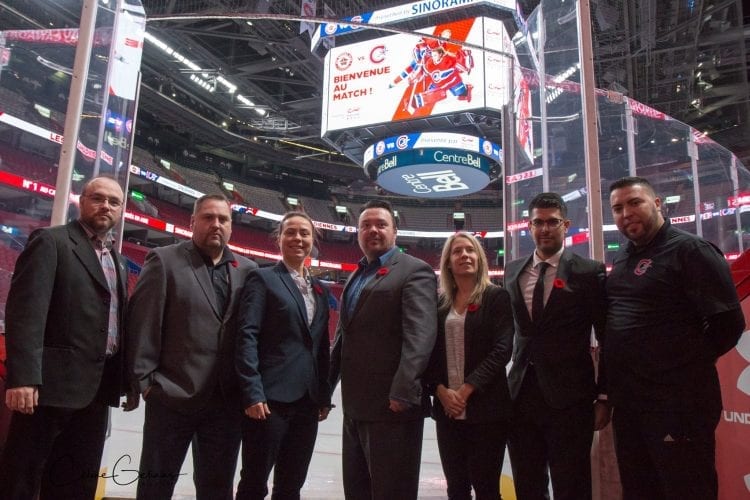 Among the most compelling events of this evolution was the Women's Winter Classic. Contested at Boston's Gillette Stadium, the house that Tom Brady built, it represented a brush with history highly worthy of Breton-Lebreux's presence. Challenging the Boston Pride, also the only inter-league game, which took place between the CWHL and the NWHL, the historic game, complemented another special brush with history. With Les Canadiennes opposing Calgary in the final Clarkson Cup game on CWHL ice, perhaps the Cup shall endure in another capacity, Breton-Lebreux (along with Ouellette) were part of the first and final Clarkson Cup contests.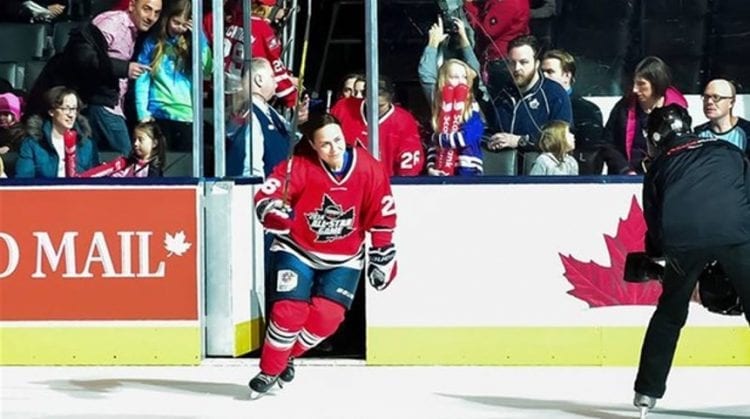 "I cannot express how the timing of everything in my life with this time to play in that stadium, the only outdoor game (so far). The first and last Clarkson Cups – we were there. To play in big arenas (like Centre Bell), to have appeared in the most Clarkson Cup finals (8), it was an amazing opportunity. Sometimes, the universe brings back what you project."
From Montreal's inaugural season, Breton-Lebreux projected a tremendous loyalty. Pulling double duty as General Manager, the first in Stars history was reminiscent of another hard-working icon in Montréal female hockey. A member of Canada's contingent at the 1998 Nagano Winter Games, Nancy Drolet first established herself in the League Régionale du Hockey au Féminin, serving in dual capacities as captain and GM of the Sherbrooke club. Fittingly, she would also take on a role as a Chairperson and Board Member during the CWHL's nascent years.
"It had been hard for me to let that go (at first). What an amazing journey. I learned so much about myself, how to get a team together, building a team. In my first year, I bought all the pucks and water bottles from Canadian Tire."
Although the on-ice obligations, and an increased workload, resulted in a necessary change in the front office, the results provided Breton-Lebreux with another proud hallmark. Finding new friends and a group of people who shared her enthusiasm for team and game alike, the cultivation of one of the finest team cultures in female sport sprouted.
Grateful for the loyalty and dedication of all involved with the franchise, former McGill Martlets captain and Montréal Wingstar alum Meg Hewings would inherit the GM's role. Remaining in said role until the league's closure, she was part of a devoted group that also included Fiona Robinson, whose incomparable work ethic set a positive example for a growing legion of volunteers.
"Meg (Hewings) came in at the right time. After three to four years, I was exhausted. There was really too much to do, along with playing at the same time. (At first), she took a few responsibilities and took phone calls. We also had help from Fiona Robinson and Helene Lapointe.
Last season, we had 30-40 volunteers during the game. People felt like family, attracted to help the cause. To them, it was worth it, something special. It is sad to see it gone."
Just as integral in Breton-Lebreux's experience with the franchise was the friendship of Caroline Ouellette, who retired as the league's all-time leading scorer. Their careers having run parallel since their teens, calling each other teammates in multiple facets of the game, their post-playing endeavours would intersect at Concordia University.
Worth noting, Concordia would provide multiple Stars/Canadiennes alumnae with further opportunities to contribute to hockey, simultaneously enriching the university's sporting culture. Breton-Lebreux, who was also a captain for the Concordia Stingers at the turn of the millennium, leading the squad to a national championship, serves in the role of an Athletic Trainer, working with both men's and women's teams in numerous varsity sports.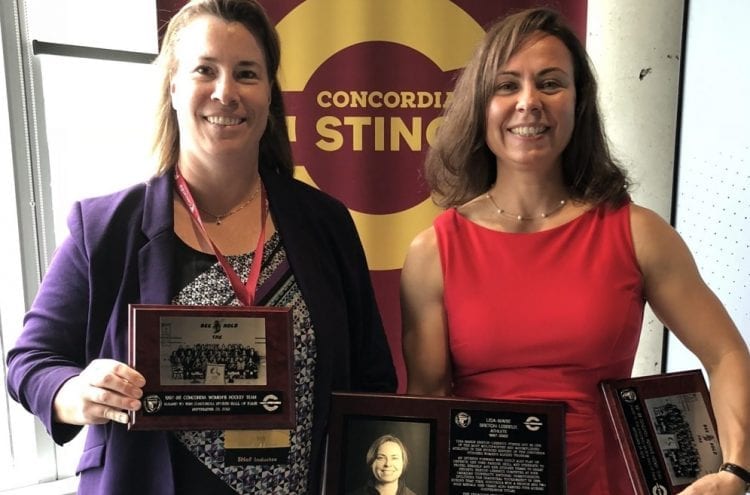 In what proved to be the final season of Canadiennes hockey, although one that was completely unexpected, both Breton-Lebreux and Ouellette were part of the team's coaching staff. With 2002 Winter Games gold medal coach and current architect of Les Carabins de Montreal, Daniele Sauvageau, taking on the reins of head coach in the latter half of the season, their collective presence pushed Les Canadiennes into the 2019 Clarkson Cup Finals, a record eighth Finals appearance,
"I was able to work with Caro at the end. It was full circle. I played with her for 22 years. At the Jeux du Canada, we were teammates, and I even knew her the year before at the Team Québec training camp. After we retired, we coached together."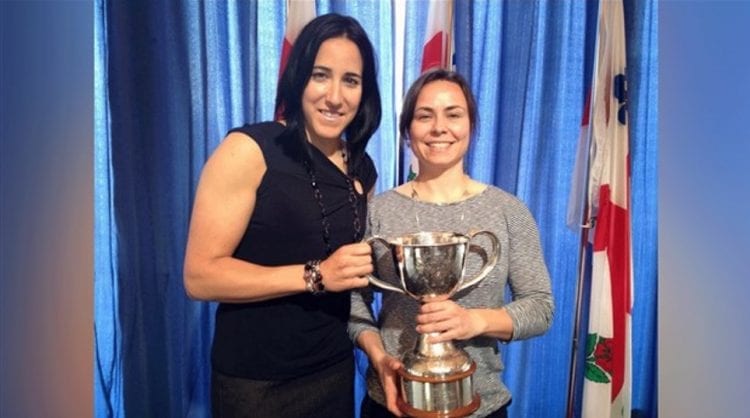 Undoubtedly, the feelings of mutual respect and enjoyment at the rink are reciprocal. While Ouellette walked away from the game as the CWHL's all-time leading scorer, along with four Winter Games gold medals that burnish her standing as a member of the Triple Gold Club for Women, the chance to collaborate with Breton-Lebreux is an opportunity to return to her roots.
Having quickly gained acclaim as an instructor, holding a series of camps and festivals that have established her as an integral builder for the game's next generation, Ouellette found a muse in Breton-Lebreux. Enjoying the opportunity to win all four of Montreal's Clarkson Cups together, the last coming with Breton-Lebreux serving on Dany Brunet's coaching staff, their combined efforts and long lasting friendship truly exemplified what was great about the female game.
"Lisa-Marie has always been a great inspiration to me with an incredible work ethic and a contagious passion for the game. She was a tremendous leader, willing to do whatever it took to win including accepting any role. She is always positive and gives confidence around her.
It was a pleasure this year to work with her in a coaching capacity. Not many people feel as much pride for our organization having started the CWHL. She has been such an instrumental part of our success on and off the ice."
Although there were tremendous shockwaves throughout the hockey community when the CWHL abruptly ceased operations, an unforeseen and truly devastating event, Breton-Lebreux prefers to look at the big picture, pondering the future with a sense of optimism. While the future of the professional female game in Canada remains in stasis, its development possibly hampered in the short-term, the achievements that she contributed to during a decade of CWHL hockey stand out as a strong point of pride, maintaining a positive outlook, hoping that the past accomplishments shall provide inspiration for more prosperous opportunities,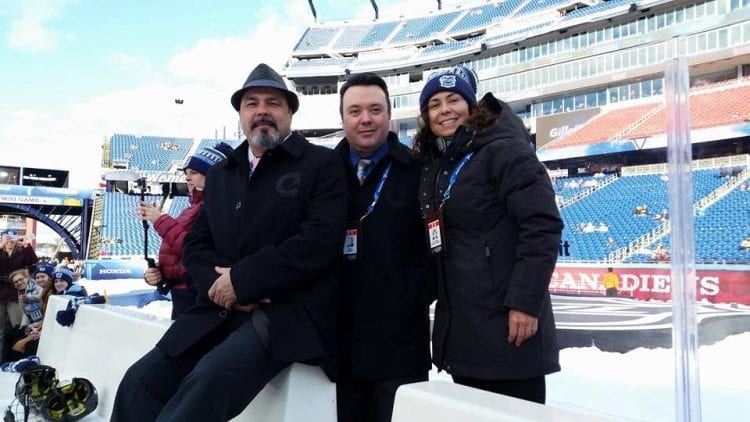 "To keep (things) in a positive manner, to keep hoping. It would be easy to be discouraged, how slowly we were moving forward. Every year, there were little victories.
The NHL did not build itself in (just) 12 years. They had six teams and the players worked in the off-season. Arlene Dickinson, from Dragon's Den, said that women's hockey was the fastest growing sport in North America. Our league was getting there. For the (recent) Clarkson Cup, there were 175,000 viewers.
I am very proud of how we created such a league, with a great calibre of players. We were just starting to pay the players, playing in China, and the quality of play was amazing."
Whether it was the nomenclature Stars, or the later incarnation of Canadiennes, Breton-Lebreux was truly the heartbeat of the franchise. A once-in-a-lifetime individual whose courage and compassion created a tremendous team culture that defined her legacy as a strong leader and valued friend. Although she reflects on her role as one of the game's builders with humility, part of the experience encompassed an outstanding group of teammates. Certainly, all the wondrous women who garbed the Stars/Canadiennes paraphernalia helped change the perception of the club into a "dream team", and the promise of better days is one that Breton-Lebreux hopes creates the kind of cherished memories that established her years with the club as some of the best in her hockey odyssey,
"My place was like any other pioneer (in the game). I did what I had to do during the time I was there. The timing was perfect and it was such a great ride, truly amazing. The team had such a good core of players and friends; so many great people. Caro, Julie Chu, Cathy Chartrand, Annie Guay, Sarah Vaillancourt, Bettez. We all grew together. The whole organization was really special. It was amazing and I hope that a new league can give players as much as the CWHL gave me."
"All quotes obtained first hand unless otherwise indicated"
Related Articles