Since graduating from the RMU Colonials women's ice hockey program, highlighted by recognition as College Hockey America's Defender of the Year, and an invitation to attend Hockey Canada's National Developmental program camp, Kirsten Welsh's new chapter in hockey has gained tremendous traction. Trading in her stick for the referee's stripes, Welsh remains an integral part of the movement for women to gain their rightful place in the professional hockey conversation.
Raised in Blackstock, Ontario, east of the nearby community of Port Perry, Welsh's initial experience in the game took shape in the PWHL. Starring for the Whitby Wolves, a celebrated program where she called the likes of Hanna Bunton, Rhyen McGill, Hailey Noronha, Kassidy Sauve, Cassidy Vinkle, Lauren Williams and Krista Yip-Chuck, among others, as teammates.
Enjoying three seasons in the Wolves blue and gold colors, Welsh captured a pair of Alumni Cup titles and a bronze medal at the 2015 OWHA Provincials. Blossoming into a stalwart on their defensive unit, she would also serve as alternate captain during the 2014-15 PWHL season.
For an individual such as Welsh, still in her prime, her experience as an official has already grown by a quantum leap. No place was this better realized than at NHL All-Star Weekend in St. Louis, home of the defending Stanley Cup champion Blues. A highly anticipated and unprecedented happening featured the introduction of the Elite Women's 3-on-3 event. While the players, all possessing experience at the Winter Games, were the focal point of the event, their presence was one shared among many other wondrous women.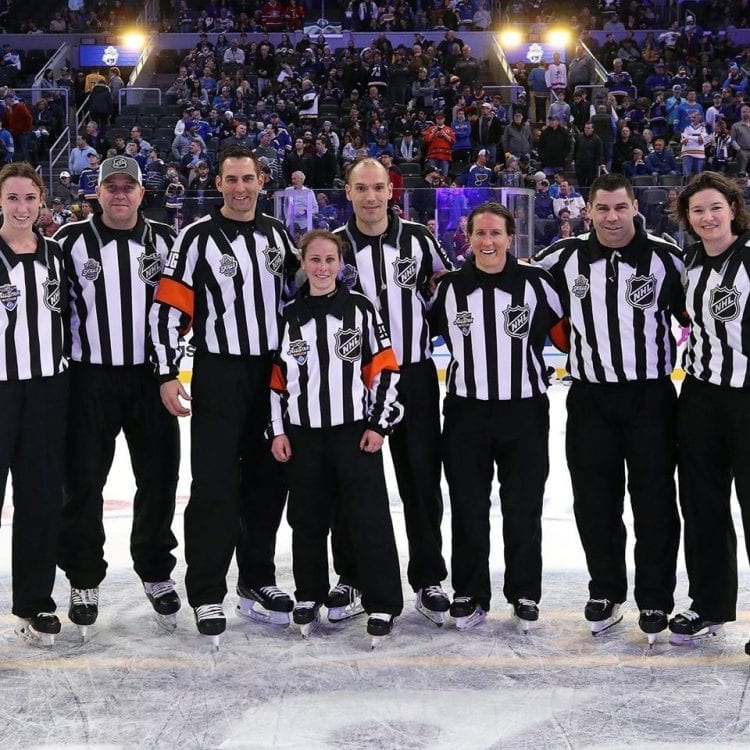 From the outset, Hockey Hall of Fame members Jayna Hefford and Cammi Granato took on the coaching reins for their respective teams. Certainly, the theme of acceptance was accentuated by the fact that an all-female officiating crew was on-hand. Joining Welsh on this magical night included Kelly Cooke, a participant in the Women's Winter Classic, Katie Guay, whose hockey resume includes officiating at the 2018 Winter Games, and Kendall Hanley, whose decade-plus experience as an official was preceded by skating for Elmira College.
Upon the discovery that Welsh would be part of such a landmark event, gaining a unique privilege to be part of professional hockey history, the revelation was one that needed to be absorbed. Considering that the Elite Women's 3-on-3 marked an unprecedented first, Welsh, who is in her first season as an official, has already displayed a remarkable proficiency. Rewarded with the dream assignment in St. Louis, it was one that took on the meaning of 'game changer',
"I was star struck. At first, I did not know what they were talking about because there has never been a women's 3v3 game at the All Star event. So, I had to have them repeat that they wanted me to ref. After a shock to the system, and hearing that I was one of the four women chosen for this first-ever event, I was extremely thankful and excited."
Fittingly, Welsh's first experience as an official in the NHL realm also involved Cooke, Guay and Hanley, finding serendipity in the chance to share in this momentous milestone alongside them. Late in the summer of 2019, this fantastic foursome was on-hand for the NHL's Officiating Camp in Buffalo, New York. With all four gaining officiating assignments at the league's numerous preseason Prospect Camps, the chance to follow it up by working together on NHL ice encompasses a continuation of their collaborative legacies.
Assigned to work at an NHL Prospect Camp during early September 2019, also in Buffalo, the theme of reunion was highly prevalent. From the outset, Welsh's final appearance in the Colonials jersey took place in the same venue just a few months earlier, hosting the College Hockey America Tournament as the program faced off against the Syracuse Orange on March 8, 2019. The day before, the opening round of the tournament resulted in Welsh recording the last point of her Colonials career, gaining an assist on a third period goal scored by Sarah Quaranta, which also stood as the game-winning tally, in a 2-1 victory versus Penn State.
Welsh officiated games involving the host Sabres, Boston Bruins, New Jersey Devils, featuring Jack Hughes, the first pick overall from the 2019 NHL Entry Draft, and the Pittsburgh Penguins. Considering that the Colonials were based 17 miles west in Moon Township, Pennsylvania, the Pittsburgh connection certainly rekindled fond memories of her time with the Colonials.
Also reinforcing the theme of reunion was another star player on the Devils' roster. During her preteens, Welsh had played on a boys team which featured Evan Cormier on the roster. Standing between the pipes for the Devils at the Prospect Tournament, it marked a pleasant surprise for both, as Cormier, currently with the American Hockey League's Binghamton Devils, had not been aware that Welsh transitioned into officiating.
Handling face-offs, calling off-sides, and dealing with scrums after the whistle, it was a display of grit that rekindled memories of playing for the Colonials. Unafraid to bring tenacity to their lineup, Welsh made a bold statement in her freshman year with the Colonials, leading all players in NCAA Division I hockey with 72 penalty minutes, followed by 71 minutes as a sophomore. While she would become more disciplined as her career progressed, also an indicator of how she grew into a leader, it served to enhance her knowledge of the game, gaining greater perspective of the game's intricacies.
Linesman Kirsten Welsh pic.twitter.com/UGToi6wPmw

— Mike Morreale (@mikemorrealeNHL) September 6, 2019
Although there may be a tinge of irony in the fact that Welsh has transitioned into the realm of officiating, she is part of a proud Colonials legacy of hockey alumnae making an impact in the zebra stripes. In addition to Welsh, two other alums, Brandon Blandina and Furman South, are also pro referees. South, who played from 2008-12, amassing a career total of 31 points, debuted in the NHL on April 6, 2017 as the Arizona Coyotes hosted the Vancouver Canucks in a 4-3 win. Blandina made his NHL debut at the renowned Madison Square Garden, during a March 19. 2019 contest that saw the Detroit Red Wings defeat the New York Rangers by a 3-2 margin.
"Before I went to the exposure camp for the first time officiating, Brandon contacted me, took me out on the ice for private lessons, and showed me the ropes of reffing.
He has been an inspiration and mentor to me, and helped me immensely for getting on my feet with this career. He gave me my first pair of ref pants, gave me an officiating book and my first whistle. He has been someone I look up to and go to for advice if I ever need it.
Being able to say I can represent RMU, as an alumnus is something I am very proud of. That program taught me so many life lessons and gave me the opportunity to take this path after I graduated and if I did not go to that school, I would never be here."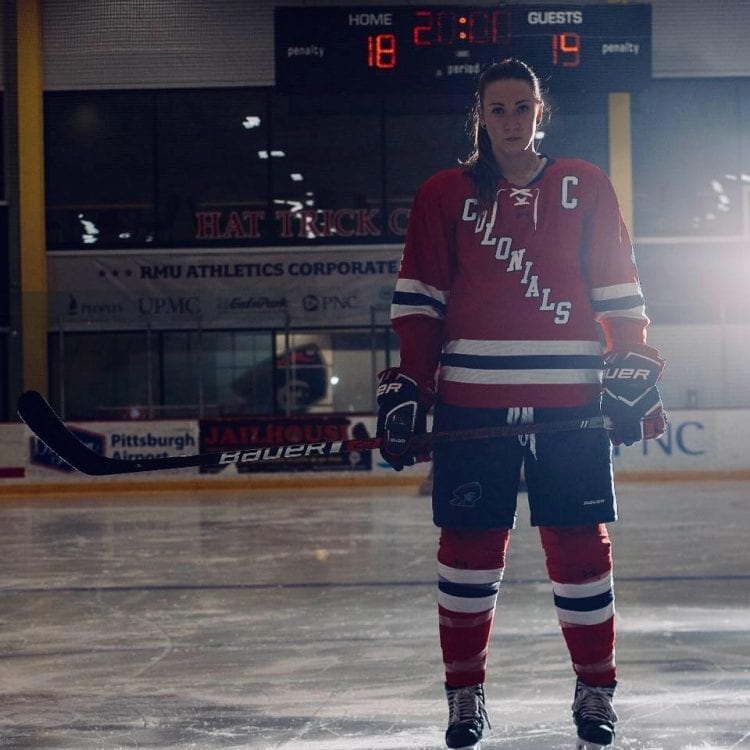 Undeniably, the privilege of such an historic event took on a tremendous feeling of realization upon the sight of the officials jerseys. Embroidered with the NHL logo, it marked an encouraging and highly empowering stimulus for Welsh to continue her hockey dream.
Taking into account that the players also enjoyed the luxury of said logo adorned on their jerseys, it was an intricate yet important detail, which heralded the arrival of women on one of the biggest stages of professional ice hockey. With the Elite Women's 3-on-3 certainly signifying an aspect of sporting equality, it was a theme that resounded with an elated Welsh, the feeling of acceptance highly prevalent,
"It felt like I was a pro. When we got there, we were treated just as good as the NHL stars, Olympians, and men's referees. The NHL did an outstanding job providing the same opportunity and treatment they had for the players and the refs.
It was an experience I will never forget, and to have a taste of what working for the NHL is like, let me just say that I am hungry for more. This is my career path and I am determined to break the barrier of females officiating in the NHL."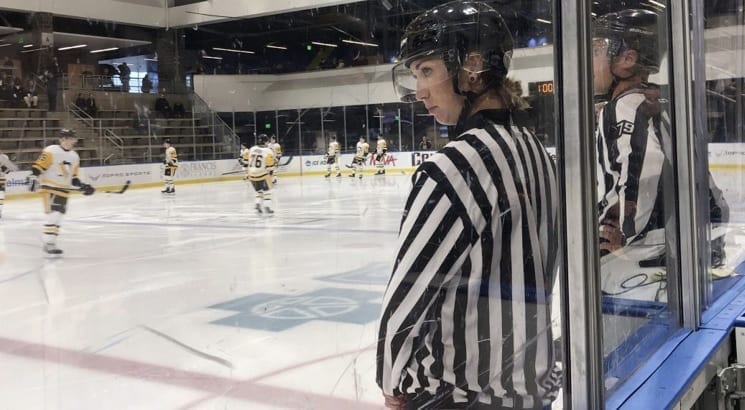 In addition to her fellow female referees, Welsh can also find inspiration in a number of female officials from numerous sports in terms of breaking barriers. Violet Palmer, notable as the NBA's first female official began her run at the age of 33 in 1997 during the tail end of the Michael Jordan era in Chicago. Of note, her debut took place on October 31 in Vancouver, in a game featuring the Grizzlies and Dallas Mavericks. Additionally, she would make history as the first woman to officiate an NBA playoff game, taking place on April 25, 2006, and she would also serve in the same capacity at the 2014 NBA All-Star Game in New Orleans.
Pam Postema, who appeared on the cover of Sports Illustrated (March 14, 1988 cover date), not only umpired a Major League Baseball spring training game in 1989, she also took on the same role in the annual "Hall of Fame" Game, which featured the Atlanta Braves and the New York Yankees.
A 2015 exhibition game between the Arizona Cardinals and Kansas City Chiefs not only saw Sarah Thomas as a line judge, the first-ever female official, the Cardinals featured Jen Welter, an IFAF Women's World Football gold medalist, serving in a capacity of linebackers coach, the first woman to serve in such a role at the NFL level. Worth noting, a flip card from that iconic game was signed by both, displayed at the Pro Football Hall of Fame in Canton, Ohio.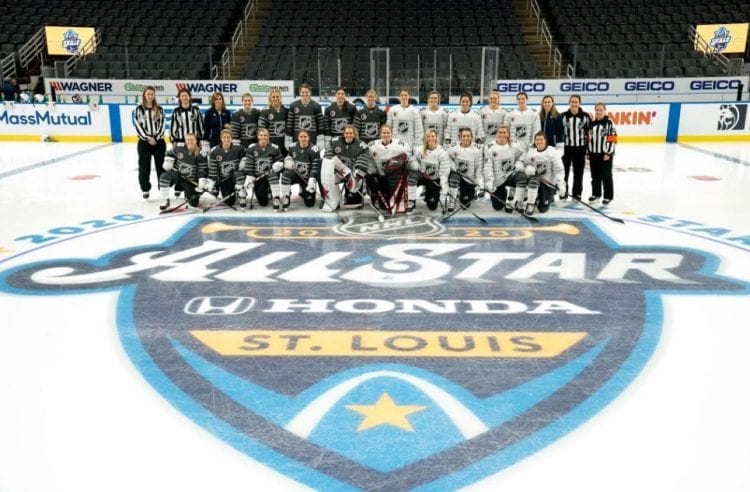 There certainly deserves to be a place in the Hockey Hall of Fame for numerous paraphernalia from the Elite Women's 3-on-3. Although the pre-eminence of the players, many household names, raised awareness about women in hockey, the inspiring presence of the officials at the Elite Women's 3-on-3 allows for a deeper appreciation of the game.
Realizing that women can take on a plethora of roles, from scouting and broadcasting, to officiating, coaching and front office roles, the legacy of the event is one which emphasized a strong sense of community. That sense of legacy took on a highly profound meaning for Welsh in the event's aftermath.
Following the obligatory post-game handshakes, and the players gathering at center ice for a heartwarming salute to the fans, both teams went to center ice for a group photo, which also saw the coaches and the officials invited too. Such an inspiring image served as a defining moment and inspiration for participant and fan alike, a constant reminder of obstacles overcome and new summits reached.
"It was a moment of realization, that I was apart of something way bigger than myself. Obviously, it was an honor sharing that ice with some of the best female and male referees in the game but to be put in the same group as those individuals was a memory I will never forget. It was truly a dream to be out there, and to have the opportunity the NHL gave me to perform on such a massive stage was one I will always remember. It was incredible."
"All quotes obtained first hand unless otherwise indicated"
Featured image supplied by Kristen Welsh
Related Articles