In a year that included a unique series of historic events, from Finland becoming the first European nation to capture a silver medal at the IIHF Women's Worlds, to the host Russians gaining their third straight golden outcome in the Winter Universiade, that feeling of momentum was also evident in NCAA hockey.
With an all-female officiating crew at the 2019 NCAA Frozen Four, believed to be an unprecedented occurrence, Kelly Cooke, Katie Guay, Delaney Harrop and Amanda Tassoni comprised this outstanding quartet. All bringing their own unique backgrounds, shared by the common thread of having played competitively, this quarter was fused in history, comprising what is believed to be the first all-female officiating staff at the NCAA Women's Frozen Four.
Undoubtedly, fans witnessed a historic feat at People's United Center in Hamden, Connecticut when all four took to the ice, an achievement destined to comprise an important chapter in the annals of NCAA hockey.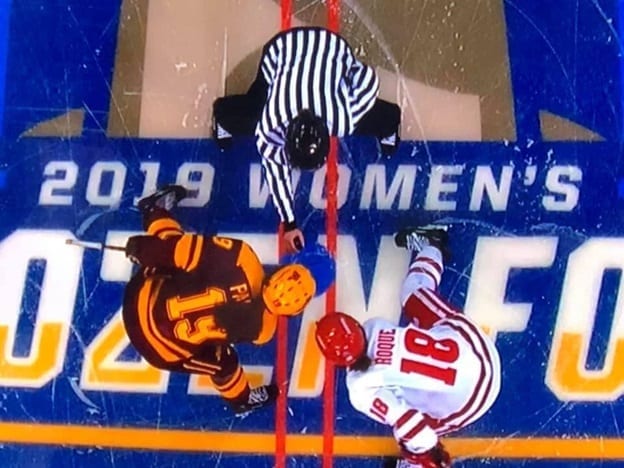 The tournament itself involved a gathering of dynastic programs, including the two-time defending NCAA champion Clarkson Golden Knights, featuring Patty Kazmaier Award winner Loren Gabel. Along with WCHA powerhouses, the Minnesota Golden Gophers and Wisconsin Badgers, the group was rounded out by the Ivy League's Cornell Big Red.
By tournament's end, the Wisconsin Badgers, whose roster included Team USA member Annie Pankowski, along with Emily Clark and Sophie Shirley, both alums of Hockey Canada, captured their fifth national championship. Becoming only the third program to have won that many, they join conference rivals Minnesota-Duluth (who also have five titles) and the Minnesota Golden Gophers (who hold the NCAA record with seven). The title accentuated a fascinating campaign that saw head coach Mark Johnson having his banner raised to the rafters by the men's hockey program.
Reflecting on the impact of being part of this remarkable crew of empowering officials, Harrop, a four-sport star in high school who joined Trinity College starting in the autumn of 2014, has transitioned remarkably into this new phase of her hockey odyssey. A long-time fixture as a referee at Rodman Arena, even during her years as a stay at home blueliner with Trinity, last year, she was joined by Kelsey McCauley, Sammie Kline and Danica Korpacz among women from New England that attended USA Hockey's Officiating women's futures camp.
Discussing how the women's game has grown by a quantum leap, continuing to reach new and exciting highs, Harrop's involvement in the Frozen Four undoubtedly makes her part of this intensifying evolution, ecstatic at the chance to be part of the event's heritage,
"Being on the ice for the Frozen Four was incredible. Not only are you surrounded by such an energetic atmosphere, but you get to interact with the players and really see how great their skills and communication are up close.
Women's hockey has come such a long way, and it is always fun to be involved in experiences like this. It is an honor to be part of NCAA women's hockey history, and it is even more of an honor to have been working with such incredible and accomplished officials."
Best known as a former professional player, capturing the inaugural Isobel Cup with the Boston Pride, part of a season that also included participation in the Women's Winter Classic, the first-ever professional women's hockey match contested outdoors, Kelly Cooke's hockey resume also includes a Clarkson Cup championship. An alum of Princeton University, where she called the highly inspiring Denna Laing a teammate (the two would also play together in the CWHL and the NWHL), Cooke has actually been officiating since her teens.
Having enjoyed numerous officiating milestones over the last couple of seasons, Cooke, who also serves as the NWHL's Director for Player Safety, has also worked at the Winter Universiade and at the IIHF level, respectively. Prior to this year's Frozen Four, Cooke also enjoyed the opportunity to officiate the Women's Beanpot, a staple of Boston hockey.
Adding to Cooke's burgeoning New England hockey legacy, the prospect of serving as one of the officials at the Beanpot Tournament, which the Boston University Terriers won, the opportunity to work alongside Guay enhanced the experience. Both officials in the ECAC Conference, Guay has been a highly positive influence beyond officiating. As Cooke reveals, she also called her a coach during her formative years skating at Noble and Greenough in Dedham, Massachusetts.
Indubitably, the opportunity to work together at the Beanpot served as an invaluable preparation for the Frozen Four. Developing an on-ice rapport that translated into an even more enjoyable and memorable experience for a jubilant Cooke,
"Without a doubt! Katie and I spent most of the season together, and there was never a dull moment with her around! She has been a great mentor to me since I started officiating college hockey, both on the ice and off, so to have the opportunity to work both the Women's Beanpot and the National Championship game with her was a pretty surreal experience and one that I will always cherish.
[As an aside, Katie was actually my high school hockey coach at Nobles, so we have known each other for over 11 years now, which makes our officiating journey this season even more memorable.]"
Part of the officiating crew for women's ice hockey at the 2018 Winter Games, Guay was certainly the most seasoned of this foursome. Having first served as an official in 2006, Guay's gradual rise to officiating prominence includes another unique brush with history. Becoming the first female referee to officiate at the Men's Beanpot Tournament, NHL.com chronicled Guay's experience and the historic magnitude of this event.
Fittingly, there was another unique NHL linkage for Guay. A mentor and positive influence in this compelling chapter for all four of the female officials at the Frozen Four was the highly affable Paul Stewart. Akin to said officials, Stewart was also a former player before transitioning into officiating.
Highlighted by donning the jersey of the Quebec Nordiques during their inaugural season (1979-80) in the National Hockey League, the extension of Stewart's journey in hockey went beyond his playing days. Becoming a professional referee, Stewart (who did not use a helmet), enjoyed numerous highlights, including serving at the 1987 and 1991 Canada Cup tournaments, along with service in more than 1,000 NHL games.
Joining a unique group of individuals, including King Clancy and Dean Morton, they would be among the few who have been both players and officials in NHL history. As a side note, former NHL official Red Storey once won a Grey Cup with the Toronto Argonauts, while Cooper Smeaton not only served in the NHL as an official, but once served as coach for the ill-fated Philadelphia Quakers.
A proud advocate for the possibility of women one day officiating in the NHL (as a side note, Violet Palmer served as an official in the National Basketball Association in the late 1990s), Stewart currently serves as ECAC Hockey's Director of Officiating for both the Men's and Women's game. In addition, his hockey resume also involves serving as one of the faces of the admirable Hockey Fights Cancer initiative, while also taking on a consultancy role in the Kontinental Hockey League.
Also a member of the United States Hockey Hall of Fame, his induction class also featured former Team USA women's national team captain Natalie Darwitz. Showing his support on social media for the historic impact made by the officiating crew at the 2019 Frozen Four, including gracing the ice for a postgame photograph, it was a very kind gesture appreciated by said crew, as Guay discusses.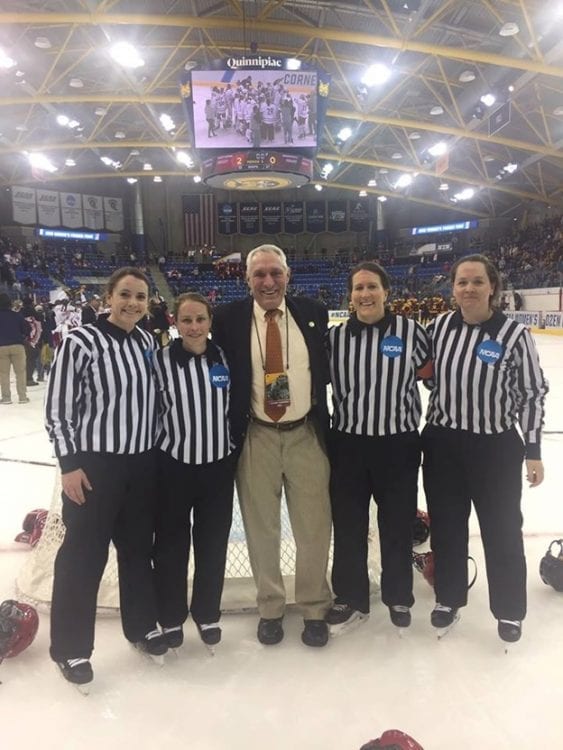 "Paul Stewart takes pride in the development of his officials. He drove down from Lake Placid the morning of the finals to be at Quinnipiac to support our crew. It means a lot to have an assigner take so much pride in seeing his officials reach their goals."
In Guay's development as an official, the achievement of the Frozen Four comprises part of a highly diverse yet accomplished athletic background. More than an esteemed role model for her fellow officials at the Frozen Four; she combines her strong leadership skills and insatiable enthusiasm for sport in many other unique facets.
Among such facets includes serving in a unique capacity with USA Hockey (where she was once a member of the program's Under-22 national hockey team), Guay's focus involves donor relationship-building efforts in the New England region.
Worth noting, an already milestone-filled 2019 was enhanced by Guay gaining the chance to compete at iconic Fenway Park. With the Red Bull Crashed Ice athletic event making a stop in the United States during the 2018-19 season, Guay was coincidentally involved in a unique aspect of sporting history. Traditionally, Crashed Ice events are contested on an outdoor venue.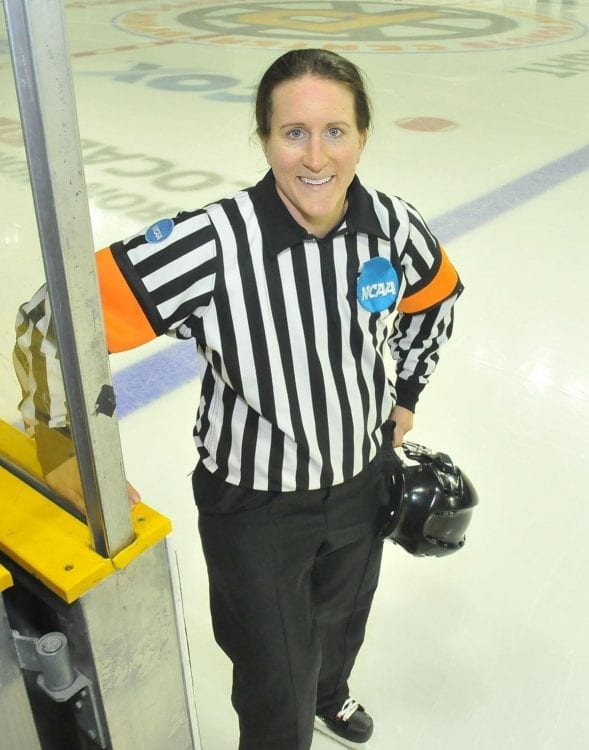 Hosting an event at Fenway, home of the 2018 World Series champion Boston Red Sox, it marked the first ever hosted inside a stadium. With a configuration that spanned seven stories, covered in a frozen sheet of ice that sees its daring participants attempt to frantically cross the finish line first, Guay qualified for the event. As a side note, Amanda Trunzo, a former skater for the Ivy League's Dartmouth Big Green, not only won the women's event at Fenway, she finished the 2018-19 as the Crashed Ice Women's World Champion.
Undoubtedly, Crashed Ice was the prologue for Guay's proud milestone achieved at the 2019 Frozen Four, one which also brought her involvement in NCAA hockey full circle. At the dawn of the Millennium, Guay was garbed in the paraphernalia of the Brown Bears, where she majored in business economics and psychology.
Playing for legendary head coach Digit Murphy, Guay skated alongside the likes of Pam Dreyer, Kim Insalaco, Courtney Johnson, Meredith Ostrander and Kristy Zamora, as the Bears qualified for the 2002 Frozen Four championship game versus the Minnesota-Duluth Bulldogs. Gaining the rare opportunity to return to the Frozen Four as an official, leaving a monumental mark in tournament lore,
"Being in the Frozen Four is just as exciting as a player as it is for an official. When I hit the ice for warm ups, it brought back many memories of my experience playing in the NCAA Championship game during my playing days at Brown."
Raised in Rhode Island, the same state where Brown University is located, Amanda Tassoni also starred in the state. Playing for head coach Beth McCann with the University of Rhode Island Rams, which were part of competitive play in the Eastern Collegiate Women's Hockey League, under the umbrella of the American Collegiate Hockey Association, she appeared in 100 games for the program.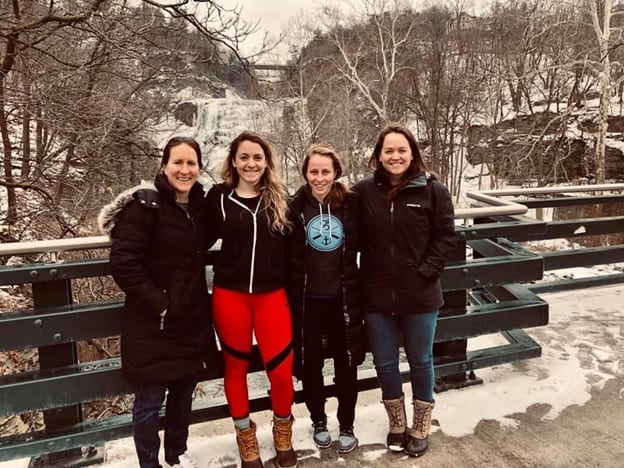 Recording a career total of 72 points, placing her among the top 25 scorers in Rams history, Tassoni's greatest season came in 2010-11. Earning a Second-Team ECWHL All-Tournament team honor, this complemented a treasured spot as a Second Team All-American, an invaluable contributor for a squad that placed third in the national rankings, qualifying for the ACHA tournament.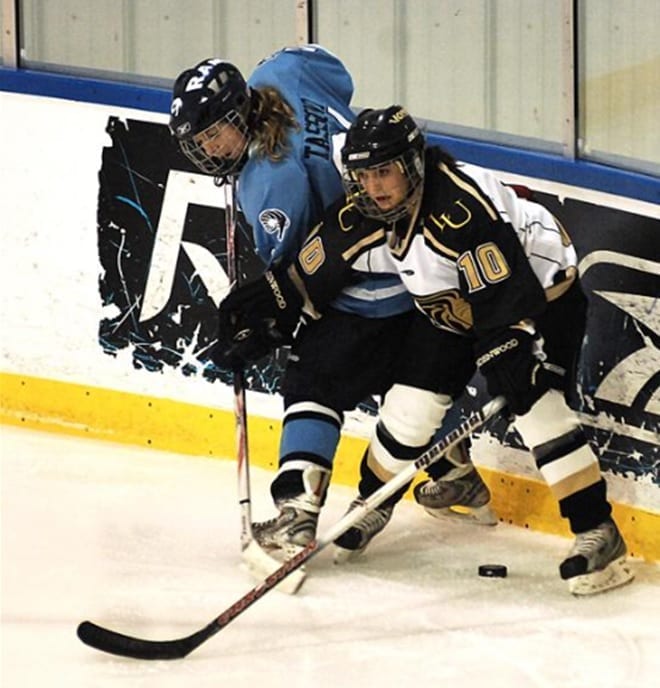 Having also worked with Cooke, Guay and Harrop at the 2019 ECAC Championship Game between Clarkson and Cornell, Tassoni established a level of familiarity that enabled her to gain an even greater appreciation for what followed in the postseason. Upon discovering that she was part of the first-ever all-female officiating crew at the Frozen Four, the zenith reached was one filled with a combination of euphoria and achievement.
"I was ecstatic! I could not have asked for a more amazing group of ladies to share this experience with, and was so thankful to be a part of it. The 2018-19 season was a long one with a lot of traveling, and being a part of the Frozen Four made it all worth it."
Certainly, the labours of a referee, bringing order and structure to the frozen perimeter, simultaneously requiring an obligation to be well conditioned physically, can be overlooked or under-appreciated.
Although it constitutes part of the reality in donning the striped jersey, the significant amount of mileage amassed over the course of a season, both on and off the ice, certainly mirrors those of the players, both bringing a high level of commitment. To be able to close out said season with a Frozen Four opportunity is one equally appreciated by these remarkable referees, akin to umpiring a World Series or officiating a Super Bowl.
Having gained a much greater perspective on the duties that encompass officiating, it has only served to enrich Tassoni's love of the game. Taking into account that a generation ago, opportunities for women in hockey past university competition were scarce, the prospect of officiating has resulted in breathing new life into the game.
North of the border, former CWHL players such as Amber Bowman (also a world-championship fighter) and Ashley Stephenson (a former member of Canada's national women's baseball team) have taken whistle in hand. Elizabeth Mantha, a former star player with Les Carabins de Montreal, has served as a linesman at the 2018 IIHF Under-18 Women's Worlds, even attending an NHL officiating combine in Buffalo, New York.
Part of this newest legacy in women's ice hockey, Tassoni is optimistic that the collaborative impact with her fellow referees shall serve a positive influence for young women to remain in the game after playing, pondering opportunities beyond competition. Certainly, Tassoni's career serves as an empowering template,
"Yes, I believe that a lot of attention was drawn to females in officiating this season more so than past seasons overall. The world of officiating is not an easy one, and it certainly is not for everyone, but if girls are up for the challenge then I highly recommend giving it a shot. It is a great way to stay involved in the game, and this was a perfect showcase of how rewarding the road can be!"
In the aftermath of the Frozen Four, Cooke remained occupied, continuing to gain more exposure to high-level officiating. Among four referees at the 2019 IIHF Women's World Championship Division II Group B tournament, the officiating crew featured women from an astounding 11 countries.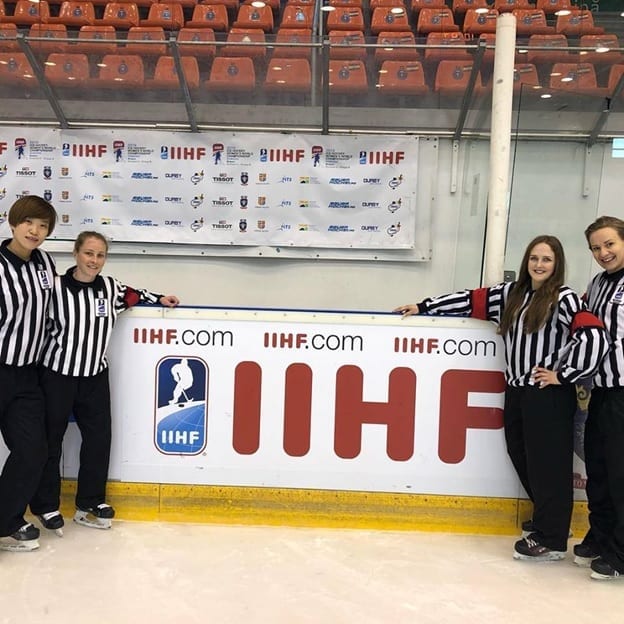 Contested in Brașov, Romania, Group B play involved Chinese Taipei, Croatia, Iceland, New Zealand, host country Romania and Turkey. Among the games that Cooke officiated, the most notable took place the last day of the tournament. Working with lineswomen Julia Mannlein of Germany and Bente Owren of Norway, Chinese Taipei defeated Iceland by a 5-2 mark at the Brașov Olympic Ice Rink. While Sing-Lin Tao scored twice for the victorious team, Iceland's Silvía Björgvinsdóttir scored one of Iceland's goals, clinching the scoring title.
Following it up with the successful completion of her postgraduate law studies at Boston's Northeastern University School of Law, such an eventful spring for Cooke has represented a series of highly positive life-changing achievements. Gaining the chance to be part of hockey history alongside such wondrous women as Guay, Harrop and Tassoni represents an empowering extension to her already captivating career, demonstrating how the impact of women in hockey continues to make the game better,
"Officiating at the Frozen Four was an amazing experience, but to be able to do it with the first-ever all female crew was really a dream come true. The four of us spent a lot of time together this season—we logged a lot of miles, slept in many different hotels, and shared a lot of laughs, so to be able to achieve this goal together was pretty special and something that I will always remember.
I am thankful for the female officials that came before us and started to pave the way, and I hope that our work in the National Championship game continues to pave the way for younger female officials in the years to come."

"All quotes obtained first hand unless otherwise indicated"
Related Articles