Part of a golden age for women's baseball in Canada, Ashley Stephenson assembled a brilliant career that encompassed such a formidable time. Having first garbed the national team paraphernalia in 2004, Stephenson's display of skills on the diamond ran parallel to an accomplished legacy as a women's ice hockey competitor.
Prior to Stephenson's inaugural season on the diamond with Canada's contingent, she has already established herself as a consummate skater with the prestigious Wilfrid Laurier Golden Hawks. A consistent presence for the program, donning its iconic purple and gold jersey, demonstrating significant leadership and perseverance, the hallmarks of her Golden Hawks career are plentiful.
A three-time OUA First Team-All Star (2004, 2005, 2006), along with Second Team All-Star honors in 2003, where she amassed a career-best 21 points, Stephenson has also been recognized as an All-Canadian. Earning Second Team recognition in 2005, she followed it up in her fifth and final season with a spot on the First Team All-Canadians. Running parallel to the achievements of 2005 and 2006 included a pair of nods to the CIS Women's Hockey Championship Tournament All-Star Team, complemented by the CIS Women's Hockey Championship Tournament MVP in 2005, respectively.
In university athletic lore, Stephenson, a four-time Laurier Athlete of the Week, was bestowed the honor of the team's Most Valuable Player Award in 2005-06, a crowning touch to a compelling career. Five years later, she attained a prestigious peak with entry into the Golden Hawk Hall of Fame, joining fellow women's ice hockey alumnae Lisa Backman, Allison Goodman, Cheryl Pounder and Amy Turek. As a side note, later years would see Lauren Barch, Andrea Bevan, Cindy Eadie (a former teammate), Andrea Ironside, who skated alongside Psota, Laurissa Kenworthy and Liz Knox also gained induction, expanding the number of wondrous women from the hockey program to be honored.
Fittingly, the Golden Hawks connection remained an integral part of her athletic endeavors after graduation. Through her entire sojourn as a member of the national women's baseball team, Stephenson called Kate Psota, another Golden Hawks hockey alum, as a teammate. Psota, an alum of the Stoney Creek Jr. Sabres, who joined the Golden Hawks during Stephenson's final season in Golden Hawks purple, would win five OUA championships, along with recognition as a CIS Academic All-Canadian in 2009.
Both playing in the infield, with Psota located at first base, while Stephenson patrolled third base, known colloquially as the "Hot Corner", the symbiotic rapport was evident from their first game together in Canadian garb. Between 2008 and 2010, Stephenson earned national team Most Valuable Player honors once, while Psota gained recognition twice. One year later, Stephenson captured one of Canadian baseball's biggest prizes, winning the Jimmy Rattlesnake Award. As a side note, Psota would be the first player to win the honor, capturing it in 2008.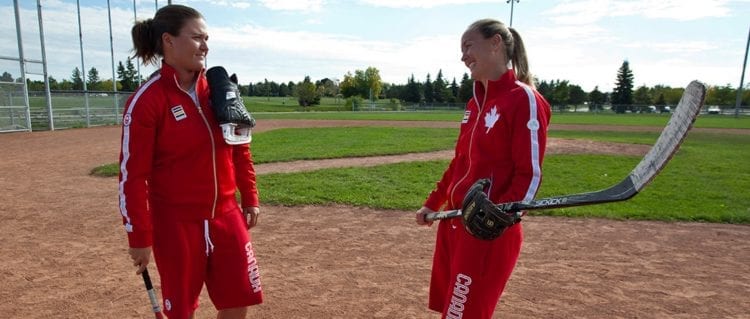 "Kate and I have played baseball together since we were teenagers but I had never had the opportunity to play hockey with her until we attended Wilfrid Laurier University together.
Ever since I was a child I have had two loves … baseball in the summer and hockey in the winter! I have met some of my best friends through sports and Kate is one of them. We only played hockey together for one year, but it was a blast.
I think the comradery we built on the diamond carried over to the ice, and we were lucky enough to play two sports at an elite level together."
Undeniably, their dual presence solidified one of the most formidable infields in female baseball, one that also featured highly skilled second baseman, Nicole Luchanski, all sharing the milestone of roster spots on Canada's team that participated in the first female baseball tournament at the Pan-American Games in 2015.
Prior to the prestige of this event, which saw Canada emerge with a silver medal, the biggest game that Psota and Stephenson played in was the first-ever no-hitter in the history of the Women's World Cup. Taking place in 2014, Stephenson logged a pair of Runs Batted In (RBI), while Psota registered four. Key contributors in a brush with history that saw pitchers Heidi Northcott and Cindy Evaarada find their names etched in baseball lore.
Fast forward to 2018, and the IBAF Women's World Cup of Baseball, contested in Viera, Florida, supplied a pleasing climax to the shared sojourn of Psota and Stephenson with Canada. Qualifying for the bronze medal game, involving their eternal rivals from the United States, it was an opportunity to avenge their 5-1 loss from Round 2 play.
With extra innings required to determine the winner, the Canadian contingent displayed a remarkable resolve in a highly emotional 8-5 victory. Undeniably, the victory symbolized a poignant passing of the torch for the Canadian contingent. Penciled in as the clean-up hitter, Psota batted .333, while Stephenson went 2-for-4 with a pair of RBI's, including one in extra innings off US pitching age Stacy Piagno.
Such reliable veteran contributions were essential towards victory, providing a steadying presence. Certainly, their poise inspired a pair of young stars who showcased their skills on this monumental day. British Columbia's Allison Schroder assembled 4 1/3 innings of solid pitching, striking out three, keeping Canada in a position to win, while slugger Daphnée Gélinas, one of two players from Québec on the roster, blasted a home run, one of three hits on the day. Establishing herself as an impact player, one of her four RBI's was the go-ahead run in the top of the tenth inning, enabling Stephenson one more proud, and highly satisfying, podium finish.
"Winning a medal at a World Cup is extremely difficult thing to do. I have been lucky enough to be part of a number of exciting games but to finish my career with a bronze medal, extra inning win over our US rivals, it was almost perfect. In that game there were a number of times where our backs we against the wall.
We were down early and had to claw back. We were up late and surrendered the lead. We went to extra innings and failed to score and then had to battle through the bottom part of the innings. Our team was the true definition of team. We supported each other. We believed in each other. We wanted to win it for each other.
The best part of being an athlete is working as hard as you can to be the best you can be and knowing your teammates are doing the same; and then it all comes together in an instant and what you have worked so hard for is yours! I was proud to leave for field as a national team athlete with those amazing women with me."
In addition to the World Cup, 2018 was also a year that saw Stephenson add another pair of major milestones to her sporting resume. As the only Canadian elected in 2018 to serve on the World Softball Baseball Confederation (WBSC) Athletes Commission, her standing as a finalist for the inaugural Dorothy Seymour Mills Lifetime Achievement Award complemented such an honor.
Awarded by the Society for American Baseball Research's (SABR) Women in Baseball Committee, Stephenson was among four finalists, including Perry Barber, who has umpired more than 6,000 games. Edith Houghton, who once served as a scout with the National League's Philadelphia Phillies from 1946-52, plus Justine Siegal, the first woman to throw batting practice to a Major League Baseball team, achieving this with the American League's Cleveland Indians, was the other nominees.
No moment held as much emotion as the aftermath of the World Cup, which saw the tremendous trio of infield greats (Luchanski, Psota, Stephenson), along with field manager André Lachance, whose post shall be assumed by former pitching coach Aaron Myette, each make the visceral decision to transition from the national team. Fittingly, Psota and Stephenson both announced their retirements at the same time, an announcement that made national news.
Certainly, their retirements marked the departure of an essential aspect of the national team's leadership core. Heralding a time of transition for the national team, there was certainly a sullen feeling that an empowering era has reached its apex. Yet, optimism also bridges this preceding era with the succeeding one, knowing that the standard of excellence set is destined for emulation.
Dynasty and destiny collided on Remembrance Day weekend 2018, with Ottawa serving as the backdrop for a gala evening that honored the finest in Canadian women's baseball, with all funds raised for the National Team. Special Recognition Award, presented by Rawlings Canada were given to Stephenson and Psota, who are among only three women to have competed in the first eight IBAF Women's World Cups of Baseball.
Co-hosted by Baseball Québec Vice President Julie Gosselin and writer Alexis Brudnicki, a former statistician for the Toronto Blue Jays, another considerable pair of pioneering women in baseball shared their stories. Maybelle Blair and Shirley Burkovich, competitors in the All-American Girls Professional Baseball League, of which the iconic film, "A League of Their Own", was based on, orated on the experience of being part of such a monumental time in sporting equality.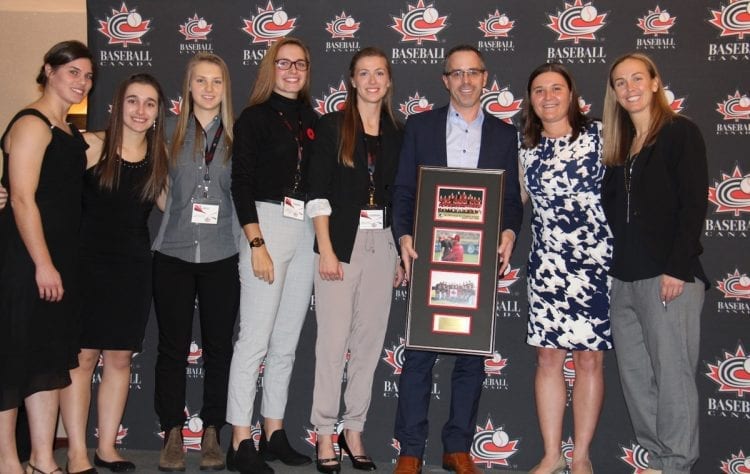 Other award winners included long-time volunteer Holly LaPierre winning the inaugural Female Baseball Builder Award, while a triptych of star talent helped to bring Stephenson's career full circle. The aforementioned Schroder gained the Women's National Team Futures Award, while Gélinas gained the National Team MVP Award. Jenna Flanagan, a native of Cornwall, Ontario, capturing the first-ever Ashley Stephenson Award, definitely resulting in a shared sense of history with the legend.
Definitely, the likes of Flanagan, Gélinas and Schroder could not have asked for a better role model than Stephenson. From a baseball perspective, Stephenson's superlative stretch on the diamond involved placing Canada into the conversation of the world's finest teams, constantly one of the contending teams at the IBAF Women's World Cup of Baseball. Highlighted by the attainment of silver in 2008 and 2016, along with four bronze medals, 2004, 2006, 2012 and 2018, the podium finishes only represent part of the narrative.
Leading all competitors with five stolen bases at the 2008 World Cup, Stephenson landed on the Tournament All-Star team, complementing another treasured honor earned in the same year. Named the national team's Most Valuable Player Award for the second time, it foreshadowed a unique aspect of female baseball in Canada.
Amanda Asay, recognized for her thrilling performance against Chinese Taipei, striking out eight batters to advance to the 2016 World Cup gold medal game, captured the MVP honor in the same year. Akin to Stephenson and Psota, Asay had also competed in women's ice hockey at the university level, skating for iconic Digit Murphy with the Ivy League's Brown Bears. As a side note, Asay also played on the Bears varsity softball team, and would finish her collegiate hockey career with the University of British Columbia Thunderbirds.
Of note, both the baseball and softball connection is not uncommon to women's ice hockey, supplying Stephenson with a unique instance of six degrees of hockey separation. Sommer West, a former teammate of Stephenson on the CWHL's Burlington Barracudas, along with Clarkson Cup champion Noemie Marin, the iconic Hayley Wickenheiser, plus Golden Hawks Hall of Fame goaltender Cindy Eadie, all competed on Canada's entry in women's softball at the Summer Games.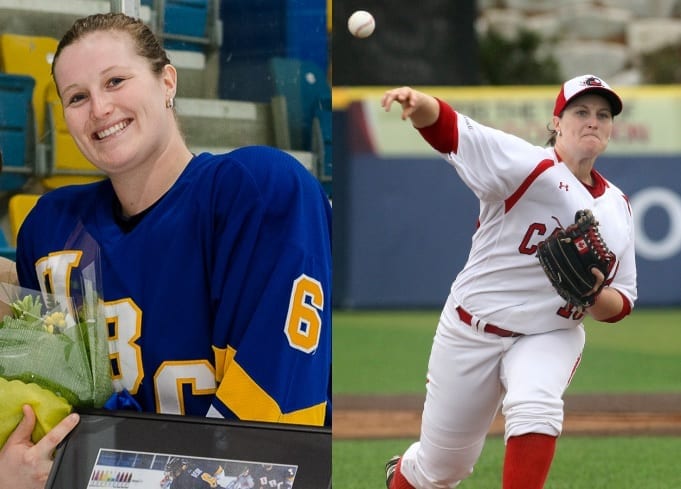 Of note, both the baseball and softball connection is not uncommon to women's ice hockey, supplying Stephenson with a unique instance of six degrees of hockey separation. Sommer West, a former teammate of Stephenson on the CWHL's Burlington Barracudas, along with Clarkson Cup champion Noemie Marin, and the iconic Hayley Wickenheiser, all competed on Canada's entry in women's softball at the Summer Games.
Recently, the Markham Thunder supplied Stephenson, who played for the club when they were based in Brampton, with another unique connection. Laura McIntosh, a member of their 2018 Clarkson Cup team, once served as an assistant hockey coach with the Golden Hawks, and once competed in softball at the Ontario Summer Games. Coincidentally, the Clarkson Cup finals resulted in some other fascinating linkages. Murphy, who coached Asay at Brown, served as head coach for the Kunlun Red Star, the team that the Markham Thunder defeated in order to capture the 2018 Clarkson Cup at Toronto's Ricoh Coliseum.
Adding to the intriguing connection was the Thunder's goaltending picture. Liz Knox, who served as the Thunder's back-up goalie in the postseason, called Psota a teammate at WLU, and joins Stephenson in the Golden Hawks Hall of Fame. Starting goaltender Erica Howe also captured an NCAA Frozen Four championship with the Clarkson Golden Knights in 2014. Among her teammates on the championship roster from 2014 was a player that also held the hockey and baseball connection.
The 2018 CWHL Draft resulted in Ella Matteucci, who called Howe a teammate on the Golden Knights championship roster, and a teammate of Stephenson on the national team, selected by the Thunder in the fourth round. Matteucci, along with Asay, Autumn Mills, who skated for York University (which saw Lions hockey alum Samantha Magalas also play for Canada's baseball team), plus Psota and Stephenson, were the five fantastic hockey stars that competed at the historic women's baseball tournament at the Pan American Games, (which was also contested in Toronto).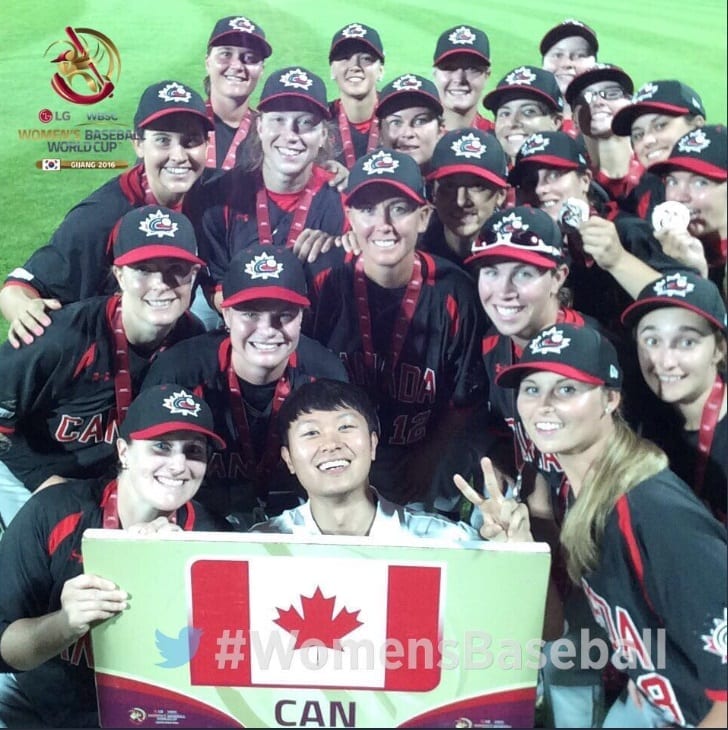 "We have amazing athletes as part of our program. Every player on our team has played multiple sports. I believe in being a multi sport athlete. Living in Canada, hockey is a way of life for most people, and that is no different for a lot of athletes on our team, including myself.
I have always been proud to play for my country, it was an honour every time I put on the jersey, but I was just as proud to play for Wilfrid Laurier University (and every other team I played for) and worked just as hard to be the best player I could be.
Women's sports are a budding movement! There are so many incredible female athletes in a number of sports…Brooke Henderson, Bianca Andreescu, Kia Nurse, Marie Philip Poulin, Tessa Virtue, Justine Dufour-Lapointe, and the list goes on. I can't wait to see where we go next…I just hope I can do my part pushing the movement forward."
During Stephenson's years with the Brampton Thunder, she competed in the Esso Women's Nationals for the Abby Hoffman Cup, a precursor to the current Clarkson Cup. Capturing the prized Abby Hoffman while donning the paraphernalia of the Mississauga Warriors in 2008, such a career highlight was commemorated by the presence of three Golden Hawks alumnae, testament to the program's influence in Canadian hockey. With Cindy Eadie as the opposing goaltender, Cheryl Pounder skated alongside Stephenson on the victorious Warriors, hoisting the last major championship in franchise history.
Having also competed during the nascent years of the CWHL, Stephenson not only took to the ice with the transplanted Mississauga franchise, she would wind up her career with the Burlington Barracudas. Among her career highlights in the club's blue and orange colors, she skated in the first-ever women's hockey tournament hosted by Hockey Helps the Homeless, and she also scored a goal in Burlington's last ever victory in CWHL play, which took place during the 2011-12 season.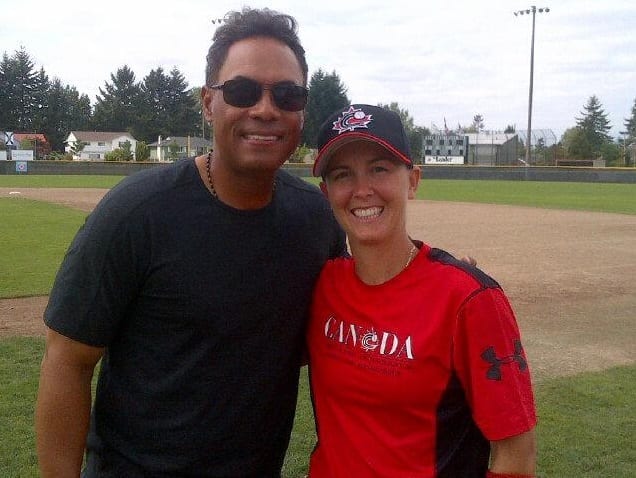 One season later, Stephenson joined former Sommer West, the last captain in Burlington franchise history, as new members of the Furies coaching staff. With the club having qualified for the 2013 Clarkson Cup playoffs, it also marked the rookie seasons of Rebecca Johnston, Natalie Spooner and Jennifer Wakefield, all gold medalists for Canada at the 2014 Winter Games.
"It was a pleasure to coach the Toronto Furies. I learned a great deal about how to manage and work with elite athletes. I believe you learn things at any level of coaching, but my hope is that some of the strategies that were successful at the rink will also work on the diamond."
Following the Furies experience, Stephenson remained highly occupied in numerous coaching capacities. Along with Magalas and Mills, she was an instructor at the Toronto Blue Jays Baseball Academy in 2015. Highly dedicated to the student-athlete culture in her high school, she coached her high school to the Halton Region Field Hockey championships during autumn 2018.
With the 2019 Pan-American Games on the horizon, coaching shall remain a very strong focus for Stephenson. Remaining a member of Canada's national women's baseball team in a coaching capacity, she supplied more than just acumen and charisma. Her presence is a constant reminder of what is great about both women's ice hockey and the rapid growth of women's baseball in Canada, instilling a sanguine confidence that a new generation of gregarious girls can attain the same pinnacles she has enjoyed.
"I have done plenty of coaching at the high school level as well. Our athletes at Dr. Frank Hayden Secondary School where I teach, have provided experiences that I have learned from and wouldn't trade for anything. I love sports! I love competing as an athlete, I have been a high level official (lining University hockey and the CWHL), and now I wish to begin coaching at the elite level as well. I will bring all of my experiences to coaching in order to try and be the best one I can be."
"All quotes obtained first hand unless otherwise indicated"
Related Articles