Among the unique, yet sometimes unheeded, aspects in the lore of women's ice hockey, the fact that many of its stars are multi-sport athletes, excelling in other realms with a competitive grace and an admirable determination, efficiently translating into on-ice glories, generates an acclaim that adds greater relevance. Contributing to this expanding mythology are the women that have excelled in Red Bull Crashed Ice, of which one, Amanda Trunzo, has soared towards legendary status, setting the gold standard over the last two seasons with a pair of world championships.
Employing an off-season work ethic that has yielded tremendous dividends, including the use of inline skates at Minneapolis' The Factory, along with physically demanding box jumps and burpees becoming the staple of her workout regimen, revealed that the mantra of Mat Fraser, a three-time CrossFit Games World Champion, also spurred her on. Serving as a stimulus in her relentless drive towards the pinnacle of elite performance, Trunzo, who is also a devotee of CrossFit and once performed a WOD (Workout of the Day) with Camille Leblanc-Bazinet, the 2014 CrossFit Women's World Champion, it has translated into an energetic persona that has propelled her into one of Crashed Ice's greats.
"As far as inspiration, Fittest Man on Earth, Mat Fraser definitely inspires me by his saying 'HWPO' (hard work pays off) and the mentality that he brings to his sport. I watch his videos before every race to get me pumped up, he is a beast!"
Achieving a breakthrough season in 2016-17, placing second overall in the Red Bull Crashed Ice circuit, the result was an acquired confidence. Subsequently becoming both, the theme and the catalyst towards a rise to prominence in successive seasons, it allowed Trunzo the ability to leave a lasting legacy in this spectacular competition.
Becoming the first American-born racer to attain world championship status, magnificently achieved in 2017-18, such glory was destined to serve as prologue for Trunzo, who is also a coach at the high school level in both ice hockey and lacrosse, while admirably active as an educator at a charter school in Minnetonka. Returning to the circuit one year later, consistently displaying a drive to succeed, while Halsey's "Without Me" ranked atop her playlist of favorite songs, highlighted by winning her first four races of the season, it was an awe-inspiring indication that past glories were motivation for even greater results.
"My confidence has grown so much throughout my career so far and I think that has played a vital role in my success. The off-season training that I am doing is also another big part when it comes to my confidence. I know that I have trained extremely hard so my body is in the best shape it can be come race day."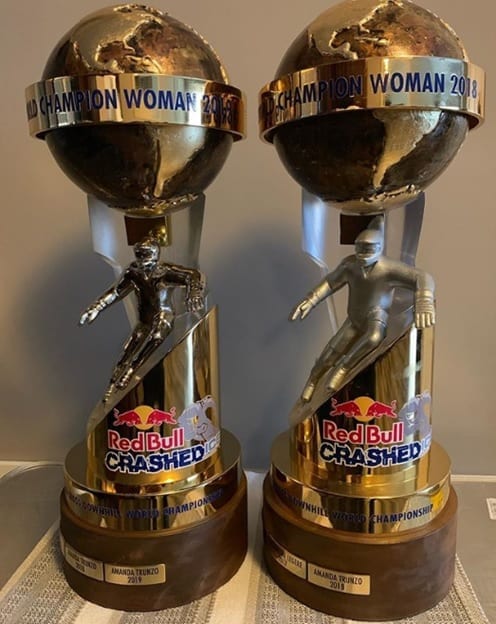 Highlighting the 2018-19 season marked a clean sweep in the men's, women's and U18 championships, as American racers soared to the peak of victory. Joining Trunzo in this revered achievement were Cameron Naasz, a native of Lakeville, Minnesota, earning his third title in four years, reclaiming the title after Canadian Scott Croxall won in 2018, while Johanny "JoJo" Velasquez, also an ice hockey player, captured the Junior World Championship.
In addition to the shared milestone of world championships in the same season, Trunzo and Naasz have intersected in two other notable elements of Crashed Ice lore. Worth noting, the two won the first-ever Crashed Ice event in Asia for their respective divisions, starting this season in Yokohama, Japan.
As said season progressed, an unlikely venue would provide another pinnacle for the two, as Fenway Park, home of the 2018 World Series champion Boston Red Sox, became the first stadium to host an Ice Cross Downhill Competition. With a 350-meter artificial ice track erected within Fenway's vaunted walls, standing at seven stories tall with the iconic Green Monster, a stoic sentinel in the background, the finished product was a project that took six weeks, requiring 107,000 square feet of aluminum to shield its hallowed playing surface.
Undoubtedly, Fenway was a major league venue affirming the dual status of Trunzo and Naasz as world-class athletes, the results validating their illustrious careers. While Naasz captured the checkered flag in men's competition, Trunzo duplicated his feat, maintaining an undefeated streak that started since the season's first race. Finishing ahead of Myriam Trépanier, who once played for iconic coach Shannon Miller with the University of Minnesota-Duluth Bulldogs, fellow American Tamara Meuwissen followed in third, gaining a place on the podium. Swiss skater Anaïs Morand finished fourth, while Jacqueline Légère, a former Crashed Ice world champion, and PWHL hockey alum, was fifth at Fenway.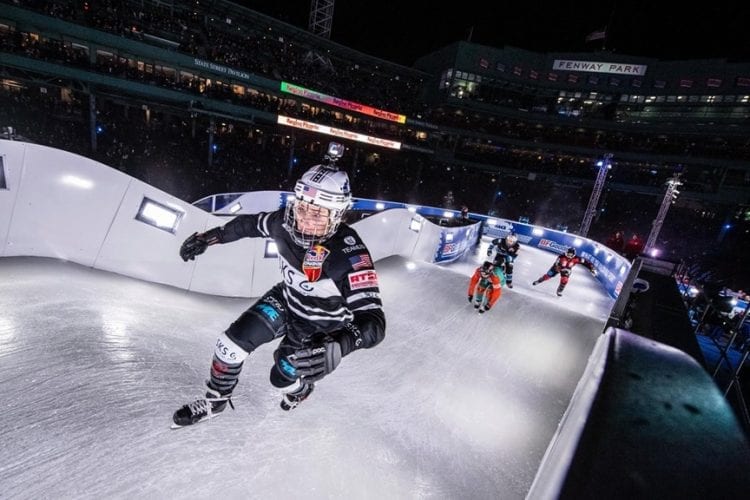 As a side note, the connection between the women of Crashed Ice and their former competitive backgrounds on the frozen perimeter has certainly resulted in a combination of kinship and mutual respect, finding new focus as empowering and elite competitors. Trépanier, raised in Québec, now calls Minnesota home, akin to Trunzo, have seen their careers run parallel, simultaneously becoming distinguished competitors and pioneers of the sport.
During the 2018-19 season, Trépanier enjoyed her share of podium finishes alongside Trunzo, including the first race of the season, where she took third place. Ranking fourth overall in the 2019 season standings, she is adding to the phenomenal accomplishments of women in hockey excelling in Red Bull Crashed Ice. Such a group also includes Fannie Desforges and Dominique Thibault, both world champions during the nascent years of the event.
"Myriam is a great friend of mine, so yes, I am happy to see hockey players succeed in this sport but also just being great friends with her makes me happy for her as well."
Notably, the distinction of Fenway also held a two-fold purpose for Trunzo, extending beyond the achievement of an electrifying Crashed Ice victory on American soil, also providing her with a privilege that eluded her seven years earlier. Graduating from the Dartmouth Big Green in the spring of 2011, Trunzo, a Second Team All-Ivy, alum of the US Under-22 national women's team, and multiple nominee for the Patty Kazmaier Award missed a unique milestone by a matter of mere months.
During the 2011-12 Dartmouth campaign, the month of January saw the Big Green women's ice hockey team participate in the Frozen Fenway hockey series, challenging the Providence Lady Friars in an outdoor game, transforming the historic baseball stadium into a celebrated site hockey venue for hockey. Camille Dumais, who called Trunzo a teammate during her time there, scored the game-winning tally in the outdoor affair, adding another chapter to the program's famed hockey lore.
Coincidentally, the hockey connection that defined Red Bull Crashed Ice at Fenway extended beyond the competitors themselves. Triple Gold Club for Women member Hilary Knight returned to Boston, where she achieved two of her greatest glories, capturing both a Clarkson Cup (with the Blades) and Isobel Cup (with the Pride). Serving as one of the judges of the Crashed Ice freestyle competition, Knight strapped on her skates and soared on the surface prior to competition, feeling the adrenaline rush that defines the essence of such exhilarating competition. One which sees a quadrant of skaters soaring down a course consisting of a length over 1,000 feet, frequently leaping, piloting through hairpin turns, while avoiding crashing into their competitors.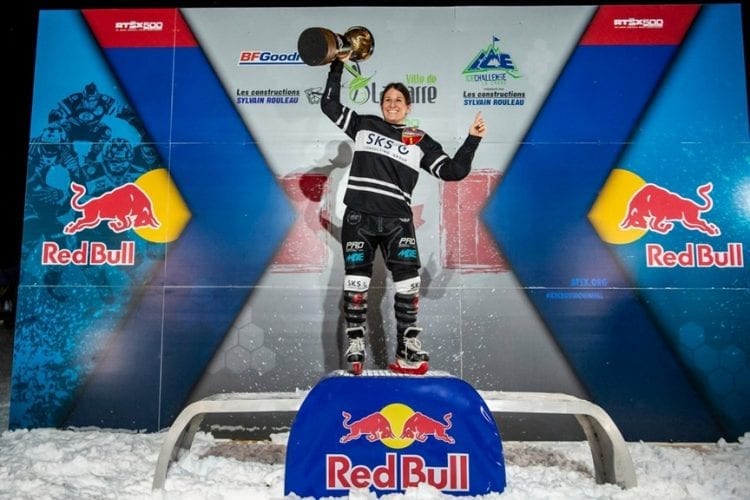 Piloting her way towards a second straight championship, there was a slight tinge of irony for the triumphant Trunzo. With the season finale contested on a 425-meter natural ice track in La Sarre, a community in northwestern Quebec, found in the Abitibi-Témiscamingue region, the race marked the only time during said season that Trunzo did not cross the finish line first. Had she won, it would have signified a record sixth-straight regular season win, placing her in even more rarified air. Morand, who finished fourth at Fenway, would snap Trunzo's undefeated streak with her first win, while Legere ended in second, followed by Trunzo in third.
Despite the daunting finish, it could not tarnish a superlative season for Trunzo, who maintained a thrilling standard of excellence throughout. With a jubilant smile, an accomplished feeling of elation, she mounted the podium at La Sarre, celebrating her second World Championship with the obligatory champagne bottle. Victoriously spraying the liquid into the chilled sky, supplying a customary image that characterizes the aspect of festiveness that commemorates such conquests.
"It feels unbelievable to be not only the first American to win it but now be the first American to win it back to back. My name is now on that trophy just as much as anyone else's, which feels great and I hope I can add to that next season!"
Throughout this rich narrative, Trunzo's path to glory is one that also encompassed encouragement and collaboration. Acknowledging the support of a strong network, from fans to sponsorship, the most essential is the comforting presence of her partner. Just as proficient in fitness, both self-disciplined in the physical demand of weight lifting, she is a constant source of enthusiasm, inspiring Trunzo to reach her personal best.
"There is a lot of people I need to thank for this World Championship win! Of course, my sponsors for making it all possible but also the friends, family and fans that support me all season long. In particular, my partner Michelle, who pushes me by competing with me in the CrossFit gym all year, coaching me while at the events and being my #1 fan all year long!"
"All quotes obtained first hand unless otherwise indicated"
Related Articles