Revered as one of the world's finest women's ice hockey players, Brianna Decker can now add the title of NHL pioneer to her amazing list of accolades and honors. As women's ice hockey has become a touchstone for social equality, Decker is one of its most endearing archetypes. Bringing an energizing presence, the opportunity to grace NHL ice only adds to the endless fascination in her expanding list of world-class achievements.
Having already amassed a compelling career that already consists of the Patty Kazmaier Award, the Frozen Four, Clarkson and Isobel Cups, plus Winter Games gold, and gold medals from IIHF competition, this luminous talent enjoyed an exciting 2019. In addition to winning the gold medal at the IIHF Women's World Championships, along with a Clarkson Cup title, Decker graced the ice at San Jose's SAP Center in January 2019, where Winter Games teammate Kendall Coyne joined her, along with Canadian skaters Renata Fast and Rebecca Johnston, one of her teammates with the Calgary Inferno.
With all the women's ice hockey superstars demonstrating the various All-Star skills events, Decker made a tremendous impression. Registering a time of 1:06 in the Premier Passer event, three seconds faster than any of the participants from the NHL, the social media campaign #PayDecker became one of the most fascinating hashtags in the sporting realm. Earning a remarkable amount of well-deserved acclaim, CCM admirably stepped forward and Decker earned a financial windfall for her supreme efforts.
Fittingly, Decker and the likes of Coyne, Fast and Johnston were back in 2020, joined by another 16 of the world's finest female hockey talent. Participating in the NHL's Elite Women's 3-on-3 Game, which also featured an all-female officiating crew, the opportunity to return to NHL ice following the empowering appearance at San Jose filled Decker with tremendous jubilation, proud at being part of a ground-breaking event that truly made a powerful statement about the acceptance of women in hockey.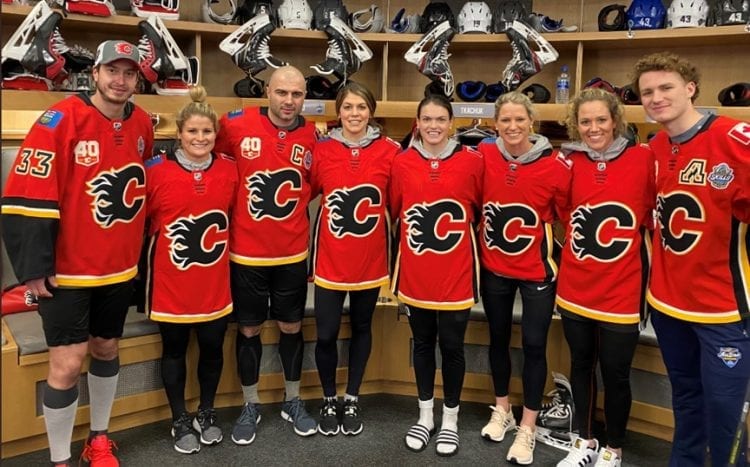 "I was so honored to return to the Skills Competition this year. Last year was quite the experience but I couldn't be more thankful for what the NHL decided to do this year with us women. I was so grateful for the opportunity and had an incredible time."
Last night, 20 of the finest players in the world displayed their speed, skill and competitive passion in the Elite Women's 3-on-3 presented by adidas. #NHLAllStar pic.twitter.com/dT5zWfcX04

— NHL Public Relations (@PR_NHL) January 26, 2020
Among the NHL All-Stars and retired greats on-hand in St. Louis, Decker and her fellow elite women's All-Stars enjoyed the opportunity to meet the legendary Wayne Gretzky. Although the Great One is best remembered for his glories with the Edmonton Oilers and Los Angeles Kings, he actually played part of a season with the St. Louis Blues.
Coincidentally, Gretzky's involvement in St. Louis also held a connection to women's hockey. As part of the Adidas She Breaks Barriers initiative, based on the key values of More Opportunity, More Access, More Visibility, Gretzky hosted an all-girls hockey camp the day before the Skills Competition. Joined by Renata Fast, Rebecca Johnston and Sarah Nurse, Decker and her fellow Elite participants shared their know-how with approximately 50 participants, working on the game's fundamentals through demonstrated drills.
"I would have to say meeting the Great One was one of the best points of my weekend. I was so impressed with how supportive he is and how much he cares about the growth of women's hockey. He put on an all-girls clinic and with Adidas support, it was very successful! Being able to interact with the other NHL guys is always fun and I appreciate how supportive they are too!"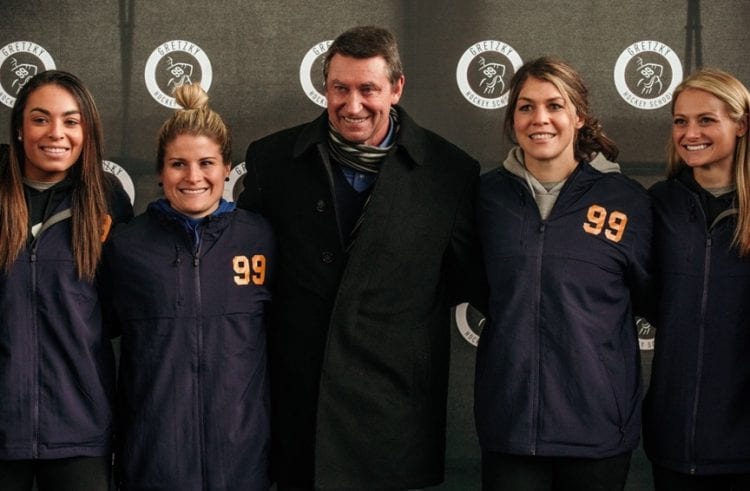 Adding luster to Decker's experience in St. Louis was the fact that both the American and Canadian rosters for the NHL Elite Women's 3-on-3 consisted of alumnae from the Wisconsin Badgers, where she recorded career marks of 244 points, 115 goals and a program-record +175 cumulative plus/minus rating. Winning the 2011 Frozen Four, along with the Patty Kazmaier Award in 2012, following teammate Meghan Duggan who won the Award in 2011, Decker, raised in Dousman, Wisconsin, definitely established herself as one of the state's greatest athletes early in this century.
During the 2010s, the Badgers, plus the Clarkson Golden Knights (featuring alum Fast) and Minnesota Golden Gophers (which saw alum Amanda Kessel on-hand) were among the programs that captured NCAA women's ice hockey national championships. Producing an incredible number of world-class players that would play internationally, the exceptional high quality of play was evident on this dazzling day in St. Louis.
In addition to Decker, Hilary Knight and Alex Rigsby, all members from the Badgers 2011 Frozen Four winning team, Annie Pankowski, who contributed to the Badgers 2019 Frozen Four championship, suited up for the American roster. Of note, a trio of Canadians that left their mark in Badgers colors also graced the ice in St. Louis. Such a group included Ann-Renee Desbiens, who inherited the starting goaltender role from Rigsby, standing between the pipes in the Frozen Four championship game in 2017, along with Sarah Nurse and Blayre Turnbull.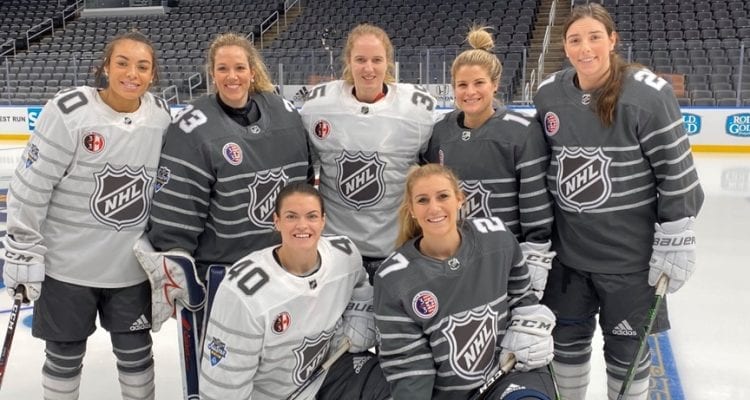 The treasured chance to share in this historic milestone together rekindled fond memories of glories in Badgers colors for Decker. With a collection of Badgers players who represented different points in a magical decade, the chance to share the ice together also held another distinct NHL connection, simultaneously paying tribute to a highly positive influence in each of their careers. Badgers head coach Mark Johnson, also celebrated as a member of the Miracle on Ice roster, enjoyed a career in the NHL during the 1980s, skating for the Pittsburgh Penguins, Minnesota North Stars, Hartford Whalers, St. Louis Blues and New Jersey Devils, amassing 508 points,
"Actually pretty incredible how many players were there representing the Wisconsin Badgers. It shows you the type of coach Mark Johnson is and the type of program they have created there. It is always fun playing against and with former Badger teammates and I'm proud of all of us."
Just as important to Decker is the opportunity to connect with the fans. One of the key staples of NHL All-Star Weekend is its Fan Fair, providing fans with unprecedented access. Highlighted by meet and greets, displays of memorabilia, highlighted by the Trophy Showcase, an opportunity to get one's image on an Upper Deck hockey card, along with the highly popular mascots from numerous NHL markets on-hand, the heroic Elites from the 3-on-3 happily made themselves accessible to fans.
Appearing at the Discover NHL Fan Zone, along with an autograph session alongside Rebecca Johnston at the Enterprise Theater, Decker found tremendous enjoyment in the chance to meet the fans during such an historic weekend for women's hockey. Considering that Decker and her fellow Elites all represent the potential for women to attain legendary greatness in the game, ready to bring it towards greater relevance, their graciousness and commitment stand as the kind of positive example that resonates with fans of all ages.
With the continued exposure for the game, including the Canada vs. USA Rivalry Series, contested in numerous NHL venues throughout North America, the saga of such an empowering time is one only made much richer from the sense of community that stands as the game's hallmark. Holding an influence that extends beyond the game, simultaneously adding new fans, awe-struck at the quality of play, the potential of a prolific time ahead is abundant with the likes of superstars like Decker,
"Discover has done such an amazing job supporting not only me and my endowment but women's hockey as a whole. It was one of my favorite parts of the weekend to interact with the fans because of how much they support our game. I am extremely thankful for the fans we have in every city we go."
"All quotes obtained first hand unless otherwise indicated"
---
Want to train off-ice with Brianna Decker and Kacey Bellamy?
Related Articles