TEAM CANADA CAREER
Known to a current generation of hockey fans as a highly respected broadcaster, sharing her relevant insights about the female game on radio and TV, Cheryl Pounder also holds a celebrated standing as an accomplished competitor. Having worn the Canadian jersey in 133 appearances, amassing 48 career points, Pounder debuted with Canada's national team at the tender age of 18. With a legacy in hockey which involves a pair of gold medals in the Winter Games, her debut proved to be golden, emerging victorious at the 1994 IIHF Women's World Championships in Lake Placid, New York.
As memorable as that experience was for Pounder, it actually did not mark the first time that she competed internationally. Two years earlier, she was part of the Canadian contingent that appeared at the 1992 Women's World Roller Hockey championships, emerging with a gold medal. One year later, Pounder's legacy would expand, serving in the capacity of team captain with Team Ontario, competing at the inaugural Canadian National Under-18 Championships.
In Pounder's hockey narrative, the 1994 IIHF Worlds would carry a tremendous magnitude. From the outset, the event also featured Manon Rheaume between the pipes for Canada, heralding the coming of women's ice hockey in the Winter Games, a feat that would occur merely four years later in Nagano, Japan.
While Rheaume is most famous for breaking the gender barrier in the NHL, appearing in an exhibition game with the Tampa Bay Lightning in 1992, Pounder's lineage involves another important chapter in sporting equality. Dora Wimmer, the maternal grandmother of Pounder, was a highly talented competitor on the diamond, pitching for the Montreal Royals of the Montreal Ladies' City Softball League.
Recruited to compete in the All-America Girls Professional Baseball League, although she never signed, one of Wimmer's career highlights involved participation in the 1940 Tri-City Ladies Softball Series, which saw the Royals reach the Finals against Toronto. In a Series game versus the Ottawa Mounties, Wimmer allowed 11 hits and struck out six in a complete game victory, a 5-4 final.
Fittingly, Wimmer would enjoy the opportunity to see her granddaughter grace the ice in Lake Placid, New York for the 1994 Worlds. In addition to Pounder, Cassie Campbell and Hayley Wickenheiser, both teenagers at the time, also enjoyed their IIHF debuts. With Pounder, their collective presence foreshadowed an era of brilliance for Canada, highlighted by capturing the first gold medal for Canada in women's ice hockey at the 2002 Winter Games, setting the stage for greater moments in the game's unfolding history, becoming part of a new generation of strong female role models.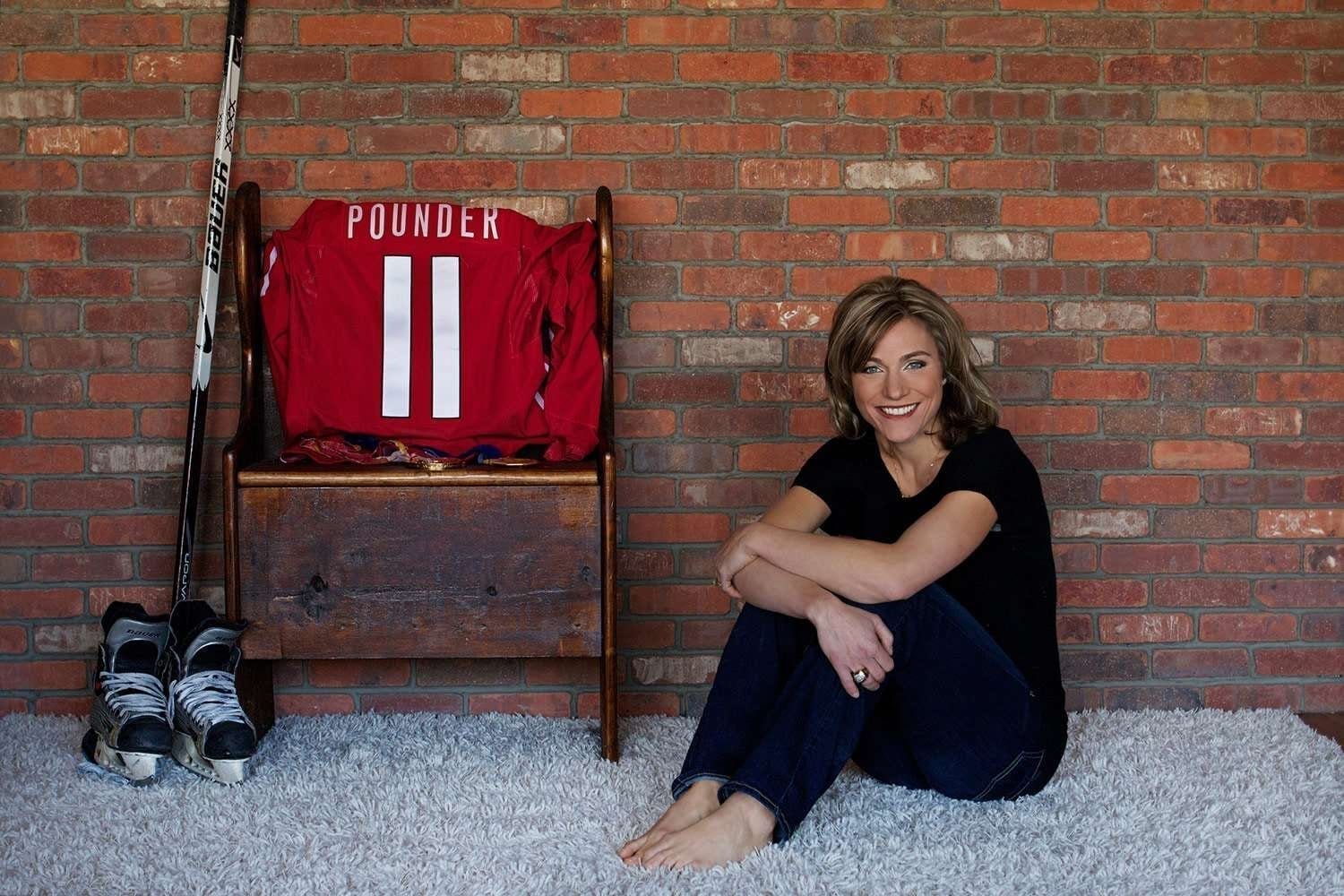 With an impressive medal haul, including a pair of gold medals at the 2002 Salt Lake and 2006 Torino Winter Games, including an assist on Cherie Piper's goal in the 2006 gold medal game, Pounder was an integral member of Canada's defensive unit at the dawn of the millennium. Between Pounder's appearances for Canada at the 1994 and 1999 IIHF Women's World Championships, her brilliance would include a phenomenal sensation run with the iconic Wilfrid Laurier University Golden Hawks program, earning All-OUA honours. Pounder would also earn international accolades, named the Best Defender at the 2005 edition of the IIHF Women's Worlds.
TSN'S ALL-TIME WOMEN'S TEAM CANADA
Fast forward to 2020, and Pounder still holds revered standing for her body of work in Canadian colors. With the month of May seeing TSN announcing a list of all-time teams, from Canada's seven NHL teams, along with Team Canada Men's and Women's, Pounder enjoyed another treasured milestone. Named to TSN's All-Time Team Canada Women's, one of 23 wondrous and inspiring pioneers whose achievements took on a brand new lustre, elevating the game to unprecedented heights, there was another unique connection to 1994, as acclaimed blueliner Therese Brisson, who also debuted at the Worlds in Lake Placid, landed a spot on the Team.
Our All-Time Team Project wraps up today with the All-Time Women's Team 🇨🇦 Canada…

Check out the 23 players who make up our women's team below: https://t.co/a1m2UuPvo9

And keep the conversation going with #TSN Director of Scouting @CraigJButton!#TSNHockey pic.twitter.com/eINHmnz5Gz

— TSN Hockey (@TSNHockey) May 19, 2020
"Wow. It is not your everyday news, so I was definitely taken aback, excited and humbled by the honour. There are so many amazing athletes named to the roster and so many that could have been there. It's a real testament to the depth in Canada's program over the years."
Sharing the honour with a group of blueliners including the aforementioned Brisson, Hockey Hall of Famer Geraldine Heaney, Becky Kellar, Jocelyne Larocque, Colleen Sostorics and Catherine Ward, each of them having won at least one gold medal in the Winter Games, this grouping generated powerful emotions for a jubilant Pounder. Among them was a remarkable show of support on social media, truly testament to an amazing presence that has seen Pounder's legacy transcend generations, "It is simply phenomenal."
Perhaps no emotion was as powerful, or cherished, as the opportunity to share the honour alongside Kellar, whose brilliant career includes appearances in the first four women's ice hockey tournaments at the Winter Games, plus a stellar career at the collegiate level with the Ivy League's Brown Bears and the role of team captain with the CWHL's Burlington Barracudas. Teammates in two gold medal showings at the Winter Games, both would also win a pair of IIHF Gold Medals on home soil, a moment of national pride achieved at the 2000 (Mississauga) and 2004 (Halifax) IIHF Women's Worlds. Identified by a unique nickname which paid homage to a series of children's novels published by the Stratemeyer Syndicate, of which there is 72 volumes, it would prove to be their calling card.
With TSN placing the All-Time team members on lines and defensive pairings, it was only fitting that Pounder and Kellar were paired together, testament to the remarkable parallels in their careers. As a side note, the two would also serve as coaches at the third CWHL All-Star Game, another proud milestone somewhat symbiotic and highly serendipitous.
"Becky and I have been defense partners and great friends for years. We have always supported and been there for one another throughout our careers and beyond. We were considered the "Bobbsey Twins", along with Colleen Sostorics. We had a lot of fun.
When I was told that I was being named, they (TSN) said 'Kellar & Pounder' will be the shutdown pair. I smiled. As a pair, we truly valued the role we were given as that shutdown pair and loved the challenge. So, it feels in an odd way, like we have been re-united for a moment in time!"
Just as relevant in Pounder's sensational hockey odyssey involved a sterling 383 appearances in club play, having first starred with the former Toronto Aeros of the Central Ontario Women's Hockey League (COWHL), Pounder would also skate in the original NWHL, where the Aeros, now sponsored by Beatrice dairy, would capture the 2000 Esso Women's Nationals, winning the Abby Hoffman Cup. Contested in Halifax, Nova Scotia, the Aeros would defeat Team Quebec by a 2-1 mark, as Lara Perks scored the game-winning goal in overtime. Among Pounder's teammates with the Aeros included Cassie Campbell, Becky Kellar and Angela James, the first Canadian women inducted into the Hockey Hall of Fame.
What an achievement! Congratulations @cherylpounder (BA '00), @TSN_Sports Hockey's All-Time Women's Team Canada!🍁 https://t.co/26Iy43dNJd

— Laurier Alumni (@LaurierAlumni) May 20, 2020
Before Pounder's career would expire, she would experience two more milestones that served as a crowning touch. With the 2007 IIHF Women's Worlds hosted in Winnipeg, her final appearance in World championship play involved winning the gold medal, Canada's ninth in tournament history.
CWHL CAREER
Enjoying the opportunity to hoist the Abby Hoffman Cup one year later, it marked a brush with history. With the 2008 edition of the Nationals the last one contested, the Mississauga Chiefs of the CWHL, Pounder's last club team, opposed the Brampton Thunder in the Finals. Serendipitously, Cherie Piper, another member of TSN's All-Time Team Canada and teammate from Salt Lake 2002 and Torino 2006, scored the game-winning goal in double overtime, providing Pounder with the last major championship of her great career. Fittingly, Piper was not the only teammate from the Olympic part of Pounder's career to have a stirring presence in club play.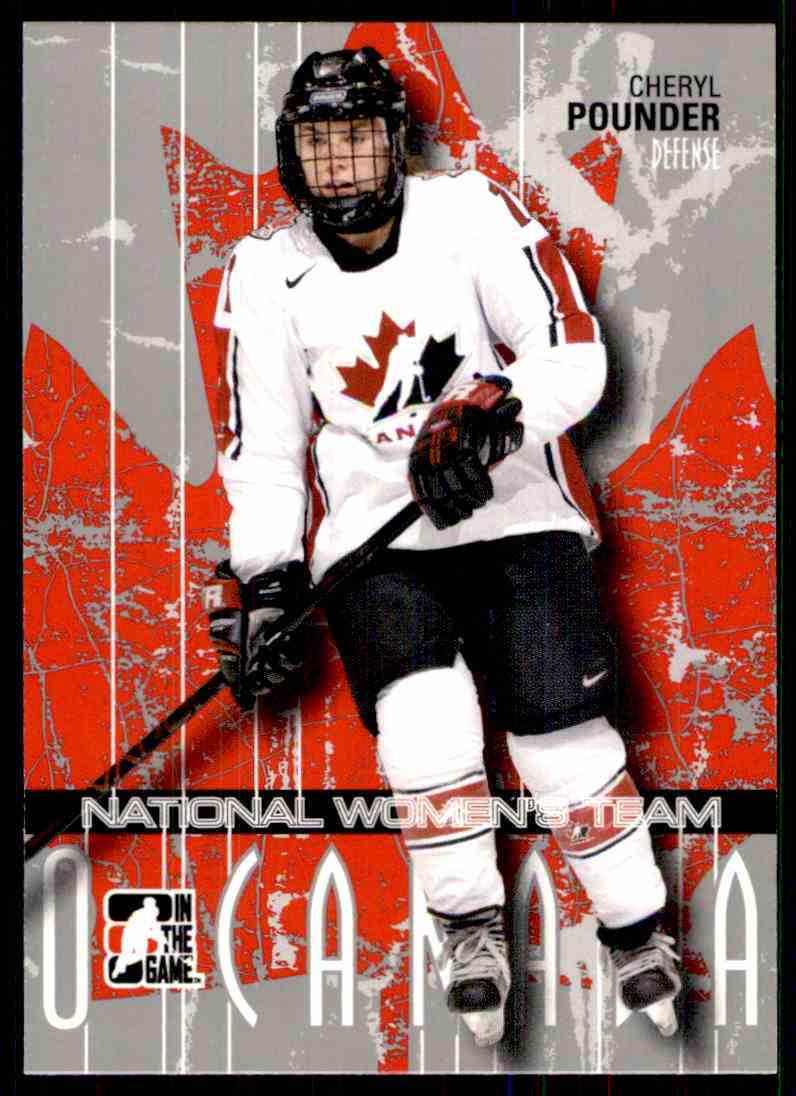 Worth noting, Jennifer Botterill and Sami Jo Small both called Pounder a teammate at the CWHL level, both sharing in Pounder's last hurrah, which was the 2008-09 CWHL season. Gaining a spot on the league's 2009 First-Team All-Stars, Pounder was joined among this celebrated group by Botterill, while Small and Lara Perks, an alumnae of Canada's Under-22/Developmental Program were among the Chiefs which both placed on the Second-Team All-Stars. The presence of Botterill and Small as CWHL All-Stars helped bring Pounder's great career full circle, also rekindled memories of her favourite moment in the Canadian jersey,
"There have been so many great moments, yet all of them have been different. If I had to pick one, it would be the Salt Lake City Gold Medal Final. With the odds stacked against us, we would become a team in that final game.
Although I do not remember a lot of the game (and never watched it again), I remember the feeling, that unbelievable, true and emotion, that took over when the buzzer went. Celebrating with my teammates and family was so special. In fact, I ran (with my skates on), into the stands to hug my family."
"All quotes obtained first hand unless otherwise indicated"
Related Articles