One of the most remarkable and benevolent women in hockey, a career embodying courage, representing the essence of perseverance, Chelsea Goldberg's path to the PWHPA was built on these pillars. Belonging to a highly skilled group of sensational skaters that comprise the Association's New England region, Goldberg, raised in Agoura Hills, California, where she starred with the Anaheim Lady Ducks, established herself as a character person and admired leader during the first phase of her hockey odyssey in the region.
NORTHEASTERN UNIVERSITY CAREER
Having competed at Northeastern University, racking up 90 appearances from 2011-15 for the highly celebrated Huskies program, the gregarious Goldberg belongs to a remarkable group of alumnae, representing some very notable names in hockey. Such a sorority included the likes of Kendall Coyne-Schofield, whose younger sister Bailey spent three seasons (2016-19) with the Huskies. Goaltender Taylor Crosby, the younger sister of NHL great Sidney, Tori Hickel, Rachel Llanes and Brooke White, a longtime professional veteran for the Minnesota Whitecaps, along with international greats Florence Schelling, who stood between the pipes for Switzerland at the Winter Games, plus star forwards from the Czech Republic, Denisa Krizova and Lucie Povova have worn the Huskies colors.
Earning a place on the 2012-13 Hockey East All-Academic Team, along with a pair of Beanpot titles, it is part of an even greater series of achievements during Goldberg's seasons with the Huskies. Serving as President of the NU Student-Athlete Advisory Committee (SAAC), two notable events off the ice served as defining moments.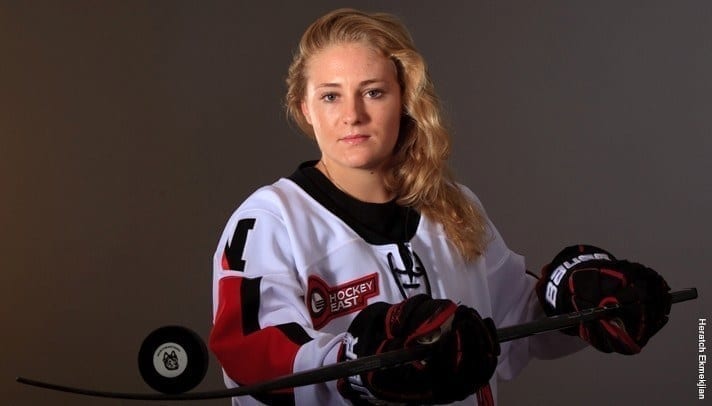 Along with former Huskies volleyball competitor Alexa Armstrong, the two made a humanitarian visit to Africa during July 2015, participating in the Care for Kenya project. Aiming to improve the quality of education in numerous regions, they collaborated to provide much needed school supplies while implementing a new sports curriculum.
One year later, Armstrong and Goldberg travelled to Indianapolis for the NCAA Inclusion Forum, which saw two members of Northeastern's Department of Athletics and Recreation (Peter Roby and Regina Sullivan) among the panelists. Geared towards enhancing the existing environment for student-athletes, topics include discussion of policy, plus international student-athletes, individuals from all diverse backgrounds, plus disability access.
Suffering a string of injuries, including the removal of five screws and a plate from her left tibula through surgical procedure, meant to ease nerve pain, Goldberg also endured the unfortunate instance of two broken legs, very frightening to fathom. In recovery, the result was a life-changing moment that provided her with perspective. Instilling in her a bravery that transformed her into an even stronger woman, it also redefined her love of competition, complementing a commitment to return to the frozen perimeter that never wavered.
PRO CAREER
With a highly mature and philosophical outlook, Goldberg possessed a strong set of values that was poised to make her a strong leader in the professional ranks. Selected by the Boston Blades with the sixth overall pick in the 2016 CWHL Draft, part of a Draft Class that included Kayla Tutino, Meghan Grieves, Dakota Woodworth, Alexis Woloschuk, Katie Leary and Lauren Dahm, among others. Goldberg quickly developed into a valuable asset for the franchise, playing in 73 games from 2016-19, including their final season in Worcester.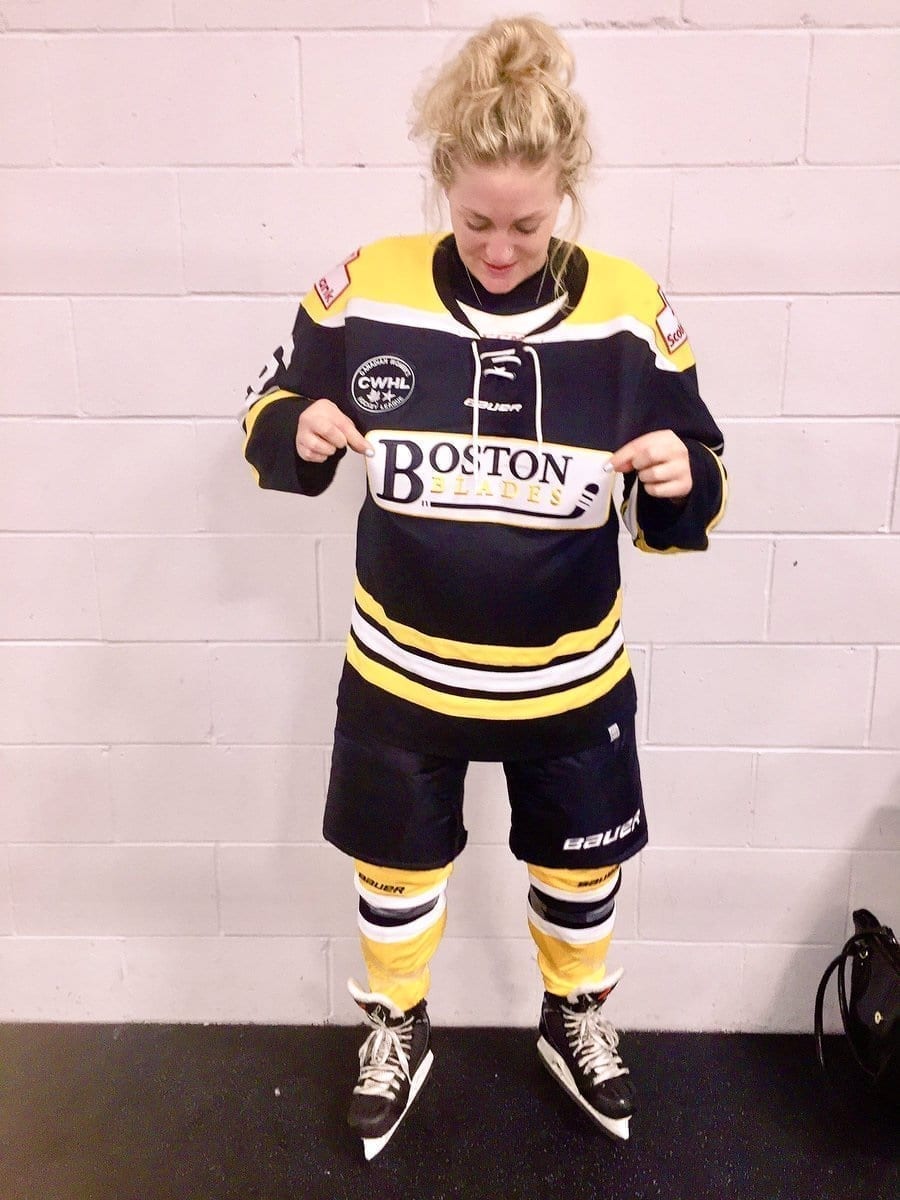 Alongside the likes of Dahm, revered as one of the hardest working goaltenders in the CWHL, Megan Myers, the last team captain in franchise history, and Courtney Turner, a first overall pick, they would become franchise cornerstones, highly popular with the fans, and all eventual players in the PWHPA.
Akin to the tremendous trio of Dahm, Myers and Turner, Goldberg's first appearance on PWHPA ice involved the Dunkin' Showcase, hosted at Cyclones Arena in Hudson, New Hampshire. Skating with Turner for Team Flanagan, named in recognition of captain Kali Flanagan, a 2018 Winter Games gold medalist, who was raised in the community, her father, Bill, is proprietor of Cyclones Arena.
Of note, Flanagan's season would include participation at the 2020 Warrior/ECHL All-Star Classic presented by Toyota. Skating for the Eastern Conference, three other players from the Association, including Dani Cameranesi (Team Hammers), Gigi Marvin (Western Conference) and Annie Pankowski (Team Bolts) joined Flanagan.
While all the teams in Hudson consisted of a tremendous gathering of talent, no shortage of star power whatsoever, the chance to call Flanagan a teammate represented a proud milestone for Goldberg, gaining the opportunity to skate alongside her for the first time in her prized career. Calling each other rivals at the collegiate level, Flanagan skating for the Boston College Eagles, there was still a unique connection. As Goldberg reveals, despite having never been teammates before, Flanagan held a special association to Northeastern. Having skated for the Huskies men's ice hockey team, Brandon Hawkins, a Pittsburgh Penguins prospects, is the fiancé of Flanagan, spending the 2019-20 season between affiliates, the Wheeling Nailers of the ECHL, and the Wilkes-Barre Penguins from the AHL.
"Before the teams got announced, I thought to myself, any team that I would be fortunate enough to play on would be a huge honor. There are so many amazing players to play with and against, that it is an exciting experience, regardless. But, when the teams did get announced, I was stoked to see my name on Team Flanagan.
Any chance to meet new people, and get to know your teammates, who are ultimately on the same team (PWHPA) fighting for the same reason, is a cool opportunity too that the Dream Gap Tour additionally provided. I obviously knew of Kali, as I played against her while I was at Northeastern and know her fiancé, who played on the men's team at Northeastern, but I had never personally met her.
So that in itself was something to look forward to. I had only heard great things about her, on and off of the ice, and I can attest that she is in fact a great person, teammate, and hockey player. It was a lot of fun being able to play with such a skilled player, and just from the short time spent with her, she is definitely the type of player that makes those around her better."
Chels Goldberg 👋🏻
-Born & raised in Southern California
-Bachelor/Masters of Arts-@Northeastern
-Living in Boston playing for @PWHPA -Commercial Property Manager
-Jewish Hall of Fame Inductee

Be #ForTheGame & join our fight for a viable professional womens hockey league 💥 pic.twitter.com/QfHNbsUnVM

— Chelsey Goldberg (@chelly_bean24) March 9, 2020
REUNITED WITH THE BOSTON BLADES
Equally important in the experience of Hudson was the chance to share in the experience with a handful of former teammates from the Boston/Worcester Blades franchise, representing Goldberg's first foray into the professional ranks. As a side note, Golberg's debut weekend with the Blades during a road series at Montreal's Arena Michel-Normandin in October 2017 saw her quickly gain a treasured milestone. Scoring her first professional goal in merely her second career game, scoring in the third period versus archrival Montreal, it was a game that also saw future PWHPA goaltender Jetta Rackleff record 33 saves in a very hard-fought 5-3 loss.
Worth noting, the Blades alumnae skating on Team Flanagan included Gigi Marvin and Brittany Ott, plus a pair of Goldberg's former teammates, Turner and Woodworth, all part of a group of distinguished competitors. Additionally, Dahm played for Team Stecklein, which included former Blades Alyssa Gagliardi and Woloschuk, while Myers and Meghan Grieves both played for Team Lamoureux, which was co-coached by Alexis Crossley-Miller, a Blades teammate from the final season in Worcester.
Since the Blades franchise, and its league, had unexpectedly ceased operations in the spring of 2019, the appearance of many of the Blades alumnae on-hand in Hudson marked the first time that Goldberg had seen them since the unfortunate ending. Although the structure of the Showcase, with its four-team tournament play, meant that Blades were prevalent on each of the rosters, it marked a unique novelty for Goldberg.
Adding to this unique dynamic was the fact that numerous Huskies alumnae were also on-hand including former Huskies teammates Coyne and Hayley Scamurra also participated. Although there was no shortage of mutual respect, the bigger picture revealing a shared sense of unity, the feeling of on-ice competition never wavered. Finding an appreciation in the social aspect, enjoyment remained the most relevant theme.
"One of the greatest aspects of sports, or I guess I can speak for women's hockey, is that the hockey world is so small, and you grow up playing with a pool of players who eventually become friends, teammates, opponents, etc. My last few years of playing pro have been a testament to that in the sense that my former teammates and friends, from Northeastern for example, were now my opponents, and I looked forward to playing against the other teams in our league to see them again.
Fast forward to the PWHPA, I had a few of my Blades teammates on Team Flanagan with me, but for the most part, everyone was dispersed across all different teams. It was a lot of fun knowing that no matter what team we were playing, there was a former Blade on that team, and while it is a lot of fun, lots of smiles when you play against your friends, it's still super competitive to say the least.
Yet again, that is one of the best parts about the game, is that there is always a couple of smiles and stick taps exchanged between old teammates, in between shifts or before a face-off. It is like nothing changes. So, overall it is always a great time when you get to reunite with former teammates."
Our New England crew had too much fun in today's 3v3 game! Thanks to all who came out to support us today! pic.twitter.com/aqgIEnNEkB

— PWHPA (@PWHPA) February 16, 2020
The Blades remained a key facet of Goldberg's initial season spent with the PWHPA. In addition to Showcase events, which saw players participate throughout numerous venues in North America, including Tempe, Arizona, in what is believed to be the first professional female hockey event in the state, there were also a series of local events.
One of the most cherished of the local events rekindled the experience of wearing the black and gold of the Boston Blades. Among the number of enthusiastic PWHPA participants gracing the ice on February 16, 2020, for a highly entertaining 3-versus-3 at Lawrence Larsen Rink at the Mike Eruzione Center in Winthrop, Massachussetts, it once served as the home venue during the 2017-18 Blades season. Marking a seminal moment that brought Goldberg's celebrated career full circle, affirming her status as an icon in New England female hockey.
"I did participate in the 3-versus-3 at the Larsen Rink. Having been a former Blade, and having that been our home arena for a year, I was familiar with that vibe: big hockey town, lots of hockey fans in that area. Any event or Showcase that we participated in this year for the PWHPA was a great experience and a great opportunity to again play with and against some the best female hockey players in the world. Not everyday and not everyone gets that opportunity, so I made sure that any chance that I got to do so, I took full advantage and made the most of it.
While this event was different than the other Showcases, it was definitely a good time. It was very fast paced, back and forth, and both teams had equal talent, which made for good competition. We did not actually end up skating with the fans after, which I was bummed about because that is always a fun and low key way to get know some of our fans and vice versa."
STAY TUNED FOR PART 2 COMING SOON!
"All quotes obtained first hand unless otherwise indicated"
Related Articles