Having assembled a distinguished career, built on resiliency, sportsmanship and character, Lauren Dahm established herself as an integral facet of American women's ice hockey in the 2010s. Highlighted by the transition of the Clarkson Golden Knights into an elite program, standing between the pipes for the US Under-22 national team, along with standing as one of the cornerstones for the Boston/Worcester Blades, Dahm is definitely one of the most assiduous goalies in the game.
Despite the promise of an exciting new chapter for the Blades, relocating to Worcester for the 2018-19 CWHL season, its conclusion was far too soon. With the league abruptly announcing its closure, the future of the professional women's game was shrouded in great uncertainty, its prospects appearing dismal in the short-term.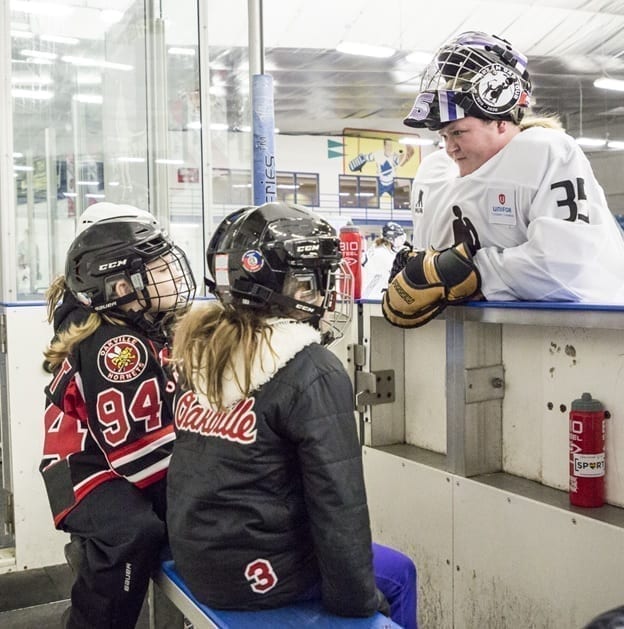 Fittingly, Dahm remained involved in the continuation of the game's narrative, signifying the indomitable spirit of the wondrous women devoted to competing on the frozen perimeter. A pair of events found the product of Baldwinsville, New York, between the pipes.
Starting with the Aurora Games, the first major event of the 2019-20 women's ice hockey season in North America, it held extra meaning for Dahm. The event, akin to an all-female Olympic Games, consisting of competitors participating for Team North America or Team Europe, holding a highly emotional tone.
From the outset, the Games were held in Dahm's home state of New York, in the host city of Albany. Known as the State Capital, it is also a city that holds an important place in American women's history. Kate Stoneman, the first female graduate of Albany Law School, also the State's first female attorney, founded the Women's Suffrage Society of Albany, helping women earn the right to vote in New York State on November 6, 1917.
"I loved that the Games took place in my home state! It was closer to home than anywhere I've played in the last couple years so some friends and family were able to come watch. It is actually very cool and significant that this all-female, multisport festival took place in Albany.
If we think back to the women's suffrage movement, those women wanted women to get the right to vote nationwide, but they knew their first step would be to get NYS to pass the law and hopefully that would lead to a nationwide change. Not too far off is the mission of the Aurora Games and time will tell if it spreads like the movement in the 1800s did.
Give women the platform and treat them as true professionals, and watch what happens! We are seeing it constantly with women's soccer, NCAA softball, and even the PWHPA. Showcase our sports in ways that are worthy of the talent that is out on the field and you would be amazed at what can happen.
Overall, it was beyond incredible and meant so much to me to be part of the first Aurora Games and it is awesome to see it will be back in Albany for at least the next two cycles. The city wanted us female athletes and the Games to come to Albany and the way they treated us showed us they were honored we chose Albany!"
The Aurora Games was nothing short of absolutely amazing! Us athletes recieved world-class treatment & it was an honor to suit up for Team Americas! Thank you @digitmurphy for your inspiring leadership & @JerrySolomon_SG for creating this festival! #WomenWorthWatching
📸:@acamp68 pic.twitter.com/ekyn94c3j3

— Lauren Dahm (@dahmer35) September 20, 2019
Playing for Team North America, there was a unique coincidence for Dahm, who shared goaltending duties with Katie Burt, who played her collegiate hockey with Boston College. Of note, Digit Murphy, who served as Blades head coach from 2012-15, capturing a pair of Clarkson Cup titles and the winning coach in the first-ever CWHL All-Star Game, served in the same capacity with Team North America.
Following the Games, in which Team North America bested Team World in the women's ice hockey portion, Dahm was among more than 200 world-class players aligned with the PWHPA. An organization geared towards new opportunities in the game's future, working towards commendable goals including sustainability and a living wage.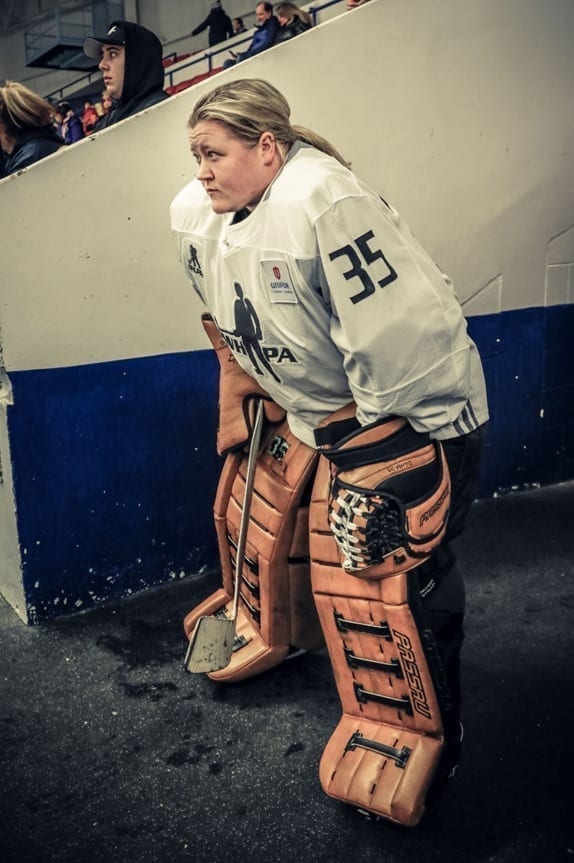 With a sense of collaboration and unity which has involved players on both sides of the border, a key initiative has involved a series of showcase events. Dubbed "The Dream Gap Tour", featuring a gathering of its members playing in numerous cities, the events also included on-ice clinics for youngsters.
Adding importance to the cause of the PWHPA has been a tremendous wave of support. In addition to the National Hockey League Players Association, perhaps the most notable facet involved tennis legend, and female sport advocate, Billie Jean King.
She changed tennis forever.

Now @BillieJeanKing is mentoring the @PWHPA on how they can do the same for hockey 💪 pic.twitter.com/UK7a9DnSi5

— The Dream Gap (@TheDreamGap) November 2, 2019
Attending the Dream Gap Tour's Showcase event in Chicago, King's presence served as an empowering validation. Certainly, such support, along with the overall goal of positively growing the game, held tremendous interest for Dahm, whose enthusiasm in discussing what factors led to her getting involved were best stated by one definitive and absolute word,
"Everything. This group is so committed to driving change and improving the conditions for women's professional hockey. While I am incredibly grateful for my time with the CWHL and all of the opportunities it provided me and doors it has opened, we all know certain aspects could be upgraded. I was ready for a change after my last season in Boston/Worcester so while it was beyond sad that the CWHL folded (so abruptly too), the timing for the Dream Gap Tour worked out well.
It provided a way for me to continue playing at a high level while also pushing the game forward for the next generation, something I am also very passionate about. I remember the first conference call we had with Billie Jean King and Ilana Kloss.
Their energy, confidence, and steadfast support for our mission emanated through the phone and having such absolute icons on our team who have been through and conquered what we are looking to do as well, inspires us to know we are on the right path."
Debuting on PWHPA ice at the Dunkin' Showcase in Hudson, New Hampshire from October 5-6, 2019, only the second event in Association history, Dahm was recruited to play for Team Stecklein. Named in honor of captain Lee Stecklein, also a member of the United States roster that captured the gold medal at the 2018 Winter Games, other Blades alumnae on the team included Alyssa Gagliardi and Morgan Turner, plus General Manager Derek Alfama.
Following the Association's launch with the Unifor Showcase in Toronto, an event which provided a remarkable feeling of momentum, Dahm was ecstatic at the opportunity to return to the ice. Part of a highly historic and exciting event, as it marked the first Showcase held on American soil, Team Stecklein would defeat Team Knight (named after Blades alum and team captain Hilary Knight) by a 5-4 mark to capture the Showcase Championship.
"Any time we get to take the ice as part of the PWHPA is special. The first event in Toronto looked amazing and really perpetuated why we are doing this. New Hampshire was great; the crowd, the support from the sponsors, and the atmosphere that I think was present at all the PWHPA events.
Just a feeling that what was happening was bigger than what it appeared and was going to have lasting impacts. I came back home to Central NY after my last season in the CWHL so it was nice to be back in New England and have the support of some fans/friends I had made during my time there as well."
Equally impactful in Hudson was the opportunity for Dahm to tap into her Clarkson Golden Knights roots. Worth noting, the other highly talented backstop guarding the crease for Team Stecklein included Kassidy Sauvé. An alum of Canada's Under-18 national team, and an All-America selection while at Ohio State, Sauvé was also a member of the Golden Knights' Class of 2019, bridging two epochs of program greatness.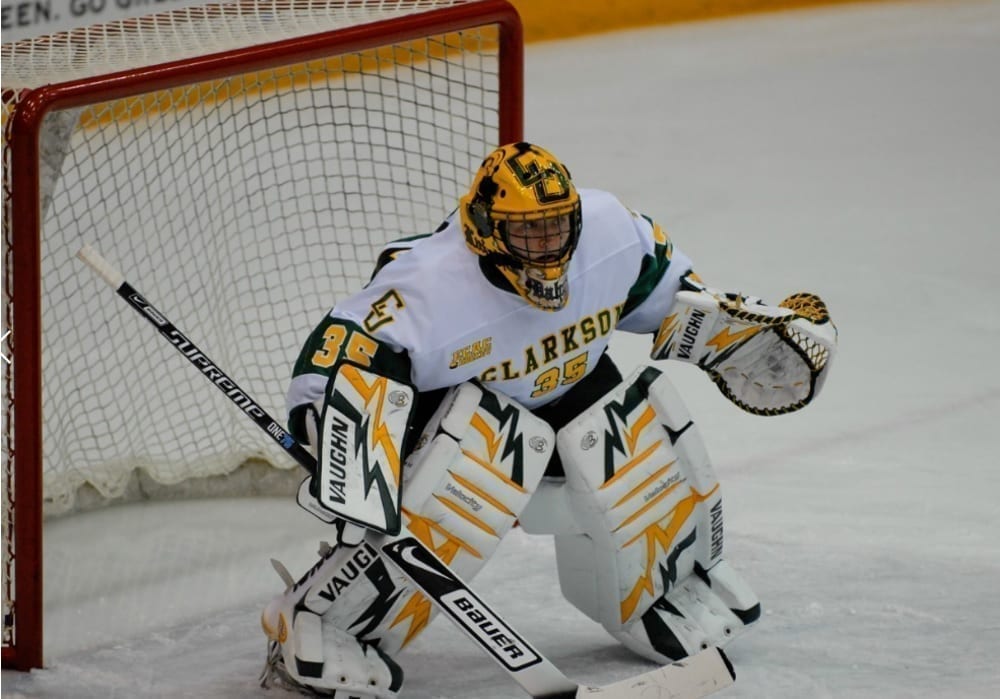 Belonging to a lineage of superlative goaltending talent in the Green and Gold, including the likes of Kira Hurley, the first All-America selection in program history, along with Erica Howe and Shea Tiley, both Frozen Four champions, the experience of standing between the pipes at Cheel Arena, Clarkson's home rink in Potsdam, New York, has intertwined them all. Part of a heritage that holds even greater meaning since their respective graduations.
With the Dunkin' Showcase allowing Dahm and Sauvé the treasured chance to extend their Clarkson legacies by becoming teammates for the first time, there is also a compelling backstory which adds a sense of dynasty and destiny colliding. As the 2019 ECAC championship game at Lynah Rink in Ithaca New York between Sauvé's Golden Knights and the host Cornell Big Red saw Dahm and her mother in attendance. Able to identify Sauvé's parents in the crowd, it marked the beginning of a very fond mutual respect that has reached new heights in the creases of PWHPA hockey.
"The Clarkson Golden Knights (CGK) Family is a real thing. We started that acronym during my time at Clarkson and I love that it has stuck. It represents the bond we have even though we may never have met each other.
With Kass, she is a bit younger than me so our paths never crossed officially until NH. My mom and I actually met her parents at Cornell at the ECAC Championships in 2019 and even before I knew it was her parents, I could tell that they were. They had the 'goalie parent' vibe that I know my own parents are so familiar with.
It is a unique position, knowing your daughter has such extreme pressure to perform but watching from the stands with no control over what happens on the ice. The goalie position has such drastic peaks and valleys whether you are the hero for a big, timely save, or feeling like a zero letting in a game-winning goal or a softie. Anyways, we got to chatting and her parents were so nice and I felt proud that the goalie torch was passed onto Kass.
Fast forward about six months… It was really, really cool to end up on a team together. It is rare to think, especially in women's sports, that you end up playing with someone who graduated eight years after you. I will admit, I actually used some inspiration from Kass's many sweet sets of gear when designing my current retro set.
She played awesome in NH and sent me the nicest message after she watched my game in Toronto. When people talk about the goalie 'eras,' if you will, at Clarkson (Hurley, Dahm, Howe, Tiley, Sauve), we are kind of bonded through that, but also follow in each others' footsteps as the program continues to grow and succeed.
It is a neat bond for sure that I don't think we appreciate until we are onto the next step of our career/journey. Like with playing in the CWHL, it was always awesome to play against Howie or Shea and just know we were both out the repping the CGK, even if we were not at Clarkson for the same four years, the bond is still there."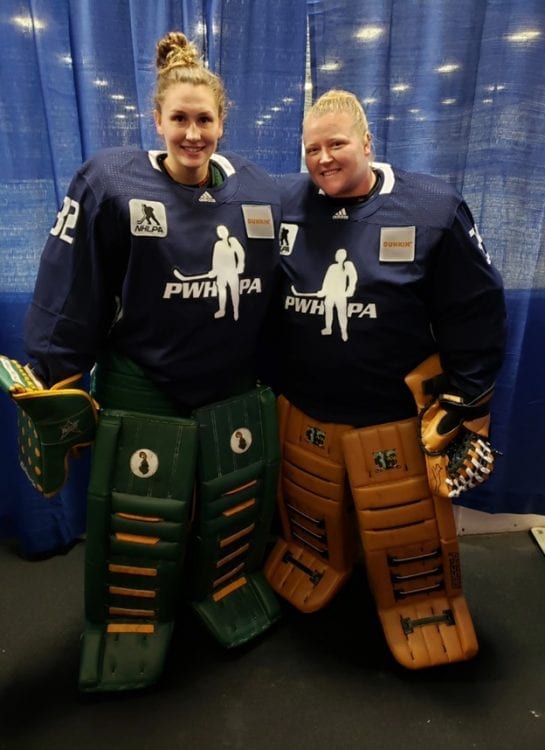 Another bond that was strengthened during Dahm's PWHPA experience involved the opportunity to call Katie Burt a teammate once again. Both playing for Team Kessel, named after Amanda Kessel, at the Secret Showcase in Toronto, held from January 11-12, 2020, they were among a gathering of Aurora Games competitors participating.
Additionally, Team Kessel featured a handful of former Blades, including the likes of Gagliardi and Gigi Marvin, plus Shannon Hickey and Megan Myers. Of note, Myers, the last captain in Blades history, played alongside Dahm in Boston and Worcester, both homes for the franchise.
"It was fun to take the ice again with some of my Blades teammates like Shannon Hickey and Megan Myers, as well as a few of the girls from the Aurora Games. Shannon and I were pretty close last season in Worcester so she kind of knew how that year went for me.
She was an awesome teammate then and in Toronto when I learned I was getting the start, she gave me a few confidence boosts which were so helpful. I was playing with a lot of girls who had not necessarily seen me play because they were younger and/or had not played in the CWHL.
My warm-up was brutal so I was a bundle of nerves leading into the game but one of my first saves was on a Rebecca Johnston deflection that I barely got my stick on so I think I took that as a positive sign and rolled with it and my confidence grew with each save I made."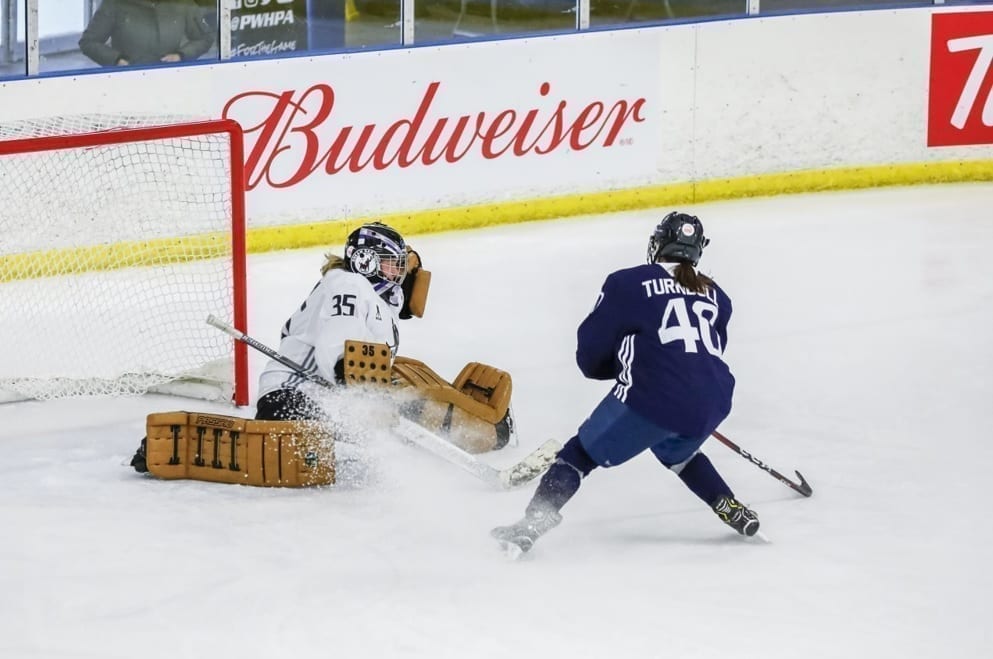 While Dahm's career has certainly been built on the pillars of work ethic and a dependability on the ice, constantly dedicated towards giving her teams a chance to win, the presence of Winter Games competitors served to raise both, the quality of an already impressive skill set, while enhancing the feeling of relevance at the Showcase Events. Demonstrating the drive required to help her team win, gaining the admiration of her new teammates, it provided Dahm with added incentive.
Certainly, the commitment towards a quality effort is one that Dahm has always taken a strong sense of pride in, representing the substance of her raison d'etre. For the young players in attendance, enjoying Dahm's brilliance between the pipes, such performances of inspiration are part of a collaborative effort, aiming to encourage this new generation. Assuring them that the game will evolve, allowing them to thrive on a foundation built by the likes of Dahm, not only world-class talents, but world-class people.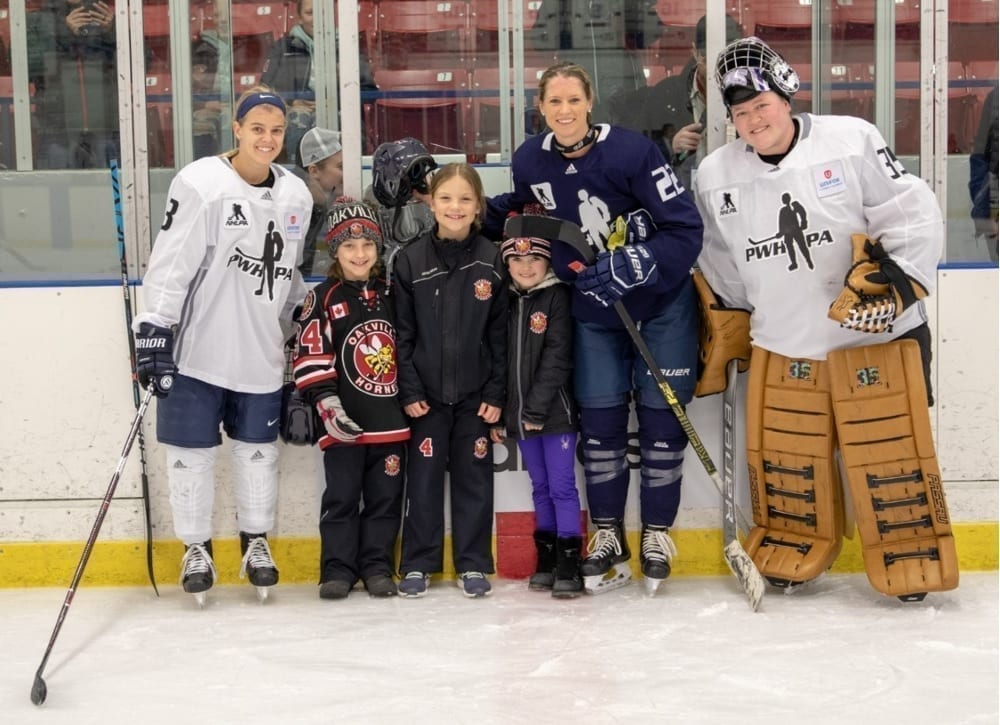 "Being on the ice with 10+ Olympians kind of forces you to raise your game and be at your best. Not to mention all of the extremely talented non-national team members who make up the PWHPA.
Even though those games were not for a trophy, I think we each had a sense of personal responsibility to showcase the best of our game to the fans at the rink and on the stream. The 1-0 score was a change-up to other somewhat high-scoring games that weekend but there was certainly no lack of excitement.
Being named First Star of the Game amidst countless Olympians on the ice and maybe some more well-known players on the tour was certainly special. I think more so though, earning the respect of my teammates and others who may not have known of me or how I play until then, was a highlight of the weekend and my year with the PWHPA.
I saw the coaches from the other team at the post-game meal at the rink and they remarked at how fun it was watching me play. I think I do have a unique and maybe more old-school style that is fun to play and fun to watch and perhaps 'fun' to try and score on."
"All quotes obtained first hand unless otherwise indicated"
Featured image by Heather Pollock
Related Articles