The PWHPA Dream Gap Tour kicked off their fourth tour stop this weekend! Over 120 female athletes spread across six teams took part in the PWHPA Secret Women's Hockey Showcase in Toronto, Ontario. This is the most athletes they have had on their tour so far and they were certainly ready to showcase their skills to all the fans who were present at the game and those watching on their YouTube channel.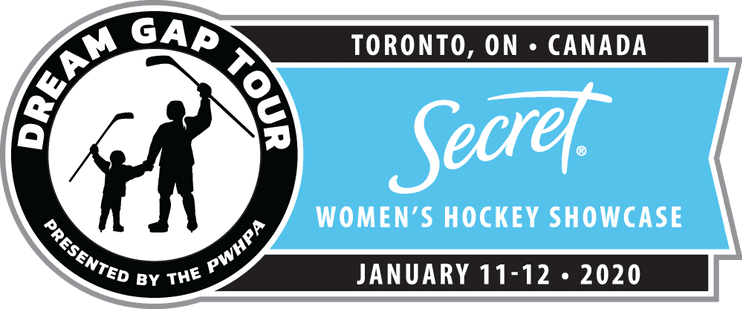 DAY 1
Day 1 kicked off with three games of some exciting matchups: Game 1 consisted of Team Larocque VS. Team Kessel, followed by Game 2 with Team Bellamy vs. Team Daoust, and the last game of the night featuring Team Spooner vs. Team Coyne. The games were held in Herbert H. Carnegie Centennial Centre and fans, especially young female fans, were settled in for a great day of women's hockey.
#TeamCoyne is ready for second period action 👊 pic.twitter.com/F2uDTNtqw2

— PWHPA (@PWHPA) January 12, 2020
Team Larocque and Team Kessel found themselves at a tie game of 3-3 and headed to a 3 v 3 style overtime.  This added an extra level of excitement to the game as the crowds were able to see how talented these women are as they spread out on the ice. After a few minutes into OT, Team Larocque's, Jamie Lee Rattray, earned her 2nd goal of the night as she scored the game winning shot. Team Larocque wins Game 1 with a final score of 5-4. 
Following an exciting opener, Team Bellamy vs Team Daoust provided fans with a more aggressive game as penalties were called left and right. It was a great mid-afternoon game, with plenty of back and forth hockey. Team Dauost's, Hilary Knight, earned the first hat trick of the weekend by scoring her third goal on an empty net. Knight's hat trick and her teammate, Emily Clark's two goals, helped Team Daoust wins Game 2 with an overall score of 6-3. 
The evening game of Team Spooner and Team Coyne was not a game to miss as both teams were in high gear. Team captain, Kendall Coyne opens the game up by scoring the first goal thirteen minutes into the 1st period. Coyne's teammate, Kelly Pannek, scores with only a couple of minutes left in the 1st, only to be answered by Brittany Howard's goal for Team Spooner.  Fans saw another hat trick courtesy of Team Coyne's, Jocelyne Lamoureux-Davidson. Game 3 ended with Team Coyne being victorious with a 6-3 score.
DAY 2
Moving into the final day of the tour in Ontario, Team Bellamy and Team Kessel were both looking for a win. Both teams came onto the ice playing with a greater intensity and surprisingly enough ended up tied 0-0 until the 2nd period. This was the first game of the weekend where neither team scored a goal until the 2nd period. Team Bellamy ended up winning the game with just one goal on the board and it was enough to redeem themselves and beat Team Kessel 1-0 in Game 4. 
In Game 5, Team Coyne proved to be the stronger team of the matchup with Team Larocque even though both teams played head to head hockey. Team Coyne saw some great goals that helped overpower Team Larocque with a winning score of 5-2 in Game 5. 
In the final matchup of the weekend, fans were in for a show as Team Daoust was going into this one with a win from Day 1 of the showcase. Team Spooner was looking for a win after they lost to Team Coyne in the last game of Day 1, but were unfortunately outplayed by Team Daoust. Showing up and showing out, Team Daoust powered their way through with eight unanswered goals in Game 6, beating Team Spooner in the 2nd shutout game of the weekend.
Check out this beauty by Marie-Philip Poulin on Team Daoust:
Marie-Philip Poulin goes BarDown at the PWHPA Dream Gap Tour 👀 pic.twitter.com/2MN0HCuRHX

— BarDown (@BarDown) January 13, 2020
STARS OF THE WEEKEND
This weekend was another excellent display of talent from each individual team. The stars of each game included:
GAME 1: Jamie Lee Rattray, Annika Zalewski and Annie Pankowski
GAME 2: Hilary Knight, Rebecca Johnston and Emily Clark
GAME 3: Jocelyne Lamoureux-Davidson, Sarah Nurse and Kendall Coyne
GAME 4: Lauren Dahm, Kacey Bellamy and Emily Matheson
GAME 5: Kelly Pannek, Jocelyne Lamoureux-Davidson, and Shea Tiley
GAME 6: Emerance Maschmeyer, Kim Deschenes and Brittany Howard
THE DREAM GAP TOUR
Despite the wins and losses throughout the weekend at the PWHPA Secret Women's Hockey Showcase, it is important to realize the purpose of the Dream Gap Tour and what these women are fighting for: a sustainable and viable professional women's hockey league. In between periods of each game, there were interviews conducted with players such as Sarah Nurse on Team Spooner and Hilary Knight on Team Dauost who had similar comments: they want to come out and do their best to showcase the talent of female hockey players and show young female athletes they can have a future in the sport. Judging from the many young girls that were in attendance, there is no question that these women are making a huge positive impact on them and giving them hope that they can one day play as a professional hockey player.
PWHPA EVENTS
Don't forget to catch the PWHPA in their next stop on the Dream Gap Tour in Philadelphia, Pennsylvania!
DON'T MISS YOUR CHANCE TO CATCH THE PWHPA PLAY LIVE!
Related Articles