Among the most prodigious goaltenders of the last decade, including the prized achievement of a gold medal at the IIHF Under-18 Women's Worlds, plus the historic feat of back-to-back Frozen Four appearances with different programs, Kassidy Sauvé definitely would have been one of the top professional prospects heading into the 2019-20 season. Belonging to a highly talented generation of millennial talent that could comprise a new crop of superstar talent, Sauvé is not immune to the chronic conundrum that has defined the professional game.
With financial constraints and regional concentration, a post-university career is not always a feasible approach. Compounded by the CWHL unexpectedly collapsing, along with the realization that a full-time professional occupation is inevitable, the decision to stand between the pipes following the conclusion of Sauvé's NCAA career with the Clarkson Golden Knights was one that required the right fit.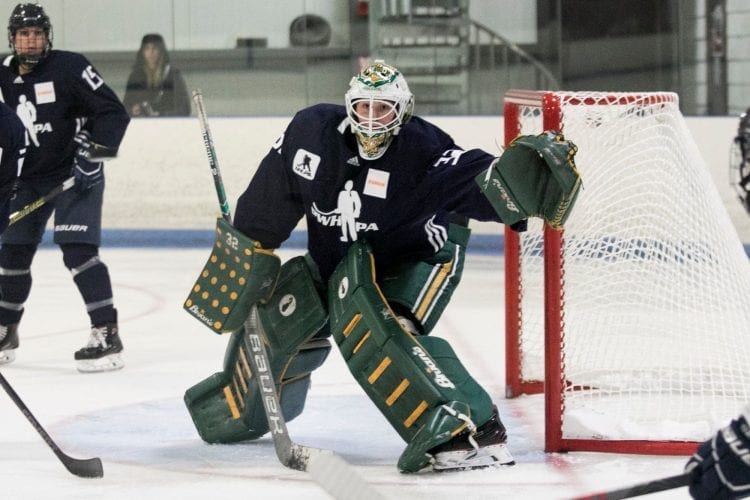 Through the formation of the Professional Women's Hockey Players Association (PWHPA), it represented a suitable alternative. Allowing Sauvé the opportunity to extend her competitive endeavors, while transitioning successfully into career, brought with it tremendous fulfillment. Simultaneously supplying a renewed purpose in the game, it was best demonstrated by a heartfelt blog titled Dream Your Dream, published on the PWHPA website.
"It was not necessarily what appealed to me about the PWHPA that led to my decision to support the movement, although now that I know more and am involved with the association, I am 100% confident that I made the right decision. During my last year of college hockey, I spoke with friends who were playing pro and they shared some of the conditions they had which made being a professional hockey player less and less appealing.
I had to consider a playing career that would be coupled with a full time job to make ends meet. I heard many stories about how players were actually losing money playing professional hockey and how most had one or more jobs to support playing. I am working a full time job today so I am getting a small feel for how some of the players had to juggle schedules if they wanted to keep playing. That lifestyle is extremely difficult and challenging and not at all sustainable.
However, I love the game so much and I wanted to continue playing, so my options were few. I attended my first call with the PWHPA and that was when it all changed for me. Collectively and united as one, we can make a difference and we are all committed to make it happen. We will not waver from our goals and objectives."
"When someone asks you what you want to be when you grow up, we want your answer to be as simple as this: "I'm going to be a professional hockey player." And we don't want anyone to think twice about that answer." @PWHPA https://t.co/fCZdUpxH13

— Kassidy Sauvé (@ksauve32) December 9, 2019
Making her PWHPA debut at the Dunkin' Showcase Event in Hudson, New Hampshire, held from October 5-6, 2019, it signified a new narrative in Sauvé's hockey odyssey. Competing for Team Stecklein, named after Lee Stecklein, an association custom as teams are named after their respective captains, it marked Sauvé's debut as a professional.
Considering that each Showcase consists of a tournament format, Sauvé gained the start in the opening game over Team Flanagan. Playing for the first 30 minutes of the game, replaced by fellow Clarkson alumna Lauren Dahm, who completed the second half, the two combined for a convincing 3-1 win.
With Team Stecklein reaching the Finals, Sauvé played the entire contest versus Team Knight (named after Hilary Knight). Prevailing in a hard-fought 5-4 final, it stood as a career highlight for Sauvé. More importantly, such a sterling performance was indicative of her superlative skills, demonstrating her ability to compete against the world's finest. Reflecting on such a dazzling debut, the atmosphere proved to be just as compelling for a jubilant Sauvé as the competition itself.
"Like any other 'first' game, whether it's your first college game, your first international game or your first league game, the jitters can run high. I know in my case, this was no different and I was thrilled to be there. Participating in my first Showcase in New Hampshire, I was extremely lucky to be on a team with veteran players that clearly demonstrated support to the younger (rookie) players on the team.
Ultimately, it was more about enjoying the experience, but I must admit that the win was a welcomed bonus. Imagine playing on a team with Kendall Coyne Schofield and playing against Marie Philip Poulin. What a unique and thrilling experience, and I was afforded this opportunity being a member of the PWHPA. The fact that we ended up winning the final game was icing on the cake.
At the end of that first weekend, I was evidently quite proud of my teammates and myself and knew that I was capable of playing with and competing against the best female players in the world. I have met some amazing women since we formed the association and have not looked back since. I am truly confident that our collective efforts and sacrifices will lead to something better for us and the future generation of female players and that is something we can all be proud of."
Discussing the experience of sharing the ice with such a gathering of talent, it has added luster to the newest chapter of Sauvé's brilliant career. Having also spent the 2019-20 season as a volunteer coach for the Ivy League's Brown Bears, her presence in the game remains highly prevalent.
In addition to competing with Team Stecklein, belonging to a remarkable roster which included the likes of Hannah Brandt, Kendall Coyne Schofield, Alyssa Gagliardi, Kimberly Sass, and Hayley Scamurra, among others. Sauvé was also among the participants, who participated at the PWHPA event in Philadelphia before the season concluded. Contested at the Virtua Center Flyers Skate Zone in New Jersey, from the Leap Year Day of February 29 to March 1, the results marked another proud highlight for the talented netminder.
Selected to play for Team Turnbull (named after Blayre Turnbull), Sauvé shared goaltending duties with Genevieve Lacasse. A member of the unofficial Triple Gold Club for Women, Lacasse's professional career has also included stops in Boston, winning the Clarkson Cup twice, along with Calgary and Montreal. In addition to this remarkable duo, the other goaltenders competing in Philadelphia included fellow Clarkson alum Erica Howe, Katie Burt, Katie Fitzgerald, Nicole Hensley, Emerance Maschmeyer and Alex Rigsby-Cavallini.
TEAM TURNBULL WINS IT ALL!

3️⃣Team Keller:
🚨Cameranesi (2), M. Lamoureux-Morando
4️⃣Team Turnbull:
🚨Gabel (2), Turnbull, Lacquette

Here are your 3 stars of the game! pic.twitter.com/30KzCRorr7

— PWHPA (@PWHPA) March 1, 2020
Akin to the experience in Hudson, New Hampshire, Sauvé started in the Final. With Team Keller providing the opposition, it proved to be another contest won by a one-goal margin. Victorious in a 4-3 final, the result allowed Sauvé a cherished Clarkson connection. Among her teammates were Clarkson alumnae Renata Fast and Jamie Lee Rattray, plus Loren Gabel, whom Sauvé played with during the 2018-19 Golden Knights season.
With Gabel, the 2019 Patty Kazmaier Memorial Award winner, scoring twice, while Blayre Turnbull and Brigette Lacquette also found the back of the net, contributing in the Finals win. Additionally, Sauvé earned First Star of the Game, while Gabel was recognized as the Third Star (Megan Keller, the other team captain, was named Second Star), the event truly served as a coming-out party, affirming their status as future superstars.
"Part of the experience of playing in these showcases has been playing with and alongside Olympians, which is truly an unbelievable experience that I am so grateful for. They are such crisp and sound hockey players; they are simply fine-tuned players!
What was also an awakening for me was how many amazing female hockey players there are, some that have never represented their country but continue to play hockey because they love the game. There are amazing players out there. My father once told me that not all NHL players play for their countries, which resonated with me when I saw the extremely high level of skill on the ice for the first time.
Obviously, for the PWHPA movement to achieve success, you need the support of the National team players, players that are recognizable and that have fought through the hardship associated with being a professional player. It is clear that the support of the other 100+ elite players in the association is needed to achieve the goals of our association. As a whole, playing alongside the 200 best female hockey players in the world has made my game better."
Among the highlights that Sauvé has enjoyed, it took on grander meaning defining a memorable time debuting in Hudson, New Hampshire, marking her connection to Clarkson hockey, where she contributed towards closing out the decade with a berth in the 2019 NCAA Frozen Four. While the Golden Knight were among the previous decade's dynasties in NCAA ice hockey, as evidenced by the number of sensational stars that have become part of the PWHPA, opting to forego professional opportunities, participating in the #ForTheGame movement.
During the early development of the Golden Knights becoming a conference power, such an epoch was defined by the heroic efforts of Lauren Dahm. Raised in Baldwinsville, New York, Dahm took on the presence of a local hero for the program, based over 100 miles north away in Potsdam.
Setting the tone for a string of elite goalies, including Erica Howe, Shea Tiley, and Sauvé. As a side note, Tiley and Sauvé were both teammates in a gold medal effort for Canada at the 2014 IIHF Under-18 Women's Worlds. With Dahm having spent the last three seasons with the former Boston/Worcester Blades of the former CWHL, the privilege of the PWHPA has allowed Sauvé the special milestone of recognizing another notable Clarkson alumna as her goaltending partner.
Finding inspiration in the gracious Dahm, whose efforts on and off the ice have established her as a highly likeable and inspiring individual, the real substance, as best demonstrated by Dahm's career, is a love of the game. Undeniably, that enjoyment is one shared by all involved in the PWHPA, embodying what stands as the beauty of this season. Celebrating the game through the Showcase Events, where Sauvé has excelled with her superlative skills, players of Sauvé's caliber certainly indicate that the future holds tremendous promise and is one worth playing for.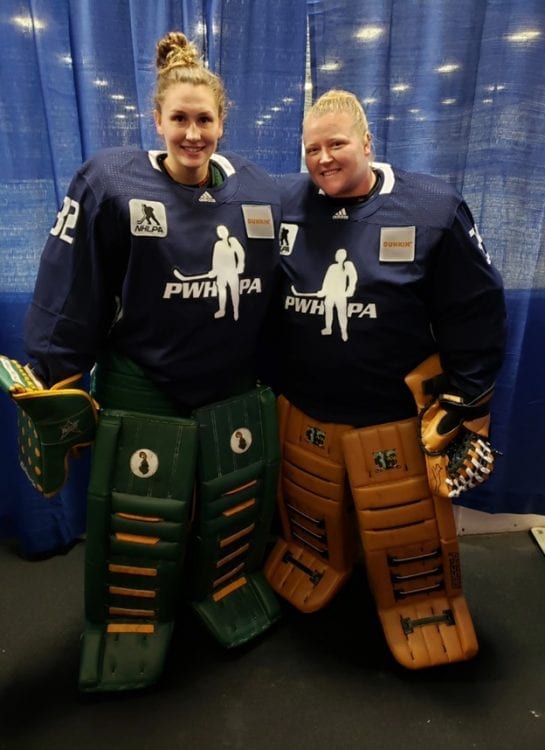 "Lauren Dahm is an outstanding goalie and an even better person. She is one of those players that has given so much to hockey, someone who continues to stay in the game because she loves it and wants to make a difference. She has the ability to stand on her head, as many of you witnessed at the Secret Showcase in Toronto.
She truly cares about growing the game and continues to play for a cause that is greater than herself. You can see and feel her passion and love for the game every time she is on the ice. It has been great getting to know her. The PWHPA has allowed me to meet people like her and other former Clarkson and OSU players of the past, not to mention playing with and against old college rivals. It has been a truly beneficial experience for me!"
"All quotes obtained first hand unless otherwise indicated"
Feature image obtained from: http://pwhpa.com/kassidy-sauve-dream-your-dream/
Related Articles