One of the premier goaltenders in this decade of NCAA women's ice hockey, Kassidy Sauvé assembled a brilliant career built on All-America status and a peerless penchant for lightning fast reflexes. Establishing herself as a shutout specialist, Sauvé's value to any team she played for was immense.
Great goaltending is definitely in the genes for Sauvé, as her lineage includes a grandmother distantly related to Georges Vézina, a two-time Stanley Cup champion with the Montreal Canadiens, and the namesake of the award given to the National Hockey League's Most Outstanding Goaltender.
Following four years in the Western Collegiate Hockey Association (WCHA) with the Ohio State University Buckeyes, which included one season spent redshirted, playing for a carousel of head coaches that included Nate Handrahan, Winter Games gold medalist Jenny Potter and Nadine Muzerall, a former Frozen Four champion with Minnesota, Sauvé still had one season of eligibility remaining.
Opting to join the dynastic Clarkson Golden Knights, Sauvé made the transition from the Midwest to Upstate New York, placing her in a closer vicinity to her hometown of Whitby, Ontario. Having spent one season with the PWHL's Whitby Jr. Wolves, there was definitely a sense of reunion upon her arrival at Clarkson. In addition to Sauvé, other Whitby alum on this year's roster included Cassidy Vinkle, who served as team captain for the Green and Gold, along with Rhyen McGill, whose aunt is two-time Winter Games gold medalist Cheryl Pounder.
Belonging to a highly respected roster that included Loren Gabel, who finished her senior season with the Patty Kazmaier Award, Michaela Pejzlova, who has skated internationally with the Czech Republic, along with Elizabeth Giguere, Sauvé added significant star power to a roster already rich in tremendous talent.
The transition from Ohio State to Clarkson was a seamless one, as evidenced by the dazzling display of statistical prominence that bridged both seasons. During Sauvé's final season at Ohio State, which included a spot in the 2018 Frozen Four, statistically, the national rankings included fifth in save percentage (.938), sixth in minutes (1948:47) and tied for first with Wisconsin's Kristen Campbell in shutouts (12).
Enjoying a stellar series of performances in her only season with Clarkson, which included a career-high 27 wins, Sauvé's overall numbers remained just as sparkling. Placing sixth in the nation in Goals against Average (1.71), her save percentage (.937) tied for seventh, she placed second only to Campbell in minutes played (2173:53), while she ranked an impressive third in shutouts (7), respectively.
Perhaps more impressive was the fact that the 2018-19 season saw Sauvé surpass numerous career marks, including 7000 minutes, 3600 shots, 65 wins and 30 shutouts. In spite of such remarkable personal success, she reflects on her season in the Green and Gold with a strong sense of gratitude. Employing a tremendous combination of maturity and insight, Sauvé displayed a tremendous willingness to learn, enhancing an erudite approach to the game.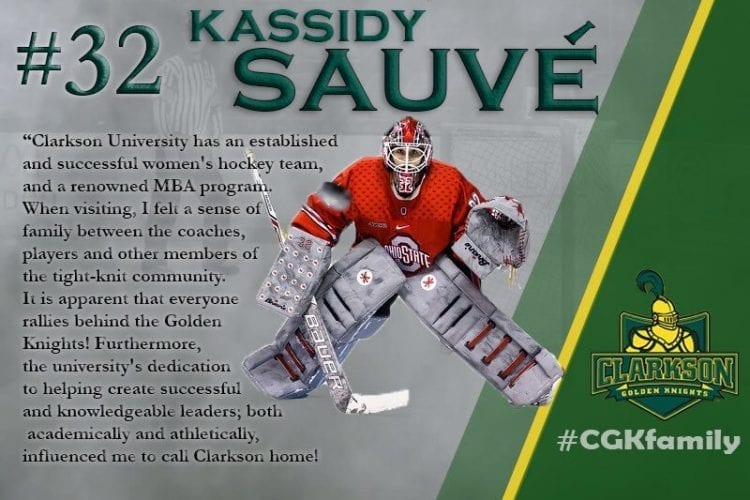 "Although I try not to pay attention to my statistics during the season, it was definitely great to get a few shut-outs this season. What I can attribute to my success the most was being able to bring a new level of maturity in my game and focus on calming my game down.
What my coach and I really worked on this past season is being less dependent on my athleticism and focus more on being in the right place at the right time. The coaching staff told me throughout the season to focus on the "next shot, next save" and this is something we worked on day in, day out.
The support the coaches offered me in terms of growing as an athlete and person was something I am truly grateful for and I feel that I am a more complete player as a result."
Inheriting the starting job from Shea Tiley, who joined the professional ranks with the Toronto Furies, there was a unique tinge of coincidence for Sauvé. Of note, the two were goaltending partners in Canada's golden outcome at the 2014 IIHF U18 Women's Worlds. Adding to the coincidence was the fact that the two opposed each other in the 2018 NCAA Frozen Four, a pulse-pounding contest that was scoreless in regulation.
Adding to Clarkson's superlative goaltending heritage, Sauvé follows in the likes of Tiley, Erica Howe, who led the Green and Gold to their first NCAA championship in 2014, and Lauren Dahm, whose presence helped spark the program contender status.
Guarding the crease for the three-time NCAA champion Golden Knights, Sauvé was part of a goaltending unit that included Kia Castonguay, a team MVP in 2017 for the Boston Shamrocks, along with freshman Marie-Pier Coulombe, a former starting goaltender for the Cegep Limoilou Titans. Akin to Sauvé, Coulombe also played for Canada at IIHF U18 Women's Worlds.
Capturing a silver at the 2016 edition of the Worlds, Coulombe made three starts for Clarkson in 2018-19, gaining her first career shutout 6-0 blanking of the Union Dutchwomen on January 12, 2019. As a side note, Castonguay emerged victorious in her only start of the year. Worth noting, Castonguay and Coulombe both saw playing time in an exhibition game on October 19 versus Les Carabins de Montreal, opposing Maude Trevisan, a former winner of Le Prix Maurice.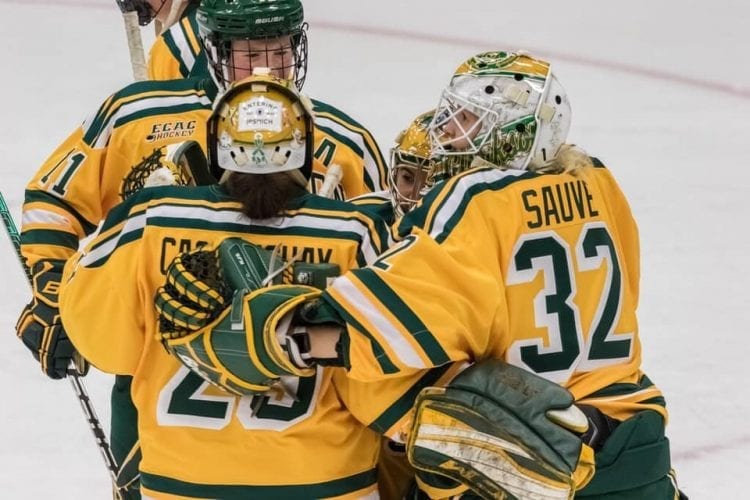 Starting the season winning 10 of her first 11 games, seven of those wins would take place on home ice. Ironically, Sauvé's first game as a member of Clarkson would see her return to her WCHA roots, opposing former conference rival Bemidji State on the road. Debuting on home ice at Cheel Arena as Clarkson hosted an October 5-6 series versus the Robert Morris Colonials of the College Hockey America conference, the October 6 game, highlighted by Youth Hockey Day festivities, would mark a unique feat.
Earning an assist in the 4-3 win versus the visiting Colonials, Sauvé collaborated with senior Kelly Mariani, assisting on the game's first goal, scored by T.T. Cianfarano. Like Sauvé, she also possessed the status of a premier transfer student. Raised in Oswego, New York (127 miles from Potsdam), the first phase of her NCAA career began with the Quinnipiac Bobcats, earning the ECAC Player of the Year Award in 2016, recording a stellar 52-point campaign.
Coincidentally, Sauvé's other assist this season was also on a goal scored by Cianfarano. Inadvertently, this goal also marked the first of the game, part of a 5-1 drubbing of the Rensselaer Polytechnic Institute on January 11, 2019.
Following the sweep of the Colonials, the next series saw Sauvé blank archrival St. Lawrence by a 4-0 mark on October 20. Avenging a 4-3 loss that took place the day before – October 19, for her first loss of the season, Sauvé would enjoy continued success against St. Lawrence before the first half of the season expired. Blanking the Skating Saints on December 7, Sauvé's third shutout was also by a 4-0 mark, enjoying a two-game sweep.
Amassing 47 saves in the sweep of St. Lawrence, it accentuated a dazzling December for Sauvé. Leading all goaltenders in conference play with a .963 save percentage, Sauvé not only earned revered recognition as the ECAC Goaltender of the Week (awarded on December 10, 2018), her haul of hockey hardware as the winter solstice took on new lustre with ECAC Goaltender of the Month honors.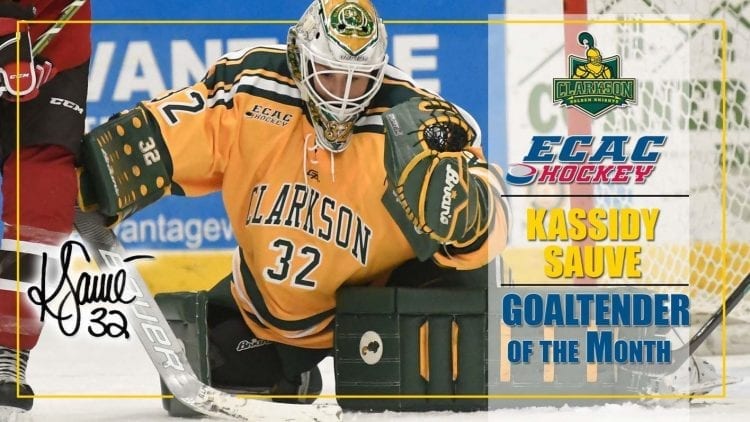 "What I enjoyed most about playing for Clarkson is that I was given the opportunity to join a team with a winning tradition playing in front of extremely passionate and dedicated fans that made you feel valued from my first day with the team.
The support I received from parents, players, staff and fans was unparalleled and in no time I felt very comfortable in my new surroundings. After some tough injuries and major setbacks throughout my four years prior while going through multiple coaching changes, I knew it was time for a change. I needed this to recharge and foster my passion for the game to a new level.
It was rewarding to know that I was able to play the game I love with a new mindset and feel that excitement again. It was definitely a special experience to win 10 of my first 11 games with a new team. Any time a goaltender joins a team, there is an adjustment to the style of that goaltender and I'm glad we were able to adjust gracefully.
There were definitely hard moments, but my teammates helped me adjust to the new environment and culture quickly. I was beyond grateful for this past year at Clarkson. The coaches, girls, and other staff made this year so special for me and I wouldn't trade it for the world.
As time ticked down and there were fewer and fewer games left to play, my appreciation for hockey and what it has provided for me grew tremendously. I give thanks to the people who supported me in making the decision to transfer following my final year at OSU. It's never easy to pick up and make a change but Clarkson University made me feel like I was at home from day one."
By season's end, Sauvé enjoyed a marvelous won-loss mark of 27-7-2, setting a program record for most saves in one season with 917. Gaining a spot on the Third-Team ECAC All-Star honors, her haul of hockey hardware included a pair of ECAC Goaltender of the Month Awards (December 2018 and February 2019).
Also honored five times as the ECAC Hockey Goaltender of the Week, the most by any player in the league, Sauvé's heroics would extend into the postseason, earning a spot on the ECAC All-Tournament Team. Recording a spectacular 188 saves, compiling a scintillating save percentage of .974, Sauvé also enjoyed a pair of postseason shutouts, blanking Quinnipiac in the first game of the ECAC Quarterfinals in a 29 save effort, while the successive Semifinals resulted in a rematch of last year's NCAA championship game, as the Golden Knights prevailed in a 2-0 final. Coincidentally, Sauvé also faced 29 shots in her second playoff shutout.
Throughout the postseason narrative, Sauvé found a treasured highlight in the clash for the ECAC Championship Game. Representing the first championship that she played for at the collegiate level, the dramatic stakes were raised significantly in the fact that the powerhouse Golden Knights entered said game as the underdog.
Facing Cornell in the ECAC championship game, there was a unique linkage to Sauvé's roots with Canada's Under-18 program. From the outset, Marlene Boissonault, one of the Big Red's goaltenders, once attended National Women's Program U-18 Goaltending Camp, which included Sauvé, Tiley, and Taylor Crosby, younger sister of Sidney Crosby.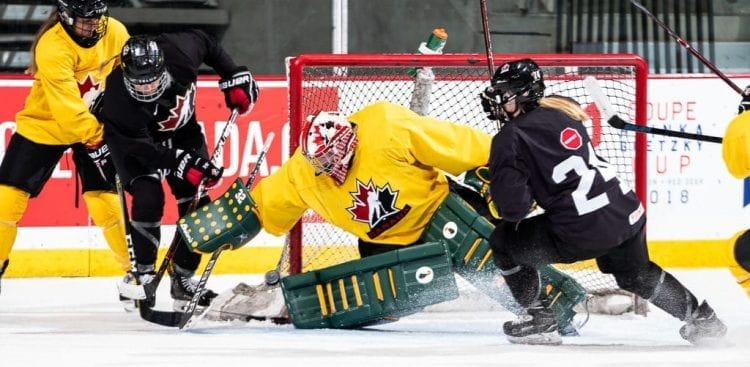 In addition, the Big Red roster also featured ECAC All-Star blueliner Micah Zandee-Hart. Having attended Canada's Centralization Camp in the autumn of 2017, who called Sauve and Tiley teammates on Canada's gold medal winning entry at the 2014 IIHF U18 Women's World Championships.
Despite 29 regular season wins, compared to Cornell's 23, home ice advantage was denied to Clarkson due to the won-loss marks in the conference level. While Clarkson sported a solid 16-5-1 mark against conference opponents, the Big Red had one more win, providing them with an opportunity to dethrone the defending conference champions in front of over 1,000 of their own hockey enthusiasts at Lynah Rink.
The spectre of playing in hostile territory only added to a highly tense first period in which neither team was able to claim the opening lead. In a spectacular span of just 26 seconds, Gabel would score twice in the second period, a 2-0 lead that would last into the third period, as Sauvé recorded 21 saves.
Despite Maddie Mills spoiling Sauvé's bid for another postseason shutout, scoring at the 1:22 mark of the third, goals by Ella Shelton and Vinkle put the game out of reach, securing Clarkson with an automatic berth in the NCAA Tournament. Stopping 35 of 36 shots, including a game-high 15 in the third period, Sauvé's stone cold focus not only sputtered the ambitions of a highly ambitious Big Red squad, the celebrated results involved the attainment of her first collegiate hockey championship,
"I think my favourite moment in my short time at Clarkson was winning the ECAC, despite the team being defending National Champions, we were definitely the underdogs going into that tournament and it was really great to see us come together and win with the odds against us.
This was the first time I had ever been part of a championship game in my five years in college and hoisting that trophy with my biggest fans in the stands (mom and dad) was really, really special."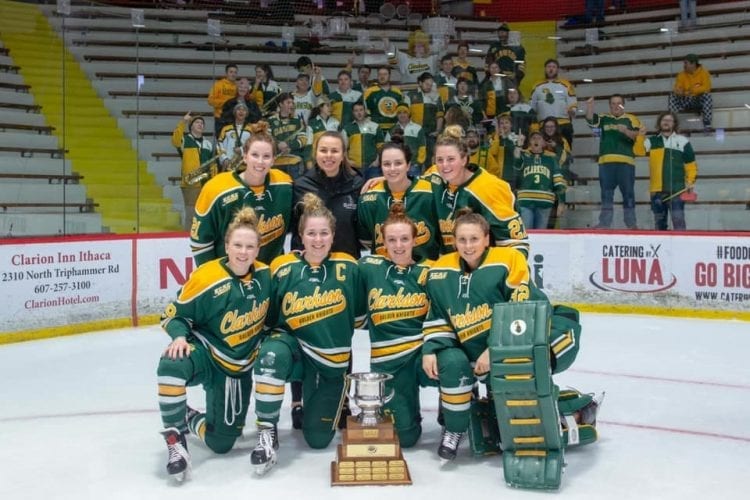 Burnishing the program's reputation for elite goaltending, Sauvé supplied an impressive stability between the pipes throughout a highly competitive playoff that saw the Golden Knights skating with the proverbial target on their backs.
Such status was strongly evident in the opening round of the NCAA Tournament. Facing off against the Boston College Eagles of Hockey East, with Cheel Arena serving as the backdrop for one of the most intense postseason battles in program history, the display of heart and resilience served as a defining moment for the wondrous women garbed in the Green and Gold.
Daryl Watts, the 2018 Patty Kazmaier Award winner, opened the scoring in the first period, supplying a lead that was not relinquished quickly. Followed by the frustrations of a scoreless second period that escalated the level of tension, the dream of a return to the Frozen Four dissolving, such struggles resulted in a defensive stalemate that dragged into the first 15 minutes of the third period.
With time preciously ticking away, Sauvé remained a portrait of composure, refusing the visiting Eagles an opportunity to add to their slim lead. With a barrage of shots from the Eagles in double-digit figures during the first and third periods, Sauvé preserved her teammates aspirations to emerge victorious.
Fittingly, it was another member of the Golden Knights' senior class, Josianne Pozzebon, who provided the salve of hope. Finding the back of the net versus Maddy McArthur, as team captain Vinkle provided the assist, the faithful at Cheel Arena erupted into a deafening roar of approval felt throughout the venue.
As overtime was required to determine the winner, a combination of defensive strategy, fatigue and caution saw both teams looking to avoid a catastrophic error. The anxious awaiting of a winner would finally be satisfied at the 14:38 mark, with Giguere recording the game-winning tally.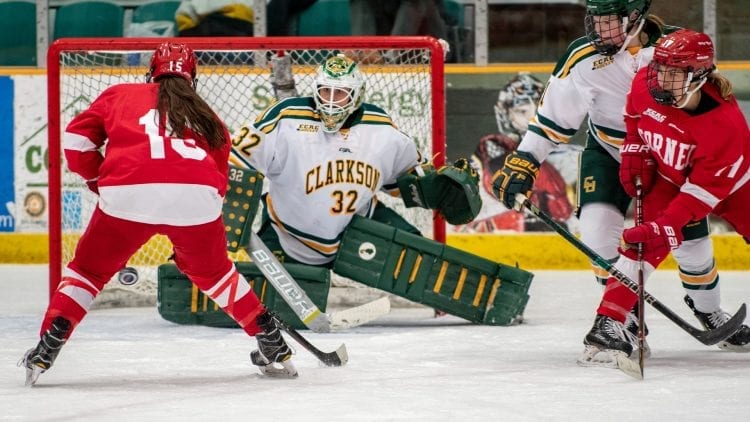 Qualifying for its fourth Frozen Four appearance in five seasons, it was an exhausting yet rewarding victory highly savored. The results of the Frozen Four appearance was one that represented a brush with history for the gregarious goaltender.
In her final year of Buckeyes hockey, Sauvé backstopped the program to its first-ever appearance in the Frozen Four, establishing an unprecedented chapter in the school's athletic lore. For Sauvé, such a satisfying moment ironically foreshadowed her return to the NCAA Tournament in 2019.
Of note, Ohio State's victory in the first round of the 2018 NCAA Tournament also took place versus Boston College, stopping 23 shots in the third period to preserve a 2-0 shutout win on the road, resulting in a seismic shift in collegiate hockey's balance of power. Marking the pinnacle of Sauvé's career in Columbus, heralding her arrival as one of the nation's greatest goaltenders.
Extending this legacy, Sauvé's outstanding postseason efforts with Clarkson allowed her to become the only goaltender this decade to reach back-to-back Frozen Four tourney with two different teams. Considering the challenge of reaching this plateau once, to achieve such an elusive dream twice, with a pair of different teams, represents an astronomical series of odds that define a superlative once-in-a-lifetime achievement.
A celebrated zenith that has set a sensational standard, it was only fitting that Sauvé's stunning success ran parallel to another unique aspect at the 2019 Frozen Four. In what is believed to be the first-ever all-female officiating squad in Frozen Four history, Kelly Cooke, Katie Guay, Delaney Harrop and Amanda Tassoni took to the ice in Hamden, Connecticut, site of this year's event, enhancing the theme of achievement. In addition, this fantastic foursome also served as the officiating crew at the 2019 ECAC championship game, further adding to the fascinating blend of coincidences and proud achievements in a season-long chronicle with Clarkson.
Endearing herself to a new fan base, also gaining a unique measure of fame with the result of a May feature in the highly popular Hockey News publication, Sauvé was certainly one of the feel-good stories of the 2018-19 season. Destined for further greatness at the professional level, the historic presence in consecutive Frozen Four tournaments served as the crowning touch in an accomplished body of work truly worthy of All-America status,
"I honestly did not know that I made history by being at the Frozen Four in back to back seasons with two different teams. If so, it is great but obviously was not my end goal. Going into my college career, it was my goal to make it to the Frozen Four and win a National Championship. When I committed to Ohio State and Coach Handrahan, I never thought getting to the Frozen Four would happen wearing two different school jerseys.
The Frozen Four in Minneapolis, MN (2018) and Hamden, CT (2019) were such different experiences and they were both remarkable in their own way. At my first FF with OSU, it felt surreal as we made it there following a big win against BC, a team we were not expected to beat.
That season was electric in many ways and I truly felt like I was part of a group that had gone through immense adversity and that I had helped a team grow essentially from the ground up to make our first ever appearance in not only the Frozen Four, but NCAA playoff action (outside of WCHA play). I will never forget the feeling when the announcement was made that we had made the championship round and then went on to beat Boston College to go to the Frozen Four, it was a dream come true.
Fast forward and here I am at Clarkson in a similar situation only with teammates, specifically the seniors, who had been to the FF the past three seasons. And here we are playing against Boston College again, this time as the higher seed, in a Quarter Final match-up, hoping for a birth to the most important weekend of the year!
Winning that game at home in front of our loyal supporters was a really special feeling, I don't know if anyone else has ever done this in back-to-back seasons but this whole experience, the amazing event that the NCAA puts on, will be something I never forget."
"All quotes obtained first hand unless otherwise indicated"
Related Articles