The much anticipated stop in Philadelphia for the PWHPA Dream Gap Tour kicked off with an incredible start!
On Friday February 28, a few PWHPA players were quite busy as they held a girls hockey clinic with the Philadelphia Flyers and the Ed Snider Hockey Foundation. Some of these players included Monique Lamoureux-Morando, Jocelyne Lamoureux-Davidson, Kendall Coyne Schofield, Megan Keller and Blayre Turnbull. There was an excellent turnout of over 60 girls who received on-ice training and followed up with an ice cream social with PWHPA players.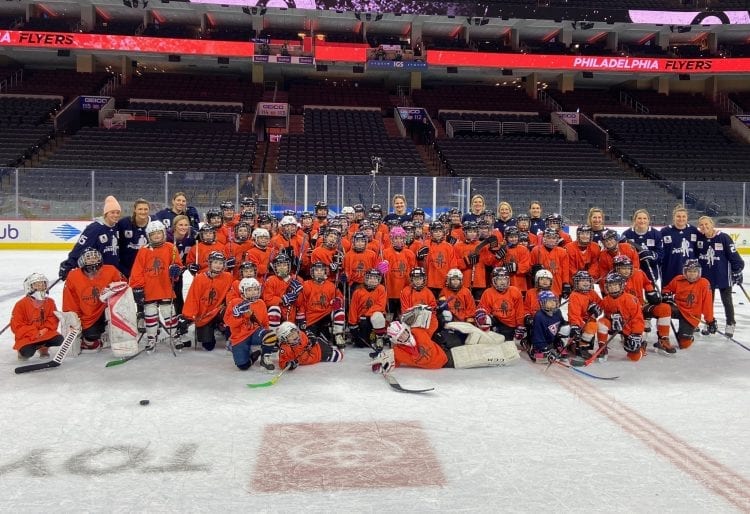 Following a great clinic, the PWHPA's Megan Keller, Sarah Nurse, Hilary Knight and Blayre Turnbull participated in the ceremonial puck drop at the Philadelphia Flyers game against the N.Y. Rangers.
Looking good @megan_keller4 @nursey16 @HilaryKnight @katbt617 👀

Thanks @NHLFlyers for having us at the game tonight! https://t.co/pMu6UK9mn0

— PWHPA (@PWHPA) February 29, 2020
DAY 1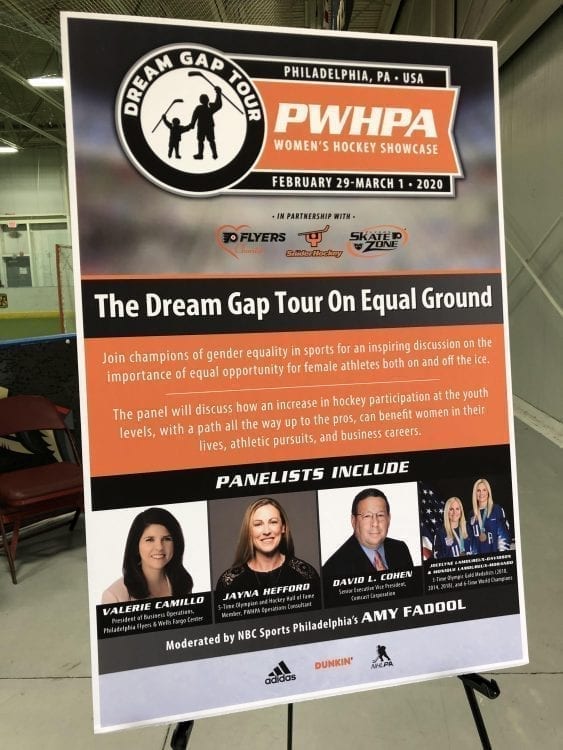 Before the showcase began, the PWHPA held The Dream Gap Tour On Equal Ground panel discussion featuring the President of Business Operations for the Philadelphia Flyers & Wells Fargo Center, Valerie Camillo, Senior Executive VP for Comcast Corporation, David Cohen, PWHPA Operations Consultant, Jayna Hefford and PWHPA players, Jocelyne Lamoureux-Davidson and Monique Lamoureux-Morando. Moderated by NBC Sports Philadelphia's Amy Fadool, the seats were filled with both men and women, as well as many young girls—some of whom were sporting Ed Snider Hockey jerseys. 
During this hour-long discussion, there were points made about how successful the PWHPA has been this year, the Comcast Corporation's support of women in sport and business as they try to reach 50% of female employees and the work life balance for a professional female athlete. Some key takeaways included how important it is for women to have a strong support system surrounding them for any career they choose to pursue. Whether it is a career in professional sports, business, medicine or the arts, a strong support system is needed to help uplift them when they need it most. 
Following a successful panel discussion, an exciting day of hockey was underway as fans of all ages piled into the Virtua Center Flyers Skate Zone. The event officially sold out the entire weekend of tickets and Team Nurse, Team Keller, Team Turnbull and Team Decker were ready to give them what the crowd wanted to see: high level, competitive hockey. 
GAME 1 – Team Nurse vs. Team Turnbull
Game 1 was set to be an exciting, high energy match featuring players such as Sarah Nurse, Natalie Spooner, Melodie and Catherine Daoust and Brianne Jenner. Both teams came out ready to show the Philadelphia audience their skills and their aggression, competitiveness and speed were in full effect the entire game. It was clear from the beginning, Team Turnbull was the stronger team as they dominated Team Nurse and came out victorious with a final score of 7-2.  
GAME 2 – Team Keller vs. Team Decker
Following an intense first match-up, Team Keller vs. Team Decker kicked it up a notch with some hard hits and heavy shots. Team Keller came out strong and scored under a minute into the game, putting them on the board early. The crowd saw some hits from hometown hero Kelsey Koelzer (Team Decker) and powerful shots from the point by Blake Bolden (Team Keller). Even with Kendall Coyne Schofield's speed and Brianna Decker's ability to maintain control of the puck, Team Keller came out on top with a final score of 6-2. 
DAY 2
Following a fantastic first day, fans returned to the Virtua Center Flyers Skate Zone for a consolation game between Team Nurse and Team Decker and the championship game between Team Keller and Team Turnbull.
Consolation Game – Team Decker vs. Team Nurse
Both Team Decker and Team Nurse returned to the ice after tough losses on day 1 and were both looking for their first win of the weekend. Team Decker came out strong scoring early in the game, with tight passing from Coyne Schofield to Decker to Alyssa Gagliardi for the goal. Team Nurse quickly answered with their own goal by Natalie Spooner. Team Decker's Kelsey Koelzer picked up her own rebound and they were back in the lead. Team Nurse did not make it easy, but Team Decker came out on top, winning with a final score of 3-2. 
Championship Game – Team Keller vs. Team Turnbull 
Team Keller and Team Turnbull had tons of goals in their first games on day 1, there was no telling which team would come out on top. With Blake Bolden's hard shot from the defensive line and Jamie Lee Rattray's incredible speed and strength, it was going to be a tight game. Team Keller showed their skill early on and were up 3-1 going into the 3rd period, but Team Turnbull surged late in the game and tied it up. The game went into 3-on-3 overtime with five minutes on the clock, Team Turnbull's Brigette Lacquette scored the game winning goal to defeat Team Keller 4-3.
The Stars of the Weekend
Game 1: Genevieve Lacasse, Rebecca Johnston and Laura Stacey
Game 2: Katie Burt, Kendall Coyne Schofield and Dani Cameranesi
Consolation Game: Jetta Rackleff, Jessie Eldridge and Brianna Decker
Championship Game: Loren Gabel, Megan Keller and Kassidy Sauve
WEEKEND RECAP
The fifth stop in the Dream Gap Tour was certainly one full of excitement, both on and off the ice. It is difficult to recap this weekend due to the overwhelming amount of activity going on around the Virtua Center Flyers Skate Zone. Witnessing all the high level competitiveness were three siblings, Ahmoni, Alyssa and Aaron Martin, who all play with the Ed Snider Hockey program.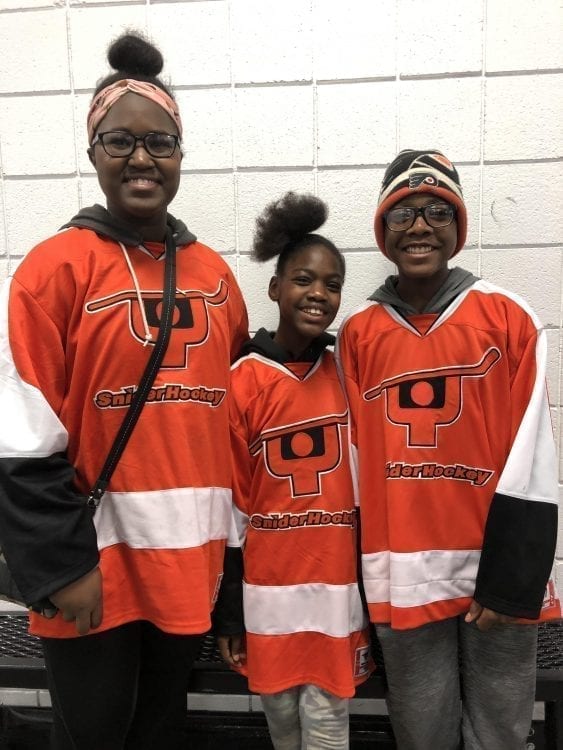 (Pictured from left to right: Ahmoni, Alyssa and Aaron) 
These three were having a great time not only watching, but also skating with members of Team Nurse and Team Decker in between games and they were all smiles on the ice! 
There is no doubt that this weekend was successful from start to finish and there were many young athletes in attendance who witnessed the amount of talent women's hockey has to offer at the highest level.
The final stop of the Dream Gap Tour will take place in Arizona March 6th-8th. Grab more details here. 
Related Articles