Suiting up to play in the Swedish Women's Hockey League with the highly competitive Modo franchise last season, it marked the extension of a proud on-ice journey for Lauren Wildfang. Having contemplated retirement following a sterling four-year run with the Colgate Raiders, propelling the program to the NCAA Frozen Four national championship game in 2018, fulfilling her promise as a professional proved to be a highly worthwhile experience.
Having displayed a remarkable proficiency on the blueline during her teens, Wildfang, raised in Waterdown, Ontario, also demonstrated a strong leadership in those formative years. Starring for the PWHL's renowned Toronto Jr. Aeros program, bestowed the honor of the team captaincy in 2013-14, it marked the first of three captaincies before making the leap to the NCAA.
Serving in the same capacity with Team Ontario Red at the 2013 National Women's Under-18 championships, winning the gold medal, that color scheme would serve Wildfang well. Wearing the captain's C on her jersey, skating with Canada's entry at the 2014 IIHF U18 Women's Worlds in Budapest, the international experience would foreshadow the final chapter of her hockey odyssey.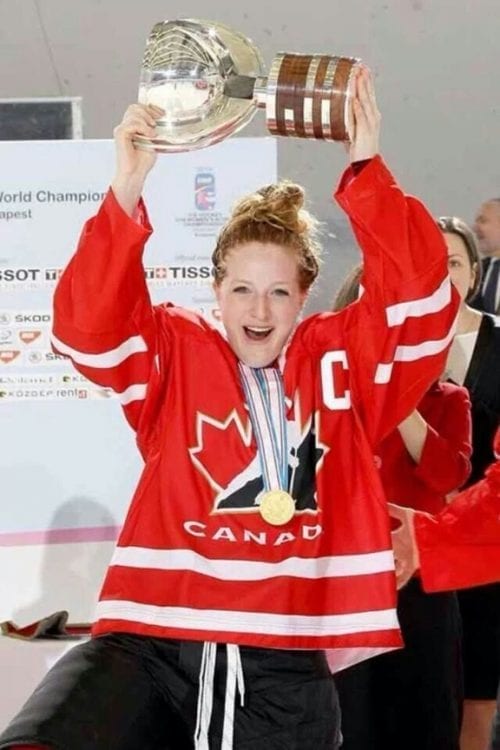 Although Wildfang's strong contributions in Hungary involved a solid seven points in five games played, there was another unique element, which burnished the golden effort. Part of a highly talented roster which featured the likes of Sarah Potomak, Victoria Bach, Eve-Audrey Picard, plus the highly touted goaltending duo of Shea Tiley and Kassidy Sauvé, she was also joined on the roster by Aeros teammate Breanne Wilson-Bennett, a prominent figure in her career, playing together at Colgate and professionally with Modo.
With great candor, Wildfang recalls how the move across the Atlantic to play for Modo was one filled with feelings of the unknown. Enduring three hip surgeries, plus knee surgery during her final collegiate season with Colgate, there was a highly understandable element of mixed emotions. Communicating with Modo head coach and General Manager Bjorn Edlund, who has been with the franchise since 2014, the move to Örnsköldsvik, 550 kilometers north of Stockholm, and the sense of growth and confidence that encompassed the experience proved to be well worth it.
"The opportunity to play in Sweden came when Coach Bjorn sent me an email. From that email I wanted to learn more and had some time to discuss with my family about the opportunity. The opportunity itself has taught me a lot about life.
Moving  halfway across the world is a pretty uncomfortable feeling. It was full of excitement but also nerves. I am thankful I got the opportunity to learn and grow as a hockey player, as well as a person. The most enjoyable part was getting to learn more about a different country and culture."
During a highly eventful 2018-19 season, one which saw Modo finish second overall in the league standings, trailing only Lulea HF, Wildfang quickly emerged as an impact player. Finishing said season as their top-scoring blueliner on Modo, recording 26 points, she would finish fourth overall in team scoring. Wildfang would trail only team captain Olivia Carlsson, Kaitlyn Tougas, and Michela Cava, whose 27 goals, 37 assists, and 64 points not only led the team, she would capture the SDHL scoring title by one point over Jenni Hiirikoski of Lulea HF, adding to the rivalry between the two clubs.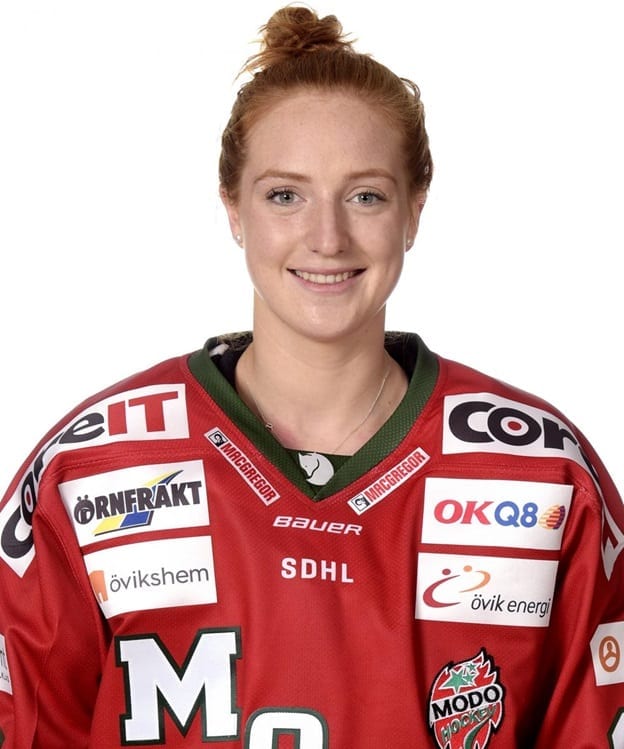 Signifying an achievement that validated Wildfang's standing as an elite performer capable of competing on the professional stage, a remarkable maturity enriched such a compelling season. Reflecting on her statistical brilliance by preferring to observe the bigger picture, it is testament to her strong leadership. Although millennial sport is one that tends to focus on statistics, fuelling a data-driven approach which provides a strong emphasis on numerical value, Wildfang's outlook is one that still relates to the fundamental aspect of heart, preferring to relate to a team-first approach.
"I think we often talk about points as something that is the defining aspect of one's career but I have never viewed it that way. I am happy I was able to contribute to the team by helping set up plays but to me I needed a group of talented athletes around me to elevate my game to be able to play the way I wanted to."
Just as relevant during such a sensational season in the Modo red and green jersey was the opportunity to add to the legacy of highly talented Canadians who have competed in the SDHL. Although Wildfang was the lone Canadian on Modo's defensive unit, she was joined by a quartet of Canadian forwards, three of which were raised in Thunder Bay.
Michela Cava and Kaitlyn Tougas, who served as alternate captain, were both members of the Thunder Bay Queens championship team from the 2010 Esso Cup. Brooke Boquist, also from Thunder Bay, went on to play at Shattuck St. Mary's, while Breanne Wilson-Bennett rounded out the group of forwards. As a side note, Betty Jouanny, who has played for the French national team holds a unique connection to Canada, having played at the U SPORTS level with Les Carabins de l'Universite de Montreal.
Both part of Colgate's Class of 2018, Wildfang and Wilson-Bennett called each other teammates on five separate occasions. During the 2013-14 season, they would play on three distinct teams together. Including their club team, the Toronto Jr. Aeros, they would also skate together during the season on Team Ontario Red and Canada's Under-18 National Team.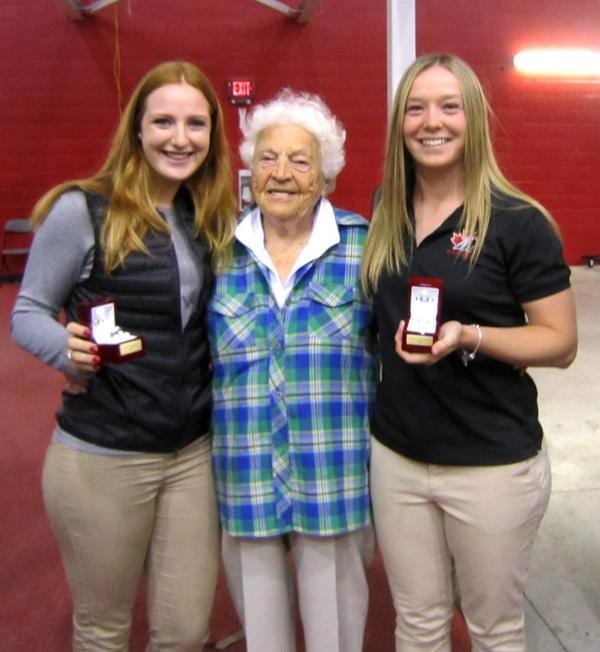 Recruited to Colgate University, playing for head coach Greg Fargo, signifying a paradigm shift for the program, elevating towards national championship contender status, playing together professionally in Sweden supplied a storybook ending. Signing together with Modo on July 26, 2018, representing the start of a fifth fantastic time garbed in the same jersey, the sisterly bond between them shall always stand as an elated hallmark between one of the best pairs of teammates during the decade of the 2010s.
"It will (always) be fun to call Bre a teammate. Not only do I call her a teammate, she is part of my family and has been since Grade 9, when we first started playing together. It is an experience we will always share together."
Serendipitously, the two were involved in the greatest goal in Colgate history. Collaborating with Shelby Perry, both would earn the assists on Wilson-Bennett's double-overtime game-winning goal in the 2018 NCAA Frozen Four, knocking the favored Wisconsin Badgers off their perch. Goaltender Julia Vandyk faced 45 shots, compared to 20 for Wisconsin's Kristen Campbell, while Wilson-Bennett also won a game-high 22 faceoffs.
Advancing to the national championship game for the first time in program history, facing off against the Clarkson Golden Knights, a rematch of the ECAC Championship Game, it marked an exciting final chapter in the evolution of Wildfang in Colgate colors. Scoring just five points as a freshman, a program in the doldrums with only seven wins, five goals scored as a sophomore, part of a 22-point season, coincidentally, it was also the number of games won by Colgate during said season. Also leading the team with 46 blocked shots, Wildfang showed tremendous progress, gaining her first team Defensive MVP Award.
Recording career highs in games played (40), goals (6), assists (24) and points (30), Wildfang was an essential contributor in her record-breaking senior season, which saw the Raiders rack up a program-best 34 wins, compared to just six losses and one tie. Ranking second in scoring among blueliners, trailing leader Olivia Zafuto by just three points, both were among eight players with at least 30 points, including Jessie Eldridge (45 points), Breanne Wilson-Bennett (41 points) and Shae Labbe (35 points), while Vandyk won 25 games between the pipes.
Graduating as the program's all-time leading scorer among defenders, Wildfang's sensational senior season also resulted in a haul of hockey hardware. Capturing the Raiders Defensive MVP Award, also landing on the Raiders Honor Roll, she earned recognition as an ECAC First-Team All-Star and All-USCHO Second Team, respectively.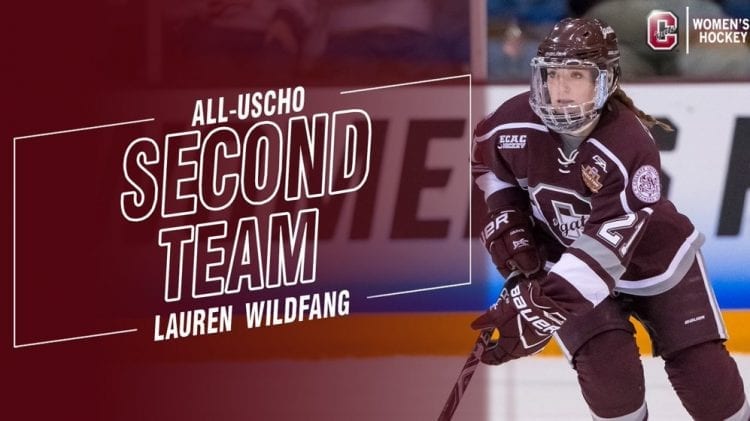 Statistically, Wildfang's final goal in Raiders colors took place during the quarterfinals of the ECAC Playoffs versus the Harvard Crimson. The February 24, 2018 affair saw her find the back of the net in the third period versus Harvard, with assists credited to Shelby Wood and Bailey Larson, she also earned an assist on a goal by Eldridge, eliminating Harvard from the playoffs, simultaneously marking her last multi-point performance.
Building on this momentum with landmark wins against Cornell in the ECAC semi-finals, along with defeating the Northeastern Huskies in the Quarterfinals of the NCAA Tournament, the assist on Wilson-Bennett's Frozen Four goal versus Wisconsin stands as the last point of her Colgate career, a seminal moment that shall be forever preserved in the collective memories of Wildfang and her teammates. Redefining Raiders women's ice hockey, the Frozen Four experience paid homage to the likes of Jennifer Baldwin Cook, Melissa Ehlers, Christine Price, Thayer Jaques and Julie Wolff, alumnae essential in the fight for the program to gain varsity status, setting the foundation for the heroics that Wildfang proudly contributed towards.
"Colgate reaching the Final Four in my final season will always be the highlight of what I look back on. It took four years to get us to that game and although the result was not what we wanted, I am so proud of being beside the teammates I was beside and being present in that moment.
There is a lot that goes into building a program and it takes a special group of athletes to get us there. For me, the teammates that graduated in previous years were just as part of our team's success.
It stems back from the first year our program was created, to the women who fought for Colgate to be Division I (in 2001) to all the girls who continued to grow the program.
To sum it up in one line, that game was for all the past players who knew they were part of the stepping stones rather than the finished product and I don't think we can thank them enough for pushing through to allow us to get there."
"All quotes obtained first hand unless otherwise indicated"
Featured image by Phil Inglis
Related Articles