Among the most positive and inspiring elements of sport in 2019, the launch of the Professional Women's Hockey Players Association (PWHPA) is a superlative example of teamwork and unison, generating an amazing sense of ownership in helping to positively shape the future of the game.
Unified in the cause of raising awareness about professional women's ice hockey, simultaneously celebrating its sensational stars while emphasizing the need for a league that is both sustainable and gainful, this remarkable chapter in the fight for sporting equality consists of more than 200 players, hailing from different corners in the game.
Considering the high quality of the game at a professional and international level, all team rivalries between involved players have dissolved, replaced by friendship and collaboration. Having already experienced a remarkable show of support, from the NHLPA to a commendable group of sponsors, the impact made shall serve as the defining moment for many in the game.
Among the key elements in the PWHPA's admirable efforts involves the Dream Gap Tour, ensuring that on-ice action is a key part in its nascent evolution. With a series of three showcases that took place during autumn 2019, involving locales such as Chicago, Toronto and Hudson, New Hampshire, the superior quality of talent gracing the ice at each event represented a comprehensive who's who of women's ice hockey.
Toronto's Westwood Arena served as the backdrop for an empowering start to this competitive trilogy, with a weekend of events highlighting the Unifor Showcase. In the spirit of hockey humanitarianism, fans could purchase a virtual ticket in order to send a local youngster to a game. Additionally, skills clinics allowed the youthful participants access to their heroes, creating a lifetime of memories.
On the ice, action featured a tournament composed of four teams. Named in honor of Captains Brianne Jenner, Rebecca Johnston, goaltender Liz Knox and Marie-Philip Poulin, all share the common thread of being Clarkson Cup champions and Hockey Canada alumnae.
Named to the Team Poulin roster, coached by Valerie Bois, it marked a pleasant display of school pride for Emily Clark. Having played with Canada's entry in women's ice hockey at the 2018 Pyeongchang Winter Games, which featured Sarah Nurse and Ann-Renee Desbiens, all alumnae of the achieved University of Wisconsin Badgers, Clark actually ended her collegiate career in grand fashion, capturing the 2019 NCAA Frozen Four championship.
As the Badgers' legacy is one consisting of tremendous star power, supplying a seemingly never ending supply of elite talent for the professional and international ranks, Clark gained the opportunity to call fellow Badger alum, and three-time Winter Games participant, a teammate for the first time. Having graduated from Wisconsin in 2012, ranking first all time in program history in eight different statistical metrics, highlighted by 143 goals and 262 points, the three-time All-America selection was slated to skate for Team Poulin in the first stop on the Dream Gap Tour.
While the association as Badgers is treasured in perpetuity by proud alumni, the chance for Clark to skate with Knight, one of the greatest ever, represented a rare and treasured first, as the two opposed each other in their respective countries colors internationally. Gaining the chance to be teammates at the PWHPA level simultaneously served as a proud extension of the Badgers hockey legacy.
"It was really cool to be able to play on a line with Hilary. With both of us going to Wisconsin and playing against her for the past five years on our national teams, I know what she was able to accomplish in university, how skilled she is, and how hard she is to play against. So, it was a nice change to be able to be in the same jersey as her. She's extremely talented and fun to play with."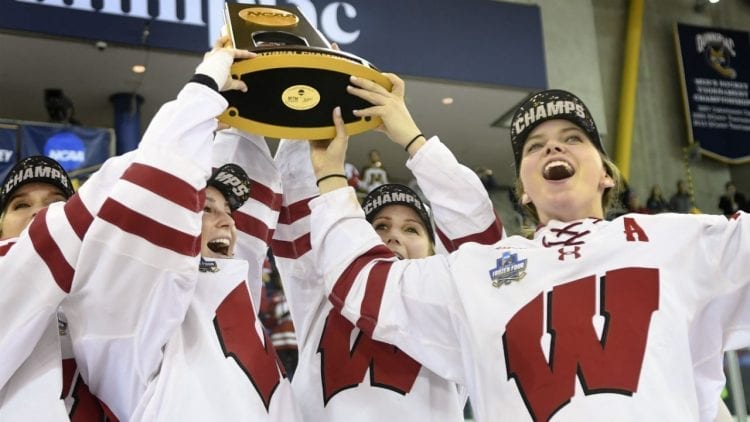 Clark and Knight would enjoy a sensational run as members of Team Poulin, part of a perfect weekend. Defeating Team Knox in a pulse-pounding 2-1 win, followed by trouncing Team Jenner by a 5-1 mark, the results on the scoreboard were only part of a much bigger picture. Recognizing that players of such calibre definitely possess a dazzling drive once gracing the ice, Clark remains graceful,
"Even though the Dream Gap Tour is about so much more than hockey and wins/losses, it was fun to be able to win both games on the weekend. Everyone involved knows the purpose of the Tour but we are also extremely competitive and that competitiveness is what keeps pushing women's hockey in the right direction."
In addition to the tremendous presence of star alumnae from the Wisconsin Badgers, a superlative number who once donned the colors of the Cornell Big Red were also on-hand for the first leg of the Dream Gap Tour. From the outset, Brianne Jenner (Class of 2015) and Rebecca Johnston (Class of 2012) served as two of the team captains at the Toronto event.
While many of the Big Red graduates have enjoyed the luxury of calling each other teammates at the collegiate, professional and international levels (the most notable include Jenner, Johnston, along with Jessica Campbell and Jillian Saulnier), the Dream Gap Tour allowed a former Big Red backstop such a treasured opportunity.
During a decade that saw so many players compete at both, the NCAA and U SPORTS levels, the first chapter of Amelia Boughn's career took place in Ithaca, New York, home of the Big Red. Transferring to the University of British Columbia during the summer of 2016, after two seasons spent with Cornell, Boughn graduated in 2019, recording a fantastic 40 appearances for the Thunderbirds, while gaining a spot on the U SPORTS All-Star Team that participated at Hockey Canada's U22/Developmental Camp. Coincidentally, Kelly Murray would also play for Cornell and UBC in her career, calling Boughn a teammate for one season at Cornell, and one at UBC.
One of eight members of the women's ice hockey program recognized as a 2019 U SPORTS Academic All-Canadian, her final game in UBC colors was nothing short of pulse pounding. Hosting the University of Regina Rams on Senior Night, the February 9, 2019 tilt saw a third period goal by Ireland Perrott also stand as the game-winning tally.
Recording 22 saves in a pulse-pounding 1-0 blanking of the Rams, Senior Night ended on a victorious note for Boughn and her five fellow graduates, earning her 28th career win as a Thunderbird. As a side note, she also won her first-ever start with UBC, a 3-1 win against McGill on September 16, 2016, along with her first-ever start at Cornell, a 6-2 victory on December 2, 2014 versus Syracuse.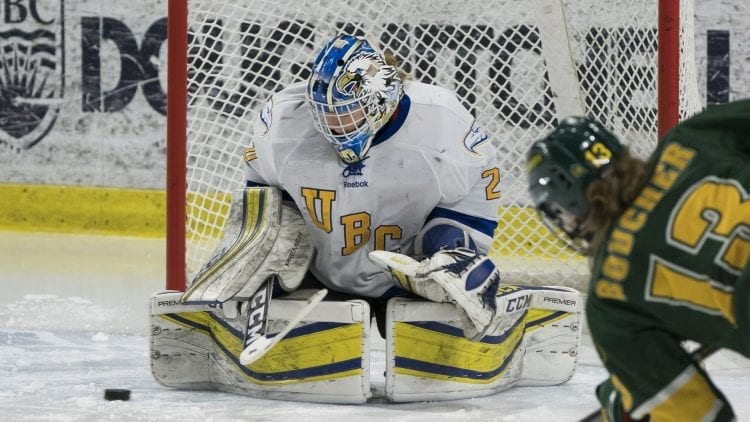 Relishing the chance to call Jenner a teammate once again, both were teammates in Boughn's freshman campaign at Cornell (2014-15). Part of a talent-rich roster which also featured Hanna Bunton, Emily Fulton, Cassandra Poudrier, Morgan Richardson, Jillian Saulnier and Taylor Woods; it reflected one of Cornell's most formidable teams. As a side note, the Unifor Showcase involved numerous other members from said roster, with Bunton and Woods skated for Team Johnston, while Saulnier, and Cornell alum Lauriane Rougeau, skated for Team Poulin.
"Jenner has been an incredible teammate and role model to me over these past six years. Bri was the captain of our team my freshman year at Cornell, and I remember being blown away first off by her skill and vision on the ice, but also with the work ethic and integrity she brought to the locker room, to practices, to the classroom, and to every other aspect of her life.
It is something I have tried to model as I have moved up from being a young player to a senior player on my team at UBC last year. All of these years later, it has been so much fun getting to play with her again. It was especially inspiring to see the incredible amount of behind the scenes work she and all of the other women leading this initiative have put into it, on top of their regular training and work schedules.
Faced with what seemed like insurmountable adversity in the spring, they have turned the folding of the CWHL into a movement, which I think we are all very proud to be a part of."
Among the memorable mix of star players involved a number of recent college graduates, including megastar Loren Gabel, a two-time NCAA Frozen Four Champion with the Clarkson Golden Knights and All-America selection. Enjoying a bevy of remarkable highlights in a memorable 2019, the native of Kitchener, Ontario was not only a recipient of the Patty Kazmaier Award, the eighth Canadian to win it, she enjoyed the Kitchener-Waterloo Athlete of the Year honor.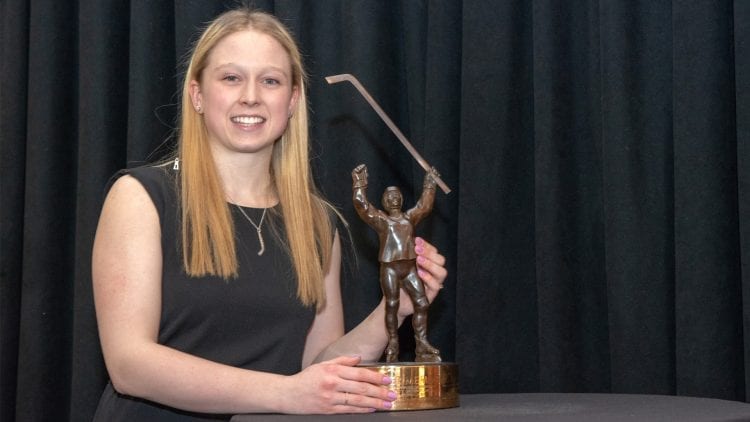 Recognized as the Third Star of the Game following the clash between Team Johnston vs Team Knox, Gabel, who scored a goal in the game, enjoyed the privilege of skating alongside Clarkson alumnae Renata Fast and Josianne Pozzebon as members of Team Knox. Demonstrating the potential of maintaining her role as an impact player post-university, certainly, a player of Gabel's world-class talents could have enjoyed another milestone in 2019 by turning professional.
Whether it would have been in the existing league in the United States or among a number of associations in Europe, Gabel's ability to find the net and contribute in big games were highly coveted. Testament to such abilities was the fact that she skated for the Canadian contingent at the 2019 IIHF Women's World Championships in Finland, marking her debut in that event. Worth noting, she scored Canada's first goal of the game in their first win of the tournament, while also assembling a brilliant three-point performance against Finland in the preliminary round.
Instead, the prodigious Gabel made a very stirring and inspiring statement by participating in the Dream Gap Tour. Finding a very strong purpose in the Association's objectives, it shows a remarkable display of leadership, one that indicates her focus on ensuring the game's future is one defined by both dignity and continued development towards sustainability.
"It is extremely important for me to be part of the PWHPA. It does not only allow us current athletes to strive for what is best for our sport, but it will also help the future generations that are following in our footsteps. I believe that what we are doing is the right choice and we as female hockey players deserve to be treated fair and equally."
Several months after graduating from Clarkson, where Gabel amassed an astounding 213 points (116 goals, 97 assists), along with a bronze medal gained at the 2019 IIHF Worlds in Finland, the opportunity to return to the ice brought with it a sense of empowerment. With a high-energy sold-out crowd, filled with numerous youngsters eager to see this latest generation of hockey talent set the foundation for a bold new era, it allowed Gabel to rekindle fond memories of her competitive roots.
Having starred with three different clubs in three seasons during her PWHL career, Gabel moved from the Kitchener-Waterloo Lady Rangers to join the Toronto Jr. Aeros. Capturing a 2014 OWHA silver medal with the Jr. Aeros, she would also spend one season with the powerhouse Oakville Jr. Hornets. Coached by successful Bradi Cochrane, Gabel would finish her PWHL career with a bronze medal in league playoffs, while emerging with the gold medal in the OWHA Provincials.
"Being back on the ice after graduating from Clarkson and the IIHF Worlds was a great feeling. Not just having great teammates and staff, but also having the best fans and supporters out there, cheering us on in the stands was amazing. The turn out we had in Toronto was spectacular and hopefully this will help us with our next step for the future of women's hockey."
A PWHL alum too, Boughn also enjoyed her own haul of medals during those formative years. Earning a silver medal in the 2014 PWHL playoffs, her Mississauga Jr. Chiefs would defeat Gabel's Jr. Aeros in the gold medal game of the 2014 OWHA playoffs. Raised in Toronto, she also gained the chance to bring her career come full circle with the PWHPA.
In addition, the PWHPA connection would bring about a unique coincidence. Having starred at St. Clement's High School, Boughn was on-hand for an important milestone. With De La Salle College hosting its first-ever Brother Arthur Memorial Girls Hockey Tournament on December 4, 2019, St. Clement's was one of six teams that participated. Their first tournament game would see Boughn participate in the ceremonial face-off.
Worth noting, Kristen Richards, a 2018 Clarkson Cup champion and one of the participating players in the Dream Gap Tour, is employed by the College, and was proud to have Boughn, along with numerous other PWHPA players on-hand at the tournament, showing their support.
From the thrill of her hometown of Toronto serving as the backdrop for PWHPA play, to the feeling of achievement that came with her alma mater making new history, the result was a fall/winter to remember for the beaming Boughn.
"Playing my first post-university game against the best players in the world was unbelievable. The fact that it was in my hometown of Toronto made it even better. I fell in love with the game playing my first seven years of minor hockey in the Toronto-Leaside Wildcats organization. Growing up playing hockey in the city always felt like most of the women's hockey action was located outside of Toronto, in places like Mississauga, Whitby, and Oakville.
So, it was amazing to have the opportunity to be a part of this huge Toronto-based event in an old city rink (complete with old-school bleachers and cramped hallways) packed to the lid with girls from Toronto-based organizations like Leaside and Scarborough along with players from organizations based all over Ontario.
At UBC, we did a lot of outreach with local organizations such as the Vancouver Angels and the Grindstone Award Foundation. Getting to know those young players and helping to spark their passions toward hockey was a highlight of my time at UBC, but bringing it back home, and on top of that playing in a pro-calibre hockey game for the first time, is something that I will never forget."
"All quotes obtained first hand unless otherwise indicated"
---
The Dream Gap Tour is headed back to Toronto in January!
Get more details on this, plus other PWHPA events here.
Related Articles