Part of the Clarkson Golden Knights' halcyon days, enjoying a triptych of appearances in the NCAA Frozen Four, highlighted by a pair of national championships that propelled the program into dynasty status, it represents a prized pinnacle for jubilant Josiane Pozzebon. Recording 161 appearances, which included 69 points, amassed on the strength of 50 assists; there was a strong connection to her hometown roots, enriching her time in Potsdam.
Hailing from Canada's Capital Region, Pozzebon followed in the footsteps of other local legends such as Erica Howe and Jamie Lee Rattray. Both alums of the Ottawa Lady Senators, Howe, raised east of Ottawa in Orleans, while Rattray grew up in the Western suburb of Kanata, were part of Clarkson's first national championship team in 2014. As a side note, Rattray also captured the Patty Kazmaier Award in that same year. Coincidentally, Pozzebon's final season with Clarkson resulted in another Kazmaier Award winner, as Loren Gable claimed the honor.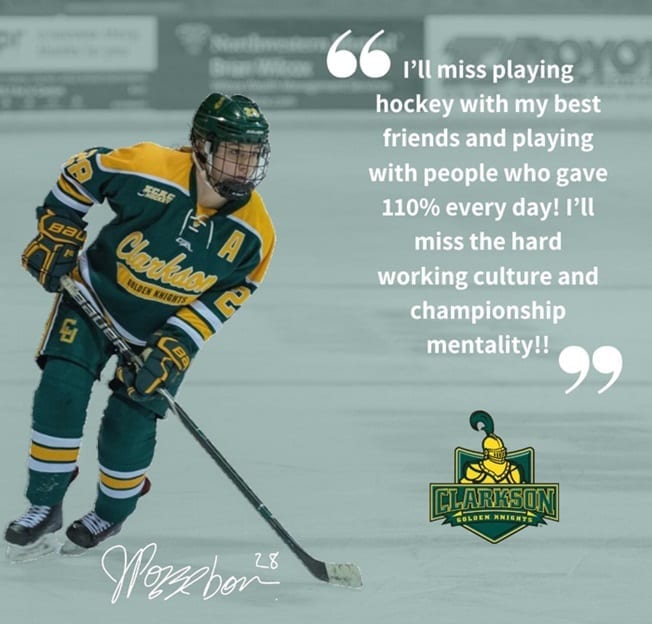 Pozzebon, who played for the PWHL's Nepean Wildcats, was part of a transformative time for the club, contributing towards the club becoming a constant competitor in the provincial championship conversation. Along with the likes of Sam Cogan, Cassidy Campeau and Taylor Thurston, all would graduate to NCAA hockey.
Undoubtedly, such an energizing time in the Wildcats black and red jersey, where she appeared in more than 100 games served as prologue for a unique scenario as dynasty and destiny contributed towards a successive legacy in her hockey odyssey.
Skating alongside Lady Senators alumnae Katelyn Fournier and Amanda Titus for three seasons in Potsdam, adding to the legacy of star players from the Region that donned Clarkson's Green and Gold, that sense of community and camaraderie extended into her senior season.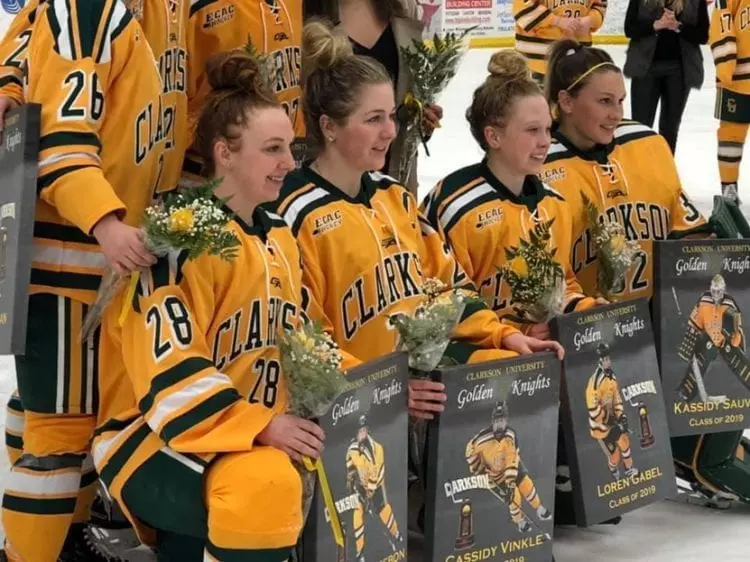 Worth noting, the Region and the Wildcats were represented proudly on the Green and Gold by a fantastic foursome in 2018-19. One that included Pozzebon, sophomore forward Kristy Pidgeon, a five-sport star in high school, freshman Taylor Sawka, recognized as Clarkson's Rookie of the Year, plus sophomore Tia Stoddard, a native of California who also skated for the Anaheim Lady Ducks before making the trek to star with the Wildcats.
"It was awesome being able to play with Nepean Jr alums. This year we were fortunate enough to have four of us from the Nepean Jr Wildcats, Tia Stoddard, Kristy Pidgeon and Taylor Sawka. It just shows how strong the Nepean program is and how great the coaching staff prepares their players as athletes but also as people. It was really fun to be able to play with them at Clarkson."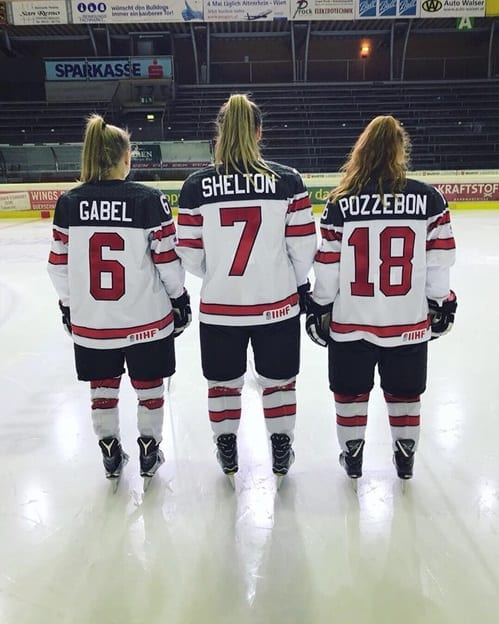 Akin to so many other skaters from both, the Wildcats and Clarkson, Pozzebon possessed significant playing experience at the elite national level (earning silver medals at the 2013 Canadian Under-18 Nationals and the 2015 Canada Winter Games) along with international competition. Prior to Clarkson, Pozzebon enjoyed the honor of donning the Maple Leaf for Canada's squad at the 2015 IIHF Under-18 Women's World Championship, appearing in the gold medal.
The privilege of playing for Canada continued at Clarkson. During her junior season, she gained the opportunity to suit up for Canada's National Under-22/Development Team. Competing at the 2018 Nations Cup it was an honor enriched by the opportunity to skate alongside Clarkson scoring sensation Loren Gabel, plus fellow blueliner Ella Shelton. Despite a podium finish evading the Canadian squad, the feeling of national pride ran strong among this tremendous triptych, appreciating this shared milestone.
In the successive summer, a three-game exhibition series versus their eternal rival United States took place in Calgary. Once again, Pozzebon found herself competing for Canada alongside a familiar face. Alongside Shelton, they were part of a distinguished defensive unit crowded with rivals from ECAC play, including Kati Tabin of Quinnipiac, Jaime Bourbonnais and Micah Hart of Cornell, plus Kaitlin Tse of Harvard.
Fulfilling every player's dream of skating for their home country, this truly treasured privilege is one that Pozzebon ponders further. Hoping that her post-Clarkson career shall include the continued pleasure of playing for Canada, it represents an admirable objective.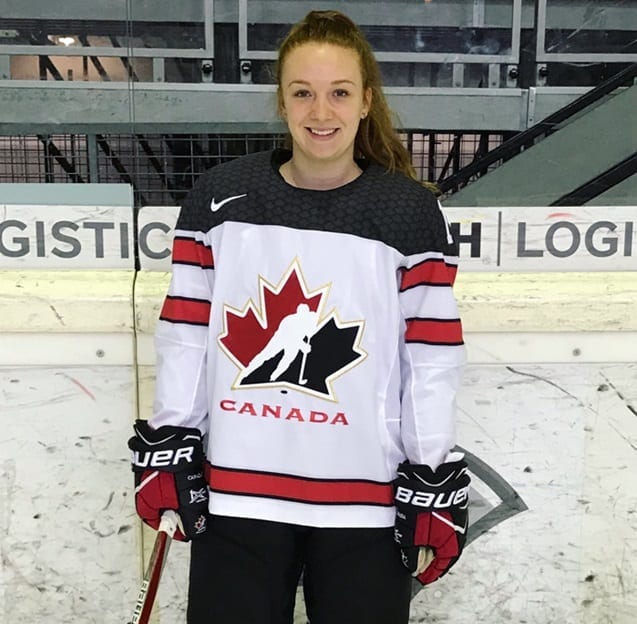 "It was an amazing experience and an honor to be able to wear the Maple Leaf and compete at Nations Cup. Playing for Team Canada has always been a dream of mine so it was exciting to get that opportunity. I will keep working towards my goal of playing on the National Team at the Olympics."
Just as important for Pozzebon is her commitment in the classroom. Recognized as an All-Academic selection in her first three seasons with the Green and Gold, the Global Supply Chain Management Major has contributed towards the program maintaining a solid standing as remarkable student-athletes in Clarkson's academic community,
"I am definitely proud to have had multiple All-Academic selections. Clarkson University has great academics and to be able to perform in the classroom as well as on the ice is a great accomplishment. To be a great student athlete, it is important to have great time management, organizational skills and a strong work ethic."
Enjoying a strong season statistically as a senior, Pozzebon's fundamentally sound game yielded solid results. Highlighted by a superlative+36 plus/minus rating, signifying a career-best, along with an astounding 65 blocked shots, she also reached the 20-point plateau for the second consecutive season, respectively.
With an A adorned on Pozzebon's jersey, recognizing her as one of the team's alternate captains, her philosophy on leadership is one that embodies her approach to being part of such a remarkable roster of hockey talent. Employing a strong set of values, with principles focused on diligence and integrity, Pozzebon stands as an exemplar, representing an ideal that incoming players can hope to emulate in their development as future leaders in Potsdam,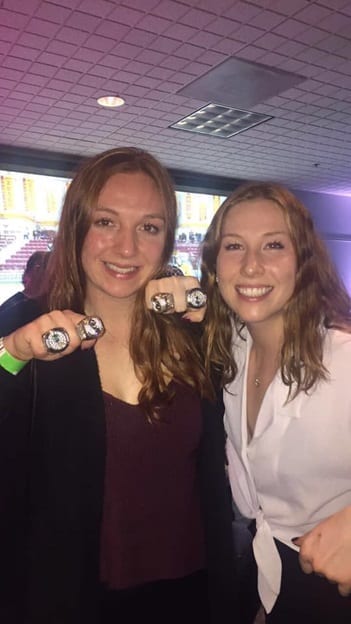 "Everyone is a leader in different ways but I was honored to be part of the leadership group my senior season. I definitely have tried to lead by example the past couple of seasons, always working hard and doing the little things and hoping people would follow in my footsteps."
Scoring the last goal of her career in the NCAA Tournament, it proved to be one of the most electrifying goals ever scored at Cheel Arena. With the Golden Knights facing a 1-0 deficit versus the visiting Boston College Eagles, a frustrated offense finally solved goaltender Maddy McLaren.
With less than four minutes remaining in regulation, team captain, and fellow senior, Cassidy Vinkle fed Pozzebon the puck at the Eagles blueline, managing to thread through the opposing defense and bury the puck into the net. Pozzebon's goal not only rejuvenated the roster, it stood as her finest hour in Clarkson's Green and Gold.
As said goal forced overtime, the game-winning tally represented a unique coincidence for Pozzebon. Elizabeth Giguere went on to score her second overtime winner of the postseason, providing the Golden Knights with their fourth straight Frozen Four appearance, plus the prestigious plateau of 30 wins for the season. Establishing herself as a prime time player, there was a unique connection in the fact that Pozzebon also placed her name on the scoresheet from the first game that resulted in Giguere supplying overtime heroics. One that saw the Golden Knights vanquish the competitive Quinnipiac Bobcats during the ECAC tournament.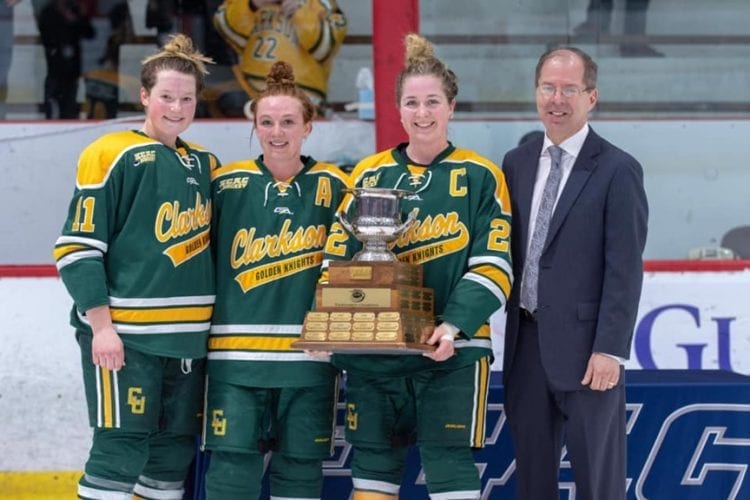 Despite a third straight national championship eluding Pozzebon and her fellow Golden Knights, there was a unique sense of coming full circle. Challenging the University of Wisconsin Badgers in the opening game of the Frozen Four, she saw a familiar face in former Wildcats teammate Samantha Cogan.
Although it would mark a unique conclusion to the careers of both Pozzebon and Cogan (both seniors with their respective teams) intersecting in the biggest showcase for collegiate hockey, competing against each other for the right to advance to the national championship game, it was an opportunity to burnish the Wildcats growing legacy of elite stars in collegiate competition.
Worth noting, the aftermath of such a sensational season allowed Pozzebon one more treasured opportunity to add to her haul of hockey hardware. Gaining a place among the Golden Knights' award winners, she was bestowed the honor of the Booster Club's Unsung Hero Award. Recognizing a player with a team-first approach, its values clearly linked with the focus of being an inspiration for community and team alike, it was a proud complement to the privilege of Third Team ECAC All-Star recognition, respectively.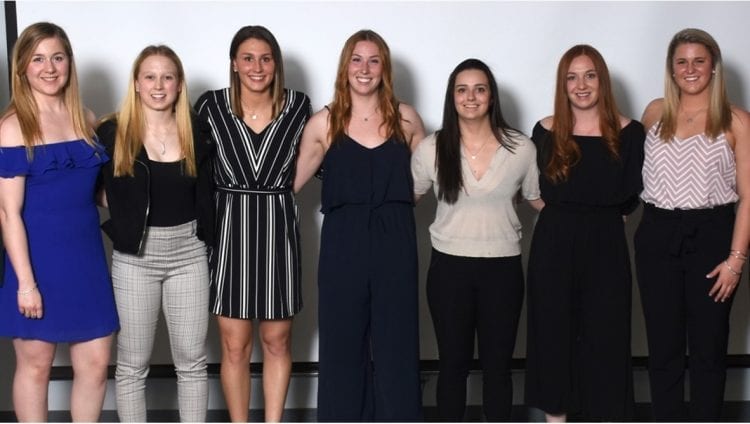 Proudly emerging from Potsdam with a pair of NCAA championship rings, an assortment of treasured friends, and a collection of memories that shall last a lifetime, Pozzebon provided the program with a constant presence of dependability. Enhancing her status as a model teammate over four fanciful seasons, it was the type of positive impression that shall be remembered fondly by fans and teammates alike,
"I could not have asked for a better four years as a Golden Knight. I feel so fortunate to have been able to wear the Clarkson jersey, playing with amazing teammates and winning two National Championships. Playing the game I love with some of my best friends and competing at a high level is what I enjoyed the most."
"All quotes obtained first hand unless otherwise indicated"
Feature photo from Clarkson Golden Knights athletics
Related Articles