Belonging to one of the most celebrated families in hockey, Kelly Murray added an exciting new chapter to a growing legacy. After winning the 2019 Clarkson Cup with her sister Eden, both members of the Calgary Inferno, representing one of the most cherished highlights in their collective careers, the 2019-20 season represented new opportunities.
With the CWHL ceasing operations in the aftermath of the Cup triumph, representing the second in franchise history for the proud Inferno, Murray made the decision to extend her career beyond the Canadian border. Signing with Swedish-based club SDE, Murray brought her talents to Europe, the opportunity holding a highly emotional context, gaining the opportunity to pay homage to her father's career.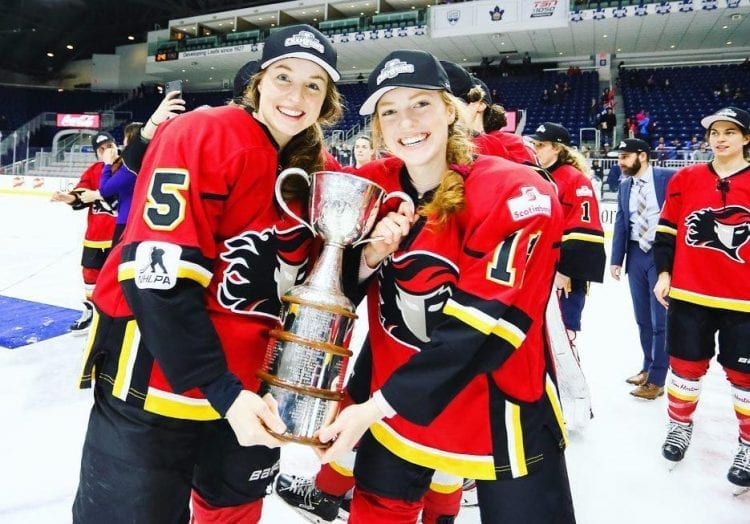 SWEDEN BOUND
Contemplating her next move, Murray benefited from the wisdom of family patriarch, Paul Murray, whose competitive background included skating professionally for the Germany Oberliga club Sonthofen ERC, based in the Southern Division. Spending the 1981-82 season with the club, racking up 85 points, highlighted by a sterling 46 goals, he played alongside fellow University of Calgary hockey alum Jim Bertram. By donning the SDE jersey, it marked a special opportunity to follow in her father's footsteps, while adding to her own international legacy, having worn the Maple Leaf at the 2017 Winter Universiade in Almaty, Kazakhstan.
"My dad was a huge advocate for me playing in Sweden this past season. He loved his time playing in Germany, and has always said it was one of the most enjoyable experiences and one of the most fun years of hockey he ever had.
Even though we played in different countries, it was still a unique experience getting to go overseas like he did. His only advice to me was to watch the body contact, as the European game is a bit more skill and finesse-based compared to the more aggressive North American style of play. But, unfortunately I did not listen closely enough, and I found out the hard way through my penalty minutes that he was, in fact, right."
Calgary ➡️ Stockholm @InfernoCWHL Transplants 🔥 ❤️ pic.twitter.com/fuyS2VjLlH

— Jacquie Pierri (@ouiweejacquie) October 10, 2019
CALGARY INFERNO IN SWEDEN
Before SDE's opening faceoff, another aspect of Murray's hockey heritage took on a more profound meaning. Joining Murray included a group of Inferno alumnae, all Clarkson Cup champions From Lindsay Post to position players Kelty Apperson and Jacqui Pierri, the presence of Murray comprised a quartet of Calgary hockey brilliance, providing an exciting new dimension to SDE hockey, their combined presence enhancing each other's experiences.
Considering that Apperson and Post were also part of the same Inferno Draft Class as Murray, it just accentuated the feeling of legacy. Undeniably, legacy would also take on a proud familial meaning for Murray. Alexandra Anderson, a Canada West All-Star selection and 2018 Golden Path Trophy Winner with the Manitoba Bisons enjoyed her rookie season of professional hockey with SDE. Taking into account that Anderson is a distant cousin, it added luster to an exciting time.
The opportunity for these accomplished cousins to become teammates in Sweden added to an international legacy of elite female hockey in Murray family lore, which saw sister Eden skate for Canada's contingent in a gold medal effort at the 2013 IIHF Under-18 Women's Worlds. Additionally, cousin Sarah Murray, whose father was an NHL head coach with the Los Angeles Kings and St. Louis Blues, served in the capacity of head coach for the Korean team that participated at the 2018 Winter Games.
"Having that group of girls on the team made the adjustment and my whole experience so much more enjoyable. That was one of the main reasons why I signed with SDE in the first place. Kelt, Jacquie and Posty were some of my favourite people from my days with the Inferno, and I knew that if those were the types of people that SDE was bringing in then it was the type of program I wanted to play for.
Also getting to play with Alex Anderson was awesome as we are actually related through our grandmothers. So that was really fun getting to be roommates with my cousin while playing professional hockey in Sweden!"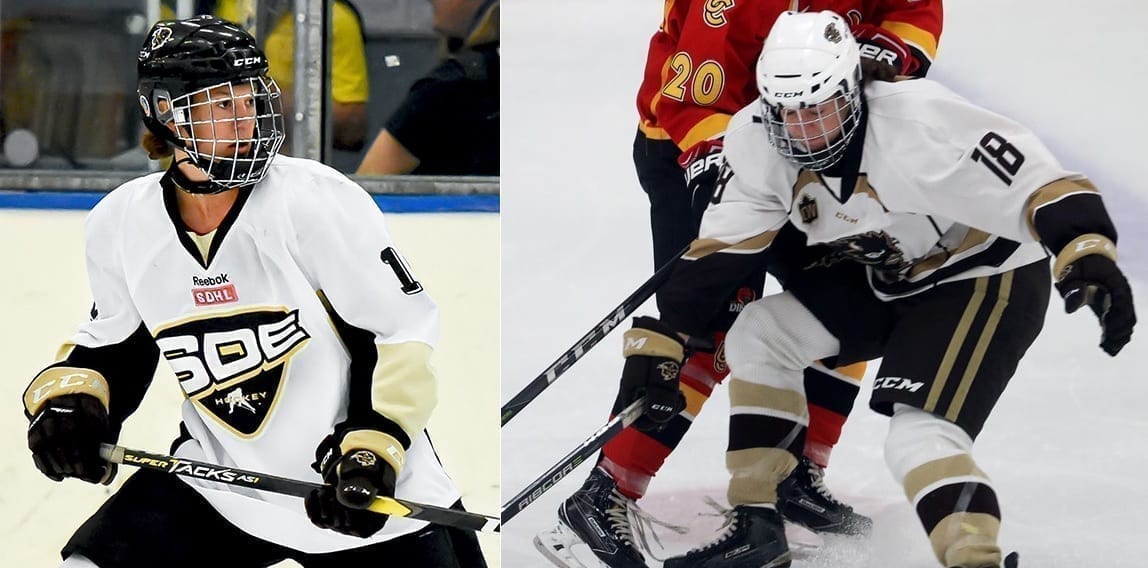 SDE LEADERSHIP CORE
Signifying another treasured milestone early in Murray's journey with SDE, the honour of the assistant captaincy, part of a distinguished group who had the A adorn their jersey, including Apperson and Julie Zwarthoed, who finished the season as SDE's leading scorer, while Leanne Ganney served as team captain. As a side note, Ganney is also the captain of the British national women's ice hockey team.
Truly testament to Murray's impact as a key off-season acquisition, a remarkable display of confidence on the part of the franchise regarding her leadership skills. Mirroring her time in a similar capacity, when she served as assistant captain with the University of British Columbia Thunderbirds, where she earned All-Canadian status. Although the initial revelation was one defined by surprise, taking into account her status as one of SDE's new arrivals, the responsibility was one accepted as a personal challenge, magnifying the desire to make a positive impact.
"It was a shock when the coaches asked me. I was not expecting it at all. Being given a letter on any team is always such an honour, but also a big responsibility. And I believe that if you are the type of person who needs a letter to be a leader, then you probably should not have one in the first place.
I did feel some initial hesitation just because I was so new, but I knew that I had put in the work over the summer and that I had the ability to make a positive impact on the team. So that was all I focused on was just putting in 100 percent effort and dedication to the team and controlling what I could control."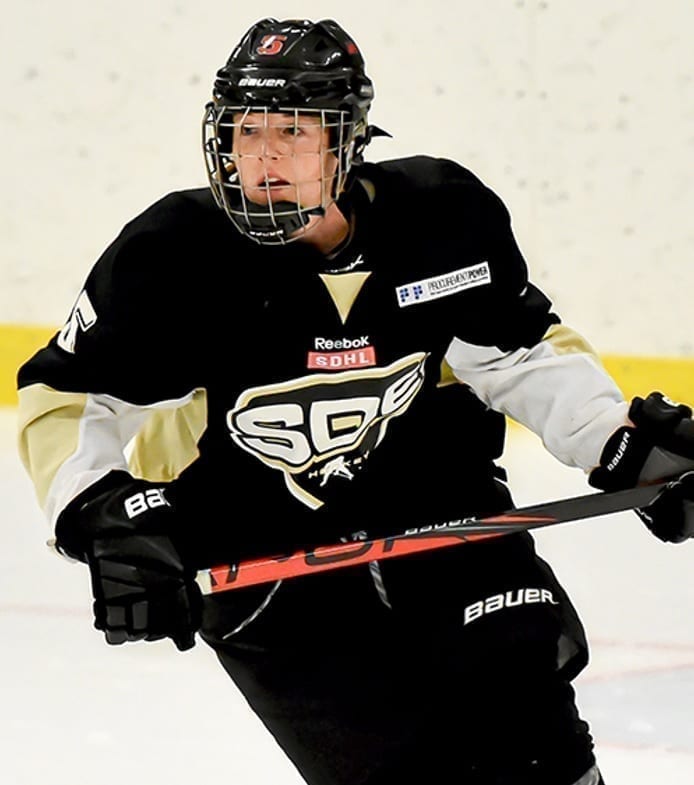 SDE 2019-20 STATS
Statistically, Murray sat second on SDE's roster in scoring among blueliners, trailing only Kayleigh Hamers. With 13 points, placing seventh overall, her 10 assists tied with British skater Leanne Ganney for fourth on the team. Fittingly, Ganney would play another key role in Murray's season. Of note, a 6-0 blanking versus Goteborg on November 17, 2019 saw Murray score her first goal, and record her first multi-point effort, in SDE colours. Finding the back of the net at the 14:19 mark of the third period, which was also the last goal of the game, Ganney logged the assist.
With five different SDE skaters scoring a goal in the contest, including a pair by Savine Wielenga, Alexandra Anderson, Ganney and Julie Zwarthoed, there was another unique facet of serendipity for Murray. Fittingly, Anderson's goal, the first of the game, also standing as the game-winner, featured Canadian content, as Murray and Apperson registered the assists.
"As a team we had a solid season. We broke so many program records last year that almost every weekend we were playing for something new. Every win took the whole team and every game was always so exciting and so much fun. I personally felt that it took me a little while to find my stride, but I was pretty content with my season overall.
Yet, as happy as I was with my season, I know I have got another level that I can get to. I try to never be complacent with my game and I always expect more out of myself, so finding that balance between satisfaction and motivation can be tough."
Just as meaningful in Murray's reflections of her time with SDE, one of her favourite moments took place during opening weekend. As SDE opposed Linkoping on September 13, followed by a tilt two days later versus Djugardens, the result involved back-to-back wins, setting the tone for an exciting season to come.
Of note, Apperson would score twice versus Linkoping, involved in all of SDE's goals in a 2-0 win, with Jacqui Pierri earning the assist on both goals, rekindling fond memories of having worn the Calgary Inferno colours. The second win resulted in three different types of goals scored. Zwarthoed would score twice in the opening period, the first goal taking place on a power play opportunity, while the other was even strength. During the second period, Anderson would earn her first professional point, logging the assist on a short-handed goal by team captain Ganney.
SDE POSTSEASON
Certainly, the drive towards further success was enhanced by SDE reaching the postseason for the first time in franchise history. Suffering a sweep against Brynas IF, Murray and fellow Canadian Julia Yetman, who played Ivy League hockey for Yale, logged the assists on a goal by Wielenga during the second game of the series, the first playoff goal in franchise history.
In the aftermath of the postseason, the Canadian content on SDE would shine even brighter as Post was recognized as the SDHL Goaltender of the Year. With hopes for even better results in 2020-21, Murray and her fellow Inferno teammates all proved to be more than an ideal fit for SDE. All highly likeable and dependable competitors that brought a sincere enjoyment to the rink, the final outcome regarding the first season in Sweden resulted in a labor of love for Murray, proud to have been an essential contributor.
"The season as a whole was one of my most enjoyable years that I have ever had playing hockey. Yet, I would say the first weekend of the year when we swept and won our first two games was really special. It showed our team, and the league for that matter, that we were a different club this year and that we had the ability to beat anyone.
Playoffs was also so exciting. SDE had never made playoffs before, so to even make it into the first round was such an accomplishment and achievement. And it felt so amazing to help make history for the program. Almost every team I have ever played for has made it to playoffs or nationals. So to be able to come into a program that had never achieved that before, and to help the team get there was such a special experience for me."
"All quotes obtained first hand unless otherwise indicated"
Related Articles