Among the uplifting stories of the 2019-20 women's ice hockey season, the Edmonton Female Athletic Club (EFAC) Pandas supplied no shortage of heroics and inspiration. A Midget AAA (U17) team, whose previous season involved a visceral last place finish, made an exciting turnaround with a roster consisting of nine first-year players. The season resulted in the most wins in club history, accentuated by capturing the Female World Sports School Challenge (FWSSC) Championship at the Bell MTS Ice Plex in Winnipeg.
FEMALE WORLD SPORTS SCHOOL CHALLENGE CHAMPIONSHIP
Contested from January 30 to February 2, 2020, the 16-team event saw teams from four different provinces plus one from the United States, including the Minnesota Ice Cougars and Ontario's Thunder Bay Queens grace the ice for tournament play. Undefeated throughout tournament play, the path to the gold medal for the Pandas began on January 30, defeating the Queens in a 4-3 final.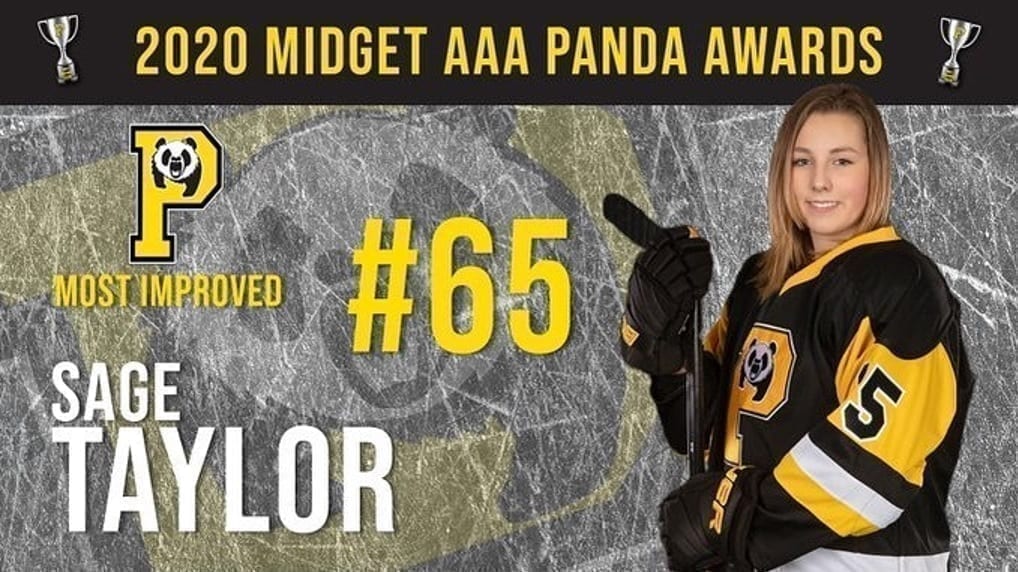 The following day, the Pandas would play twice, starting with a 6-0 blanking versus Manitoba's Pilot Mound Buffaloes. Of note, it marked goaltender Asia Kachuk's only tournament appearance, needing only eight saves. Additionally, five different Pandas scored goals, including a pair by Sage Taylor, part of a three-point performance, while 12 Pandas, including team captain Megan Long, logged at least one point.
Later that day, the Pandas bested the Eastman Selects in a 5-2 victory, as Long placed her name on the scoresheet, marking the second consecutive game that saw five different skaters registered a goal. Qualifying for the semi-finals, the February 1 affair versus the Northern Alberta X-Treme saw goaltender Elise Hugens record 24 saves in a 3-1 final, as Alex Black, Jacquelyn Fleming and Natalie Buttle contributed goals for the Pandas.
Challenging the host St. Mary's Academy Flames prep school in the gold medal game, who had lost to the Lloydminster Steelers in the 2019 Finals, a defensive stalemate was prevalent in the first two periods, tied 1-1. In the final frame, the Pandas enjoyed a three-goal outburst, placing the game out of reach, prevailing in a 4-2 final as Hugens made 27 saves, while Fleming, Chloe Reid and Sage Taylor scored. As a side note, the X-Treme emerged with a bronze medal with offensive fireworks abound, defeating the Winnipeg Avros in a 5-4 finale.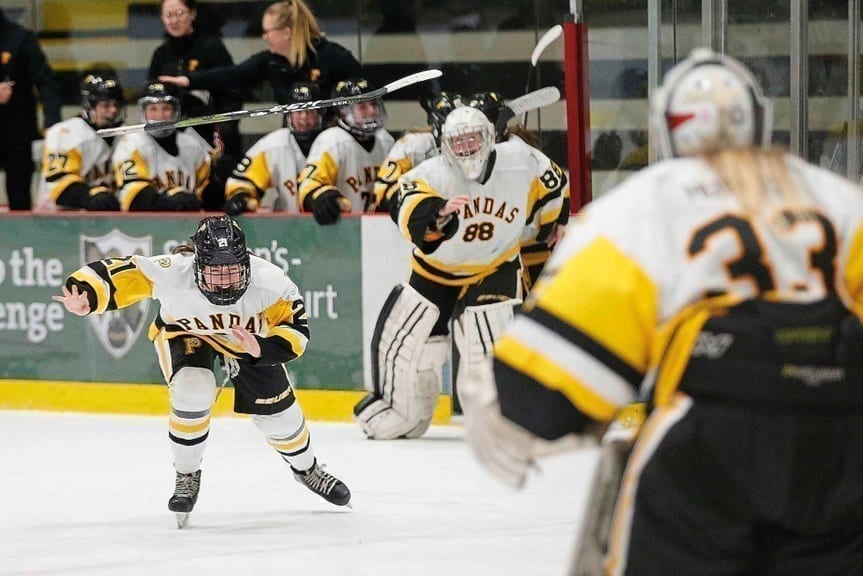 Marking a watershed moment for the young Pandas, the impact of such a monumental milestone was not lost on this group of jubilant players. Hugens, a native of Sherwood Park, was ecstatic at the opportunity of standing between the pipes for a program enjoying its first-ever major championship triumph.
"Winning the tournament was definitely the highlight of the year, with the program having zero banners; it was such an honour to be able to bring that one home. It is really exciting to think that this is just the start of basically a brand new program for us and that the team is only going to get better, so being part of the start (of it) is something really special for all of us third year players."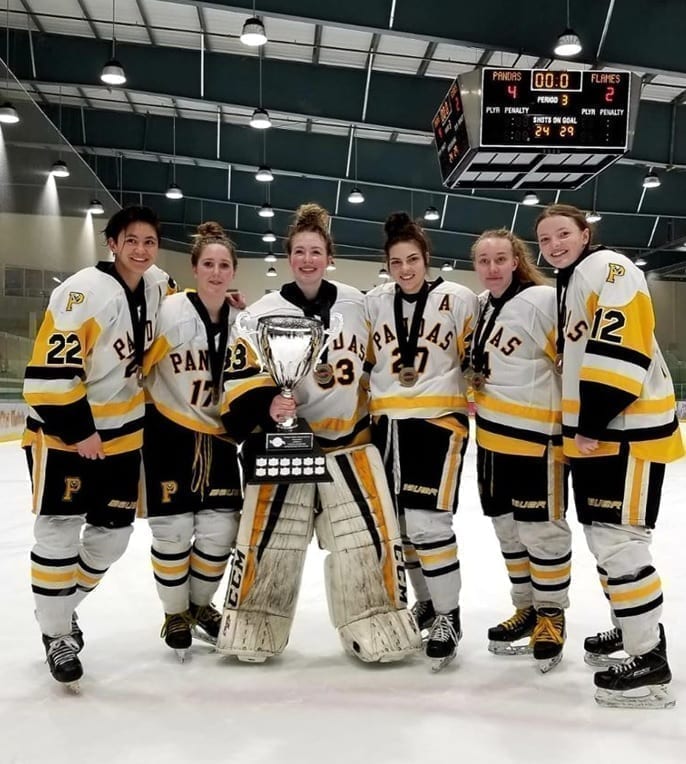 MAKING PANDAS PROGRAM HISTORY
Having also placed second in two other prestigious tournaments this season, including the Calgary Fire Starter tournament, and the 2 Nations Cup, hosted in Detroit, such outcomes only served to strengthen the bonds of unity among the jubilant teammates. With each successive win increasing their confidence, instilling belief that the team was capable of reaching even greater heights, it marked a strong point of pride for Long, a key member of the Pandas defensive unit.
Raised in Sturgeon County, her first appearance in AFHL hockey taking place with the dynastic St. Albert Slash in 2017-18, Long found a home with the Pandas. Participating in 48 contests over the last two seasons, Long's final season of eligibility gained tremendous sheen. Gaining celebrated standing as team captain, Long headlined a leadership trinity which featured Payton Basterash and Chloe Reid.
"It felt INCREDIBLE! As the Fire Starter was so early in the season, to win silver in that tournament was really quite a shock, considering our record in this tournament last year. That was our window into what our team's potential could be moving forward.
At the 2 Nations Cup, our hard work and relentlessness shone through. With such a young group, being able to find a united goal and focus led us to our success here and other tournaments through the season."
Perhaps the most compelling facet of such a sensation is the fact that the Pandas, who call the AFHL home, have amassed the greatest record in program history. Featuring nine skaters in their first season (born in 2004) in Pandas colours, it is not only one of the league's youngest teams, indicating that the prospects of a brighter future are within reach, the 2019-20 season also saw the Pandas rank top 10 nationally among Midget AAA teams according to Myhockeyrankings.com
UNIVERSITY BOUND PANDAS
Congratulations to our tendy Elise! Such a great goalie, mentor, and teammate. You got yourselves a great one @UBCWHKY!#PandaPride #RelentlessIsOurSuperPower https://t.co/n0BVIVPvMJ

— Edmonton U18 AAA Pandas (@EdmPandasAAA) March 20, 2020
That dominance also applied to individual efforts too. Hugens, who shall play this autumn for head coach Graham Thomas at the University of British Columbia, established herself as the finest backstop in AFHL play. Having led the league during the regular season in goals against average and shutouts, such statistical brilliance complemented the feeling of achievement and history in such a breakthrough season.
Taking into account that this marked Hugens' inaugural season playing against girls, her competitive background consisting of standing between the pipes for clubs such as the Strathcona Warriors, the successful transition signified a strong point of pride for the accomplished goaltender. Following in the footsteps of other elite female goaltenders from the province, such as Emerance Maschmeyer and Shannon Szabados, Hugens amassed an 11-5-1 mark during the Pandas regular season, her 11 wins ranking third overall, while an impressive .960 save percentage complemented a league-best 0.96 goals against average.
"It was definitely something to be very proud of. With it being my first year ever playing girls hockey, I did not really know how I was going to do coming into it, but I always had a really strong team in front of me this year, which definitely helped a lot. I just always wanted to have their backs when they needed it."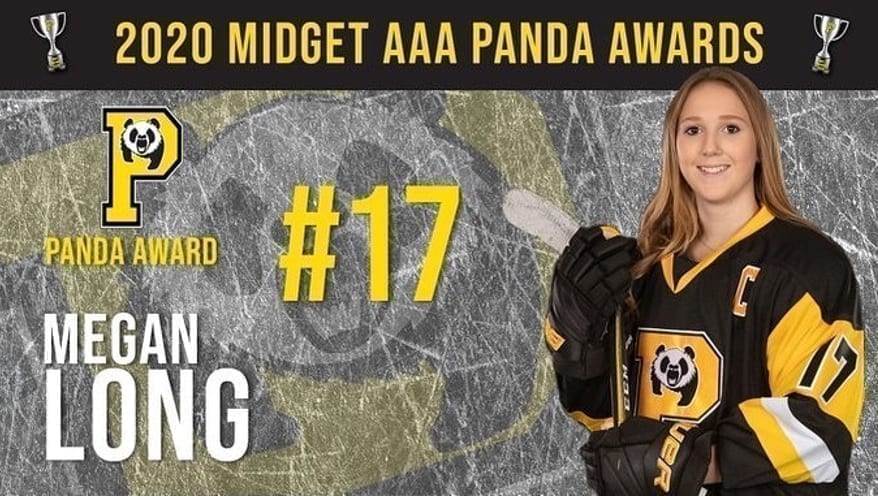 Anticipating the next stage in her promising career, Long joins Hugens as Pandas graduating to university hockey. Having committed to the University of Regina Cougars, she shall be part of a freshman class featuring seven new recruits, including fellow blueliner Kaitlyn Bassett from the Balmoral Hall Blazers, goaltender Ally Kosteniuk plus forwards Lauren Focht, Ally Kosteniuk, Shaelyn Myers, and Tavia Terry.
From the feeling of achievement and attainment that comes from the honour of the captaincy, to the pride that comes with taking on a leadership role that transforms a player into both role model and mentor, it marked an exhilarating challenge that saw her rise to the occasion. Demonstrating the resiliency needed to excel in such a capacity, the season spent as Pandas captain embodying the essence of growth, the greatest achievement for a jubilant Long was the chance to see her team, one of the youngest in league play, blossom into a cohesive unit, capable of succeeding on the frozen perimeter.
"It was such an honour to be named the leader for this team. With this title came some challenges I was not necessarily anticipating. With such a young team, there were times I had to help the new players understand the commitment that comes with playing AAA hockey. There were so many different perspectives and it was exciting to watch their individual strengths shine and blend into one team.
I am looking forward to taking the skills I have gained over the past two years with the Pandas and apply them to the next level of hockey. I had the opportunity to meet (head coach) Sarah Hodges and I share her same philosophies of how she runs a team. I am eager to head into a more competitive atmosphere and experience the opportunity that follows."
PANDAS COACHING STAFF
Led by head coach Joel Lenius, a former player for the University of Toronto Varsity Blues, enjoying a pair of professional hockey seasons in Europe, starting with Cracovia Krakow in Poland, followed by Reims in France, he is also part of the Edmonton Oilers Hockey Institute. As a National Level coach in his second season with the club, taking the reins of bench boss following Christmas 2018, his coaching staff also featured Kristen Sugiyama, whose hockey resume involved competing for Canada at the ISBHF World Championships.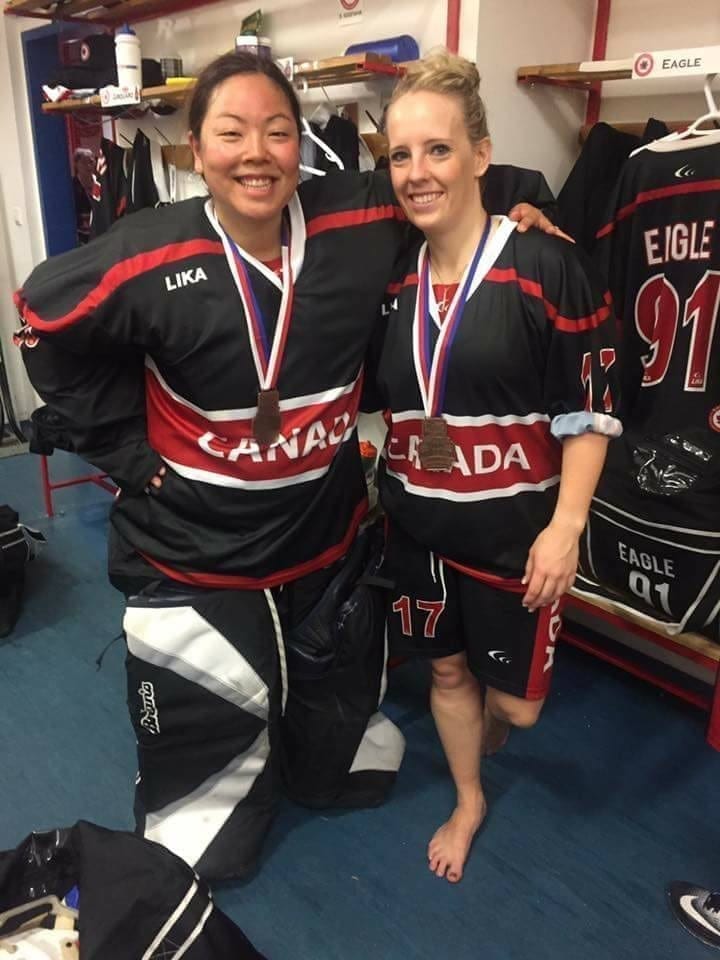 With Sugiyama having earned a podium finish at the ISBHF Worlds, along with the prestige of a CBHA National Championship as a member of Edmonton Red Light, such events were essential in her hockey evolution, which involved the opportunity to coach such an accomplished team in the Pandas. Undeniably, the feeling that encompasses championship games, from the intensity to the sense of high stakes, representing a new feeling for many Pandas skaters, provided Sugiyama with perspective, enabling her to motivate her players as a coach. Taking into account the results from this season, certainly, the Pandas players benefited tremendously from the collective acumen of Sugiyama and the Pandas coaching staff, entering tournaments with a sense of confidence and preparation.
"Having experience playing ball hockey at a World's level helped me become a coach who can try to tap into their mental game a little. If they seem off, they probably are, and the faster you can figure out how to combat the mental side, the more successful that athlete will be in a short term competition.
Hockey has its share of pressure and one of my goals as a coach is to help these young ladies through understanding and experience. These types of skills will help them on the ice and also off the ice—in their schooling moving forward and their careers as adults as well."
Reflecting on the most enjoyable facets of serving on the coaching staff for such an accomplished group of young competitors, it signified a proud career milestone for Sugiyama. Enjoying the opportunity to serve as a mentor and role model for the Pandas roster, she was equally inspired. Sincerely impressed by their collective efforts, demonstrating the positive impact that comes with a combination of heart and work ethic, it provided Sugiyama, whose own competitive career has involved playing alongside elites in her game, a profound feeling of reward and attainment, embodying a season that signified a paradigm shift in Pandas lore.
"The best part about coaching the Pandas was their constant effort they put in day in and day out, these girls were one of the hardest if not the hardest working group of athletes I have ever coached. They never turned down a challenge and were constantly putting in the work to get better. They were also an extremely close knit family, no cliques and everyone loved being around one another."
---
YOUR NEW GAME DAY HAT AWAITS

Related Articles