The sojourn during the inaugural season of PWHPA hockey is one that has provided Chelsey Goldberg with a tremendous sense of purpose and enjoyment. Proud to be among 200+ members united in a collective effort to bring about better days for the female professional game, there is also a sense that the initiative is one that represents an uphill climb, certainly standing as one worth the fight.
Quick to acknowledge how the leadership structure in place was outstanding in facilitating, providing direction and encouragement, buoyed by the dual presence of sponsors and fans, the most important element may prove to be patience. Although the absence of one professional league for the 2019-20 season meant a significant loss in terms of access to facilities and other resources, there is also a sense of appreciation in the presence of a growing support network.
"There are so many positives that came out of being a member of the PWHPA. First I want to say that no change, as big as the change and equality that we are fighting for, is going to happen overnight, so I think that the PWHPA did a great job taking quick action to band together, all 200+ of us, to begin the fight for what we deserve.
The waiting game is not always easy, and keeping all players and members engaged with Showcases and events scattered throughout the year can be challenging, but our sponsors, fans, and the motivation amongst our regions/groups kept us competing (Huge shout out to all sponsors, fans, and the PWHPA board members for making it all possible)."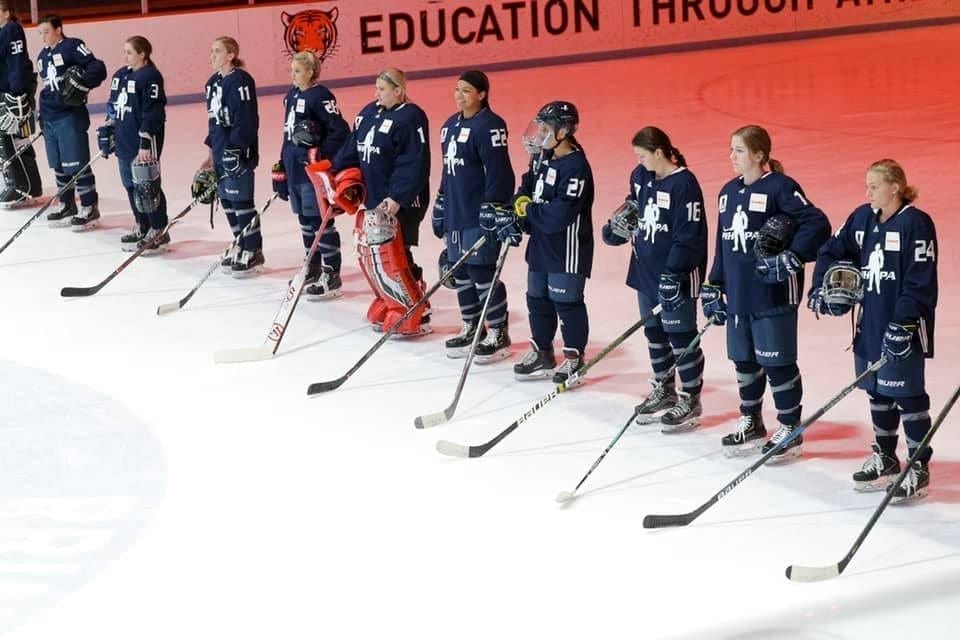 THE PWHPA'S MISSION
Although the PWHPA's focus includes elements such as sustainability and a living wage, no longer satisfied with crumbs, it is important to note that the mission of the players is not one filled with luxury. Unfortunately, there are still challenges that provide an element of commendable strain, conditions that no athlete should have to endure, yet remain part of the routine.
Considering that the life-work balance for the skaters of the PWHPA is one that is sometimes imbalanced, as practice schedules take place during off-hours, small stipends and hectic travel schedules, the level of devotion is truly astonishing. While it has not been an easy existence, the fact that players such as Goldberg admirably make such sacrifices speaks volumes to their strength, comprising an amazing group of individuals whose standing as role models is exemplary.
"I enjoyed watching the awareness that the PWHPA and the Dream Gap Tour brought to so many fans across North America. It goes unnoticed that women's professional hockey is so different than men's professional hockey, and that female players are treated extremely different than players on the men's professional side.
While we did receive small paychecks, people are not aware that we do not have our own locker rooms (essentially a place to call home), we practice twice a week at 10pm, get home at 1am, only to wake up for our full time jobs in the morning. We get limited equipment (have to pay for certain equipment), we get 1-2 meals on the road paid for, but (we) would have to pay for additional food/meals.
Our team would sometimes have to split up into two groups when flying. We would travel day of game (sometimes go straight from the airport to our game) and fly home as soon as our second game ended, to ensure that we would be home for work the next day, the list goes on.
So, it was great spreading that awareness to all fans and to be able to provide a better understanding as to why we are fighting for change. I also enjoyed being able to continue to practice, play, and compete in different showcases across North America."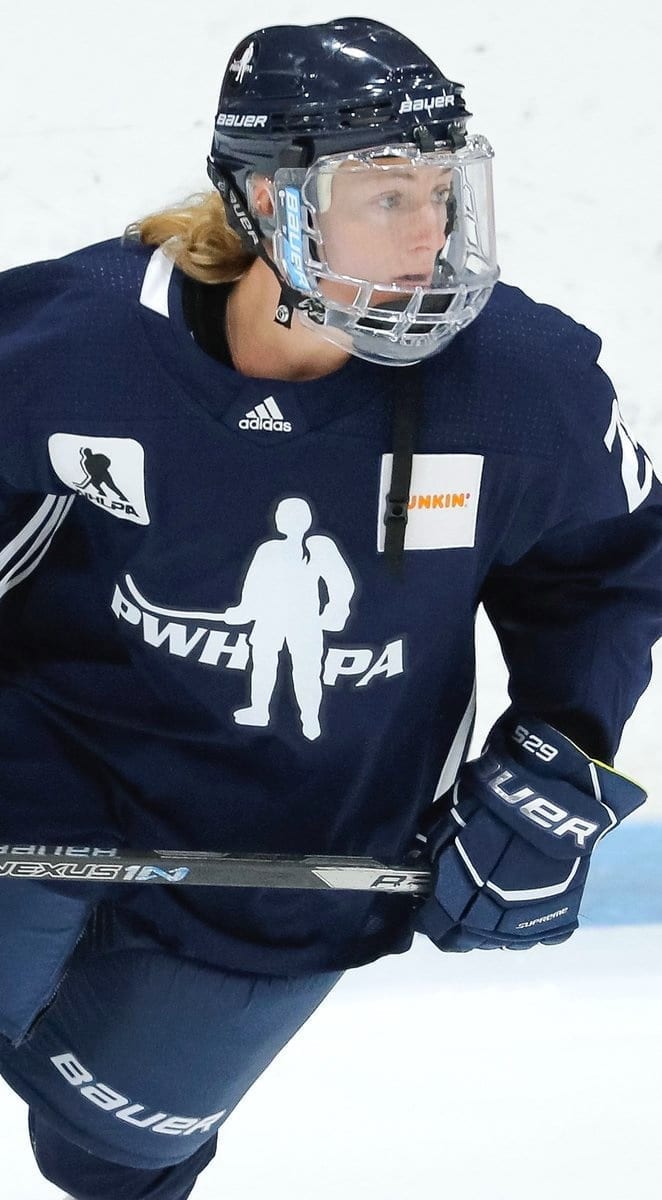 CONNECTING WITH YOUNG FANS
One of the most important facets of the Dream Gap Tour for Goldberg has involved an absolutely heart warming human element. Participating at Toronto's Secret Showcase in January 2020, a fascinating revelation added a profound meaning to the experience. Discovering that a young girl had broken her leg in a game, she had sought solace, wanting to know if one of the PWHPA participants had ever endured such a similar plight.
Compelled to communicate, Goldberg shared her own story, supplying inspiration and encouragement. Having once suffered a pair of broken legs, a season missed due to recovery from injuries, it demonstrated a remarkable toughness in her own hockey odyssey. More importantly, her empathy in reaching out to this youngster revealed a heart of gold.
With Goldberg recruited to play for Team Coyne, named after team captain, and former Northeastern Huskies teammate, Kendall Coyne, the youngster who reached out about her injury was in attendance. Being acquainted after one of the Showcase Games, also meeting her mother, it was the kind of positive moment that can forever change someone's life in a highly positive way, creating an experience cherished for years.
While the Dream Gap Tour has resulted in many players becoming new-found friends, the connections made with fans and supporters of the game has created an entirely new and exciting dynamic resulting in a very strong and potent connection that only strengthens the collective feeling of building something strong together.
"Not only were these showcases sold out, but they also connected us with the fans in ways that we have not connected with them before. The Toronto Showcase was amazing, and I was able to connect with one fan in particular; I will not disclose her name, but I can tell you that social media is a powerful tool if used correctly.
One of the goals of the PWHPA and the Dream Gap Tour is to fight for a sustainable professional league that young girls around the world could dream about playing in, post college, or post Olympics, whatever it may be. So, long story short, it was brought to our attention that this young fan had recently broken her leg, and we were asked to reach out if we had experienced similar adversity.
It just so happens that I have broken both of my legs playing, and so I decided to reach out. I wanted to let her know that I have been in her shoes before and while the recovery would not be easy, the lessons learned along the way would be worth it, and with a positive attitude she would be back in no time.
Fast forward to the Showcase in Toronto, this young fan had sent me a note via Instagram that she would be there and could not wait to watch myself and the rest of Team Coyne play. This was super special. This is what it was all about. This is why we play the game, to continue to inspire others.
I was able to meet her and her mom, get to chat with them, and take a picture with her after one of our games… again so cool. We still exchange a few messages here and there to this day, and her recovery is going great, so that is definitely one of the coolest experiences that I was able to enjoy throughout this whole process and journey.
Lastly, the PWHPA also brought me a new family, and new lifelong friends that I know will be in my life for a long time. As I mentioned before, playing with and against some of the top talent in the world is such an honor and an amazing experience, but getting to know each and every person and player off the ice is even more special. Under each helmet and facemask is a unique and special person, with a story to tell, who has made an impact in my life on and off of the ice."
JEWISH HERITAGE
Just as important in Goldberg's journey in the PWHPA, geared towards making the female game more relevant than ever, has involved an opportunity to connect to her heritage. With a sporting Podcast, conceived by Jonny Lazarus and Justin Kapelmaster, known as "The Latke Room" (latkes are fried potato pancakes which tend to be a common dish during Hanukkah), celebrating the contributions of athletes of Jewish heritage.
Coincidentally, Lazarus and Kapelmaster both have their own connection to ice hockey. Each former NCAA Division I competitors. Lazarus, a forward from Syosset, New York, spent his first two season with the University of Massachusetts before transferring to Erie, Pennsylvania's Mercyhurst University in the autumn of 2018.
This past weekend I was fortunate enough to have been inducted into the Jewish Sports Hall of Fame at @Skirball_LA , alongside some pretty inspiring and amazing people & it was a really cool experience to share with my family and friends. Beyond grateful & honored, thank you 🙌🏼 pic.twitter.com/hK5CnXuLan

— Chelsey Goldberg (@chelly_bean24) January 27, 2020
Calling Coral Springs, Florida his hometown, Kapelmaster logged over 4000 minutes of ice time in his collegiate career. Standing between the pipes for Ferris State from 2016-19, his final season saw him transfer to Robert Morris University, located outside Pittsburgh. An Atlantic Hockey All-Conference Second Team honoree in his only season with the RMU Colonials, he won the final two games of his career, defeating Holy Cross in a postseason series.
Goldberg, part of the Southern California Jewish Sport Hall of Fame Class from 2020, comprising an impressive group of 11 new inductees, which included fellow female athletes Jamie Fink (soccer), Judy Shapiro-Ikenberry (track and field), Zoe Shaw (softball) and Debbie Spander (sports agent) plus Major League Baseball's Joc Pederson. Invited to appear on the third episode of the Latke Room Podcast to discuss a plethora of facets in her celebrated career, including the Jewish Hall of Fame honor, to competing in New England with the Northeastern Huskies and Boston/Worcester Blades.
Episode 3 Ft. Chelsea Goldberg (@chelly_bean24) talked about how much women's professional hockey has grown over the last 5 years and the improvements that need to be made

Here's a quick highlight & sound bit⬇️⬇️⬇️ pic.twitter.com/ZS345qeNhm

— The Latke Room (@thelatkeroom) April 1, 2020
Understandably, Goldberg's achievements, comprising an exceptional body of work, represented fascination for listeners and followers who had not been entirely familiar with women's ice hockey. From the intrigue of breaking both legs in a game, to the fascinating revelation of a Jewish Hall of Fame, the Latke Room became an entertaining portal, connecting sport and heritage in a highly informative and entertaining milieu that placed a well-deserved spotlight.
Following Goldberg's appearance on The Latke Room, the outpouring of support on social media, by friends, fans and teammates, collegiate and professional alike, reflecting the kind of admired individual that she is, demonstrating a facet of teamwork that makes the female hockey community so wonderful.
"The social media support in response to the Latke Room podcast, that I was featured on, was incredible. Shout out to Jonny and Justin for creating this awesome podcast, these guys are naturals. The hockey world is small to begin with, but the Jewish athletes world is even smaller.
We obviously do not know every single Jewish athlete, but this allows for our community to connect, while sharing our stories at the same time. The responses that Jonny, Justin and I all received were pretty consistent across the board. We received a ton of, "I did not know she broke both legs… how?", "There's a Jewish Hall of Fame? That's so cool!", to different questions about women's professional hockey and my career filled with injuries and adversity to eventually signing a pro contract. The overall support was great, and I did not expect it to have the impact that it had.
Yet, I am always happy to share my story because unfortunately injuries can be part of any athletes journey, and how one overcomes the adversity is what is going to make you into a better person and athlete in the end.
Breaking my legs, and being out of competition for four years in a row was easily one of the most challenging times in my life, but would not change that for the world because it made me into who I am today. I will gladly give the best advice that I can give to anyone facing any adversity or hardships along the way."
Read Part 1 of Chelsey's journey to the PWHPA here.
---

Related Articles