Belonging to Canada's Golden Generation, part of a fascinating time spanning from 2002-14, which resulted in the women's and men's teams capturing double gold at three Winter Games (2002, 2010, 2014), Cherie Piper, a member of the National Women's Team since 2001, was a key contributor to this unprecedented era of success. As the proud recipient of three consecutive gold medals in the Winter Games, starting with a highly emotional victory at Salt Lake 2002, the first won by Canada's women, propelling the team into a treasured place in sporting Canadiana, she would follow it up as the second leading scorer at 2006, trailing only Hayley Wickenheiser.
Undoubtedly, the most historic took place on home soil, with the Pacific city of Vancouver serving as host in 2010. Marking the first time that a host nation achieved a double gold in ice hockey on home soil, it marked a fitting swan song for Piper, one of the greatest to have worn the Maple Leaf. Combining superlative skills and strong instincts, it propelled her into a superstar at all levels of the game, including a distinguished run in the Ivy League, playing alongside fellow Hockey Canada teammate Gillian Apps with the Dartmouth Big Green, racking up 165 career points.
While every gold medal represents a cherished achievement, one stands out as her greatest achievement with Team Canada. With a stellar 15 points at the 2006 Winter Games in Turin, Italy, the presence of Piper, playing on a line with Apps and Hayley Wickenheiser, represented the offensive synergy that drove Canada towards its second straight gold on the game's biggest stage.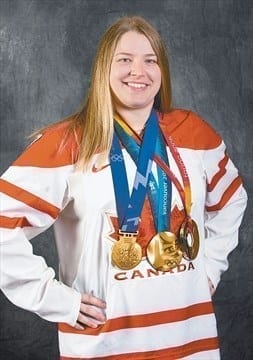 Recording at least one point in every one of Canada's contests in Turin, Piper recorded 12 of her points during Group A play, which saw Canada best its opponents by a cumulative total of 36-1. Starting with one goal and five assists, part of a 16-0 romp against the host Italians, Piper followed it up with a hat trick in a 12-0 win over Russia. Closing out the preliminary round in Group A saw Piper record three assists in an 8-1 triumph against Sweden.
Gracing the ice at the Palasport Olimpico for the medal round, Piper maintained the hot hand. Facing off against Finland in the semi-finals, Piper would score the last two goals in a 6-0 decision. Awaiting the winner of the Sweden vs United States tilt, the result was the biggest upset in Winter Games women's ice hockey history, as Sweden prevailed in a 3-2 result.
Although Sweden managed to be slightly more competitive, compared to their loss in Group A competition, they were not enough of a match for a strong Canadian contingent. Of note, Piper scored at the 28:58 mark, with Wickenheiser and Cheryl Pounder gaining the assists, resulting in a second consecutive gold medal, becoming the first country to go back-to-back in women's ice hockey at the Winter Games, topping Sweden in a 4-1 final.
"Turin was my most successful tournament in terms of points. Our whole line had great success that tournament. I think we all compliment each other's playing styles (Wick and Apps were my linemates)."
TSN'S ALL-TIME WOMEN'S TEAM CANADA
Our All-Time Team Project wraps up today with the All-Time Women's Team 🇨🇦 Canada…

Check out the 23 players who make up our women's team below: https://t.co/a1m2UuPvo9

And keep the conversation going with #TSN Director of Scouting @CraigJButton!#TSNHockey pic.twitter.com/eINHmnz5Gz

— TSN Hockey (@TSNHockey) May 19, 2020
Recently, Piper's heroics earned a well-deserved recognition certainly affirming such status as one of the most iconic to wear the Maple Leaf. In the week following Victoria Day festivities, The Sports Network (TSN) announced a group of players that earned a place on their list of All-Time Team Canada women's players, part of a group of lists published featuring All-Time greats for all seven Canadian-based NHL teams, along with a list for Team Canada men's. Of the 13 forwards named, it marked a special validation for Piper, whose heroics reintroduced her to a new generation of hockey enthusiasts.
"I felt humbled and honoured to be recognized amongst so many amazing female hockey players."
Prior to the glories of the Winter Games, Piper was already beginning to assemble a formidable body of work, quickly emerging as a can't miss prospect for the national team. Obtaining a gold medal with Team Ontario at the 1999 Canada Winter Games, contested in Corner Brook, Newfoundland, the same year saw Piper debut in a Canadian jersey. Appearing with the Under-22/Developmental Program in a three-game exhibition against their eternal rivals, the United States in Lake Placid, New York, Piper wore the Maple Leaf for the first time on August 25, 1999.
Of note, the roster would feature a gathering of future stars, including the likes of Caroline Ouellette, goaltenders Kim St. Pierre and Tania Pinelli, plus Kelly Bechard and Gina Kingsbury. The following day, Piper would make her presence felt, scoring both of the Canadian goals in a 2-0 shutout victory, with St. Pierre earning the shutout. As a side note, Colleen Sostorics recorded the assist on Piper's first goal of the game, a future teammate at the Winter Games.
With the arrival of the Millennium, Piper continued to add to her growing legacy, part of the Beatrice Aeros roster that won a gold medal at the 2000 Esso Women's National Championships, awarded the Hoffman Cup. Logging the assist on the gold-medal winning goal, scored in overtime by Lara Perks, the event was also notable because it marked teammate Geraldine Heaney's 19th appearance at Nationals.
Undoubtedly, the Aeros lineup at the 2000 Nationals truly defined the concept of "Dream Team". In addition to Heaney and Piper, representing the legacy of the past and the promise of a greater future, the roster also featured one of the greatest collections of talent in club play. Including Amanda Benoit, Cassie Campbell, Bradi Cochrane, Gillian Ferrari, Kendra Fisher, Becky Kellar, Angela James, Cheryl Pounder and Amy Turek, among others, Ken Dufton served brilliantly in the capacity of head coach.
Perks, along with Ferrari and Fisher, would wear the Canadian jersey together with the Under-22/Developmental Team for the Three Nations Tournament. Contested from November 7-12, 2000 in Zuchwil, Switzerland, Piper recorded a hat trick in the opening game versus the host Swiss, a convincing 5-1 victory.
By tournament's end, Piper left her mark, amassing a phenomenal 11 points, leading an undefeated Canadian team to the gold medal. With the gold medal game contested on Remembrance Day, Piper had a three-point performance in a 9-0 blanking that saw Charline Labonte, one of the heroes from Turin 2006, post the shutout
With the onset of 2001, an exhibition series versus Sweden, which took place from January 22 to 29, starting in Hanna, Alberta with four stops in British Columbia, it marked Piper's promotion to the Senior National Team.
Even at a higher level of play, Piper maintained her capability to contribute in the big games. The 2001-02 season, which saw the rest of the hockey world catch up to Piper's brilliance, saw her assist on a goal by Jayna Hefford in the gold medal game of the 2001 3 Nations Cup in Vierumaki, Finland.
Earning a place on Canada's roster for the 2002 Salt Lake Winter Games, Piper's debut, a February 11 contest versus Kazakhstan saw an exciting multi-point performance. Scoring Canada's second goal of the game, with assists to Dana Antal and Sostorics (who also assisted on her first goal with the Under-22 team), she would also gain an assist on a power play goal by Vicky Sunohara, part of a 7-0 win that saw St. Pierre log the shutout.
The following game, with Sami Jo Small earning the start for Canada against Russia on February 13, an identical 7-0 victory, saw Piper place her name on the scoresheet, as Jennifer Botterill and Caroline Ouellette gained the assists. Closing out Group A play, an 11-0 whitewash of Sweden at Provo, Utah's Peaks Ice Arena saw Piper record Canada's second goal of the game.
Although Piper did not register a point in Canada's 7-3 victory versus Finland in the medal round, she recorded one of the biggest points of her career in the gold medal game at West Valley City's E Center. Assisting on the first goal of the game versus the United States, a rematch from Nagano 1998, scored at 1:45 by Caroline Ouellette, it was a crucial goal, as Canada held the lead for almost 20 minutes before Katie King tied the game. Eventually prevailing in a 3-2 final, with Jayna Hefford, also a member of TSN's All-Time Team Canada Women's, scoring the golden goal.
Of note, one of the unique novelties from all of TSN's All-Time lists involved placing offensive players on lines and pairing defensive stalwarts. With Piper placed on a line that included Manitoba's Jennifer Botterill and Nancy Drolet, a star forward from Quebec during the 1990s who scored the overtime winner at the 1997 and 2000 editions of the IIHF Women's Worlds, she was also part of the Team Quebec roster that lost to Piper's Aeros at the 2000 Esso Women's Nationals. With the combination of Botterill and Drolet, said line represents a competitive brilliance from three of Canada's greatest hockey provinces.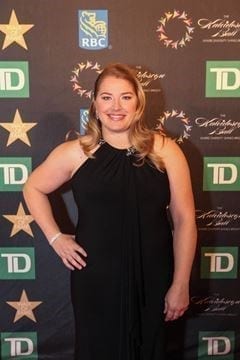 CWHL PLAY
Taking into account that Botterill was a teammate of Piper on all three of her Winter Games appearances, it definitely rekindled many magical moments in Canadian colours. Additionally, Botterill and Piper were teammates in club play, skating for the Mississauga Chiefs during the nascent years of the CWHL, whose roster also featured Sami Jo Small, one of the goaltenders from the 2002 Salt Lake team, and Cheryl Pounder, who captured gold for Canada in 2002 and 2006.
"Botts was always someone you could rely on both on and off the ice. She was a big game player that rose to the occasion every time. She could play with anyone and could play in any situation. You always wanted her on your team."
While skating with Mississauga, it also resulted in one of Piper's greatest goals ever. As the Chiefs qualified for an appearance at the 2008 Esso Women's Nationals in Charlottetown, Prince Edward Island, a roster, which also featured, Perks, two-sport stars Amber Bowman and Ashley Stephenson, and teenaged call-ups Brianne Jenner and Natalie Spooner, Piper emerged as the tournament's hero.
Opposing the Brampton Thunder, one of the longest running Canadian club teams, who would also challenge the Chiefs for the first-ever CWHL championship, an exhilarating 3-2 double overtime triumph saw Piper truly attain legendary status. With Brampton, featuring Top Forward Award Winner Jayna Hefford, and Top Defender Award recipient Bobbi Jo Slusar, holding a 2-0 advantage, Piper would score at the 7:32 mark in the third, assisted by Cheryl Pounder, nine seconds after the Chiefs' first goal, scored by Jen Raimondi, tying the game.
Overtime added to the intensity of the match, one of the greatest in tournament history. With Chiefs goaltender Sarah Love facing 14 shots in both overtime frames, Piper placed the puck past Cindy Eadie, as Jennifer Botterill, who won the Most Sportsmanlike Player Award, earned the assist. Providing a proud Mississauga club with the Abby Hoffman Cup, her goal would take on greater meaning, as it marked the final Esso Women's Nationals contested in the event's history.
With a tinge of irony, the aftermath of Vancouver 2010, saw Piper now aligned with the Thunder, a club that she would also coach when they relocated eastwards to Markham, Ontario. Competing alongside the likes of fellow Team Canada heroes Gillian Apps, who had a pair of points for Brampton in the finals of the 2008 Nationals, plus Hefford, the experience of playing in Thunder garb, also saw another unique facet.
A little newly minted assistant coach Piper #FBF action – including her playing against GM @cpurcell_5! pic.twitter.com/Z1c63Kr1oy

— Markham Thunder 🌩 (@ThunderCWHL) August 31, 2018
As Piper's final season in club play, spent with the Thunder, was the 2012-13 CWHL season, reaching the Clarkson Cup tournament, Florence Schelling, who stood between the pipes for Switzerland at Vancouver 2010, was the starting goaltender. Coincidentally, Schelling experienced her own monumental milestone in 2020, named General Manager of the SC Bern professional men's team in her native Switzerland.
Although Brampton would not claim the Clarkson Cup in 2013, the event still held a very profound meaning for Piper. Although it marked the climax to Piper's celebrated career, there was a shared sense of closure, as said event also saw the final games in Thunder colours for Apps, Lori Dupuis, and Hefford, all Team Canada gold medalists, bringing a feeling of perspective for Piper, reminding her of what she enjoyed most about wearing the Maple Leaf,
"I have so many fond memories of playing for Hockey Canada. I have made so many life long friends and seen so much of the world. The best part was the feeling of pride I had every time I put the jersey on."
"All quotes obtained first hand unless otherwise indicated"
Featured image: HHOF-IIHF Images/Matthew Manor
Related Articles