With the city of Montreal serving as a hub for elite women's ice hockey during the 2010s, defined by a shared dynasty between the McGill Martlets and the CWHL's Stars/Canadiennes franchise, one of the most celebrated figures in this tremendous time was Katia Clement-Heydra. A highly talented forward whose charisma and joie de vivre made her a fan favorite, her career involved numerous phenomenal milestones.
Although Clement-Heydra is among a number of wondrous women who have played university hockey at McGill, later graduating to the CWHL, her Martlets career included the Brodrick Trophy, awarded to the Most Outstanding Player in U SPORTS hockey, after a superlative season of 40 points in 20 games. Along with the prestige of winning a pair of national championships, hoisting the Golden Path Trophy in 2011 and 2014, Clement-Heydra, who graduated with a degree in Industrial Relations holds a cherished place as one of the Martlets true athletic immortals.
Selected by Les Canadiennes de Montreal, one of the showcase teams of the CWHL in the second round of the 2015 CWHL Draft, a round which also included Jenna McParland, a recent signing of the NWHL's Toronto Six expansion club, plus future Hockey Hall of Famer Hayley Wickenheiser. During her rookie season, she would enjoy the prestige of participating in the Women's Winter Classic, signifying the first-ever women's professional game contested outdoors.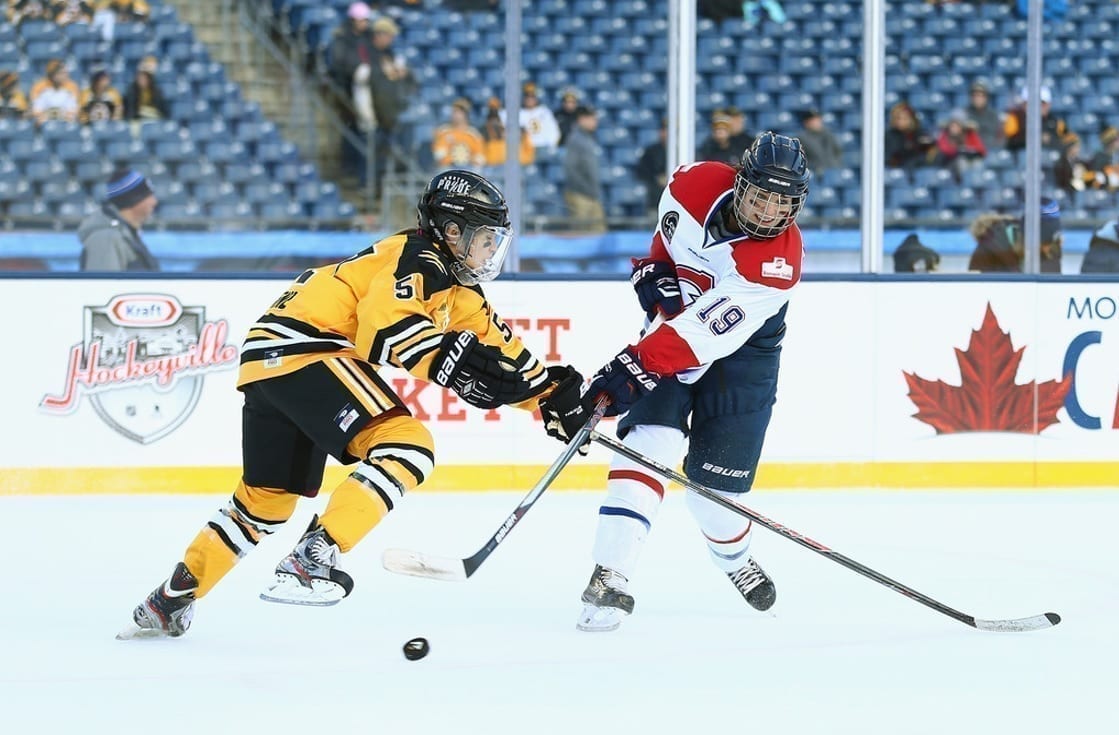 Professionally, Clement-Heydra's finest hour came in the 2017 edition of the Clarkson Cup championship game, held on NHL ice at Ottawa's Canadian Tire Centre. Capitalizing on a power play opportunity, scoring the first goal of the game against Calgary Inferno goaltender Emerance Maschmeyer, who would become a future teammate in Montreal, proved to be one of the game's defining moments, but her finest hour. On a team loaded with significant star power, it was Clement-Heydra, whose goal was essential in securing the fourth (and last) title in franchise history, erasing the haunting spectre of three Finals losses in four previous attempts.
Following one more appearance in the Cup Finals (2019) with Montreal, the successive season would result in an exciting new chapter for the charismatic Clement-Heydra. Signing with Modo in the Swedish Elite Hockey League (SDHL), a club based in Örnsköldsvik, a community of approximately 32,000 residents, whose origins can be traced back to the Nordic Bronze Age, dating back three millennia, she proved to be a highly important acquisition, replacing outgoing players such as Michela Cava, Caitlin Tougas and Lauren Wildfang.
👀 Here we go! Can't wait to start this next chapter with @MODO_Hockey #SDHL https://t.co/fYvjoZWOWV

— Katia Heydra (@Katiaa19) July 16, 2019
No stranger to international experience, while at McGill, Clement-Heydra was recruited to play for Canada's entry at the 2013 Winter Universiade in Trentino, Italy, where she registered an amazing 18 points in a gold medal finish. Fittingly, signing with Modo held another strong feeling of association from a McGill perspective, adding to program lore.
Becoming the first Martlets alum to play professionally in Sweden, adding to Clement-Heydra's proud legend with the program, the opportunity to live and play in another continent proved to be a fulfilling experience. Allowing Clement-Heydra the treasured prospect of realizing a life-long dream, she also recalled how the experience of a former teammate who skated alongside her in both, Martlets and Canadiennes colours, spurred the decision-making process,
"It has been a great experience. Jordanna Peroff, another Martlet alumnus, had played a year in Italy and talked a lot about how much she enjoyed it. I had also heard a lot of good things about the SDHL and Sweden. Great hockey, in a beautiful country.
I had always wanted to live the experience of playing in Europe. It was a bit stressful at first, going over there on my own. Yet, it did not disappoint. I am happy to be able to share my experience with the Martlet family and encourage anyone to make the jump to Europe for hockey and travel."
Despite the obligatory sense of adjustment, especially as it was a solitary effort at first, there were still elements of familiarity that allowed for a pleasant transition. From the outset, Clement-Heydra was joined by another Canadian in the Modo colors. A former captain with the Manitoba Bisons, Erica Rieder, whose U SPORTS career also includes First-Team All-Canadian honours, plus winning the Golden Path Trophy in 2018, enjoyed her first season of professional hockey in 2019-20, skating for Modo.
Additionally, a pair of star players who first honed their craft in France held a serendipitous impact for Clement-Heydra during the 2019-20 Modo season. One of the Martlets' premier rivals in the RSEQ conference, skating for Les Carabins de l'Université de Montréal, Marion Allemoz and Lore Baudrit graduated to Les Canadiens, calling Clement-Heydra a teammate.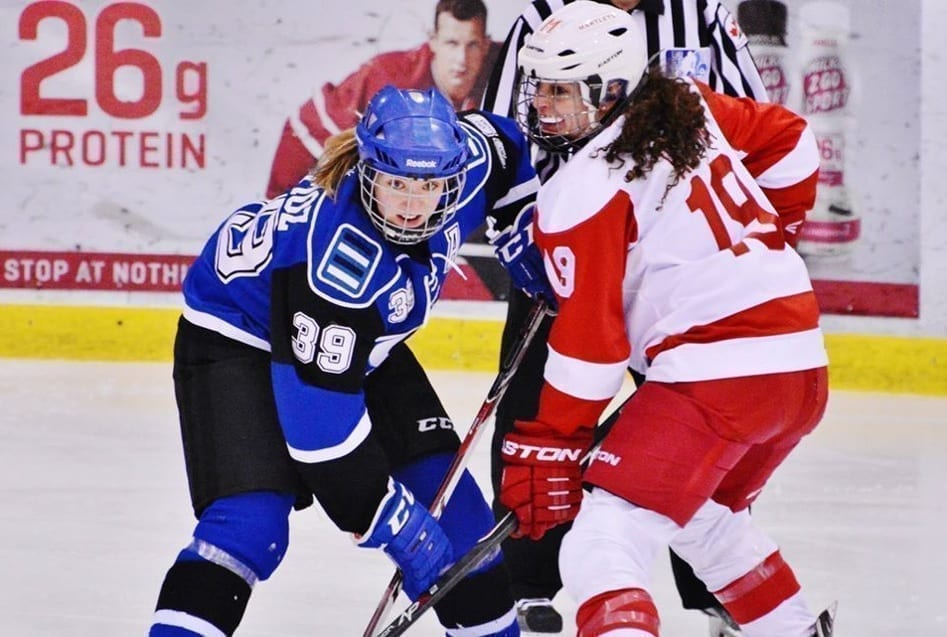 Members of the 2017 Clarkson Cup championship team were reunited across the Atlantic, rekindling pleasant memories of halcyon days for the female game in Montreal. Quickly immersing themselves in their new surroundings, enjoying the customary daytime ritual of Fika, a facet of Swedish life, defined by a social gathering where getting acquainted is enriched by the gastronomic joys of baked goods and coffee. This highly pleasant activity, along with the privilege of communicating in their mother tongue of French, allowed for highly pleasant aspects defining their first season skating professionally in Sweden.
"I am very thankful to have had Marion and Lore with me in Sweden. With Les Canadiennes, they had been the best teammates. Always giving their 100% and showing up with a smile. Not only are they great hockey players, but they are great people and teammates.
They helped me integrate into the team and the city of Ornskoldvik. They also speak French as a first language, so it felt good to be able to talk some French. They also became good friends. We went for Fika a lot, talked hockey and even spent Christmas in Gothenburg exploring. So I am very, very lucky to have played with them in Modo."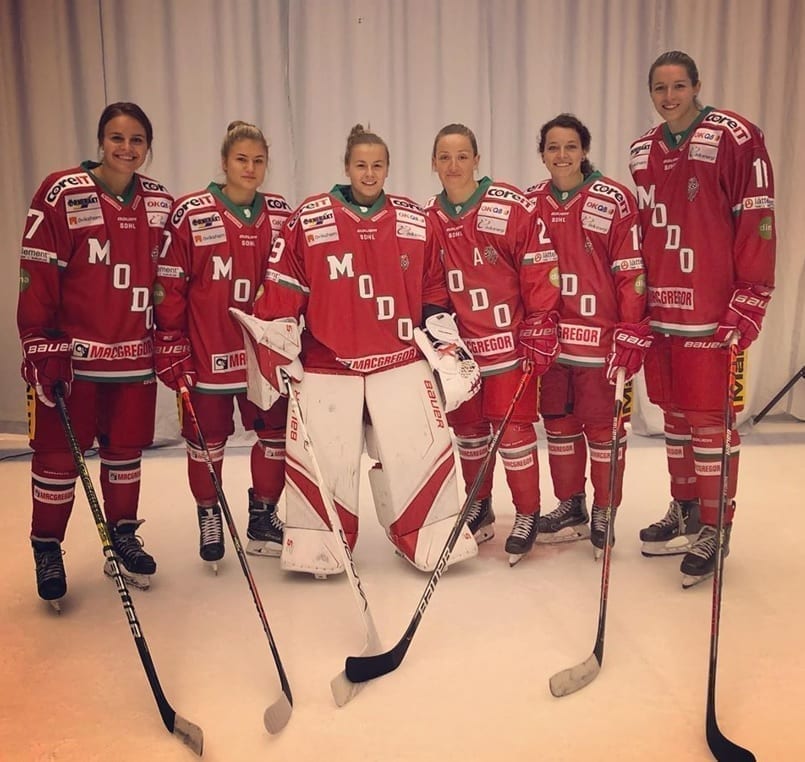 Culturally, the fact that English was commonly used allowed for an easier way to assimilate into Swedish life, although one element that remained slightly complicated involving the sampling of Swedish dishes. With over a half dozen recipes involving potato, definitely a staple food, and variations of different creams and/or cheeses, Potatisgratäng was definitely in Clement-Heydra's gastronomic vocabulary.
Another facet of adjustment involved the playing surface, one that so many North Americans who extend their competitive careers in Europe undergo. With larger ice surfaces the norm throughout the continent, this radical shift in the game's configuration requires an understandable re-assessment of how to approach the game from a strategic perspective.
Additionally, club teams throughout Europe tend to have rosters possessing a much different complexion. Taking into account that the abundance of talent common in North America is not as plentiful in some European nations, it is not unusual to have a very wide range of ages among players, from teenagers still developing their craft, to players past forty, entering the twilight of their careers but still competitive.
"Going there, I thought the biggest adjustment would be the language, but turns out everyone speaks some English. So it was not as foreign as I had thought. I think the biggest adjustment, other than hockey, was the food. It was good food, just very different from what we have here. They love cream and potatoes. It also took a lot more time to go the grocery store and figure out what is what. Thank heaven for Google Translate.
As for hockey, it is high calibre hockey; a lot of great players and powerhouse teams. Lulea was by far one of the hardest teams I have played against. Getting used to all the space on the ice did take a while but I think the biggest adjustment was the age difference on the team. I played alongside veterans with a lot of experience, as well as 16 year olds still in high school. So you have a lot of different calibre (of players) that are not at the same place in their lives."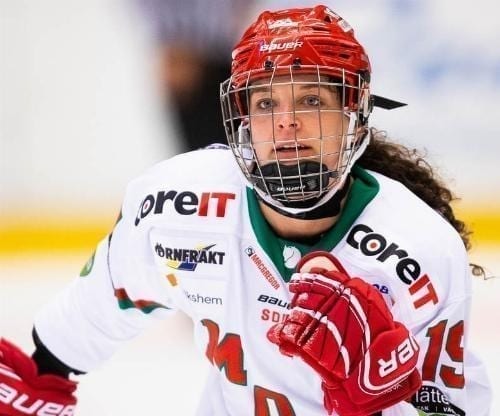 With a highly respectable 14 points during Clement-Heydra's inaugural season with Modo, she would finish fourth in club scoring, trailing leader Allemoz by seven points. Fittingly, her first goal in Modo paraphernalia took place during a winning effort. Finding the back of the net in a 4-3 home victory on September 28, 2019, against Goteborg, she also gained an assist on the first goal of the game, scored by Agata Sarnovska. As a side note, Allemoz would also add her name to the scoresheet.
The following day, Clement-Heydra proved to be even better, recording a three-point performance reminiscent of the scoring brilliance highly common during her Montreal years. Facing off against Goteborg once again, she scored the game's first goal, taking advantage of a power play opportunity, with Allemoz and Sofia Engstrom collaborating on the assists. During the second period, she would assist on a pair of goals, including one by Ebba Tarnfjord at the 9:28 mark, followed by a power play goal at 17:49, scored by fellow first-year player, Gracen Hirschy, who joined Modo after spending the 2018-19 season with Leksands.
Perhaps the most unique aspect that proved to be the most enjoyable in the Modo green and red for Clement-Heydra was being part of a much more profound narrative than the competition itself. As the Modo organization not only has a professional men's team, with a revered group of alumnae including Tobias Enström, Peter Forsberg, Victor Hedman, the Sedin Twins, plus Mats Zuccarello, plus its highly competitive women's team, there is also the existence of an entire developmental program. With a commitment to clubs featuring players at the Under-16 and Under-18 levels, the result is a shared sense of feeling part of something valuable and important.
Forging an exciting new era built on opportunity, the fact that all levels of Modo's teams enjoyed access to the same facilities, all benefiting from the same resources, it created an environment where the game went beyond age or gender. Defined by a commendable equality that feels highly proper, such circumstances are those that provided Clement-Heydra with a tremendous sense of fulfillment and achievement. Proud to be part of such a fitting culture, the overall treatment, a remarkable show of respect, truly signified a template that should become an obligatory blueprint for the future development of the female professional game.
"Modo is a great organization. They really treat the women's hockey team like professionals. Giving us all the resources we need. They also care a lot about development—shooting tents, a gym, as much ice as you want. It's a really good place to develop.
I think what I enjoyed the most is the way we were treated as professionals but also as family. They have structured their organization so that the men's and women's professional, U18 and U16 teams all use the same facilities in the FjallRaven Center (a huge arena with 8000+seats).
So, you get to play and practice in professional facilities. You also get to go watch the men's team play as much as you like. There really is a feeling of family and pride."
"All quotes obtained first hand unless otherwise indicated"
Related Articles