In a tremendous season for the Princeton Tigers, culminating with the prestige of the ECAC postseason crown, an unprecedented first, one of its key contributors experienced a career year between the pipes. Shining brilliantly in her senior season, bringing a triumphant climax to her sojourn in Tigers colors by going undefeated in 10 of her last 11 games, Stephanie Neatby emerged as a true prime time player.
A celebrated starter since her freshman season (2016-17), arriving to Princeton following a brilliant career with the PWHL's Toronto Jr. Aeros, having also played alongside current Tigers captain, and fellow Senior, Claire Thompson, her prodigy was quickly realized with numbers of 12-5-1 with a .950 save percentage and a sparkling Goals Against Average (GAA) of 1.52 during said season. Showered with accolades such as the ECAC and USCHO Goaltender of the Year Awards, along with First-Team All-Ivy honors, such meaningful achievements to commemorate 2016-17 proved to be prologue, setting the tone for further greatness.
"I think they were meaningful in the way they boosted my belief in myself as a player and as a student, but there is no way I could have achieved as much without the incredible support system I had around me. My teammates are not only fantastic hockey players, but (also) incredibly smart and hard working in the classroom. We help each other out a lot on our team because we all want to do well in school, and that drive is the same in hockey."
Reaching career highs in wins (15) as a senior, graduating with 44, placing Neatby third best in program history, her 2019-20 season also involved three shutouts. Amassing a brilliant series of performances, as demonstrated by winning eight of her nine final games during said season, her contributions were essential in a highly remarkable, and historic, run for the program. Reflecting on the milestone of 15 wins, it is one where Neatby's humility and team-first approach truly shines, quick to recognize that her successes are attributed to the other five Tigers on the ice,
"I was extremely proud of this achievement because it is a team one. By reaching a career high in wins it meant that my team had the best season we had ever had and I was just so happy to be a part of it."
For the first time in program history, your 2020 @ecachockey Champions! pic.twitter.com/v657IGRSuN

— Princeton Hockey (@PWIH) March 8, 2020
Undoubtedly, Neatby's finest hour as a Tiger took place during the 2020 ECAC Tournament, allowing for a glorious finale to a dream season unlike any prior. Unfazed by their underdog status, the Tigers displayed remarkable heart, as best demonstrated in the deciding game of their quarterfinal versus the Quinnipiac Bobcats, who were ranked 10th in the nation. With double overtime required to determine which team would advance, Neatby's goaltender partner Rachel McQuigge made her first postseason start, signifying an emotional passing of the torch. Recording a total of 36 saves, as Sarah Fillier scored the overtime winner, she set the stage for Neatby to proceed.
Rising to the occasion, Neatby would assemble two of the greatest performances of her career, including back-to-back playoff wins versus long-time conference powers. Facing off in the semi-finals against the Clarkson Golden Knights, who qualified for the 2019 Frozen Four, finishing 2019-20 seventh in the national polls, the Tigers were aided by Neatby's 29 saves in a highly convincing 5-1 victory, one in which the squad never trailed in the contest as five different skaters, Solveig Neunzert, Shannon Griffin, Fillier, Kate Monihan and Maggie Conners, placed their names on the score sheet.
Qualifying for the championship game versus the number one ranked Cornell Big Red, the Tigers would have to travel to Lynah Rink in order to win their first ECAC postseason title. Taking into account that Cornell also hosted the 2019 edition of the ECAC Championship Game, losing to the visiting Golden Knights, the prospect of history repeating was one that saw the Tigers enter the road affair with a degree of confidence.
Akin to the clash with Quinnipiac, regulation time was not enough to see which team would prevail. With an attendance of 1,495, the Big Red's 2-0 advantage after the first period would evaporate. Second period goals by Fillier and fellow senior, alternate captain Carly Bullock, whose older brother Ryan also played Ivy League hockey with Dartmouth, tied the game after two, boosted significantly by Neatby's dozen saves. With a defensive stalemate in the third, Neatby recording 11 saves, compared to seven for Cornell backstop Lindsay Browning, the surprising hero in overtime was blueliner Mariah Keopple. With only four goals during regular season play, Keopple, a sophomore who once captained Hill-Murray High School in Minnesota, recording the first postseason goal of her Princeton career, undeniably, the greatest goal in program lore,
"I think it was incredible that our team got to write a piece of Princeton women's hockey history. We had worked so hard for this moment, and for us seniors we had never even gotten to the championship game so to get there and win, it was just incredible. It was the most emotional victory I have ever been involved in, and I will never forget that moment Mariah scored and we got to celebrate together."
Despite the highly visceral fact that the NCAA Tournament was shelved, due to understandable concerns over a pandemic, sadly denying Princeton an opportunity to build on their momentum, the possibilities of reaching their first-ever Frozen Four a very strong one, there was still a lot to be proud of. Certainly, the pinnacle reached was one that allowed Neatby and her fellow members of the Class of 2020 to graduate on a highly historic and empowering note.
Graduating alongside the likes of Carly Bullock, Princeton's top-goal scorer in the 21st Century, McKenzie Ebel, a multiple ECAC All-Academic Team selection, captain, and Second-Team All-Ivy, Claire Thompson and blueliner Sylvie Wallin, also a numerous All-Academic honoree.
During the last weekend of regular season play at Hobey Baker Rink, which included the Senior Night festivities, Neatby and Bullock shone brightly, prevailing in two contests by identical scores of 5-1. The February 21 tilt versus Brown saw Carly Bullock record a hat trick, while Neatby made 10 saves, setting an exciting tone for the next day's contest against Yale, which was also Senior Night.
Bullock would record a three-point outing on Senior Night, making her the ninth player in Tigers history to reach the 150 point plateau in a career, while Neatby needed only 15 saves in the win. Their collaborative efforts were essential in helping the program capture its 22nd win of the 2019-20 campaign, tying a program mark for most wins, set back in 2015-16. As a side note, this year's version of the Tigers would eclipse that mark with their first victory of the postseason, besting Quinnipiac in a 5-1 triumph on February 28.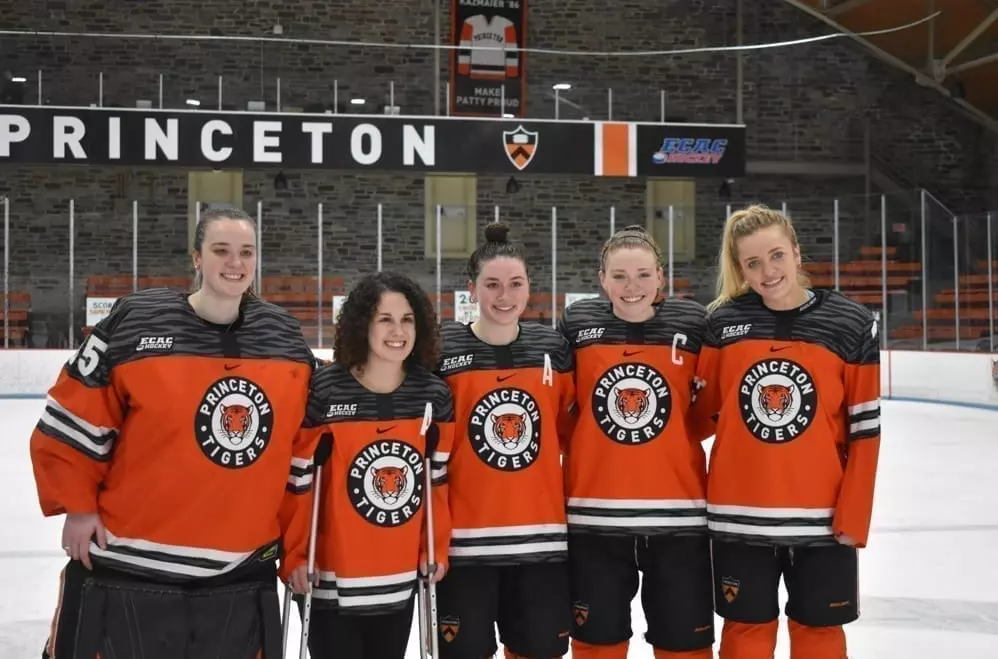 In discussing some of the most enjoyable elements of playing for Princeton, Neatby graciously recognized how the University stands as an integral part of American collegiate hockey heritage. From players such as Patty Kazmaier, whose father, Dick Kazmaier, the winner of college football's Heisman Trophy in 1951 for Princeton, along with the iconic Hobey Baker, whose life could make a tremendous Hollywood film, their respective legacies represented with an annual standard for hockey excellence.
Adding to the magical allure of having worn the Princeton colors for an elated Neatby, recognizing those who blazed the trail, it marks a gracious touch of class. Certainly, as the decade of the 2010s produced a celebrated and inspiring group of alumnae, including the likes of Kelly Cooke, Gabie Figueroa, Denna Laing and Kimberly Newell, all experiencing the prestige of professional hockey, Neatby's heroics over four fantastic seasons certainly placed her in the pantheon of Princeton brilliance.
Next stop: Sweden! 🇸🇪
Following standout seasons and careers, @SNeatby98 and @cbullock22 have signed to play in the Swedish pro league!https://t.co/pCBMpLQE88 pic.twitter.com/nLo8qQdZma

— Princeton Hockey (@PWIH) April 3, 2020
"I love the history that our rink and school has in the NCAA. Both major awards the Patty Kazmaier and Hobey Baker award come from notable Princeton alumni, and our rink is one of the oldest in the country.
It was amazing to look up at our banners before every game and see who had come before us in the rink. Heading into senior night I was sad that my time was coming to an end, because I had made so many good friends at this school, but at the same time we were gearing up for playoffs and I knew my teammates and I were not done yet.
My teammates did such a fantastic job on senior night, I could not have asked for a better group to spend it with, they were just wonderful to the five of us."
Equally exciting for Neatby is the prospect of professional hockey, building on the legacy of the aforementioned alumnae during the 2010s. Joined by Tigers graduating captain Bullock, both signed their first pro contracts with Linkoping of the Swedish Elite Women's Hockey League, the strong connection made in Princeton is poised to carry on across the Atlantic.
Worth noting, Neatby already holds a degree of international experience, having played for Canada's entry at the 2016 IIHF Under-18 Women's World Championships, providing her with a degree of confidence. Approaching the new chapter with tremendous anticipation, the fact that Solveig Neunzert, a resident of Stockholm and former member of Djurgårdens IF, who captured the Swedish Women's Hockey League (SDHL) championship in 2016-17, was a Princeton teammate this past season, provided an invaluable resource into what to except from a cultural perspective. Considering that Neunzert also played in the 2016 IIHF U18 Worlds, accounting for a unique element of serendipity, it is a theme that Neatby hopes shall continue upon her arrival in Sweden.
"I am so excited to be playing in Sweden next season. It is amazing that I get to continue my career playing with Carly Bullock, not only because she is a prolific goal scorer, but she is one of my best friends. I think I am most looking forward to learning about the culture in Sweden.
Since I had a Swedish teammate this year she got me excited about all the new food I can try, and trips I can take around the country and to the surrounding ones. Linköping looks like a beautiful city, so Carly and I cannot wait to explore.
Playing for Team Canada gave me exposure to playing against people from different countries, and I know a little more about the European style of play because of it. I learned that the Swedes are very serious about their hockey so I am excited for a high level of competition, but also excited to make friends with people from all over on the team."
"All quotes obtained first hand unless otherwise indicated"
Related Articles