Among a highly talented number of players who have honed their superlative skills with the nationally prominent Boston University Terriers, blueliner Sarah Steele has added to a strong program legacy. In addition to a number of tremendous Canadian talent to garb the Terriers red jersey, including Kaleigh Fratkin, Rebecca Leslie, Marie-Philip Poulin, Tara Watchorn and Jennifer Wakefield, among others, Steele has also assembled a solid professional career abroad in Europe, becoming the latest in a string of Terriers greats to have enjoyed a league championship.
Possessing a wealth of elite experience since her teens, from competing at the Canada Winter Games for head coach Robyn MacDonald, to the privilege of suiting up for Canada at the 2013 IIHF Under-18 Women's World Championships, capturing a gold medal, Steele, the prodigious pride of Stratford, Prince Edward Island, the Queen's County community which borders Charlottetown, has blossomed into a highly dependable blueliner. Emerging as an asset for any team whose jersey she wears, the chapter encompassing her European journey has comprised an incredible chapter.
During Steele's first three seasons in Europe's professional ranks, she has experienced an impressive statistical progression. From nine points as a rookie in the 2017-18 EHV Sabres season to ranking fourth in team scoring during her campaign in Switzerland with 13 points, such seasons were prologue for the greatness, which progressed. Amassing 17 points in a landmark 2019-20 season, complemented by a sensational plus/minus rating of +40, the statistical consistency set the tone for a number of notable highlights.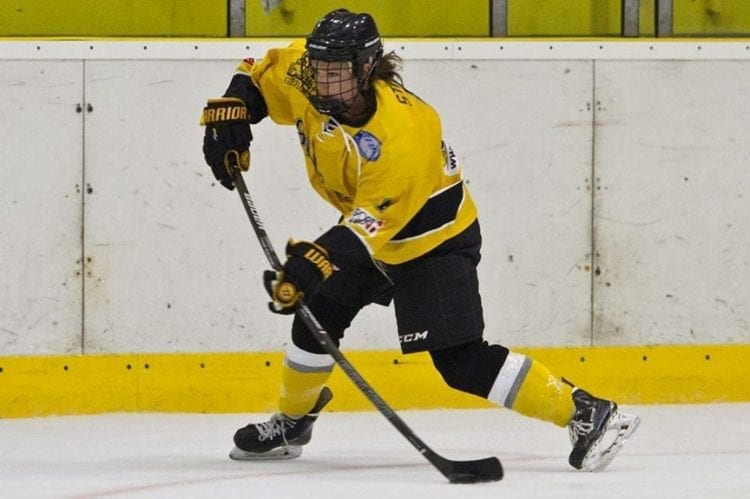 Skating for Vienna's notable EHV Sabres club in her first professional season, it was one that included fellow Canadian Victoria Vigilanti, a graduate of Quinnipiac who starred between the pipes. Additionally, the Sabres roster included Americans Laura Bowman, who finished the season as the leading scorer, plus Hilary Crowe.
Joining the Switzerland Neuchatel Hockey Academy Dames for 2018-19, Steele shone brilliantly in the Swiss Women's Cup, amassing a superlative nine points in merely four games played. Worth noting, the Canadian content on the club also included forward Kendra Broad, who played with the Lindenwood Lady Lions and University of Western Ontario Mustangs. As a side note, Broad's professional resume included a stint in North America, spending the 2019-20 season with the NWHL's Connecticut Whale.
Undeniably, the experience of extending her career with a sterling run in Europe has provided Steele with tremendous perspective. From the cultural facets to the continuation of high intensity on the frozen perimeter, refining her already fundamentally sound game, a lifetime of memories has resulted in such a short time span. Allowing for a treasured time, one attributed to solid on-ice proficiency, Steele is highly appreciative, as each successive season supplies a new and positive experience.
"I really value the opportunities. I have had to travel and be immersed in new cultures; I never would have had so many diverse experiences abroad if hockey was not the driving force in my life."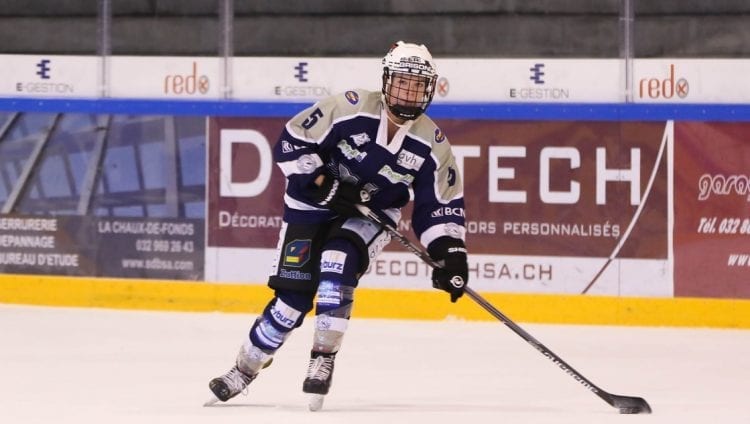 Remaining in Europe for 2019-20, Steele played for her third club in three seasons, signing with the Kanadai Magyar Hokiklub (KMH) Budapest in Hungary. Compared to her first two seasons, balancing part-time employment during the season, the opportunity to compete with KMH encompassed a full-time focus, six hours a day shared between the gym and ice time.
Certainly, Steele's arrival with KMH Budapest certainly placed her in a position of experience, enabling her to adopt a highly valuable role as team leader and mentor for first-year imports, enhancing her importance. Undeniably, the number of imports on the team included a strong sense of national pride.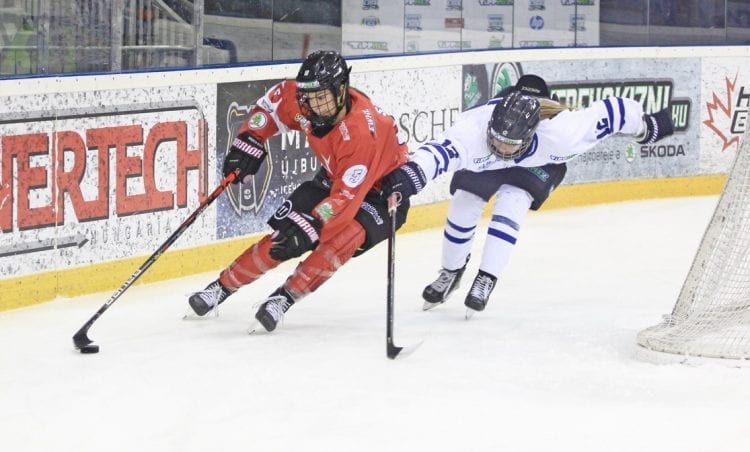 The 2019-20 KMH season allowed Steele, who wore number 5, to play alongside the highest number of Canadian teammates in her professional odyssey. Playing alongside first-year pros Valeria Lamenta and Kaitlin Lowy, both members of the Guelph Gryphons' Golden Path Trophy championship team in 2019; goaltender Stephanie Nehring, another Gryphons alumnus, plus Sarah Knee, who previously skated for the Ivy League's Cornell Big Red, joined her in Budapest.
"I think my past experiences as an import allowed me to assimilate myself and contribute to the team early in this season, not only because I had played overseas and was accustomed to the style of play but because for the past two years I had been living in cultures that a North American would consider foreign. I think this gave me a unique confidence on and off the ice and allowed me to be a resource for the other imports and a dependable teammate in general too."
By the end of Steele's third season in Europe, one that included an unprecedented three championships, the individual achievements were essential towards the team glories KMH experienced. Ranking fifth on the team in scoring, leading all blueliners with 17 points, she shone as a brilliant playmaker, as evidenced by her sparkling 13 assists, able to tap into her offensive capabilities, allowing an exciting dimension for KMH. Additionally, in eight EWHL contests, KMH was 8-0-0 when Steele logged at least one point.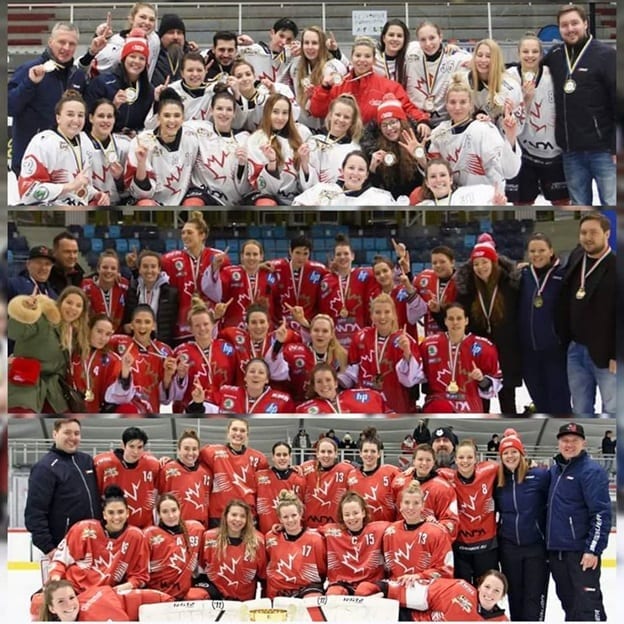 Among Steele's season highlights involved a goal and a pair of assists on goals by Lara Stróbl and Kinga Jókai-Szilágyi in a 15-0 dismantling of Olimpija Ljubljana on October 28, 2019, the highest margin of play during EWHL competition in 2019-20 at that time. Fellow Canadian Lowy also logged a hat trick in the victory. Serendipitously, the two would connect once again in another epic triumph. Defeating the Kärnten (KEHV) Lakers by a 6-0 mark, with Lowy's four fantastic goals setting the pace, Steele earned the assist on her third goal.
A January 18, 2020 rematch versus Olimpija Ljubljana resulted in another convincing victory, improving on their previous total, prevailing by a 17-0 mark. Recording a pair of assists once again, the recipients of Steele's efforts were Jókai-Szilágyi and Averi Nooren, who would each finish the game with hat tricks.
Steele's finest performance of the 2019-20 KMH season took place on January 26, 2020. Defeating Salzburg in a remarkable 19-1 final, she finished the contest with two goals and three assists, along with a very impressive plus/minus rating of +10. Scoring her first goal in the second period, as Averi Nooren earned the assist, she would also capitalize on the power play as Vivien Somogyi and J. Grkovic earned the assists. Coincidentally, Steele would assist on two of Nooren's goals, while she would collaborate with Somogyi on Grkovic's goal.
"I actually was not aware of how many points I had, but I think it just reflects my style of play, especially this season. For the majority of the season we relied on four defensive players and I tend to play quite offensively, so I was able to put my offensive skills to use."
The triptych of revered championships, resulting in the greatest season in KMH women's ice hockey history included the Supercup, OB1 Hungarian League and EWHL championships, also known colloquially as The Master Three. Worth noting, the EWHL Championship game represented an historic first, as it marked the first time that two teams from Hungary played for the title.
Opposing KMH was the archrival MAC Budapest club, marking one of the most meaningful games in Steele's professional career. The road to this epic contest saw the EWHL Final 4 in Spittal an der Drau see KMH blank Aisulu Almaty by a 2-0 score, while MAC defeated the EVB Eagles South Tyrol in a 3-1 final. With KMH, decked out in their white jerseys, prevailing over their city rivals in a hard-fought 2-1 final, clinching the third title of said season, it marked a thrilling closure to Steele's inaugural season in Hungary.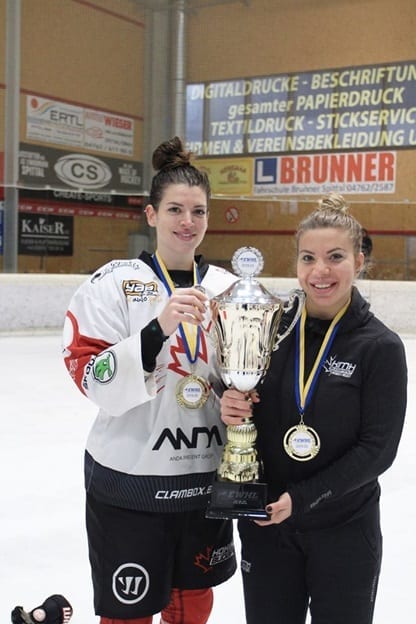 Reflecting on a monumental season, Steele insightfully observes how the championships are actually part of a narrative filled with many inspiring connotations. With a club unified in the goal of excellence, the most important facet for Steele was based on the crucial fact that KMH enjoyed a remarkable team culture. With a combination of perseverance and devotion creating a bond of friendship, the daily trek to the rink quickly became a labour of love, setting the tone for an unforgettable season that propelled KMH into mythical status, while building on Steele's amazing body of work across the Atlantic.
"Obviously, winning were huge accomplishments and the main goals for everyone on the team this year but the highlight for me was the atmosphere our team created this year; everyone was committed to the goals we set and we had a really tight knit group which made coming to the rink for five hours a day something to look forward to every day."
"All quotes obtained first hand unless otherwise indicated"
Featured image by: Viktor Somogyi
Related Articles