Representing the promise of an exciting new generation of phenomenal female hockey talent for the 2020s, Rebecca Leslie brought her exceptional skill set to the PWHPA in 2019-20. Having first gained prominence skating with the Ottawa Lady Senators of the ultra-competitive PWHL, Leslie would continue to shine as one of the cornerstones of the Boston University Terriers in Hockey East play. Running parallel to these experiences involved donning the Maple Leaf with Canada's Under-18 and Under-22/Developmental Programs.
Becoming part of an impressive number of student-athletes that have won both the Terriers and Canadian jersey, including Victoria Bach, Kaleigh Fratkin, Marie-Philip Poulin, Sarah Steele, Jennifer Wakefield, Catherine Ward, and Tara Watchorn, to name a few, Leslie, who served as Terriers captain as a Senior, was destined to hone her craft in the professional ranks. Selected by the Calgary Inferno with the tenth pick overall of the 2018 CWHL Draft, she was also a Draft Pick of the New York Riveters in the 2017 NWHL Draft.
Part of an Inferno draft class, which included Halli Krzyzaniak, Annie Belanger, Alex Rigsby and Tori Hickel, she would emerge as one of the key players in the conversation for the league's Rookie of the Year Award. Coincidentally, it was Bach, also a member of the Terriers' Class of 2018 that would land the Rookie of the Year nod.
The culmination of Leslie's first professional hockey season would result in the acquisition of a prodigious prize. Leslie and her Inferno teammates captured the second Clarkson Cup in franchise history, vanquishing Les Canadiennes de Montreal in a 5-2 final. Unfortunately, the magnitude of such an achievement was prologue for a rather grim aftermath. Marking the last game in CWHL history, its folding taking place just a few short days following the Cup triumph, the ending was not a fitting conclusion to Leslie's inaugural season as a professional.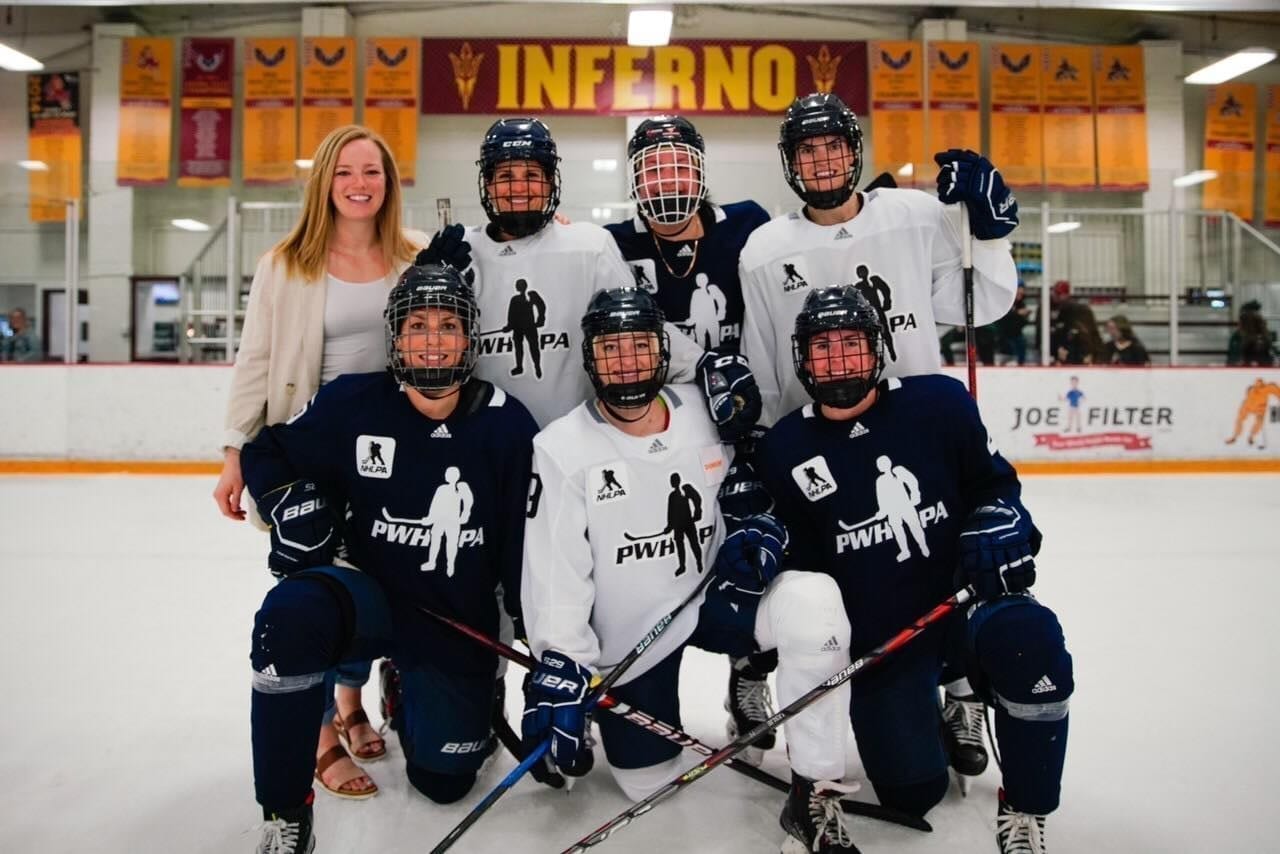 Despite the collapse of one hockey pillar, another eventually emerged, presenting Leslie with a strong sense of motivation and a renewed focus. Becoming part of a group known by the nomenclature PWHPA, featuring more than 200 members, it provided Leslie with a compelling platform to display her skills, while instilling the dream that sustainability for the female game was not only within reach, but highly possible.
Among the early highlights of Leslie's sojourn with the PWHPA involved the opportunity to share the ice with her former Inferno teammates. With the introduction of the Dream Gap Tour, consisting of a series of Showcase Events, barnstorming throughout North America, it quickly emerged as a staple of the Association.
With Leslie's first Showcase taking place at Toronto's Unifor Showcase from September 21-22, 2019 at Toronto's Westwood Arena, she was among more than a dozen Inferno alumnae on-hand, rekindling memories of her first professional season. Fittingly, recruited to skate for Team Johnston, also a former Inferno teammate, numerous other familiar faces surrounded Leslie. Worth noting, Team Johnston consisted of 12 former Inferno skaters, including charter member Laura Dostaler and former Amazing Race Canada contestant Meghan Mikkelson.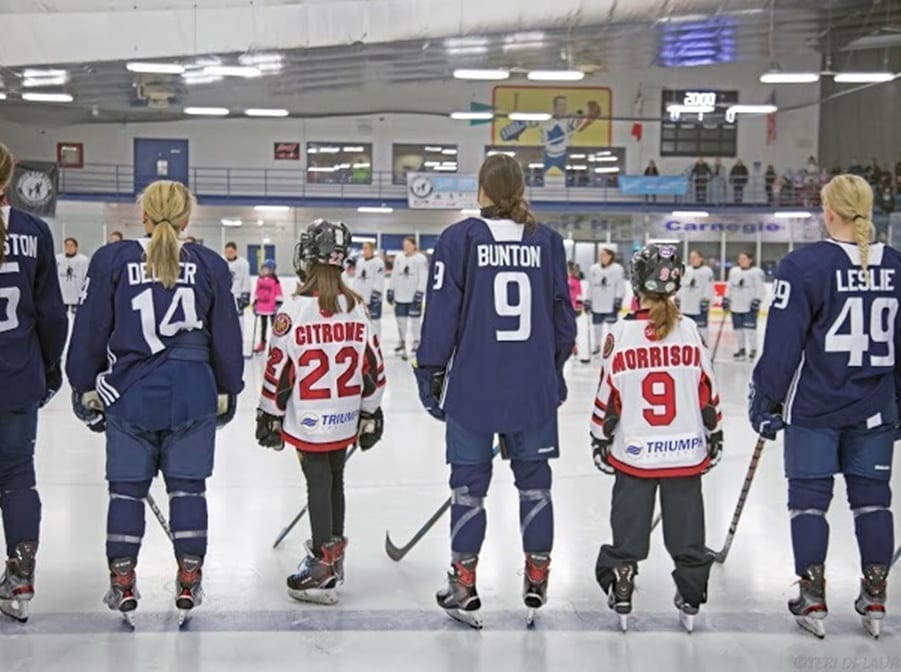 Adding luster to Leslie's first experience in PWHPA play involved being part of Team Johnston's starting lineup in a 4-3 loss to Team Jenner, named after captain (and former Inferno teammate) Brianne Jenner. Joining Leslie in the lineup included Captain Johnston, and Blayre Turnbull at the forward positions, while the defensive pairing consisted of Kacey Bellamy and Brigitte Lacquette, while Marlene Boissoneault stood between the pipes.
"Playing in the CWHL for the Inferno and winning the Clarkson Cup is one of the highlights of my hockey career. It is always so much fun to see my former teammates. We always find ourselves reminiscing about our season together. Each one of them is an amazing player and a fierce competitor and it is a privilege for me to know them."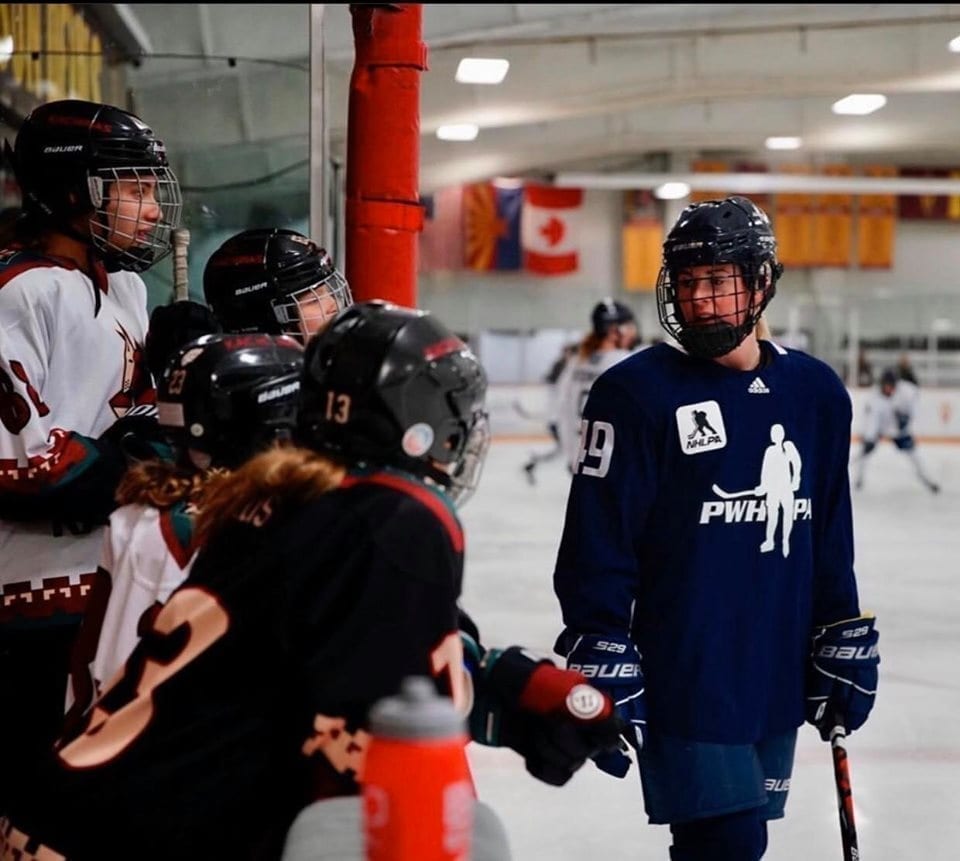 During the Dream Gap Tour, the opportunities to enjoy a unique and treasured experience took on greater meaning with an event that served as its fantastic finale. Believed to be the first professional women's ice hockey event in Arizona, the Showcase Event at Oceanside Ice Arena in Tempe, from March 6-8, 2020, Makenna Newkirk and Katie McGovern served as the team captains, both skating for their respective teams.
In addition, Lyndsey Fry, born in Mesa, Arizona and a member of the US team that competed at the 2014 Sochi Winter Games, the first from her state to do this, was also on-hand. Currently employed by the Arizona Coyotes in the capacity of Marketing Analyst, Fry also worked with Matt Schott, a director of amateur hockey development for the Coyotes, collaborating in the "Small Frys", encouraging girls aged 6-12 to grace the ice.
Fry's Coyotes connection continued on the last day of the Arizona Showcase. PWHPA players took to the ice versus Fry and 14 Coyotes alumnae, including the likes of Mike Sillinger, a Team Canada alum who captured a gold medal at the 1991 IIHF World Juniors, Ray Whitney, a 2006 Stanley Cup champion and captain for Canada at the 2010 IIHF World Championships. In addition, Shane Doan, team captain from 2003-17, and a member of Canada's 2004 World Cup championship team, also participated.
As a side note, Doan's brother Bart, was a former coach with the Calgary Oval X-Treme in the former Western Women's Hockey League. Some of the players coached by Doan, also a former rodeo competitor, in the final Oval X-Treme season (2008-09) included the likes of Delaney Collins, Tessa Bonhomme, Gillian Ferrari, Carla MacLeod, Colleen Sostorics, Gina Kingsbury, Cherie Piper plus Swiss skaters Angela Frautschi and Anja Steifel, resulting in a unique instance of six degrees of hockey separation.
Skating for Team McGovern, each team only had 17 players, a melange of Canadian and American talents. Worth noting, both rosters featured Inferno content. In addition to Leslie, Team McGovern featured Johnston and Brigitte Lacquette, while Canadiennes rivals Ann-Sophie Bettez and Melodie Daoust were also on the roster. The likes of Brianna Decker, Blayre Turnbull and Dakota Woodworth represented the Inferno on Team Newkirk, while Jocelyne Larocque, the last captain in the history of the Markham Thunder had skated for the Inferno during their incarnation as Team Alberta.
"The Arizona showcase was definitely one of the highlights of my season. Arizona is not your typical hockey market per se but after spending time there and interacting with members of the Coyotes association and hockey fans. I quickly realized that it is much more of a hockey town than I expected.
In fact, I was so happy to see a full enthusiastic crowd. This was a first class event and I thoroughly enjoyed the experience. You cannot complain about the weather in Arizona."
Follow @beccalesliee for the day as she takes over our Instagram story tomorrow! This will the first in the PWHPA Player Takeover Presented by @adidashockey –> https://t.co/lOb2yoFvh8 pic.twitter.com/pr6DsxoidP

— PWHPA (@PWHPA) May 14, 2020
Skating in a non-hockey market, raising awareness about women's ice hockey held a privileged opportunity. With Team McGovern coached by Danielle Sauvageau (plus Terry Watt), one of the most celebrated coaches in modern Canadian hockey history, best known for leading Canada to its first-ever gold medal in women's ice hockey at the Winter Games, achieved at Salt Lake 2002, which also saw the men's team win gold, her impact added a legendary tone in Arizona.
Worth noting, Sauvageau has also added the title of builder to her remarkable legacy. In collaboration with France St. Louis, who competed for Canada at the 1998 Nagano Winter Games, the two have transformed Les Carabins de l'Université de Montreal into a U SPORTS powerhouse. In addition to their efforts in consulting with the national women's team from France, welcoming a handful of their players to skate for Les Carabins, their contributions defined by a pair of Golden Path Trophy wins during the 2010s.
During the final CWHL season, Sauvaugeau even made an appearance behind the bench. Inheriting the head coaching duties of Les Canadiennes de Montreal from outgoing Dany Brunet, a unique tinge of coincidence included the fact that Leslie's Inferno team defeated Montreal for the Clarkson Cup. From a PWHPA perspective, Sauvageau, who is also handling General Manager duties for the association's Montreal region for 2020-21, made her empowering presence highly felt in Arizona, sharing her acumen with a new generation of elite skaters, resulting a profound impression on Leslie.
Thank you @ArizonaCoyotes and @arizonakachinas for hosting us this weekend in Arizona. What a fun way to end the #DreamGapTour for the season. So proud of everything we've accomplished this year with the @PWHPA #ForTheGame pic.twitter.com/6l9ePUo7AK

— Rebecca Leslie (@beccalesliee) March 8, 2020
Certainly, her hockey journey has been one filled with the privilege of playing for some very celebrated coaches. From the likes of Laura Schuler and Noemie Marin, with the Maple Leaf embroidered on her jersey, to the revered Brian Durocher with Boston University, along with a brief stint under Shannon Miller's tutelage during her only season with the Calgary Inferno, Leslie's career has benefited greatly. Blossoming into a proficient catalyst on offense, one of the highlights in 2019-20 involved the chance to add the celebrated Sauvageau to her list of coaches played for.
"Coach Sauvageau is extremely knowledgeable and passionate about women's hockey. It was great to learn from one of the best coaches in the business. We were fortunate to be coached by her in Arizona."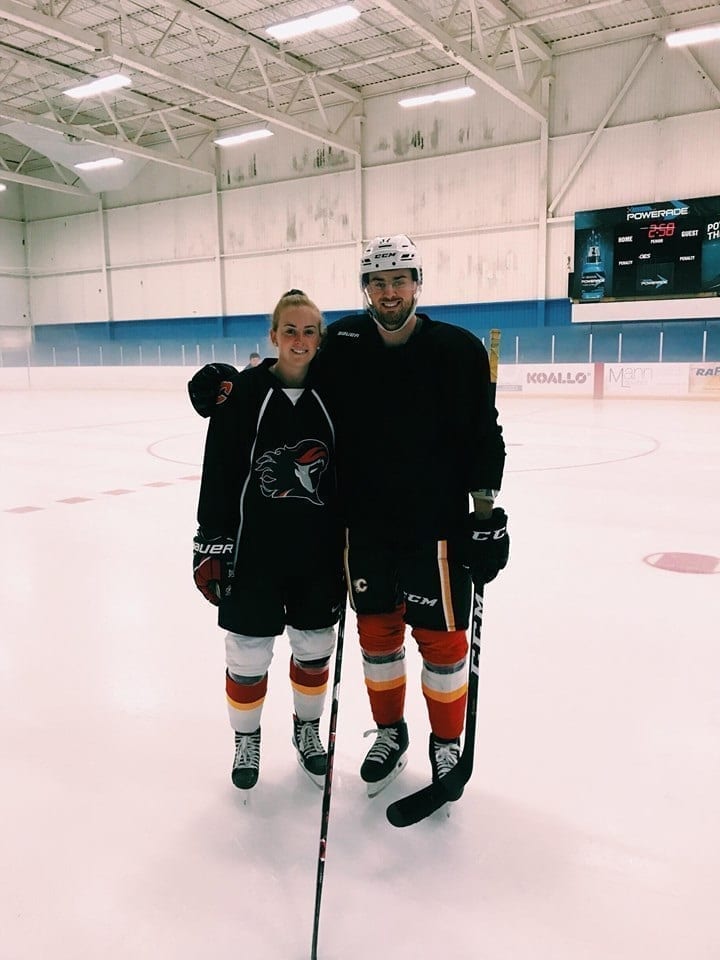 Equally important in Leslie's odyssey in the professional ranks has involved the fact that it has been a shared one with family. Earlier this year, Brandon Weiss wrote a piece for the American Hockey League website about Rebecca Leslie, and her older brother Zac, separated in age by two years, a draft pick of the Los Angeles Kings in 2013, currently skating for the Stockton Heat, an affiliate of the Calgary Flames.
Zac, holds a polished hockey resume, skating in the OHL for the Guelph Storm, participating in the 2014 Memorial Cup Finals, followed by stints in the AHL with the Ontario Reign, Manchester Monarchs, Chicago Wolves, where he reached the 2019 Calder Cup Finals, plus the Heat. Of note, his first season in Heat colors (2019-20) culminated by winning their IOA/American Specialty Man of the Year Award, in recognition for his outstanding work in community programs, including the "Into the Fire" Stockton Colts Youth Hockey Clinics.
Both Rebecca and Zac still share the same skating coach in the off-season, both looking to add that extra competitive edge to their solid games. It is somewhat fitting as both learned to first skate on a backyard rink constructed by their father. Exceptionally proud of his sister's achievements, watching the former Inferno's games online, including a Clarkson Cup in Calgary, where he hopes to catch on with the Heat's parent team in the NHL, it has enlightened him to the level of talent and sacrifice, which encompasses excelling in the female game. Undeniably, there is a tremendous feeling of familial pride. Both pursuing a hockey dream, each already attaining a significant status as professionals, there is no shortage of mutual respect.
Congrats to defenseman @zles94, who has been named our IOA/American Specialty AHL Man of the Year for his outstanding contributions to the community!https://t.co/oJKcBgcdHz pic.twitter.com/lEcezBwzBW

— Stockton Heat (@AHLHeat) April 6, 2020
"I am so proud of everything my brother has accomplished in his hockey career. He has always been one of my biggest role models on and off the ice. He is a really good person. I have looked up to him since I started playing hockey.
As we have grown up, we have really been able to push each other on and off the ice to be the best players that we can be. He spends a lot of time with me in the summers working on little skills like skating and shooting. I am also really proud of how vocal he has been about the PWHPA and female hockey in general.
He sees how much work I put into training and he believes that as female hockey players we deserve a viable league that will provide us with proper compensation and the resources necessary to be full time professional athletes."
Reflecting on this season, one which saw an entire slate of players undergoing a new normal, there was never a feeling of despair or setback. In spite of the fact that the game was draped in darkness, it was a circumstance that allowed its stars to shine brighter than ever. With a highly positive and philosophical outlook on the game, recognizing that the collective effort is geared towards more than the game's future, but fostering a sense of belonging for beyond, acknowledging the youth players in the stands, it recognizes a point of pride for Leslie, proud to provide them with inspiration to start their own hockey dream.
"Although this season brought new challenges, I think the PWHPA allowed us to compete at an extremely high level while displaying our talent to so many people. For me I think the biggest highlight was seeing all the young boys and girls who would come out to our games to support us.
When I step out on the ice and see a little girl anxiously awaiting our game to start, I think about how lucky she is to have such incredible female role models to look up to. The little girls are the reason why we are doing what we're doing, so that one day they no longer have to only dream about pursuing hockey as a career."
"All quotes obtained first hand unless otherwise indicated"
Related Articles