As the only player to have competed in every season of the Team Alberta/Calgary Inferno franchise, Laura Dostaler holds an esteemed place in both, CWHL and Western Canadian, hockey mythology. Bringing an ethereal serenity to the rink, with the number two adorning the back of her jersey, Dostaler, a portrait of consistency would become one of the most admired and likeable women in league history to wear the number.
Over a progression of seasons, Dostaler's presence translated into a position of strong leadership and dependability, best measured by the number of years spent in the franchise's colors. Having taken to the ice in 124 CWHL regular season contests, Dostaler, a resident of Cochrane, Alberta, holds an esteemed place in Western Canadian women's ice hockey.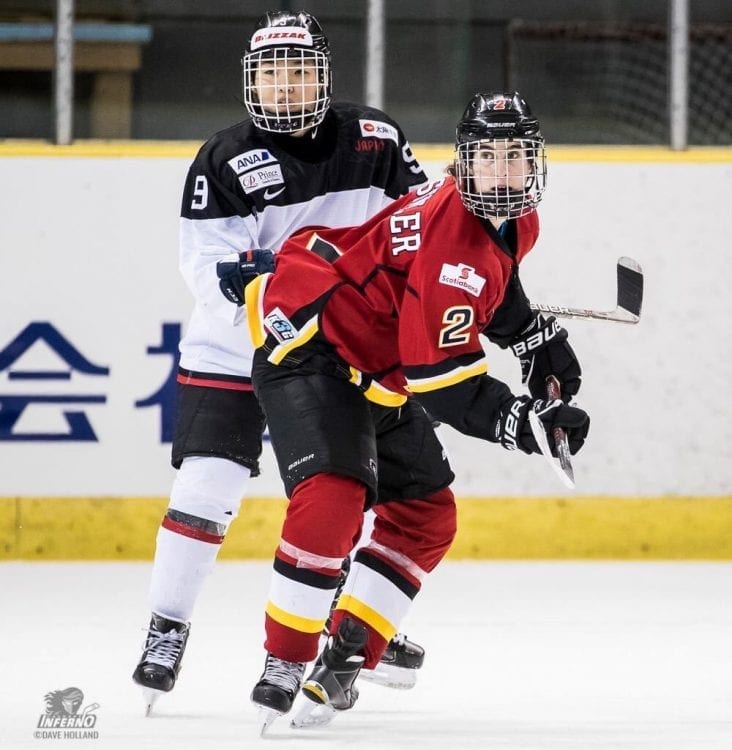 Having first graced the ice in the former Western Women's Hockey League (WWHL), Dostaler suited up for the iconic Edmonton Chimos, one of the longest existing club teams in Canadian women's hockey history. First formed in the fall of 1971, with Chimo being the Inuit word for "Hello", some of the players that garbed their jersey would also skate for the nascent women's Team Canada during the 1990s, including Shirley Cameron, Judy Diduck and Dawn McGuire.
Debuting for the club during her teens, it was the foundation towards a distinguished career for Dostaler. Forming new friendships and gaining the confidence to progress as a player, she would call the likes of Erin Duggan, Meaghan Mikkelson, Chelsea Purcell and Brittany Maschmeyer, whose younger sister, Emerance, would play for the Inferno in 2016-17, as teammates in the paraphernalia of the Chimos.
All would become familiar faces in the transition of the next phase in Dostaler's hockey odyssey. Reflecting fondly on the experience of honing her skills during the franchise's twilight, it was an invaluable learning experience that set the stage for greater glories.
"It was really good. I had just finished coming out of midget (hockey). I met good friends that way. The Chimos had a solid base of women who were good at hockey. There were great dynamics. I still remember it fondly and to play among them was really neat."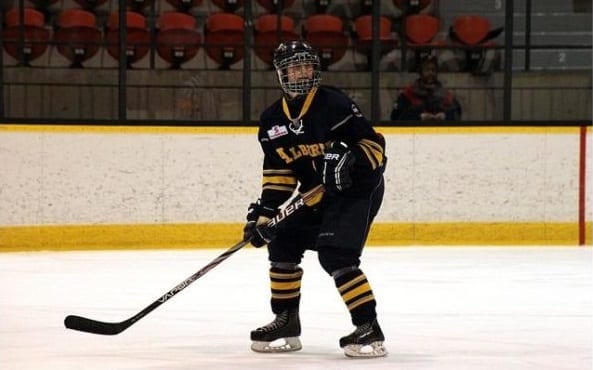 With the advent of the Team Alberta (known colloquially as Honeybadgers) in CWHL play, the roster was an amalgamation of players from the former Chimos, Calgary Oval X-Treme and the Strathmore Rockies. As a side note, Samantha Holmes, who served as Team Alberta's first General Manager, had been the founder of the Rockies.
As the contingent from Alberta made the journey eastwards, taking on the Burlington Barracudas at the Appleby Ice Centre, Dostaler tied the game at the 15:18 mark of the first period, as Colleen Olson earned the assist. Also scoring in Alberta's first-ever game were Shannon Murphy, Jenna Cunningham, who would win a Clarkson Cup with Dostaler in 2016, and former Chimos teammate Courtney Sawchuk, as Lundy Day earned the win in a 4-2 final.
Scoring the first goal in franchise history, it provided Dostaler with the privilege of etching her name in the league's record books. Remaining humble over such a celebrated achievement, it certainly served as one of her defining moments, propelling her in a treasured place in CWHL history.
"That was really cool. I did not realize it until someone wrote an article. It would have been something to look forward to had the CWHL still existed. It is neat that it happened."
Worth noting, Dostaler's first goal garbed in the paraphernalia of the rebranded Calgary Inferno, abandoning Team Alberta's former gold and navy blue color scheme, took place on March 2, 2014. Hosting the Boston Blades at WinSport Arena, Dostaler provided the Inferno with an early advantage, logging the game's first goal.
Placing her name on the scoresheet merely one minute and 40 seconds into the contest, scoring on backstop Brittany Ott, who finished the season as the third rookie goaltender to start a Clarkson Cup final, the assist was credited to Emily Berzins. With other goals scored by Danielle Stone, Rhianna Kurio and a shorthanded marker by Chelsea Purcell, who would go on to become a General Manager in the league, the Inferno prevailed in a 4-2 final.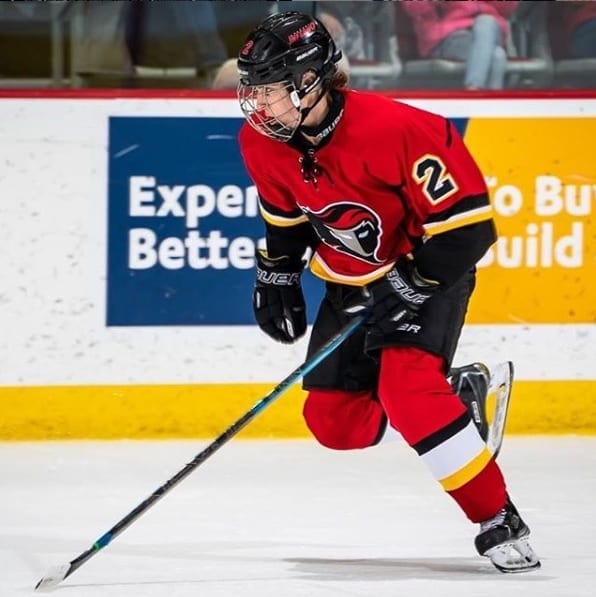 Running parallel to her love of sport is a passion for artwork, which has extended into another imaginative outlet. Employing social media as an outlet to post a handful of videos, while sharing photographs of her experiences as a professional hockey player, one video in particular had an unexpected peak of popularity.
With an Instagram account that has served as a virtual time capsule, it has also served a dual purpose as a canvas for creativity, as evidenced by her videos; the opportunity for such an outlet to supply another unique highlight in her career was inevitable.
Possessing a highly skilled proficiency at stick handling, definitely a staple of Dostaler's pre-game warm-ups, there is a strong element of visual fascination. Like a master craftsman, stick in hand, it becomes a masterful instrument by which she engaged in one of the most enjoyable elements of her game. Whether it be a puck on the frozen surface, or the bright orange sphere that becomes the apparatus of warm weather play, the combination of the consummate meticulousness and the delightful distraction result in a wizardry reminiscent of Tiger Woods' epic Nike commercial, bouncing one ball off his golf club almost effortlessly.
No video better evidenced Dostaler's vision than the one with breathtaking Lake Louise in the background. A blanket of snow covering a tremendous topography, Dostaler displayed her lavish skills with a stunning precision. Garbed in merely a T-shirt, with the radiating warmth of the sun's rays negating any cold, a confident Dostaler handled the black disk with a relative ease, providing a fascinating visual display, equal parts mesmerizing and inspiring.
Gaining thousands of views, suddenly transformed into an online celebrity, Dostaler discovered that other sports outlets shared the video. Gliding on the frozen surface, with the sun blanketing the breathtaking mountain range, Dostaler was garbed simply in a T-Shirt, engaged in a fascinating stickhandling routine.
"It took place at Lake Louise. I have an Instagram account and I sometimes post videos. I was out with a friend at Lake Louise, and she was recording. It was a beautiful day with nice, cold ice, and the sun was warm enough to wear a T-Shirt.
Later, a sports outlet picked up the video. Some of my teammates came to me and said, 'Did you know your video got reposted?' It was interesting because I am not used to social media. It meant something to put it on your account, and to know that it can go out there and (positively) affect people."
Just as impactful for Dostaler is the opportunity to give back to the community. From a range of activities including coaching younger players or participating in fundraisers, there is a strong sense of fulfillment, sharing her acumen for the game while supplying aspiring skaters with the confidence to pursue their own hockey dreams.
Although there have been understandable limitations over the last two seasons, as an increase in ice time and subsequent training required Dostaler to be present at the rink and the gym, the positive experience that emanates from instructing certainly remained a constant throughout all her athletic endeavors.
One endeavor that certainly bore positive feelings involved the annual St. Timothy High School charity hockey game. Held before the Christmas holidays, becoming a rite of passage for many in the student-athlete community, the commendable objective is to raise funds for the Sheldon Kennedy Child Advocacy Centre (SKCAC). Coincidentally, the Inferno's Do It for Daron (DIFD) mental health awareness game also involved fundraising for the SKCAC.
Conceived by former St. Timothy's educator Kevin McLellan, organized in 2019 by Leo Keefer, Dostaler was part of a group of honored guests, which included former National Hockey League skater Curtis Glencross, whose former teams included the Calgary Flames and Edmonton Oilers, along with Travis McMillan, part of the Cochrane Generals coaching staff. With teachers and students also taking to the ice, approximately $4,000 was raised for the SKCAC, which also included raffles and silent auctions.
"It was really (pleasant). I was asked by Sport Chek, where I work, to attend. To be playing, doing what I love, it was a reason to help, and it added more meaning to the cause."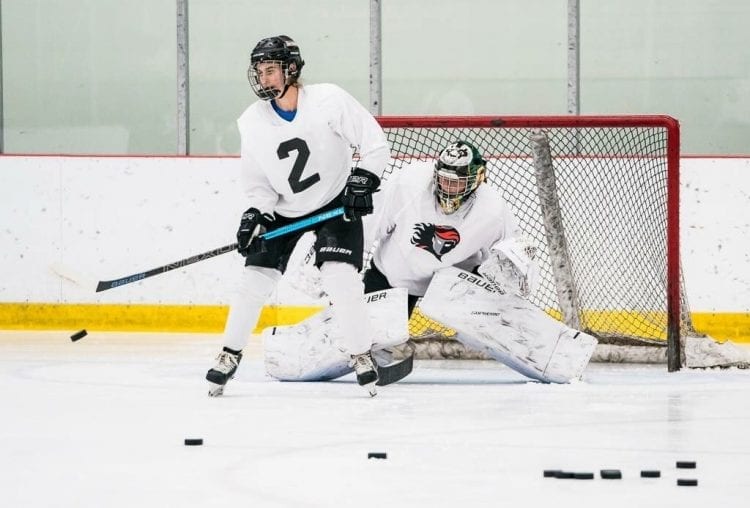 During the 2018-19 season, Dostaler experienced the feeling of her career coming full circle. Said season started with the legendary Shannon Miller as head coach. Miller, who captured five NCAA Frozen Four titles, and served as Canada's bench boss in women's ice hockey at the 1998 Winter Games, actually played in the 1980s for the Maidstone Saskies, when the biggest hockey prizes in Western Canadian female hockey included the Sweetheart Tournament and the Western Shield. Having also served as the head coach for Alberta at the 1991 Canada Winter Games, there was a unique tinge of coincidence as it was the same year that Dostaler was born.
With a training camp boasting one of the most talented gatherings of players in franchise history, there was a slight feeling of uncertainty for Dostaler, wondering if her streak of consecutive seasons with the franchise would reach its ending. Earning a spot on the opening day roster, alleviating any possible qualms, it proved to be one of the Inferno's most productive seasons. Although Ryan Hilderman would inherit coaching duties from Miller during the second half of the season, the chance to play for such an iconic coach represented a highpoint, enriching the milestone of extending the streak of seasons played for the franchise.
"I am quite proud. I did not even know if I would make the team, which shows how talented the team has become. I was grateful to play at such a high level with great women who brought their game to this level. I am proud to have my name linked to great players all around."
In what proved to be her final point with the Inferno, Dostaler and Kelty Apperson assisted on Dakota Woodworth's game-winning tally in a 10-0 dismantling of the Worcester Blades on February 10, 2019. Worth noting, Dostaler's goal in the Inferno red and black took place one season prior. Scoring against Amanda Makela in the second period of a 3-2 loss versus the Toronto Furies on January 27, 2018, teen phenomenon Sophie Shirley logged the assist.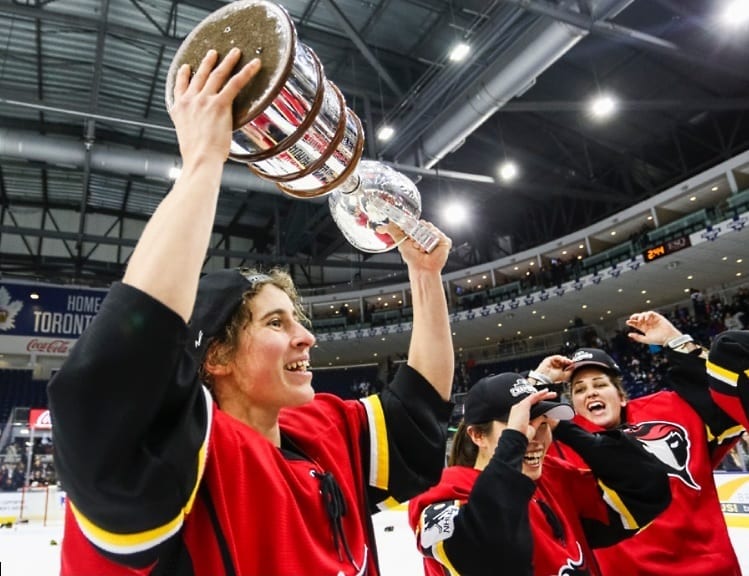 By season's end, Dostaler garnered her second Clarkson Cup championship, as the Inferno defeated Les Canadiennes de Montreal at Toronto's Coca-Cola Coliseum. Coincidentally, Calgary's first Cup victory also took place versus Montreal, defeating them at Ottawa's Canadian Tire Centre in 2016, the first-ever CWHL finals contested on NHL ice. Although the future of the coveted Cup remains in stasis, the privilege of having won it twice is a cherished milestone for Dostaler, grateful in the realization that the dream of a championship is elusive for so many,
"I was really proud. It is not something everyone gets to be part of. What it takes to get there (was) different. The work to put in to get that Cup, if the team dynamic does not work, you do not get to that game. Even with a strong roster, it will not work if you do not gel."
That feeling of team unity and good chemistry encompassed what Dostaler enjoyed most about being part of the Inferno. Surrounded by an eminent group of players, finding a sense of motivation, pushing her to reach an optimum level of peak performance, it was the context of a rewarding time.
"I always trained to get better. Thinking back on my game, how much I have been empowered. The league forced me to push myself in practice. The quality of the players not only made me better, it made women's hockey better."
"All quotes obtained first hand unless otherwise indicated"
Acknowledgements: Kristen Hagg
Feature image by Dave Holland
Related Articles