On a Toronto Furies roster loaded with notable names, Jessica Platt emerged as a highly admired talent, gaining fans throughout all of the CWHL's markets. Gracing the ice with a combination of dignity, perseverance and work ethic, Platt, who is also known as the first transgender athlete in the history of the CWHL, brought a genuine sincerity and authenticity to the rink, her indomitable spirit a source of inspiration for teammates and fans alike.
Another inspiring individual from CWHL play complemented Platt's positive presence during this time. Calgary Inferno captain Erica Kromm, a third generation star whose father played for the NHL's Calgary Flames and New York Islanders, while her grandfather Bobby won an Avco World Trophy as head coach of the WHA's Winnipeg Jets, revealed her same-sex preference. Undoubtedly, their combined courage creates an aura of confidence, enabling other members of the LBGTQ community, whether it be in sport or elsewhere in society, to live with confidence.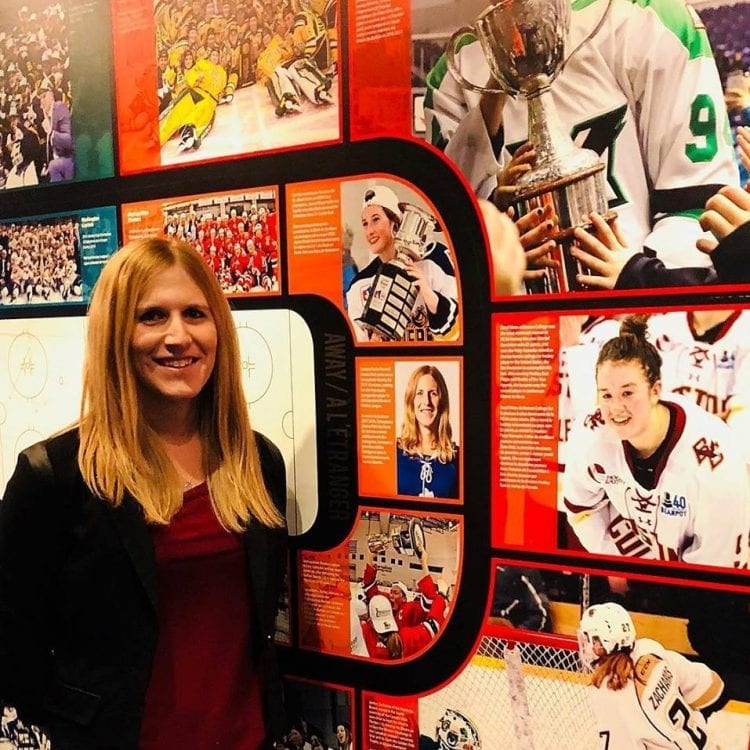 Following a highly compelling 2017-18 season, one which saw Platt, who was raised near Sarnia, Ontario in the community of Bright's Grove, become an ambassador for the franchise and a role model, an expanded role took place during one of the league's signature events of the off-season. With a welcoming smile and an empowering demeanor, her presence at the 2018 CWHL Draft sent a highly encouraging message to the Furies picks, fostering friendship and positively shaping the team's culture.
With the Furies enjoying one of their greatest draft classes ever, highlighted by a pair of first round picks, including highly touted goaltender Shea Tiley, plus Winter Games alum Sarah Nurse, along with Brittany Howard, a scoring sensation from the RMU Colonials, plus Melissa Channell, an alum of the University of Wisconsin, Platt had a two-fold presence at the Draft. In addition to setting the tone for the season to come, her tasks on Draft Day included the handling of social media responsibilities.
"It was a great experience to represent my team at the Draft! I had to do double duty and take care of the social media, so that was kind of stressful with internet connection issues. I felt honoured to be one of the people who was there to represent my team and hopefully give the new draftees a good first impression of the organization."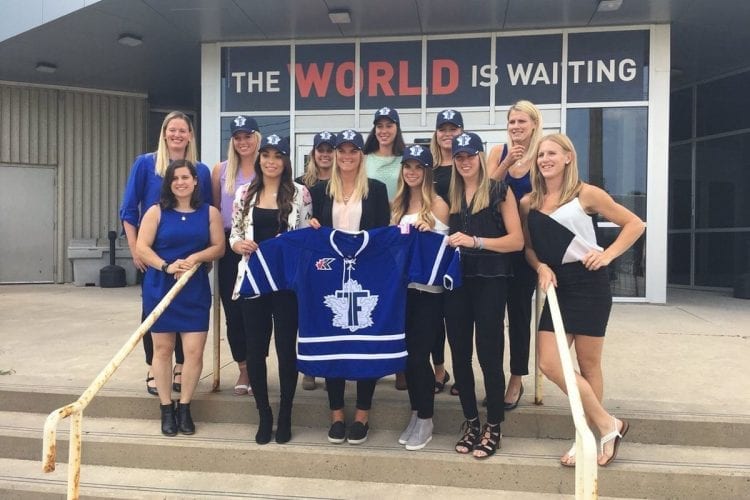 Appearing in 18 games this season, upping her career total to 49, Platt's only point of the season actually took place overseas. With the Furies challenging the Shenzhen KRS Vanke Rays in the expanding hockey market of China, enhancing the celebrated standing of the CWHL's players as ambassadors for the female game, Platt and Renata Fast earned the assists on Natalie Spooner's 12th goal of the season. Despite the Rays prevailing in a 5-2 final, a hotly contested rivalry between the two germinated, as both were in competition for the league's final playoff spot.
Resulting in a dramatic finish that saw the Furies manage five fantastic wins to close out the campaign, qualifying for the Clarkson Cup playoffs, it certainly represented one of the biggest highlights in Platt's season. Outlasting the Rays, it was also a notable milestone for others in the franchise. Sami Jo Small, the Furies all-time wins leader among goaltenders, made the move from the crease to the front office this season, serving in the capacity of General Manager, while Courtney Birchard-Kessel, a former CWHL Rookie of the Year, enjoyed her inaugural campaign as Furies head coach.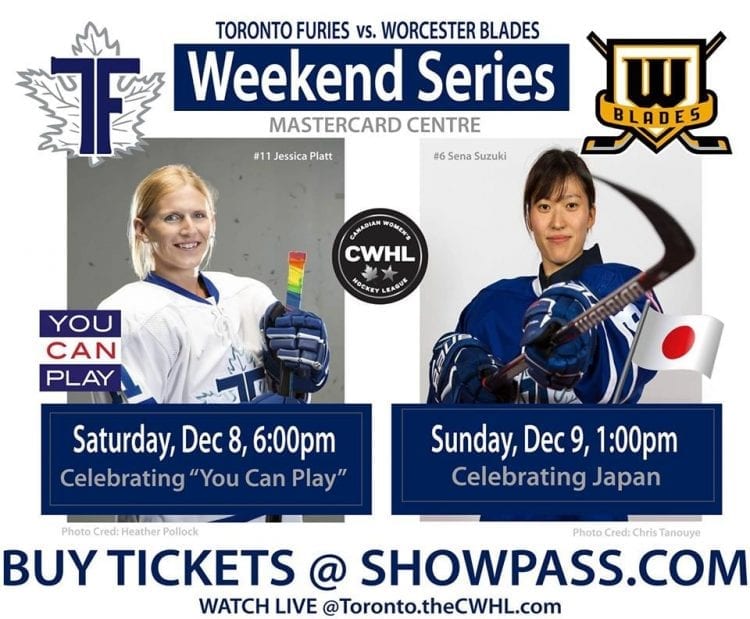 In the midst of such jubilation was also a tinge of desolation. With a rebuilt roster and an influx of new talent, the allocation of ice time was not as expected. With a reduced role as a direct by-product, Platt was modest in discussing her bearing with the blue and white. Despite the decrease in ice time, Platt remained an integral member of the team, displaying constant professionalism and remaining positive about the prospect of reaching the postseason, a feat that eluded the franchise in seasons past.
"I did not see myself as a leader this season but I did what I could to play my part. With my team, we have some incredible players who have extremely good leadership qualities to lead the team. I think it is important to play your role to the best of your ability. I was not getting as much ice time as I would have liked this year but that is not my decision and I respect that.
So, I did what I could during practice and workout to hopefully push my other teammates to be their best and tried to take advantage of the opportunities I was given.
To make the playoffs this year was incredible! We had a disappointing finish to the 2017-18 (season), so it was great to bounce back this year. Doing it by winning the last five games in a row only added to the excitement."
Platt's imprint on the sporting landscape also extends beyond the rink. When Major League Baseball's Toronto Blue Jays hosted Pride Night on June 8, 2018, versus the visiting Baltimore Orioles, Platt was among the honored guests to participate in the Opening Pitch ceremony.
Joining Platt at the pitcher's mound included Harrison Browne, a former Brampton Thunder draft pick, who became the first transgender player to win the Isobel Cup, whom Platt credits as influencing her to make her own revelation, along with Marnie McBean. A member of the Order of Canada, and three-time Summer Games gold medalist in rowing, McBean was recently named Chef de Mission for Canada's contingent at the 2020 Tokyo Summer Games.
Worth noting, Blue Jays center fielder Kevin Pillar was also on the field for pre-game photos with the distinguished guests, including Platt. After making an unfortunate homophobic slur in the heat of battle during the 2017 season against Atlanta Braves reliever Jason Motte, Pillar's public apology and donation to PFLAG and Toronto's branch of You Can Play, took on greater meaning with his on-field appearance.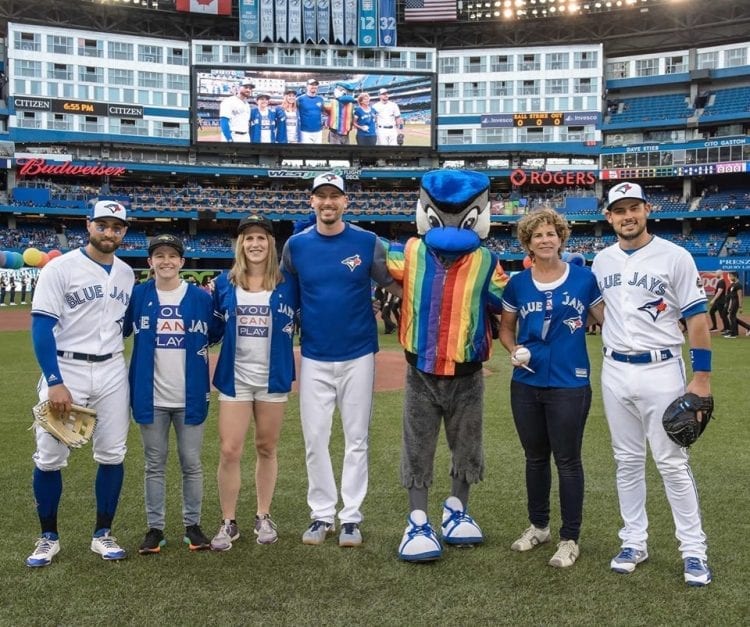 Before 2018 expired, a December 17 post by Refinery29, unveiled a feature on 29 Canadian women of influence. With a list that included the likes of Alessia Cara, Chrystia Freeland, Sandra Oh, and Tessa Virtue, among others, Platt earned a place among this distinguished group, testament to her positive influence in popular culture.
As early 2019 saw the release of Unmasked, an 11-minute documentary about Platt's life-changing revelation, the aftermath of the CWHL's final season saw Platt cover downtown Toronto's Church and Wellesley Streets, among the most notable participants in Toronto's Pride Run. Raising money for causes such as AIDS Committee of Toronto, Inside Out LGBTQ2 Festival and the Pride and Remembrance Foundation, Platt's activism remains rife with potential for greater things.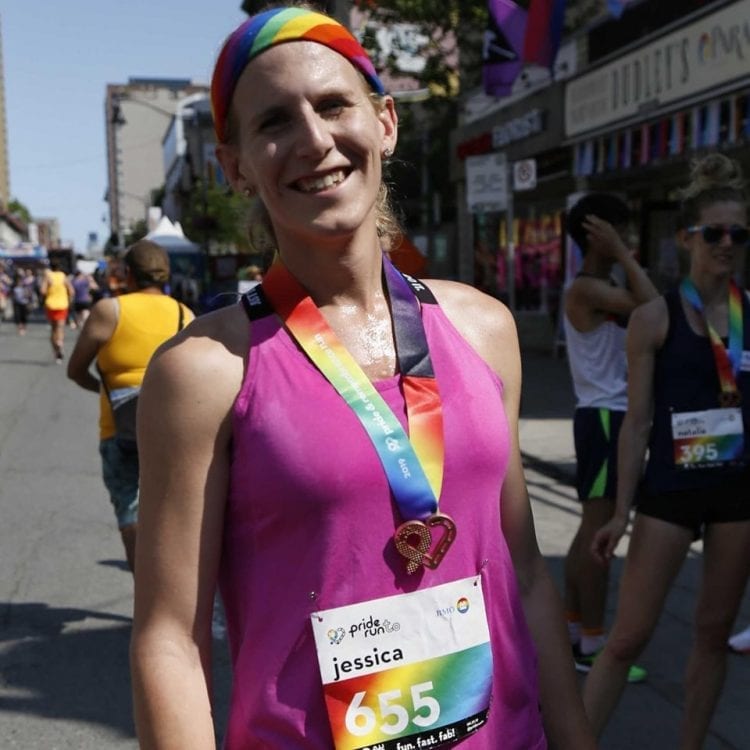 Being able to make such an influential impact finds its roots in Platt's time in the Furies blue and white. Faced with uncertainty just a short time ago, having not played hockey since St. Christopher Secondary, she would graduate from Wilfrid Laurier University, retaining an on-ice presence by providing skating lessons for children. With the desire to continue to play remaining strong within her. Suffering a knee-on-knee injury as a 16-year old, compounding a youth defined by shyness, returning to the ice with the Lambton Ladies Hockey League was an integral first step towards reclaiming her life and identity.
Selected by the Toronto Furies in the 2016 CWHL Draft, she was part of a draft class that included Renata Fast, Erin Ambrose, Michela Cava, Jenna Dingeldein and future All-Star captain Carlee Campbell-Euseppi. Scoring her first career goal on December 9, 2017 versus the dynastic Canadiennes de Montreal, also recognized as the Furies Player of the Game, a later opportunity to pay tribute to her hometown roots would serve as the defining moment of her professional career.
With Sarnia's Progressive Auto Sales Arena as the empowering backdrop, serving as a dual venue for both Hockey Day in Canada and the Girls' Silver Stick Tournament, the Furies took to the ice for a January 20, 2018 regular season contest. Coincidentally, the Furies hosted Les Canadiennes, once again emerging as a key theme in Platt's nascent journey as a professional. Returning to a heroes welcome, it set the tone for the remainder of her Furies career, surrounded by a group of supportive teammates who provided her with a lifetime of cherished memories,
"What I enjoyed most about playing for the Furies was simply the opportunity to play hockey at a high level again. For a long time, I thought I had given up hockey forever and that was difficult for me.
To be welcomed back and to be given the opportunities I have gotten, I have felt incredibly lucky. It is all a second chance for me and rekindled my love and passion for the game. Aside from that, playing with and against the best women's hockey players in the world was an experience I find hard to describe."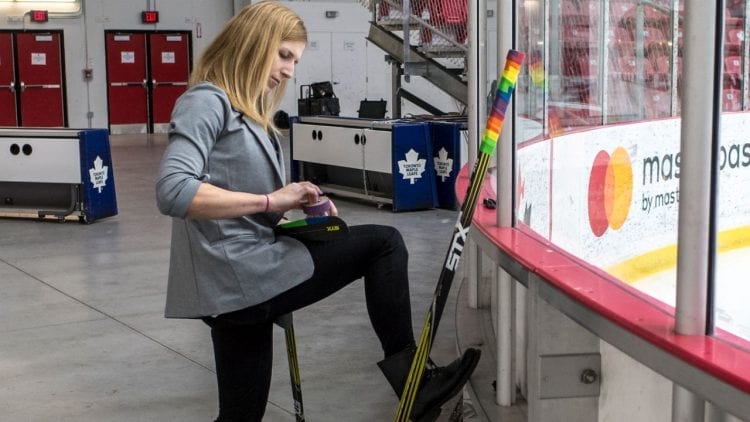 Although the CWHL experienced an abrupt and rather unexpected ending following the 2019 Clarkson Cup finals, its legacy was greater because of the presence of inspirational players like Platt. With a hockey journey built on perseverance and resolve, she embodies how the game is about more than just scoring goals and winning games.
At its core, hockey is also about creating a welcoming environment, fostering friendship and creating positive opportunities. Undoubtedly, such an opportunity for Platt defined a tremendous place in league history. Demonstrating the league's values for equality in sport every time that her skates glide across the frozen perimeter, the affirmative outcome is one of a remarkable milieu and pleasant atmosphere; enabling future generations of players, regardless of their preference or lifestyle choices, to play the game without fear of reprisal, rather, an environment built on inclusivity.
"I think my place in league history is to show the league's acceptance and the importance of equality, inclusion and acceptance in sport. Trans female athletes have been targeted a lot lately for wanting to participate in sport from people who judge based on knowing nothing but the fact they are transgender. The acceptance shown to me from the CWHL, the fans, and the other players in the league highlights just how special women's hockey is as a community."
"All quotes obtained first hand unless otherwise indicated"
Related Articles