An essential contributor in a landmark season for the Hamline Pipers, Leah Schwartzman took on the roles of both team leader and offensive catalyst. With the number 44 adorning her jersey, the former Breck High School star's value to the team was best measured in the fact that the Pipers enjoyed a won-loss mark of 18-1-2 when she logged at least one point.
Amassing a fantastic 46 points, on the strength of 27 assists, the 2018-19 season was one filled with numerous milestones for the highly skilled Schwartzman. Among them included the statistical milestone of reaching the century mark in career points, recording 126, also attaining the 50-goal mark, finishing with 52.
Recording career highs in goals, assists, points and short handed goals, highlighted by a trio of four point performances, all taking place in 2019 (January 3 vs. St Anselm, January 6 vs St. Norbert, February 23 vs Augsburg), Schwartzman finished second in team scoring, trailing her linemate, eventual Laura Hurd Award winner Bre Simon, whose 64 points paced the Pipers.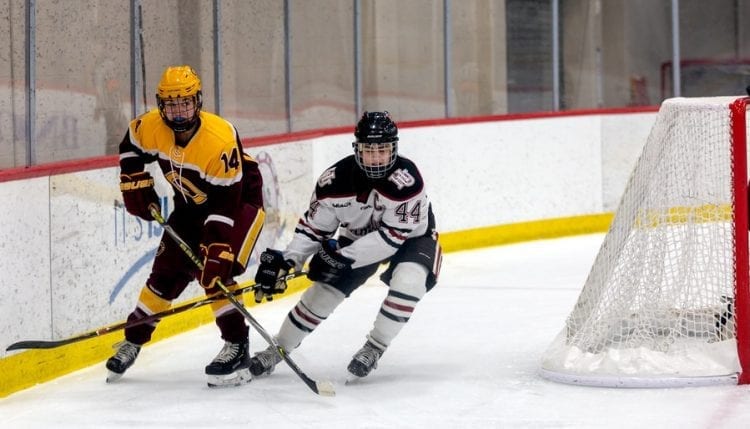 Schwartzman's heroics against St. Anselm also netted her the MIAC Player of the Week Award, becoming the third player during the 2018-19 campaign to obtain the honor. An integral element of the success of said line, joined by sophomore Jordan Hansen, quite possibly the finest in NCAA Division III women's ice hockey, her impact on the team was best evidenced by her standing as team captain.
Such a sensational achievement reached greater relevance with the honor of recognition as a 2019 AHCA Division III Second Team West All-American, further enhancing the meteoric rise to prominence for Hamline; a program whose place as one of the nation's finest has grown by a quantum leap.
"It was an amazing award and I am very honored to receive it! We had an amazing team this year and worked together so well that I have to give credit to my teammates around me! Playing with Bre was awesome. We went from rivals when I was at UST, to close friends and line mates. We had great chemistry and pushed each other to be the best we can be."
Having seen both sides of one of the biggest rivalries in both the Minnesota Intercolleigate Athletic Conference (MIAC) conference and DIII hockey, the first two seasons of Schwartzman's collegiate on-ice odyssey saw her sport opposing colors. Skating for the University of St. Thomas Tommies, earning a nod to the MIAC All-Rookie Team, amassing a highly solid 53 points (22 goals, 31 assists), a new chapter began for Schwartzman when she changed allegiances in the autumn of 2017.
Regardless of the sport, the decision to transfer to another school for any student-athlete is a decision, which can entail numerous factors. While a change in majors influenced the decision, with Schwartzman looking to specialize in Criminal Justice, undeniably, a most significant factor for Schwartzman entailed the exciting prospect of calling one of the world's most dominant players from the 2000s.
Natalie Darwitz, one of the greatest players to have worn the colors of the Minnesota Golden Gophers, possesses a sparkling hockey resume, which includes the captaincy for the United States national women's team, and a silver medal from the 2010 Vancouver Winter Games. Becoming the Hamline head coach, working in collaboration with assistant coach Jake Bobrowski, represented the newest chapter in her distinguished body of work in the State of Hockey.
"Transferring to Hamline was motivated by my change in majors, as well as the program that Natalie and Jake were building. Hamline has an amazing criminal justice program, which fit my interests, as well as an up and coming program that fit the type of team culture I wanted to be apart of."
Facing off against her former team for the first time on February 16, 2018, Schwartzman would have to wait one year before gaining her first points against them. Part of an epic weekend that served as one of pivotal moments in Hamline hockey history, both headed into the series riding impressive unbeaten streaks.
With top-ranked St. Thomas boasting a 35-game unbeaten streak, while Hamline's streak spanned 17 games, a rare loss would emerge as the theme of both games. The February 15, 2019 contest saw Schwartzman assist on the first goal of the game, scored by Bre Simon at the 10:06 mark of the second period. Less than four minutes later, Schwartzman and Rae Robert would collaborate on a goal scored by Dani Perry to extend their lead to 2-0. Despite the two-goal advantage, three third period goals by the Tommies swung the momentum in their favor, prevailing in a 3-2 tally, while pushing their unbeaten streak to 36 games.
Undeterred, Hamline returned to the ice with dogged determination, keen on bringing an end to their rivals' unbeaten streak. With striking similarity, it was St. Thomas that enjoyed the 2-0 advantage, scoring twice in the first frame. Following a scoreless second, the charismatic combo of Schwartzman and Simon led the way in a titillating third.
Assisting on Simon's goal at 2:04 in the third, tensions remained high as 12 minutes of scoreless play proceeded. Taking advantage of a power play opportunity, one which proved to be the game's turning point, Dani Wright scored on All-America backstop Mackenzie Torpy to tie the score. Dramatics ensured in overtime, as Schwartzman rose to the occasion, scoring just 28 seconds into the extra frame, perhaps the defining moment in her Hamline career.
Coincidentally, St. Thomas played another key role in the twilight of Schwartzman's career in Hamline colors. Although St. Thomas vanquished Hamline in the MIAC Championship Game, as Mackenzie Torpy blocked all shots, the two would renew rivalries once again in the NCAA Tournament.
With the Pipers having defeated Wisconsin-River Falls in the opening round, as Schwartzman logged a pair of assists in a 5-1 victory, the Tommies disposed of the University of Wisconsin-Eau Claire in a hard-fought 4-3 win. Taking into account that the Tommies also served as host school for the Frozen Four, the Semi-Final contest brought Schwartman's career full circle.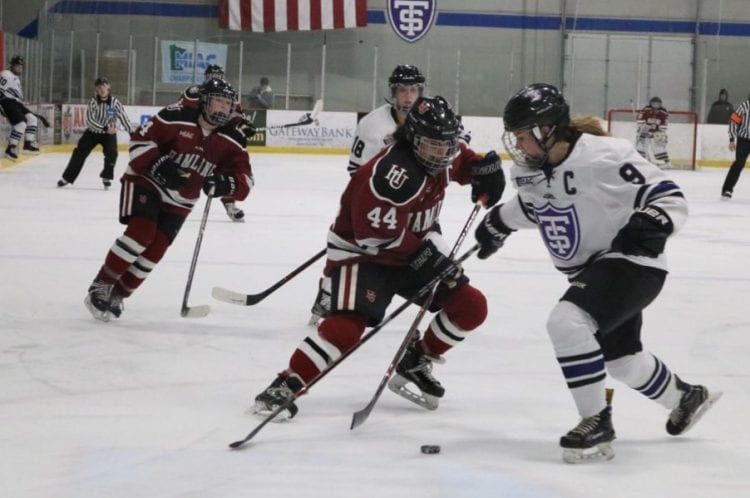 Leading the Pipers with seven shots in a highly emotional game, Schwartzman assisted on Simon's first period goal, providing a 2-0 lead, one of her most monumental points. With Jaela O'Brien keeping the Tommies off the scoresheet, a thrilling 3-0 shutout win signified the biggest win in the Pipers recent hockey narrative, the feeling of unity on the home ice of a grand opponent represented a proud moment for a jubilant Schwartzman,
"Obviously getting points against a former team is an adrenaline rush, but more importantly the team game we played is what stands out to me. Coming into their home ice, having lost to them twice already, our team came together, played our systems well, and that led us to success that game.
Everyone single player in our line up contributed in that game. The energy on the bench was a reflection of how amazing of a team game we were playing. Also, the amount of fans we had behind us allowed us to play with confidence and take over the atmosphere in the rink."
Building on the momentum of such an emotional triumph, the Pipers ascension to the NCAA DIII National Championship game, placed the program in rarified air. In Hamline athletic lore, the frozen warriors of women's hockey represented the first team to compete for a national championship since its men's basketball program competed for the NAIA title in 1953. As a side note, the Pipers also became the first MIAC program to reach the Division III Frozen Four.
Such a brush with history also represented a celebrated climax for Schwartzman, as it would mark the final game of her proud collegiate career. Part of a Pipers graduating class which included Julia Buffalini, Taylor Ramthun, and Becca Zarembinski, the emotion that entails any player's final game can bring with it the understandable feelings of both achievement and mourning, she approached it with a feeling of high importance.
Facing off the dynastic Plattsburgh State Cardinals, led by senior goaltender Kassi Abbott, ACHA Division III First-Team East All-America, a heartbreaking 4-0 shutout could not dampen the fact that the Pipers established themselves as a nationally prominent program, setting a team record for most victories in one season with a solid 23.
For a graduating Schwartzman, gaining the opportunity to grace the ice one final time in such a historically relevant game for Hamline University, added a feeling of attainment, satisfied from a career reaching its summit in connection to a key focal point in program lore. Although she was not part of Darwitz' inaugural recruiting class, her competitive experience from St. Thomas added an integral component of leadership to a growing program, one defined by a dream season that served as a fitting denouement during a highly memorable time,
"It is amazing. Natalie and Jake came into a program that had been struggling for many years and completely turned the program around and have created a winning culture. Seeing this program grow so much in the short time I was apart of it is truly a reflection of the hard work from the coaches and players. I am very proud to have helped set the foundation for the program, and I am so excited to see how much it continues to grow in the next couple years."
"All quotes obtained first hand unless otherwise indicated"
Featured image credit: Hamline Athletics
---
Want to play college hockey but don't know where to start?

Related Articles