Owning the Plattsburgh State Cardinals' career records for both goals-against average (0.92) and save percentage (.959), complemented by a superlative 21 shutouts, 20 of which were accumulated in merely two seasons, Kassi Abbott's brilliance between the pipes was an integral component in maintaining the program's dynasty status. Reputed for her high element of creativity, Abbott, who is highly proficient with the guitar, also designed her own goalie mask.
Serving as understudy to phenomenal goaltender Camille Leonard during her first two seasons in Cardinals colors, Abbott, the pride of Medford, Massachusetts and an alum of the Boston Shamrocks, found a kindred spirit and role model. Helping set the tone for a positive partnership that saw Abbott follow with remarkable results upon inheriting the starter's role, the mutual respect between the two was a reflection of the Cardinals' tremendous team culture.
This season, Abbott took on role model status, with freshman Ashley Davis, a North Carolina native and graduate of Lake Placid's Northwood School, benefitting from her acumen for the game. Enjoying a 4-0 won-loss mark, Davis holds the potential to continue the legacy of elite backstops for the program. Reflecting on the impact of calling Leonard her goalie partner, the sense of positivity and growth that emanated from the experience remains a significant aspect of Abbott's career with Plattsburgh State.
"Cami was definitely a mentor for me. I had her back just like she had mine. Cami was an amazing goaltender, but an even better person. The most important thing Cami taught by example was her mental toughness. Mental Toughness is one of the hardest things to accomplish as a goaltender. Cami had it mastered, and I would like to think I mastered it as well."
The path to greatness was evident early on for Abbott. In spite of just three appearances as a freshman, two of them starts, making her NCAA debut versus Neumann on November 8, 2015, she would emerge victorious. Needing only 14 saves to record her first win as a Cardinal, an even more miniscule number of saves took place in her second career start, making a mere eight saves in a 9-1 win against William Smith on January 8, 2016.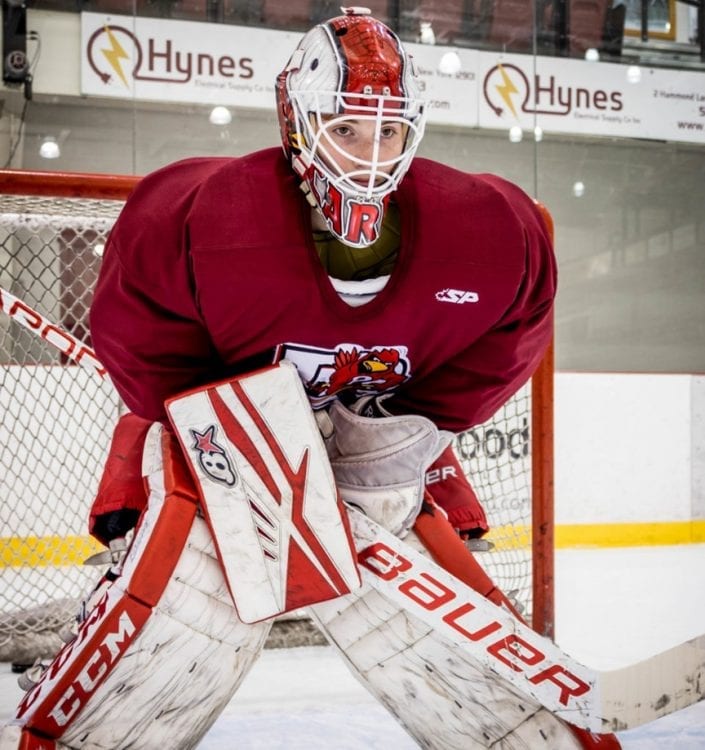 While Abbott's sophomore season would provide just six appearances, she maintained an undefeated career mark. Sporting a solid 4-0-1 season record, the milestone of her first-career shutout took place early in 2017, blanking SUNY Cortland in a dominant 7-0 win on January 27, which saw Melissa Sheeran score four goals, en route to recognition as a First-Team All-American and the Laura Hurd Award. As a side note, Abbott only needed to record 13 saves, which included a third period where she did not face one shot.
Amassing 15 wins in her third season of Cardinals hockey, it proved to be another display of patience for the admirable Abbott. With Brooke Wolejko, a former goaltender with the St. Lawrence Skating Saints transferring, the two proved to be one of the finest goaltending duos of NCAA hockey. With Wolejko recording a sparkling won-loss mark of 10-2-1, the collaborative result was the inaugural Northeast Women's Hockey League (NEWHL) conference title. As a side note, in the two-year existence of the conference, the Cardinals have won both championships.
Demonstrating that patience pays off, Abbott made an impression with the expanded role and increased playing time. Highlighted by a superlative streak of four consecutive shutouts from November 18 to December 9, 2017, while logging only two losses during the season. Statistically, Abbott placed in the top 10 among NCAA Division III goaltenders in four key statistical metrics, including win percentage, goals against average, save percentage and shutouts.
From a trivia perspective, Abbott's first loss was a 4-3 final to the Norwich Cadets, which saw opposing goaltender Laurie King log the win. Worth noting, it would be her only loss of the regular season, as Abbott racked up eight straight wins before a 2-2 tie on January 24, 2018 versus Amherst, highlighted by freshman Abby Brush gaining her second straight multi-point performance.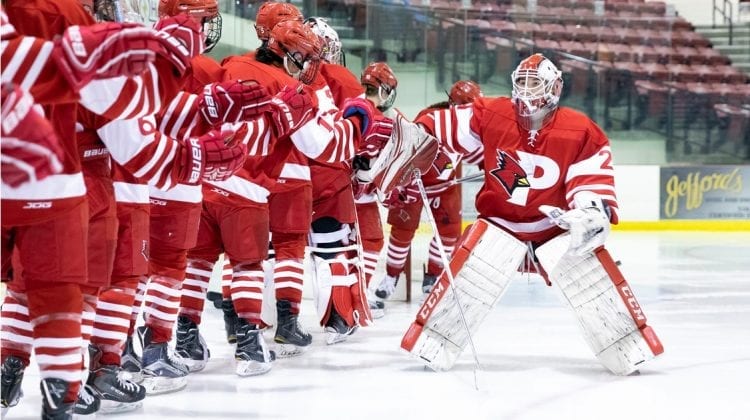 The climax to such a productive season brought with it a combination of jubilation and desolation. Opposing Hamline University in the third place game at the 2018 NCAA Tournament, Abbott assembled a solid performance of 47 saves, setting a new program mark for most saves in one game. With Hamline prevailing by a 5-4 tally in overtime to capture the bronze, it only compounded the sense of disappointment, as the Cardinals did not reach the championship game for the first time since 2013.
Despite such a sullen outcome, it served as motivation for a highly determined Abbott to finish her senior season on a victorious note. Truly taking on the starter's role for the 2018-19 season, Abbott won her first five games of the season, later emerging victorious in 11 of her first 12 games.
After a January 7, 2019 loss to the Elmira College Golden Eagles, which saw second generation star Katie Granato record a hat trick, it proved to be the final loss of Abbott's NCAA career, as an exceptional show of goaltending proficiency propelled the Cardinals towards winning their final 18 games of the season, including the postseason.
Opposing Hamline in the postseason for the second straight year, the clash for the Frozen Four championship supplied a fantastic feeling of redemption, as Abbott recorded a 4-0 shutout, recording 29 saves in the win while extending the Cardinals proud dynasty. Winning its fifth national championship in six years, and seventh overall, there was a strong sense of achievement in the fact that Abbott was able to close out her Cardinals career with the Frozen Four championship.
Worth noting, Leonard also achieved the same feat, ending her career on March 18, 2017 in a 4-3 overtime victory of Adrian College, concluding her career with the championship. Certainly, Abbott's achievement was burnished by the achievement of shutting out the team that ended the Cardinals' championship hopes just one year prior.
"Being able to close out my career with another National Championship is very significant. It will be something I remember for the rest of my life.
I think the national championship game was the best game of my life and getting the shutout is momentous since only one other DIII goalie has recorded a shutout in the championship game. Again, I have my team to thank for helping with that. I think the more the game went on with no goals allowed made my teammates play more relaxed up front."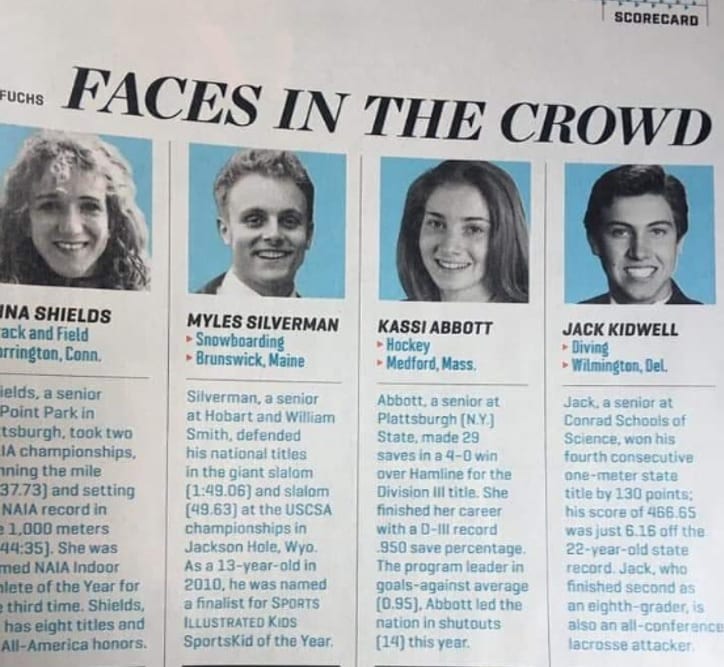 For her efforts, Abbott, who gained a spot on the Frozen Four's All-Tournament Team, earned another special honor, once again duplicating an achievement that Leonard also enjoyed in Cardinals crimson. Recognized in Sports Illustrated's highly popular Faces in the Crowd feature (cover dated April 2, 2019 with Giannis Antetokounmpo on the cover),  it served as an affirmation of Abbott's sensational season,
"It was very special to be acknowledged in Faces in the Crowd. It is an awesome accolade to have. However, I would not have gotten recognized without the help of my teammates."
Undoubtedly, the well-deserved acknowledgement complemented a significant haul of hockey hardware. Capturing the NEWHL Goaltender of the Week Award on seven occasions, Abbott's list of accolades and honors included a spot on the All-Tournament Team at the Norwich East-West Classic, along with the prestige of distinction as a 2018-19 CCM/AHCA First-Team All-American, where she was joined by teammate Annie Katonka. Cardinals captain and NEWHL Player of the Year selection Courtney Moriarty, along with blueliner Hannah Kiraly were named Second Team All-Americans.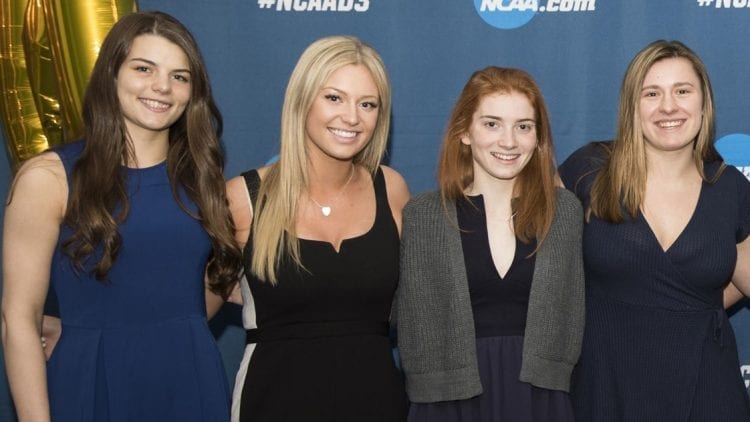 For Abbott and Moriarty, whose careers are intertwined as All-America recipients, each would also enjoy Plattsburgh State athletic honors during the month of May 2019. Bestowed the Cardinals' Senior Achievement Award, which recognizes a senior or junior student-athlete who has reached academic requirements, while athletic accomplishment is also factored, it marked a fitting denouement to Moriarty's distinguished career. Meanwhlie, Abbott's legend would continue to grow and she gained the Cardinals' Female Athlete of the Year Award.
Enjoying an astounding 16-0-0 record in NEWHL Conference Play, such a sterling mark was buoyed by ranking first overall among all Division III goaltenders in four significant statistical categories. Such prominence was evident by her peerless numbers, which truly speak for themselves.
Abbott would lead the way in goals-against average (0.78), save percentage (.956), winning percentage (.935) and shutouts (14). By season's end, she was the co-recipient of the NEWHL Goaltender of the Year Award, as Buffalo State sophomore Bri Gawronski also shared in the honor, leading the conference with 838 saves, also compiling over 1500 minutes in net.
Such statistical dominance was evidenced by the fact that 2018-19 saw Abbott cement her place in Cardinals hockey lore, setting new single-season program records with a sparkling 29 victories, while her 1758:46 minutes between the pipes also set a new standard. Other records set by Abbott included career marks in both goals-against average (0.95) and save percentage (.950). With a career won-loss mark of 49-4-2, her .909 win percentage only trails Leonard, whose career mark stands at .947.
Equally impressive is Abbott's abilities in the classroom, where she gained the final major honor of her collegiate career. Becoming the sixth student-athlete in Cardinals women's hockey history to earn a spot as a Google Cloud Academic All-America Division III Women's At-Large selection, announced by the College Sports Information Directors of America (CoSIDA), it simultaneously strengthened another strong Cardinals legacy. Of note, Abbott becomes the third Cardinals goaltender to earn the award, joining Sydney Aveson and Leonard.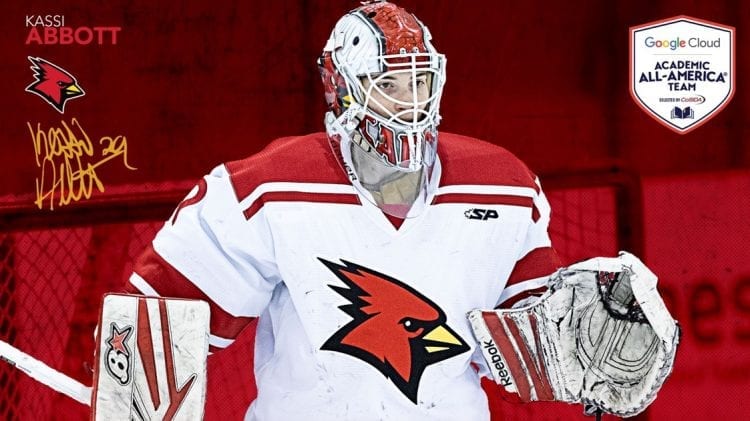 Sharing a sensational series of tributes with so many Cardinals teammates during her career, sharing in the emotion of Senior Night, opposing cross-state rival SUNY-Potsdam, held tremendous importance for Abbott.
Joining Abbott in the class of 2019, a distinguished group that were all key contributors in the Cardinals capturing three of the last four national championships, included Mackenzie Millen, Moriarty, Ashley Songin, a triptych of forwards, along with blueliner Maci Hoskins. Fittingly, Millen scored first goal of game, while Abbott needed only 11 saves, as the Cardinals prevailed by a 4-0 tally. With the shutout, her 12th of the season, it allowed Abbott to move into third all-time in shutouts by a Cardinals goaltender.
Although the shutout encompassed Abbott's time as a Cardinal, a career defined by perseverance and achievement, just as prevalent were the friendships made. Proudly calling Hoskins and Moriarty acquaintances, their shared journey on the ice developed into something much more special through the unbreakable bonds of unity and camaraderie which developed. While the last four seasons shall be a defining moment in their lives, the experience shall be an everlasting source of residual comfort, long after the final shift.
"I will definitely miss seeing everyone at practice everyday. My teammates are what made these four years so special. Maci Hoskins and Courtney Moriarty are two of my closest friends and I will miss them dearly."
"All quotes obtained first hand unless otherwise indicated"
Featured image by Ryan Coleman
Related Articles