Belonging to one of the most celebrated families in hockey, Katie Granato represents a new generation leaving their own mark in the game, while simultaneously building on a celebrated legacy. The niece of Cammi Granato, the first American woman inducted into the Hockey Hall of Fame, and Tony Granato, a former Masterton Trophy Winner, Katie, who hails from Napierville, Illinois, has starred with the Elmira Soaring Eagles, one of the premier programs in NCAA women's ice hockey.
During every one of Granato's seasons with Elmira, the program has participated in the NCAA Tournament. Undeniably, Granato was an essential contributor in this revered run, which included the highlight of participating in the 2018 Frozen Four championship game versus Norwich. Despite a visceral 2-1 loss to the Cadets, Granato enjoyed a statement game in the 2018-19 season opener. Recording a hat trick, complemented by the game-winning tally, an inspiring 4-2 triumph certainly helped to set the tone for the milestone-filled season to come.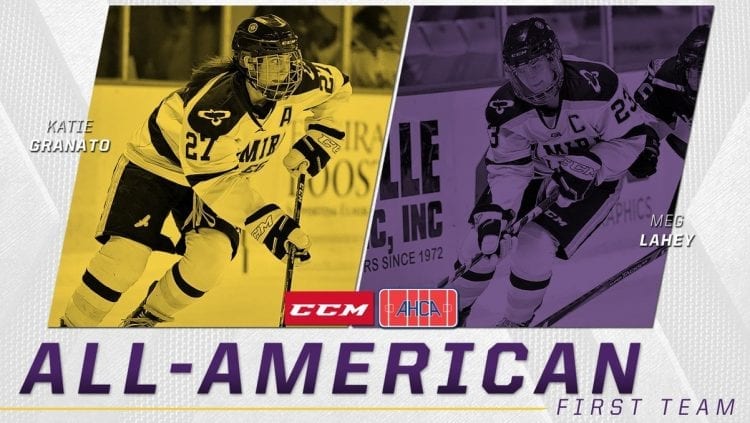 Granato's accomplishments this season would be rewarded with a revered spot as a finalist for the prestigious Laura Hurd Award, a posthumous honor for the namesake of the award, who also competed in Soaring Eagles gold. Building on Hurd's legacy, Granato has created her own, enjoying a remarkable haul of hockey hardware in four fantastic years. Garnering the 2019 United Collegiate Hockey Conference (UCHC) Player of the Year Award, along with a nod to the All-America Team, Granato has also been recognized to the conference's inaugural All-Academic Team.
With the requirement for qualification entailing a grade point average of at least 3.20, Granato was among 15 members of the Soaring Eagles, which also included fellow Class of 2019 skaters Kristin Chivers, Meg Lahey and Shannon Strawinski. Although the academic demands of being a student-athlete can result in a delicate balance, the ability of Granato, a nursing major, to achieve success on the ice and in the classroom is testament to a remarkable character and committed work ethic that have established her as one of the finest to don the Soaring Eagles colors,
"It has not always been the easiest to balance hockey and my education. Being a nursing major as well as student athlete has been the most challenging aspect of college but also the most rewarding. I have learned the importance of time management and have been able to maintain a strong work ethic on and off the ice.
The importance of education and succeeding in school has been instilled in me from a young age and just like I love to win hockey games, I also love to receive a good grade. I am very proud of myself for being able to achieve success both on and off the ice over my four years at Elmira College."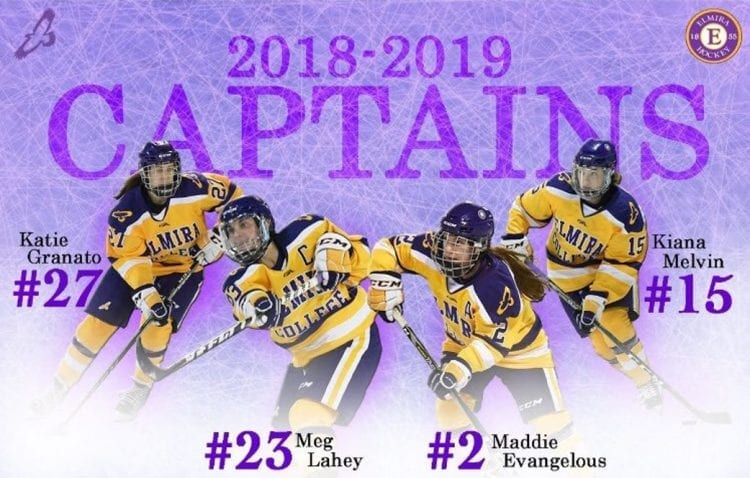 Reaching the Soaring Eagles Century Club in her sensational senior season, joining a conclave of elite scorers, Granato's performance that enabled her access to said club enriched to the program's prominence. Heading into a November 9, 2018 tilt against Lebanon Valley College, her career point total was only at 93 points.
With a scintillating seven-point performance, highlighted by four goals, resulting in her second hat trick of the season, it was an offensive output of mythical proportion. As her seven points marked the third-best performance in an Elmira College contest, simultaneously allowing her to climb to fifth all-time in career goals, the top ranked club prevailed in a convincing 12-0 final, with 13 skaters registering at least one point.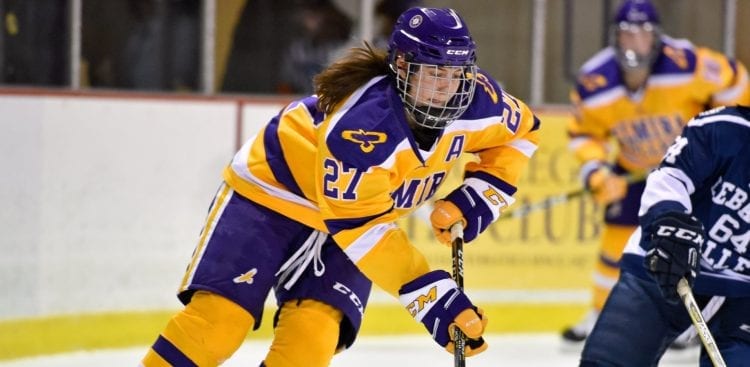 Of note, the last time that Granato logged four goals in one game was December 2, 2017 versus Chatham. Coincidentally, the last time Elmira won by a 12-0 margin was also against Chatham, taking place on January 20, 2011. Adding to the unique connection with Chatham was the fact that fellow senior, and team captain, Maddie Evangelous reached the Soaring Eagles Century Club against them with an epic five-point performance, also a career best, on February 2, 2019.
Undoubtedly, there was a strong reciprocal feeling in the shared milestones of Granato and Evangelous. Of note, Granato contributed with one goal and three assists on the evening that Evangelous reached 100 points. When Granato hit the 100-point mark, Evangelous and sophomore Emma Crocker, who scored her first goal of the season, each contributed four points.
Maddy Jerolman, another member of the Soaring Eagles senior class who also hit 100 career points this season, recorded a three-point output on Granato's historic day. Along with Evangelous, they would be credited with the assists on Granato's third goal of the game. Adding to the feeling of achievement was the fact that sophomore backstop Stephanie Martin gained the win in a contest, resulting in her first shutout and a legendary triumph destined to be part of UCHC lore.
Granato would reach career point 100 in collaboration with fellow senior Evangelous, both gaining the assists on Crocker's first goal of the season. Coincidentally, she would reach the 100-point plateau later in the season. On the night that Evangelous gained entry into the Century Club, eclipsing her previous career high with five points, Granato was crucial in the outcome, with one goal, and three assists, respectively.
The highlight of the Century Club was destined to serve as prologue for an astonishing effort that propelled Granato into the national spotlight. With the championship game of Norwich University's East-West Hockey Classic serving as the backdrop, fans in Northfield, Vermont, were spoiled by a remarkable brilliance. Facing off against nationally ranked Plattsburgh State, Granato scored thrice, driving the Soaring Eagles to the championship peak, prevailing in a 4-1 final.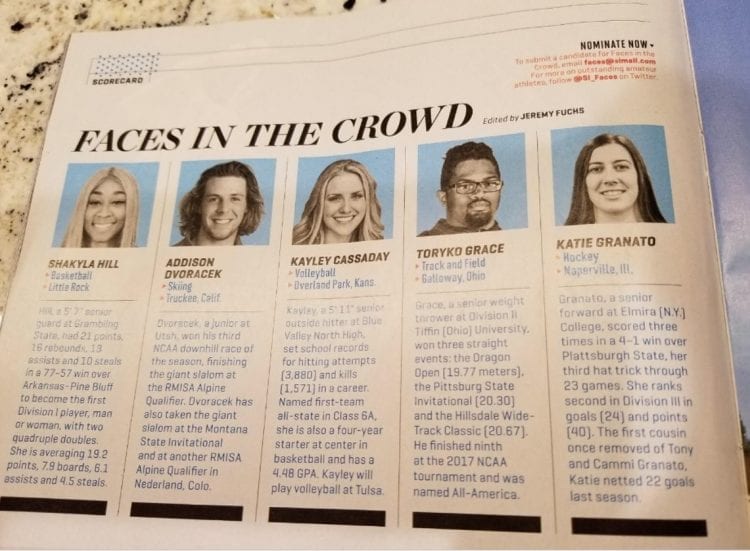 As Granato also reached 40 points for the season in the contest, supplying Elmira with both, a championship and their 10th win of the season, this outstanding display resulted in proud recognition. Such heroics were chronicled in Sports Illustrated's "Faces in the Crowd" segment, cover date February 19, 2019 (with the Philadelphia 76ers on the cover).
Coincidentally, Plattsbrugh State's Kassi Abbott, would also be featured in the segment later in the season. In addition, Clarkson University's Loren Gabel, who would go on to capture the Patty Kazmaier Award, enjoyed the Sports Illustrated treatment. Worth noting, the 2016-17 season saw Elmira goaltender (and former Granato teammate) Kelcey Crawford featured in Faces in the Crowd.
Reflecting on the thrill of gracing the pages of the popular periodical, it allowed Granato an opportunity to experience an even closer connection to her hockey playing family, while continuing to raise awareness about the greatness of women's ice hockey in one of the most respected periodicals about sports. Of note, Cammi Granato, who was featured on a trading card in Sports Illustrated for Kids Magazine in 1996, was also the subject of a feature article. Profiled in the February 8, 1993 issue (with Troy Aikman on the cover), her brother Tony was featured in the December 30, 2002 issue, profiling his new role as head coach of the Colorado Avalanche. As a side note, he would lead the Avalanche to a first place finish that season in the Northwest Division, amassing 105 points.
"I was very shocked and excited, I had no idea that I was going to be featured in Sports Illustrated and actually found out a few days after it was published.
It is surreal to be in a magazine that I grew up reading and idolizing all of the featured athletes. I am very grateful to be featured in the magazine and hope that I may have been a positive impact on the future career of a young SI reader!"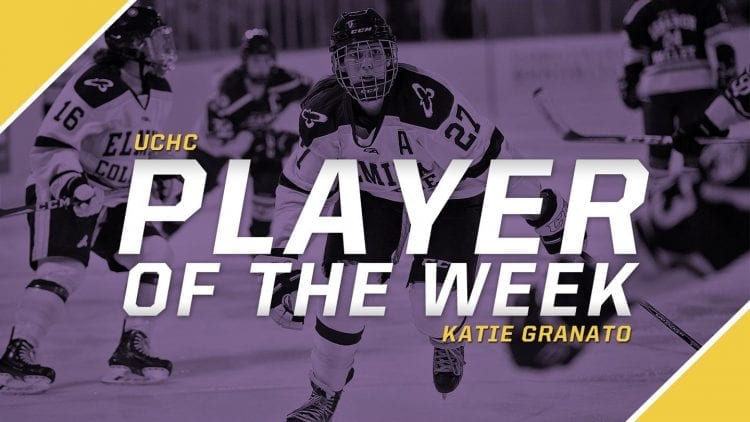 With each successive season, Granato has provided a solid consistency, continuously improving on her point totals. Statistically, the numbers amassed in her senior season represented her finest, reaching a competitive zenith that affirmed her standing as one of Elmira's most celebrated players.
Assembling a season that involved a career bests in numerous statistical metrics, including goals (26), points (45), points-per-game (1.61), and power play goals (9), while tying a career high in game-winning goals (4), such productivity brought her career point total to 133. Ranking eighth all-time on the list of Soaring Eagles all-time scorers, her 73 career goals place her fourth all-time, respectively.
Pacing all skaters in UCHC play in both goals-per-game and points-per-game, Granato was among eight members of the Soaring Eagles that earned spots on the All-UCHC Teams. Gaining First-Team honors alongside Meg Lahey, who also captured the Conference Defensive Player of the Year Award, such honors enhanced a unique duo of achievements in her senior season.
In addition to winning the Conference Player of the Year Award, Granato enjoyed the privilege of hoisting the Pat Thompson Trophy, awarded to the Conference Champions. Defeating a William Smith squad that logged 18 wins, Granato placed her name on the scoresheet in an 8-3 win, representing the last goal of her NCAA career.
Graciously acknowledging the contributions of her linemates during a highly constructive campaign, collaborating in an effort that yielded remarkable results, the combination of instinct, wisdom and acumen have resulted in Granato evolving into a more confident player. Indubitably, that sense of self-assurance was a key theme from the first faceoff of her senior season, as evidenced by her sterling performance in the redeeming win versus Norwich,
"I can attribute this to being a more mature player and being able to make the right decisions during a play. It takes time to get used to the speed of the college game as well as having confidence in your playmaking abilities.
This season, my line-mates and I were able to find each other one the ice and have trust in one another to make smart choices with the puck which lead to a great offensive year."
Despite the 2018-19 season representing the curtain call for Katie, the 2019-20 NCAA season sees another member of the Granato hockey tree gracing the collegiate ice. Donning the green and gold of the Vermont Catamounts, calling Gutterson Fieldhouse home, Allie Granato has recorded 84 appearances in her first three seasons. A native of Plainfield, merely 10 miles from Katie's hometown of Napierville, Allie competed in the Tier 1 Elite Hockey League as a member of the Chicago Fury's U19 squad, whereas Katie was garbed in the paraphernalia of the Chicago Mission.
Heading into her senior season for 2019-20, Allie has been named an assistant captain for the program, sharing the duties of captaincy with Eve-Audrey Picard, Ali O'Leary and Kristina Shanahan.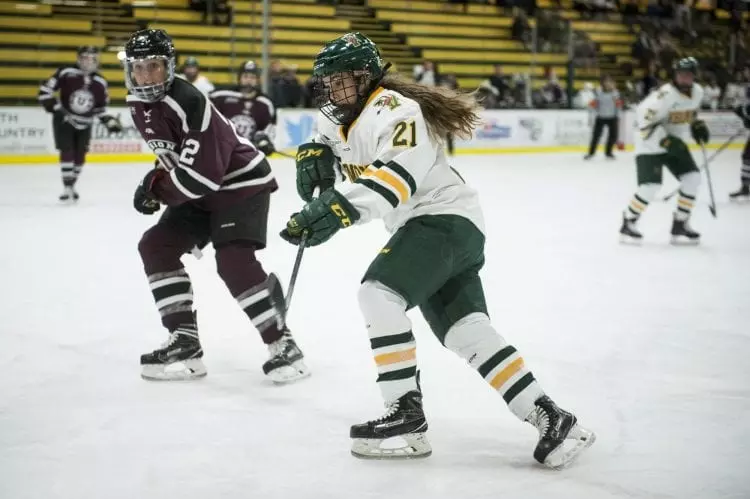 Certainly, their collegiate careers served as an extension of the parallels experienced on the ice since their youth in Illinois. For Allie, the collegiate experience has also provided a unique example of happenstance, as one of her coaches at Vermont was two-time Clarkson Cup champion Jessica Koizumi. Akin to both Cammi and Tony Granato, Koizumi has also donned the Stars and Stripes for international play, earning a gold medal at the 2008 IIHF Women's World Championships.
While Katie is definitely going to be one of Allie's fans next season, any rivalries were dissolved by a shared love of the game. Helping to place Illinois on the map for elite female hockey, the feeling of mutual respect and support has not only added to the status of the Granato hockey family as one of the most celebrated in American sport, it is one of the cornerstones that makes them tremendous teammates, regardless of whom they are skating for.
"Surprisingly, Allie and I mostly played against each other when we were growing up. I think this helped both of us develop into very competitive minded and skilled athletes.
It has driven our will to win and I have been positively influenced by her work ethic, she never gives up and is constantly trying to improve her game.
This past December, we were flying back to school together and we were able to reflect on our play so far in the season. This flight allowed us to reflect on our hockey careers as well as encourage one another to finish the season out strong. I wish her the best of luck in her senior season next year!"
"All quotes obtained first hand unless otherwise indicated"
Related Articles