Adding an exciting new dimension to the incomparable legacy of Canadians in the realm of international hockey, an empowering generation of female talent remains integral to the growth of the game, while honouring their heritage. Among such skaters, Krista Yip Chuck has emerged as a cornerstone for an improving Latvian national team.
Possessing a solid skill set and radiant smile, encompassing a sincere enthusiasm for the game, Yip Chuck, raised in Whitby, Ontario, brings a legacy of strong leadership to the Latvian roster. Such qualities were evident in the early stages of her career, having served as captain of both, the PWHL Whitby Wolves and the gold medal winning Team Ontario Blue roster from the 2013 Canadian Under 18 Nationals.
Articulate and Ivy League educated, the former PWHL scoring champion and Academic All-American also enjoys a highly promising career. Employing maturity and a strong work ethic, the values demonstrated on the ice have translated into achieving the exciting goal of becoming an attorney.
Studying law at the University of Western Ontario, in 2020, Yip Chuck finished second place in a prestigious Law Student Writing Competition held by the Insolvency Institute of Canada. Able to balance commitments with the Latvian national team, while engaging in the legal profession, it represents a highly rewarding time for Yip Chuck.
"Hockey has always been what I am most passionate about so it is exciting to have new challenges by pursuing a career in law. I am very fortunate to work with great people in a team-oriented setting at the firm Stikeman Elliott LLP that support my continued training and playing on the Latvian national team."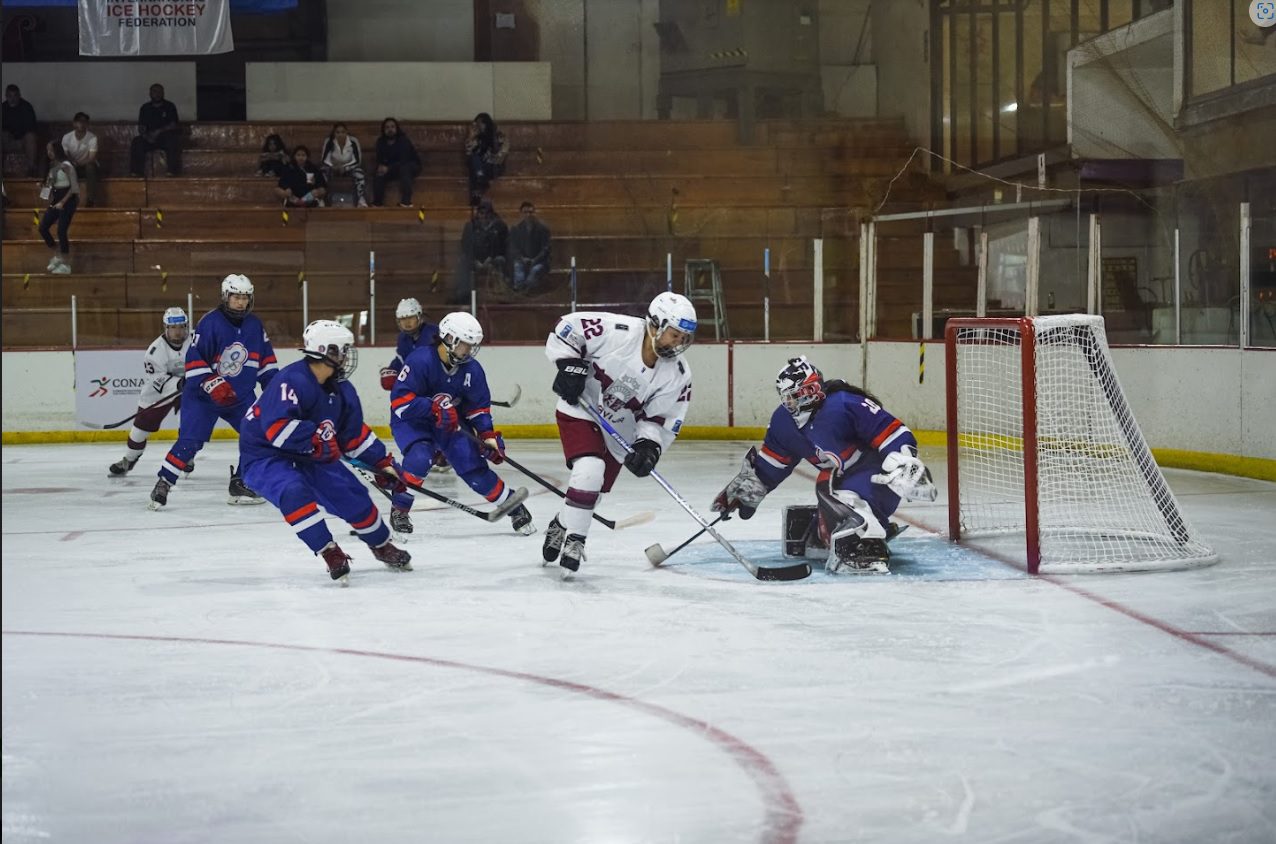 A former captain for the Yale Bulldogs, representing a proud career highlight, Yip Chuck skated for the program from 2013-17. Belonging to a proud lineage of captains including the likes of Claire Dalton, Aleca Hughes, Katie O'Sullivan, Emma Vlasic and Alyssa Zupon, among others, she logged 86 points over her four fantastic seasons. Worth noting, a unique parallel emerged in 2023.
From the outset, Latvia enjoyed an undefeated mark at the IIHF Women's World's Division II Group A tournament, while the Bulldogs enjoyed their first ever ECAC regular season championship.
Enjoying the opportunity to continue to grace the ice beyond university, adding to a growing legacy of Bulldogs excelling in the professional and/or international ranks, the privilege of playing for Team Latvia holds profound importance. With a proud feeling of gratitude, each game allows Yip Chuck an homage to her family roots.
"I had the best four years playing at Yale and was not ready to be done hockey when I graduated. Fortunately, I was able to spend time playing overseas in Latvia to become eligible to compete on the international stage which was always a dream of mine. I am so grateful to be able to play on Team Latvia and have my grandmother be able to see me represent the country that she grew up in."
Ranking fourth in scoring at the Division II Group A tournament, Yip Chuck contributed points in three of four contests, emerging as an impact player for the undefeated Latvians. Providing solid consistency, Yip Chuck's first tournament goal occurred on April 4 in a 6-0 whitewash of Iceland.
The following game versus Mexico resulted in Yip Chuck's finest performance. Along with alternate captain Linda Rulle, both contributed three points. Finding the back of the net in the second period, scoring on goaltender Monica Renteria, Yip Chuck also logged a pair of assists, including the game winning goal, scored by Rulle.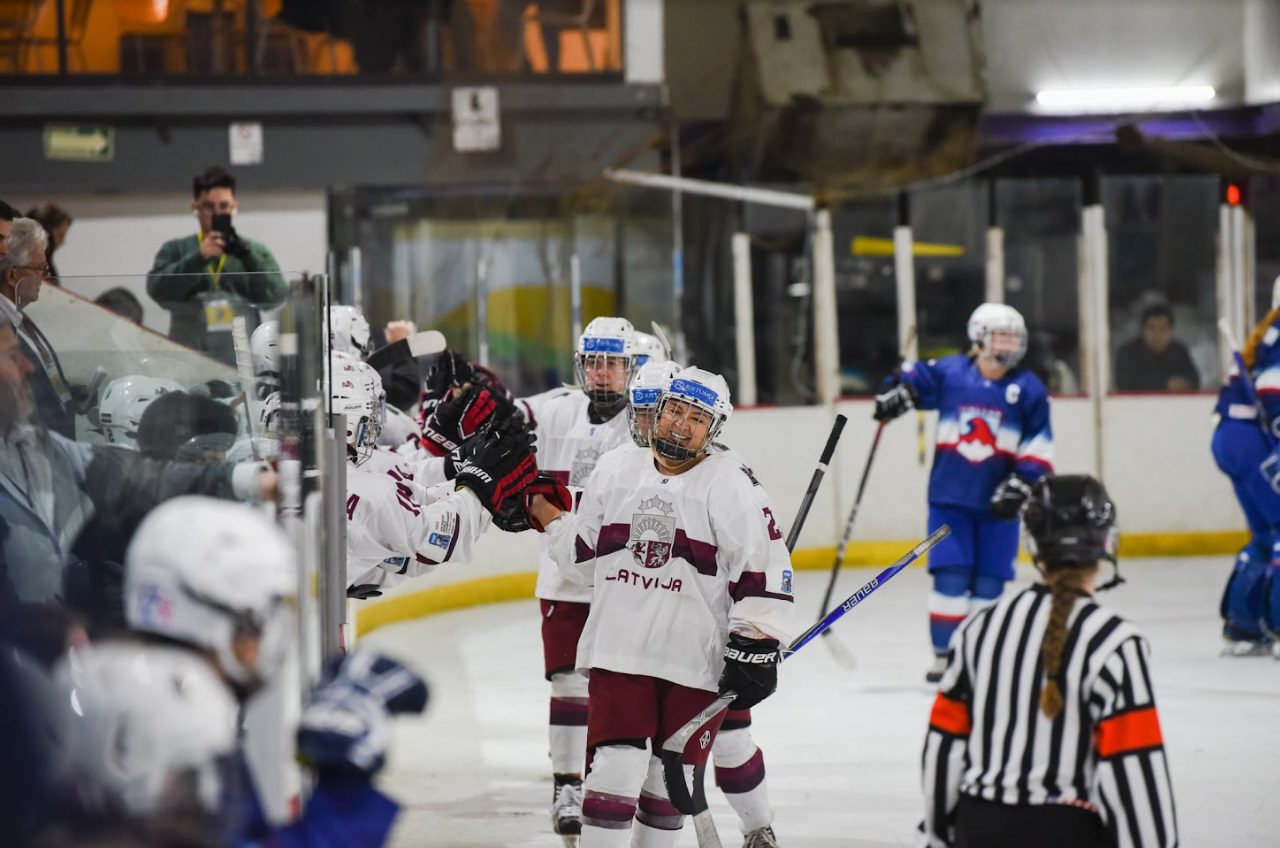 Worth noting, teammate Liga Miljone, also a Maine Black Bears alumnus, led all skaters with nine points, while Rulle ranked third. With Rulle committed to play for the Rochester Institute of Technology Tigers, the valued presence of Yip Chuck saw Latvia benefit greatly from prominent players with linkages to the NCAA.
Miljone and Yip Chuck also finished first and second in tournament scoring at the 2022 edition of the Division II Group A tournament, which saw Latvia finish second overall. As a side note, Miljone also played alongside her mother Inese, in the Latvian jersey at IIHF events in 2013, 14 and 16.
Recognizing that growth stands a defining feature of the Latvian women's team, Yip Chuck's outlook features a tremendous optimism for the future. With this year's tournament allowing several players their international debut, an exciting new chapter is taking shape, one that sees Yip Chuck's acumen and wisdom reach greater relevance.
"Latvia has always been recognized as a hockey country on the men's side, but the sport is still currently growing on the women's side. This year we had a lot of talented young players competing in their first championships with the senior team.
I think that by virtue of being an older player on the team now, with previous experience both on the worlds stage and in North America, you inherently take on more of a leadership role.
While I have always tried to be the same player and person on every team that I have played on, which is someone who leads by example and will always have my teammates' backs, I hope that I can provide a different perspective at times to the team and inspire the younger girls to seek out the many opportunities that hockey presents."
As the hallmark for the achievement of an undefeated mark at the Division II Group A tournament provided Latvia with a tremendous confidence, it also presented an aspect of novelty. With Mexico serving as host nation, its sporting footprint traditionally consisting of baseball, soccer and wrestling, ice hockey represents opportunities for growth, especially in women's sports.
Having launched their national women's team in 2012, Mexico features 14 rinks and 123 female players. Enjoying an IIHF ranking of 25, Mexico City's La Pista San Jeronimo served as host venue. Contested from April 2-7, Latvia and the host Mexicans belonged to a field of competitors ranging from across the globe.
Including Chinese Taipei, Iceland and Spain, a unique Canadian connection went beyond Yip Chuck's exceptional presence. From the outset, Latvian teammate Anna Lagzdina is a Banff Hockey Academy alumni. Currently, her hockey odyssey sees her back in Alberta in a coaching capacity with the Barrhead Bombers. Having backstopped the Brock Badgers to an Ontario University Athletics title in 2022, Tzu Ting Hsu stood between the pipes for Chinese Taipei. Claudia Tellez, the captain for Team Mexico, is a former draft pick of the Calgary Inferno.
With Latvia enjoying a first place finish, outscoring their opponents by a cumulative total of 21-3, the success of earning a promotion represents a strong point of pride for a jubilant Yip Chuck. After a sixth place in the 2019 Division I Group B tournament resulted in relegation, the road to redemption was delayed over two years, numerous IIHF events cancelled due to pandemic concerns.
As the progression over the last two years represented a significant step forward in Latvia, inching closer to its Olympic dream, the combination of patience and perseverance have yielded positive results, which saw Yip Chuck as an essential contributor.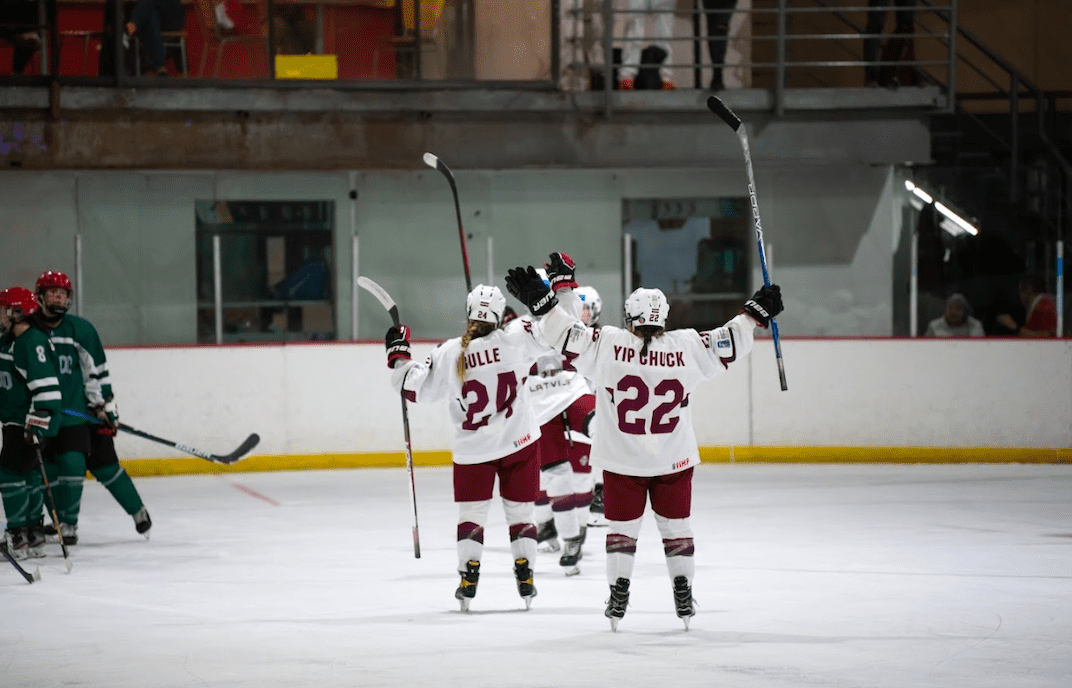 Pondering an exciting return to Division I, Group B play, the projected teams for the 2024 tournament include Great Britain, Italy, Poland and Slovenia, among others. With further goals on the horizon, victorious reflections encompass a seminal moment for Yip Chuck, anticipating the opportunities to maintain Latvia's status as a women's ice hockey nation on the rise.
"From day one – especially for the veterans on the team – it was our goal to win and earn promotion back to Division 1B. The tournament in Mexico was an incredibly unique experience, and I am so proud of our team for sticking together and overcoming certain obstacles to accomplish that goal."
–
"All quotes obtained first hand unless otherwise indicated"
All images: courtesy of Krista Yip Chuck and approved by the Latvian Hockey Federation.
Related Articles