Becoming the first player in Hamline Pipers history to capture the prestigious Laura Hurd Award, Breanna (Bre) Simon has already established herself as one of the finest in program history to have worn the school colors. Raised in Elk River, Minnesota, she captured the NCAA DIII scoring title with a sensational 63 points, on the strength of a career-best 37 assists, testament to her strong playmaking abilities, averaging 2.13 points per game.
Only three points away from a career total of 150, the 2018-19 season saw Simon add to her haul of hockey hardware by earning the USCHO.com DIII Player of the Year Award. Also recognized as a First-Team West All-American, her second straight nod, such prestige was accentuated by linemate Leah Schwartzman earning a place on the Second Team.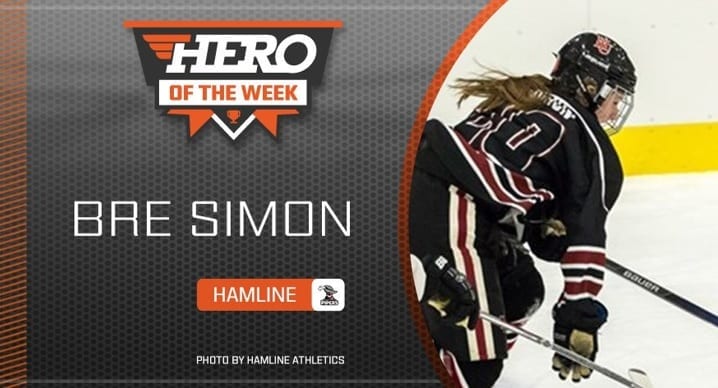 The feeling of history for a proud Pipers program would extend into the postseason. Gaining its second straight trip to the NCAA DIII Final Four, complemented by a program record of 23 wins in 2018-19, Simon's dream season was a key factor in the program appearing in the national championship game for the first time ever. Through it all, Simon remains humble, displaying an admiration for everyone involved with Pipers hockey concerning her own individual successes, she credits teammates, "My teammates and coaches hands down."
Starting with a superlative six game scoring streak, Simon's path towards the Laura Hurd Award was certainly sensational. Recording a pair of power play goals in the season opener versus Wisconsin Eau-Claire, it helped set the tone for an important win, prevailing in a hard-fought 5-4 final as Madison Kolbow scored with 40 seconds left. Amassing 14 points during said streak, the Pipers recorded a 5-1-0 mark.
Although Simon's streak would be snapped in a 3-2 road win versus St. Catherine on November 30, 2018, it did not take long to begin a new one. The following day, Simon continued her strong start to the season with a riveting three-point output, as the Pipers bested St. Catherine once again, in a convincing 6-1 final which took place on home ice.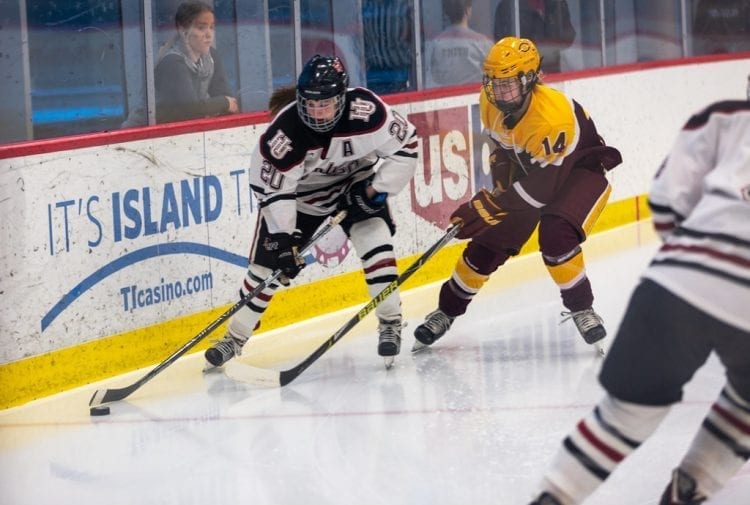 Building on such a strong performance, Simon masterfully assembled an astonishing 19-game scoring streak. Accumulating 20 goals and 25 assists for a tremendous total of 45 points, her efforts included 15 multi-point performances, as the Pipers were a sparkling 15-1-3.
Achieving four-point games versus St. Norbert (January 6) and St. Mary's (February 8), Simon's most spectacular display of offensive brilliance consisted of a five-point explosion. Hosting Concordia in a February 1 affair, the result was a 10-0 blowout triumph which saw eight Pipers record at least one goal, while McKenna Hulslander earned her second shutout of the season. Fittingly, Simon earned an assist on the game-winning goal, scored by freshman Molly Garin.
By season's end, Hurd was one of eight finalists for the 2018-19 Laura Hurd Award. Joining Simon in this distinguished group included Amanda Conway, a junior from Norwich University who was also a finalist in 2017-18.
Second generation star Katie Granato, also recognized as the UCHC Player of the Year, was a senior with Elmira College. Worth noting, the remainder of the finalists, including Simon, were also Player of the Year Award recipients in their respective conferences.
Such a group included St. Scholastica's Rachel Anderson (NCHA), sophomore Meghan Halloran from Williams College (NESCAC), plus Courtney Moriarty (NEWHL), a senior forward raised in Estero, Florida, and member of the eventual national champion Plattsburgh State Cardinals. MIAC Player of the Year Kenzie Torpy was the only goaltender on the list, while Courtney Witting (WIAC), a forward from Wisconsin Eau-Claire also made the list of finalists.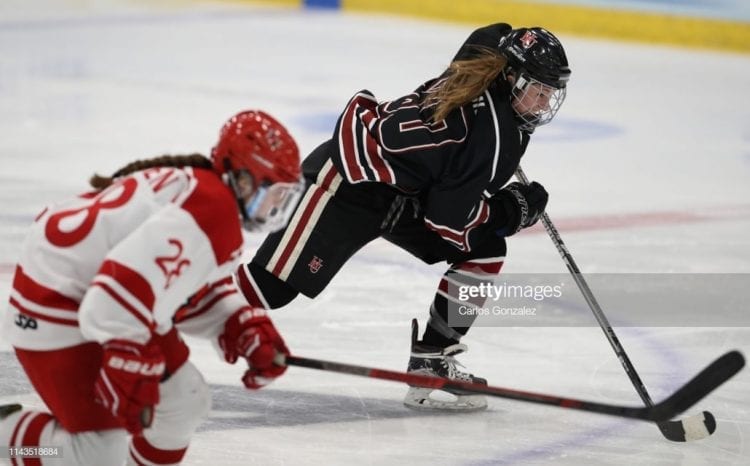 With a collection of elite talent, the opportunity for Hurd to add to her growing legacy in Hamline hockey with the Laura Hurd Award encompassed feelings of achievement, elation and humility. Taking into account that the Award ceremony took place during national championship weekend, which Hamline qualified for by defeating Wisconsin River-Falls in the opening round of the NCAA DIII tournament, as Simon logged four points, including the game-winning goal in a 5-1 victory, there was the sense of the honor being a shared one among Simon's teammates,
"I was not expecting it all, I honestly did not even know I was going to be in the running for it. But when my name was called I was so excited and it made it 10 times better getting to celebrate that with my teammates and coaches. And it's crazy to be the first to win and it's just a great honor."
Originally recruited to play with the Minnesota State Mankato Mavericks, Simon's decision to join the Pipers—which are based in Saint Paul—thrilling the fans at Oscar Johnson Ice Arena with her superlative skills, was certainly attributed to the opportunity to call Natalie Darwitz, a former captain for the US national women's ice hockey team, as her head coach.
Having gained induction into the Minnesota State High School League's Hall of Fame during the summer of 2019, Darwitz is also a member of the United States Hockey Hall of Fame. Propelling the Pipers into the MIAC Conference Playoffs in 2017, their first postseason berth in a decade, and only her second season behind the bench, the next two seasons resulted in consecutive trips to the DIII Frozen Four.
Undoubtedly, the acumen and tutelage of Darwitz has yielded positive results for Simon. Although she later recounts how the facilities were not as expected, it was the confidence shown in Darwitz, the combination of empathy, sincerity and leadership, which were all factors in shaping her decision to compete for Pipeline. In discussing what the experience of calling Darwitz her head coach, one word succinctly yet certainly is definitive,
"Awesome. Love playing for Natalie and not everyone gets to say they were coached by an Olympian and a Hockey Hall of Famer, but getting to learn more about the game from her is great."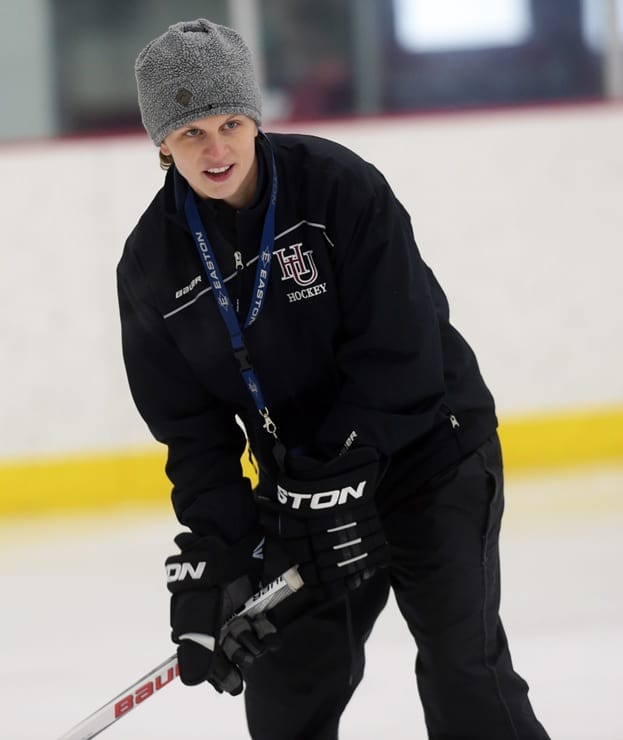 Undoubtedly, Simon's place in Pipers history was evident from her very first appearance. Making her debut on October 28, 2016 versus Concordia, Simon logged a fantastic four point output. Gaining an assist on the program's first goal of the season, scored by Darby Dodds at the 9:11 mark of the first, they would combine again just 28 seconds later for Dodds' second goal of the game. Of note, Simon would also score twice in the game, as the Pipers prevailed in a convincing 5-2 final. Fittingly, the season would culminate with recognition as Hamline Athletics Female Rookie of the Year, enjoying a 27 point campaign, highlighted by 17 goals.
Having been part of the greatest era in program history, Simon is proud to have contributed to how quickly the team has risen to national prominence. With 23 out of 26 players on the Pipers' 2018-19 roster hailing from Minnesota, home ice advantage certainly took on a more profound meaning, a trend destined to continue. As Simon ponders one more season of eligibility, the journey towards the apex of a tremendous time with Hamline has proven to be one filled with enjoyment,
"Yes, for sure. When Natalie was recruiting me, I watched a couple practices and I was like, 'Oh boy' and having the locker room be trailers, but Natalie was like, 'Just believe in me, we will get better, we will be better', so she took me under her wing and I believed in her and now we are playing for championship titles. It's been a wild and crazy ride but I could not see myself anywhere else."
"All quotes obtained first hand unless otherwise indicated"
Featured image obtained from: http://www.startribune.com/st-thomas-hamline-women-each-a-win-from-d-iii-frozen-four/506852882/
Related Articles