Since joining the Clarkson Golden Knights in the autumn of 2015, Rhyen McGill has brought a winning flair to the program, contributing towards its ascension into dynasty status. During her first three seasons with the Golden Knights, McGill, having enjoyed a pair of NCAA Frozen Four national championship titles, has logged 121 appearances, logging 41 goals and 41 assists.
Unfortunately, McGill's fourth season with Clarkson never reached fruition as she was red-shirted due to injury. For the product of Whitby, Ontario, who remained occupied with her academic obligations, a positive attitude was essential during her recuperation, one which was demonstrated by displaying a commendable commitment to her team.
While the Golden Knights boasted a highly impressive senior class, including eventual Patty Kazmaier Award winner Loren Gabel, Emma Keenan, Kelly Mariani, Josianne Pozzebon and Cassidy Vinkle, along with tremendous transfers T.T. Cianfarano and Kassidy Sauve, McGill was just as integral in the leadership structure. Remaining an admirable role model for younger players, it was testament to her maturity and team-first approach.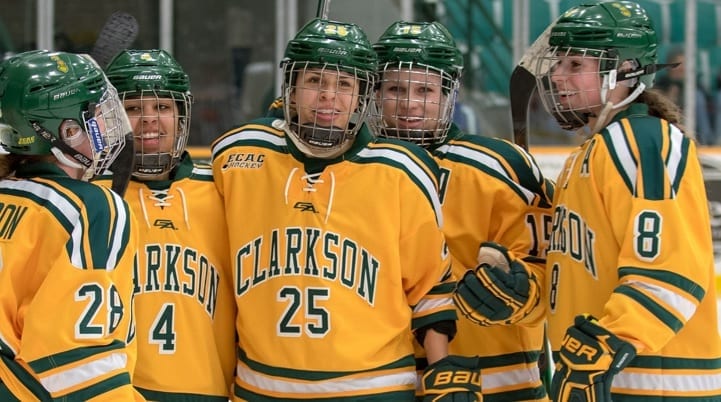 "The biggest thing I found was trying to bring positive energy to the team. I was obviously unable to contribute to the on-ice portion, therefore my biggest role was creating a positive environment and being the best teammate possible off-ice. As for next year, I am just really excited to get back to playing hockey."
Saving some of her greatest moments for the postseason, McGill's ability to rise to the occasion has established her as a key asset for the Golden Knights. En route to the second national championship in program history, gained in 2017, McGill established herself as an essential figure.
Scoring the goal that clinched the ECAC Championship, capitalizing on a power play opportunity as she put the puck past Paula Voorheis, it only marked the first of numerous highlights in a memorable postseason. Earning a spot on the ECAC All-Tournament Team, McGill's heroics extended into the Frozen Four.
Challenging the dynastic Minnesota Golden Gophers for the right to advance to the national championship game, McGill and Amanda Titus would assist on Savannah Harmon's third period goal, allowing them a 3-2 lead. Although the Golden Gophers would tie the game in the latter half of the third, McGill gained a treasured place in Clarkson lore by recording the game-winner with 91 seconds remaining. Taking account that Clarkson only managed five shots on the net in the third, McGill definitely made her shot count, scoring on Sidney Peters as the Golden Knights bench roared in approval.
Undoubtedly, McGill's greatest moment may have come in the 2018 NCAA Frozen Four championship game. From the outset, the match had historic connotations as it marked the first time that two teams from the ECAC Conference contested each other for the national title. Facing off against the upstart Colgate Raiders, the result was a 1-1 tie through three periods of regulation play.
Blocking a shot in overtime, McGill's effort proved to be the game's turning point. With Elizabeth Giguere managing to retrieve the puck, which had cleared the zone, her effort in scoring the goal that earned the national championship would not have happened without McGill's courageous show of character on the ice.
Although McGill's presence would have been most welcome in the most recent Frozen Four, one that saw the Golden Knights defeated by the Minnesota Golden Gophers in the semi-finals, the most important aspect is the one of team spirit. Proud in perpetuity of the accomplishments that 2017 and 2018 brought, McGill remains equally proud of the strong show of perseverance displayed by the 2019 edition of the Golden Knights, retaining its status as one of the nation's finest,
"Winning the two national titles were the greatest experiences that I will always have to share with my teammates. It was unfortunate that we were not able to get the three-peat this year, however, I am very proud of everything my team accomplished this year. I am also very proud for all the accomplishments that my classmates have obtained — individually and as a team — over the past four years we have shared at Clarkson."
With one season of eligibility remaining, McGill aspires to maintain the strong momentum that was evident during a highly impressive junior season of 2017-18. Of note, said season was one where McGill hit her stride, occupying a significant role on the second line. Recording seven power play goals, along with six game-winning goalies, the season began on an impressive note for McGill. A September 30, 2017 tilt versus the Northeastern Huskies saw McGill record her first game-winning goal of the season.
Just as relevant in McGill's career are the exceptional achievements that took place off the ice. Earning ECAC All-Academic honors twice in her career, with the most recent honor bestowed upon her in 2019.
McGill, who graduated with a degree in Psychology was one of 16 Golden Knights who earned All-Academic recognition, emblematic of their dedication to school and team alike, demonstrating the type of character that has enabled them to be perpetual contenders for the national championship. Indubitably, that feeling of team spirit is evident in discussing the sense of achievement that represents the essence of a student-athlete.
"All of my personal achievements are direct outcomes of my teammates. They push me every day in the classroom and on the ice to be a well-rounded student athlete."
The admiration of Golden Knights teammates actually extends beyond McGill's collegiate career. Having starred at the PWHL level with the Whitby Wolves, a teammate from such a formative time also joined her in the Clarkson green.
Hailing 139 km down Highway 401 in the community of Belleville, Ontario, Cassidy Vinkle amassed 105 points in the Wolves jersey. Worth noting, she served as Golden Knights team captain for the 2018-19, graduating as the all-time games played leader with 162, respectively.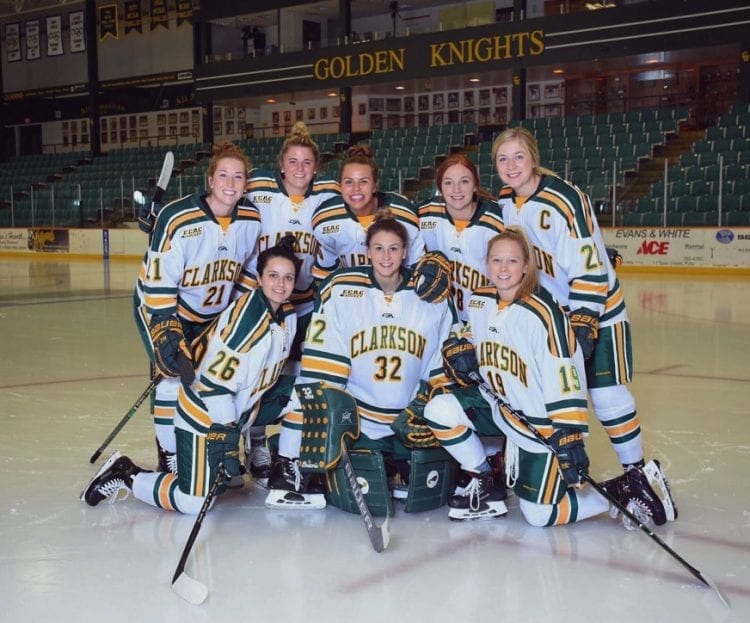 Akin to another pair of star players who were teammates in both juniors and Clarkson, Erica Howe and Jamie Lee Rattray. Alums from the Ottawa Lady Senators, both were members of Clarkson's first-ever national championship team in 2014. McGill and Vinkle spent three seasons (2012-15) together in Whitby. Both members of the club's 100-point club, McGill served as team captain in 2014-15, while Vinkle was alternate captain. That season, which saw Whitby capture the silver medal in the PWHL playoffs, they ranked first and second in team scoring, with McGill amassing 50 points, along with a team-high 30 goals, while Vinkle supplied a solid 35 points.
Considering that both earned a pair of gold medals (2013, 2014) in PWHL play, plus a pair of NCAA Frozen Four national championships (2017, 2018), the chance to share in their hockey odyssey, experiencing such sensational summits certainly stands as a treasured milestone. Coincidentally, it was Vinkle, along with Michaela Pejzlova, who gained the assists on McGill's goal that won the 2017 ECAC Championship.
"Vink has been a great teammate and friend throughout our seven years together. It was nice to have the opportunity to play alongside her for the majority of my hockey career. It is always nice having that familiar face around the rink and I am going to, for sure, miss her and the rest of my class next year."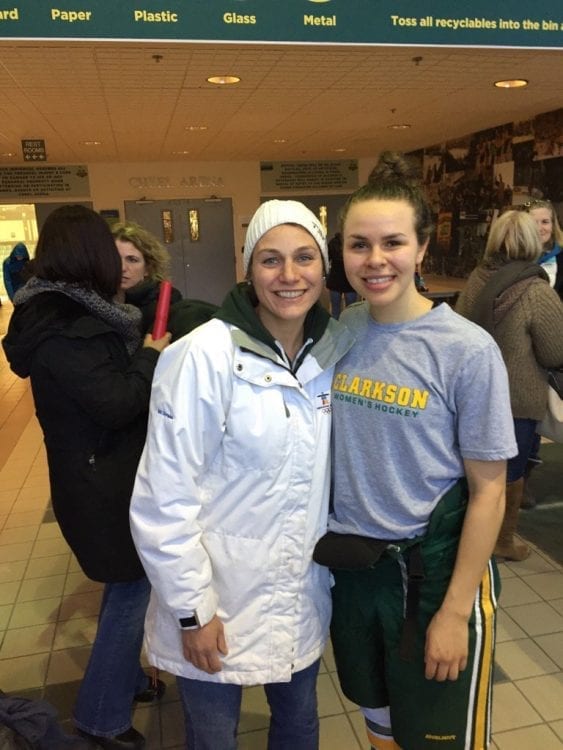 Throughout the seasons, the accumulation of accolades and championships has allowed McGill a much more profound connection to her aunt, Cheryl Pounder. A member of the Laurier Golden Hawks Hall of Fame (2005 inductee), competitor in the original NWHL and participant in the first season in CWHL history, Pounder is also a Hockey Canada alumni.
McGill's connection to Pounder is only part of a much more profound narrative. Belonging to a sensational sporting family filled with tremendous accomplishments, the scope of their impact reflected past honor and future motivation, allowing McGill to bring her own athletic credentials to the Clarkson Golden Knights.
In addition to Pounder, two uncles possess a remarkable athletic pedigree. Mike O' Toole, racked up 41 points in three seasons of hockey at Michigan State from 1986-89. Among his teammates were future NHLers Danton Cole, Bob Essensa, Kip and Kelly Miller, plus Neil Wilkinson, who played in the San Jose Sharks inaugural season.
Patrick O'Toole (known as Toole Time) spent 15 seasons in professional lacrosse, winning the Mann Cup in 1998, and later gaining acclaim as the National Lacrosse League (NLL) goaltender of the Year in 2003 with the Rochester Knighthawks. Retiring as the all-time saves leader in NLL play, he also holds a unique connection to the NHL. Coincidentally, one of his teammates during his time as a member of the Buffalo Bandits was the older John Tavares, whose nephew of the same namesake currently skates for the NHL's Toronto Maple Leafs.
Remaining an integral part of the game, Pounder, who also works as a motivational speaker, is also a highly respected broadcaster and two-time coach at the CWHL All-Star Game. Undoubtedly, her greatest glory involves gold medals earned at the 2002 and 2006 Winter Games.
During the 2014-15 season, McGill gained an opportunity to pay tribute to her aunt's legacy by donning the Maple Leaf herself. Along with Elizabeth Giguere and Josianne Pozzebon, who would later become teammates at Clarkson, they were among the players selected to Canada's entry at 2015 IIHF U-18 Women's Worlds in Buffalo, New York.
As a side note, that same year would also see McGill compete for Team Ontario at the Canada Winter Games, playing alongside Whitby Wolves teammate Cassidy Vinkle and eventual Clarkson teammate Kelly Mariani.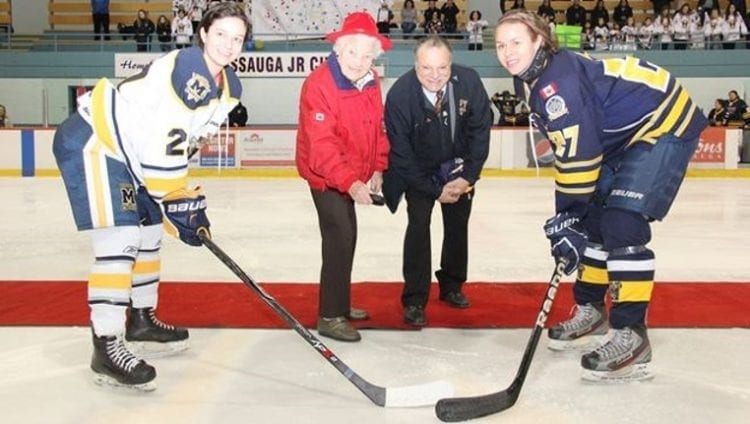 During PWHL play, Mariani and McGill, playing for opposing teams would also experience the unique experience of having former Mississauga mayor and women's hockey enthusiast, Hurricane Hazel McCallion participate in the opening faceoff. Of note, Pounder and McCallion were both 2010 Olympic Torchbearers in Mississauga. In addition, Pounder lent her signature to a cause championed by Dan Harbridge to see McCallion inducted into the Hockey Hall of Fame as the first female Builder by 2020.
Undoubtedly, Pounder has served as an enormously positive influence on McGill, especially throughout her journey at Clarkson:
"She has always been a great role model and one of my biggest fans throughout my hockey career. It is always nice to have someone that I have so much respect for, and has been through the experiences that I have and has faced her own adversities that she has shared with me and I was able to learn from as well. Throughout my career, she has been a great part of my support system."
"All quotes obtained first hand unless otherwise indicated"
Related Articles