An integral contributor during the Quinnipiac Bobcats' halcyon days, a program experiencing one of the decade's greatest turnarounds, TT Cianfarano contributed towards transforming it into one of the ECAC's elite programs. Highlighted by a berth in the NCAA Tournament in both 2015 and 2016, her first two seasons as a Bobcat, it would have been completely unforeseen that her collegiate career would reach its apex in the jersey of the Clarkson Golden Knights.
Recognized as the ECAC Player of the Year in 2016, Cianfarano's amassing of hockey hardware that season included New England Division I All-Star honors and the MVP Award at the Nutmeg Classic, complemented by the ECAC Tournament championship. Having amassed a superlative season consisting of 52 points, as the Bobcats went 19-0-0 whenever she scored a goal, it was only the third 50-point season in program history, signifying a watershed moment in both Cianfarano's career, and Bobcats lore.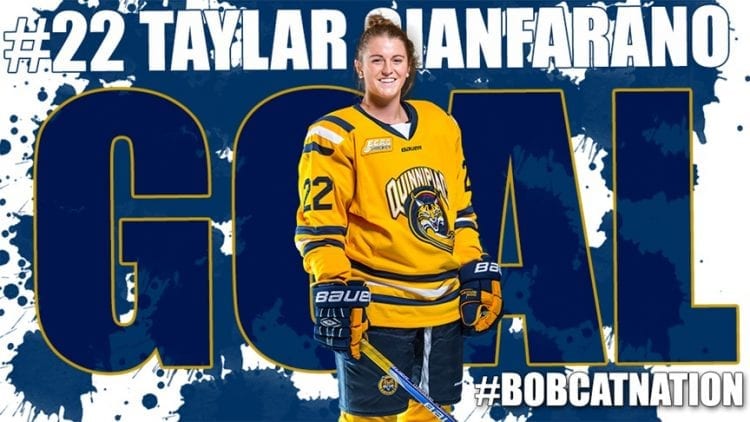 "Through all my ups and downs throughout my four years it was awesome to be able to receive an award like that. I had an outstanding year in 2015-16 with Quinnipiac, alongside great teammates who were surrounding me. I would not have received that award without them. It was all around my favorite year being a Bobcat."
Having played in only two games during her senior season at Quinnipiac (2017-18) due to injury, Cianfarano was eligible for another season of NCAA hockey. Graduating with a major in Business Management, her post-graduate studies would bring her closer to home.
Raised in northern New York State, calling Oswego County home, the chance to close out her collegiate career in nearby Potsdam, home of the Clarkson Golden Knights, represented a compelling feeling of homecoming. Enrolling in a summer class, it also allowed her an opportunity to acclimatize to her new surroundings, while enjoying the benefits of preparing for the season ahead.
Part of a dazzling duo of highly touted transfers, bolstering an already strong and formidable Golden Knights roster that featured Loren Gabel and Elizabeth Giguere, the other half was All-America goaltender Kassidy Sauve. Having led the Ohio State Buckeyes to their first-ever appearance in the NCAA Frozen Four, Sauve and Cianfarano each shared a common thread in the fact that both played for their respective countries at the IIHF Under-18 Women's World Championships.
"I chose Clarkson due to having another year of eligibility and being able to transfer in-conference was huge for myself due to already graduating. I knew I wanted to be close to home and Clarkson was a perfect fit.
The adjustment was great. I went there to Clarkson over the summer to take a summer class and train with our strength coach, Tad Johnson, who is awesome. He helped me a lot over the summer coming back from injury and I could not have done it without him. Clarkson felt like home, everyone was great at welcoming me in and I knew right away it was going to be a great year and quick adjustment."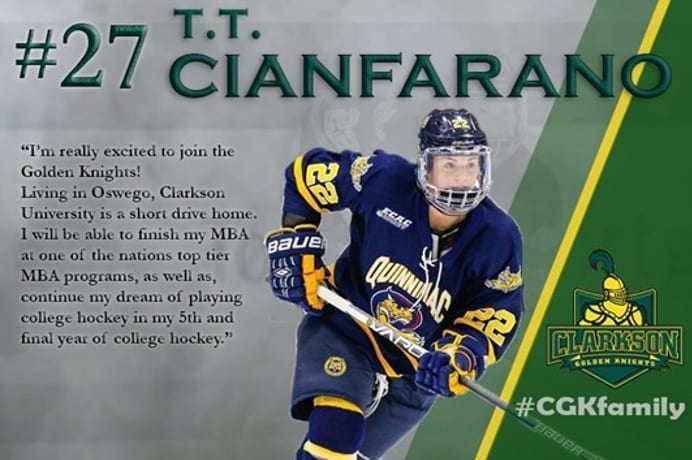 Considering that Clarkson and Quinnipiac are both members of the ECAC Conference, the date of February 1 was definitely circled on Cianfarano's calendar. Returning to the People's United Center, a rink she called home in the first phase of her collegiate career, garbed in the opposing colors of a key rival, the theme of homecoming remained prevalent once again.
Despite Cianfarano's current standing as a member of the visiting Golden Knights, there was a highly mutual and heartfelt appreciation for what she meant during the Bobcats' magical season of 2015-16. Undoubtedly, that sense of admiration set the tone for her return to Hamden.
Winning eight of 16 faceoffs, while Loren Gabel scored a hat trick, the Golden Knights emerged with their seventh straight victory, blanking the Bobcats in a 3-2 final. As a side note, Bobcats goals were scored by Randi Marcon and Lexie Adzija.
Before season's end, Quinnipiac would provide a pair of unique coincidences for Cianfarano. Of note, Clarkson's Senior Night celebration involved the Bobcats visiting Cheel Arena. Cianfarano would not only win four out of five draws, she would supply an impressive (and game-high) eight shots on net, part of a 1-1 draw, the Golden Knights first tie since January 5, when they competed against the Northeastern Huskies in the Friendship Series in Belfast, Northern Ireland.
Hamden, Connecticut, home of the Bobcats, was host city for the Frozen Four, supplying the second coincidence. With the Golden Knights reaching the Frozen Four, a career first for Cianfarano, it was only fitting that her fellow transfer would experience a milestone of her own. Sauve would play in consecutive Frozen Four tournaments with different programs, believed to be a tournament first. Another tournament first also involved the first-ever all-female officiating crew. Despite the Frozen Four appearance not supplying the desired outcome of a third straight national championship, it remained one of the most intriguing seasons in program history, enhanced by the collaborative presence and considerable efforts of both Cianfarano and Sauve.
"It was great to go back, I got to see a few of my close friends and play against my former teammates. It is funny how it all worked out playing them at home during the year and then a three-game series for the playoffs at Cheel and back there again for Frozen Four. It was a special moment for sure."
Statistically, Cianfarano assembled a solid season for Clarkson with 34 points, on the strength of 18 goals, finishing as the fourth leading scorer. Fittingly, she would start her Golden Knights career in grand fashion, earning a pair of assists in her debut, a 5-1 drubbing of the Bemidji State Beavers on September 28, 2018. The following day, she would follow it up with her first goal as a Golden Knight, earning her second straight multi-point performance.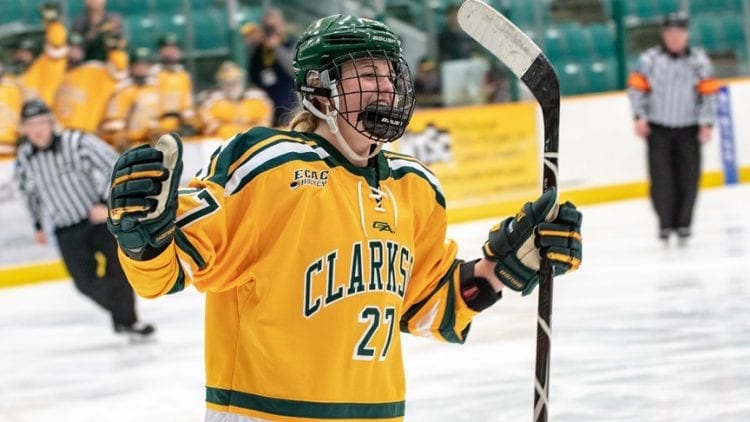 Among Cianfarano's 18 goals, four were scored on the power play, tying for the team lead, while another four goals were game-winning tallies. Her last goal in Golden Knights paraphernalia took place before Senior Night, as a February 22 tilt versus the nationally ranked Princeton Tigers saw Cianfarano put the puck past Stephanie Neatby at the 18:40 mark of the third period.
Such a highly respectable campaign also saw Cianfarano record the last point of her NCAA career against the Bobcats in the opening round of the ECAC Playoffs. Truly closing the circle on her compelling collegiate career, returning where her competitive roots were first firmly entrenched in this recent chronicle of her competitive odyssey, Cianfarano and Kelly Mariani earned the assists on Emma Keenan's goal, also the first of the game.
Among a sensational senior class which featured Gabel, Keenan, Mariani, Josianne Pozzebon, Sauve and Cassidy Vinkle, it represented a gregarious gathering of elite hockey talent that helped the program capture 30 wins in 2018-19. In spite of merely one season in the Green and Gold, Cianfarano was quickly welcomed into the fold, finding new friendships.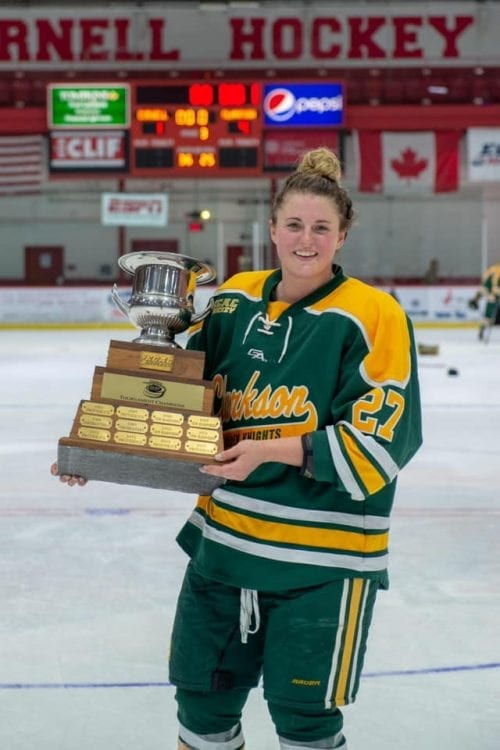 With Clarkson representing the final chapter of her collegiate career, the feeling of gratitude and acceptance were the key characteristics of an enjoyable season. As Clarkson's co-ordinates certainly felt like playing on home soil, serving as a source of seemingly endless motivation, the season spent is one destined to supply warm feelings of nostalgia.
Regardless of whether it was Quinnipiac's navy blue or Clarkson's green, Cianfarano summed up the ideals of sportsmanship and commitment. Such a commendable and unquestioned leadership presence established Cianfarano as a perfect fit in Potsdam, enhanced by the feeling of both a fairy tale ending and full circle, her acumen for the game bringing out the best in both herself and her teammates.
"It all starts with Clarkson taking a chance on me. Being able to play college hockey there was awesome. I was surrounded by close knit relationships that felt like family and that is something I will always remember. As far as my favorite memory, it would be going to the Frozen Four. I never had the opportunity to go there and it was special getting there my last and final year. It was not the outcome we wanted but a memory I will cherish forever by being there, especially at my old home rink, QU."
"All quotes obtained first hand unless otherwise indicated"
Featured image obtained from: Image obtained from: https://clarksonathletics.com/roster.aspx?rp_id=6023
Related Articles