Choosing the Czech International Hockey Camp
Imagine this: You've just started playing hockey and you've poured all of your heart into learning how to skate just to work up the confidence to reach out to one of the local teams. You are very excited to train with them but you notice right away that you lack knowledge and skills. But that's the reason why you're joining their practices, right ? To learn and get better. Still, you can't shake the feeling that you could and should be doing more.
So you spend hours online, researching every topic you can think of: gear, rules, training methods… there is a lot of material out there and as a beginner it is fairly hard to distinguish what is actually useful.
But then, somewhere, whether it's online, in the locker room, or you hear it from a stranger downtown, those two magic words appear: Hockey Camp.
Wait, isn't that just a thing for kids? No! There are a lot of adult hockey camps out there! So of course, I went back to my computer and started researching again, this time with the purpose of finding a hockey camp that would fit my needs.
At first I was a bit bummed out because most of the camps I read about take place in North America, so if you are from there I am pretty sure you'll be able to find multiple camps to attend. For all of my fellow Europeans, the Czeck International Hockey Camp might be what you are looking for—later on I found out that this camp has such a good reputation that people travel from all over the world, even from North America, just to attend it.
As you might know if you have read my WHL Ambassador Spotlight, I started playing hockey at the end of last season (great time to start playing hockey—right before the off-season, right?) and as my summers are usually full of work, summer camps just weren't an option for me. Plus, I needed time to save up some money. Long story short, half a year later I was sitting on a bus on my way to attend the Fall Camp in Nymburk, CZ.
Traveling to Nymburk
Traveling to Nymburk is both quite easy and a huge adventure. The closest airport/international bus and train station is in Prag and from there you can use the pickup service the camp offers for a small fee, or, if you are in for a little adventure and want to save some money, you can take a train to Nymburk. I chose the latter. Buying a ticket and catching the right train in Prag was quite easy, even though I was a bit overwhelmed by the masses of people there (small town girl problems exhibit 1).
The train station in Nymburk is a bit more confusing for someone who doesn't speak Czech and has never been to the Czeck Republic before, but it is also a lot smaller. From Nymburk main station you can either take a taxi or, if you are a bit patient, you can take an even smaller train to Nymburk Mesto. From there you can almost see the rink, meaning even if you cary a lot of luggage you are able to walk to the rink and to the hotel, which is just across the parking lot (though I've heard that during the much bigger summer camps they also use another hotel).
But enough side story, let's talk about the actual camp!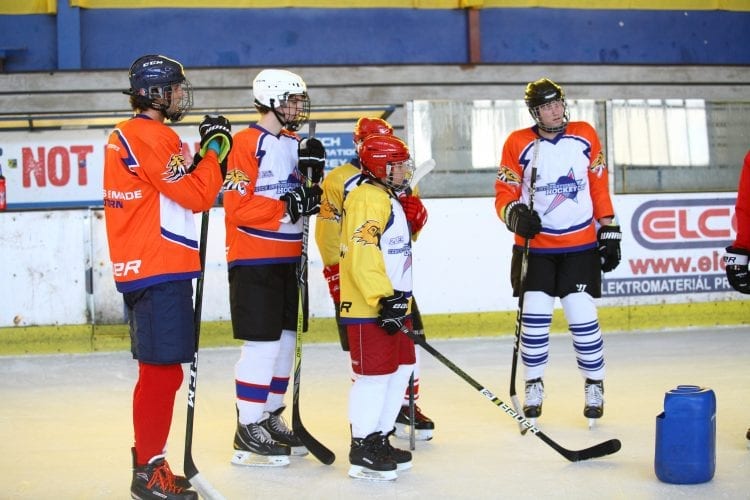 The Camp
The first day of camp was a Sunday. The camp started in the afternoon with a small opening ceremony where we met the other players, the coaches and Lukas, the head coach, who told us a little bit about the history of the camp. Afterwards, we were assigned to our locker rooms and a full week of practice started.
As the fall camp was quite small compared to their summer camps, which have a lot more attendees, we were separated into two groups: the beginners were training together with the kids, and the other group consisted of intermediate and advanced players. Goalies got their own part of the ice during beginners practice, but also joined the other group (yes, they also have special goalie camps!).
As you might have guessed, I was part of the beginners group, but since there were only two women participating in the camp that week, me and Nat from Thailand, shared a small locker room even though she was part of the other group. Since their group was usually on the ice right after our ice time ended, Nat and I spent quite a few moments in our locker room together. Let me tell you, having a friend in your locker room who will make fun of you when you come back from the ice, red faced and dripping in sweat, and who will laugh with you about all the different muscle aches you have is priceless!
That being said, I do think you need friends to get through the time at camp. It is tough and you will want to spend your time both on and off the ice with people you like and whose company you enjoy. Don't worry if you are traveling alone though, you will make new friends incredibly fast! On Sunday evening, I sat at dinner with two guys from the Netherlands and we kicked it off nicely right away — Jelmar and Leroy had both been to the camp before.
The next morning we were joined by Patrick who is from South Tirol (embrace the internationality!) and somehow we ended up spending the entire week together, eating ice cream and walking around town in our free time. Funny enough, I chose the three tallest guys of the entire camp to spend my time with. Seeing as I was definitely the smallest adult that week—I proudly stand 5'2″ tall—our little group must've been quite a sight.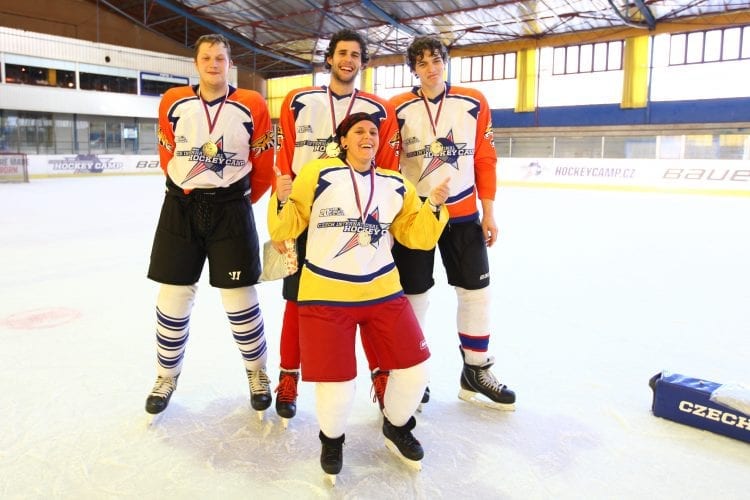 I also spent a lot of time with these three guys on the open ice we had in the evenings. There is open ice every night of camp, which you can use to work on some of the skills you learned during the regular practice or to play some small fun games. At some point the four of us just took a puck and played an all against one kind of game, where whoever had the puck just tried to keep it for as long as possible. Let me tell you, having all three of these giants skate towards you, trying to steal the puck, is scary. On the other hand, though, having all of them on a line with you is awesome!
Watching a "battle of the giants" (essentially when we practiced one on ones and two of them got paired together) is also a memory I don't want to miss.
I guess when you spend an entire week practicing together, you do get to know each other pretty well and somehow you synchronize, which shows up in the way you play a game together. At some point during the week we even did our stick handling synchronized!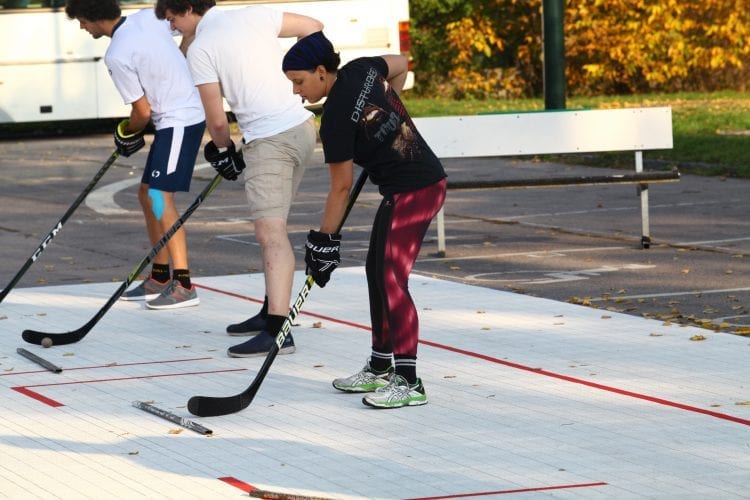 The Camp Schedule
As you can see in the last picture, off-ice practice is part of the camp's schedule just like the regular on-ice practice. The schedule in general is pretty tight, so if you want to do some sightseeing or also see Prag, I advise you to add some extra days to your visit. Every day, Monday through Friday, we had two on-ice sessions, two off-ice sessions and the optional open ice during the evening. Our schedule looked almost the same every day:
7:45 – 8:00: Wake up
8:00-8:30: Breakfast
8:30-9:00: Get ready for on-ice
9:00-10:15: On-Ice session I
10:45-11:45: Off-Ice session I
11:45-12:15: Lunch
12:15-13:00: Rest
13:00-13:30: Get ready for on-ice
13:30-14:45: On-ice session II
15:15-16:30: Off-ice session II
16:30-18:00: Rest
18:00-18:30: Dinner
19:00-19:30: Classroom
19:45-20:15: Get ready for open ice
20:15-21:15: Open ice
22:00: Lights out
The only exception for this schedule was on Wednesday where the jacuzzi was part of our evening program, so don't forget to bring swimming gear!
Off-Ice
During the off-ice sessions we practiced stick handling and shooting, which I benefited from immensely. During the shooting practice (and during some of the on-ice skating drills) we also took some videos that we analyzed during the "classroom" part of the schedule. The video analysis of my forehand wrist shot showed that my technique was pretty good, still I did not manage to get the puck up in the air, but everyone else managed.
At some point, the coach jokingly made us try backhand wrist shots, which no one really liked to do since pretty much all of us beginners sucked at those (all the more reason to practice if you ask me). When my turn came to try it, I was pretty down because of the fact that I couldn't even do a good forehand wrist shot, how was I supposed to do a backhand shot if everyone else sucks at those?
But lo and behold! My back hand wrist shot lifted the puck right off the shooting pad, into the air and into the net! My day was made. Even at the end of the week I wasn't able to get a forehand shot into the air. I do need to practice that a lot, but my backhand shots are decent and that still makes me very happy.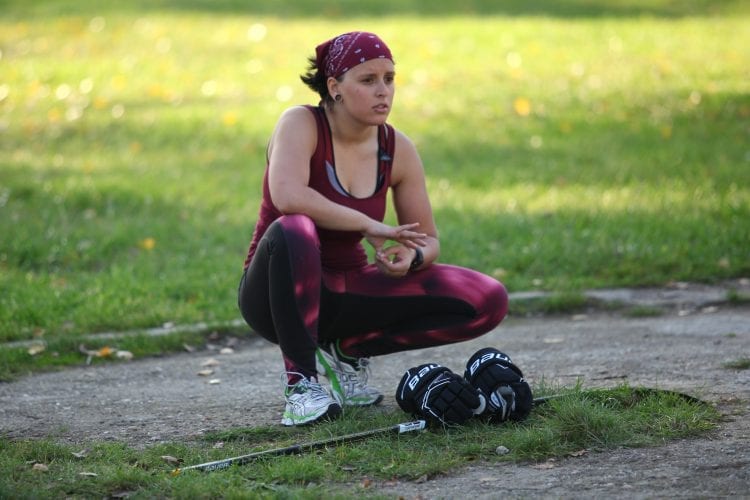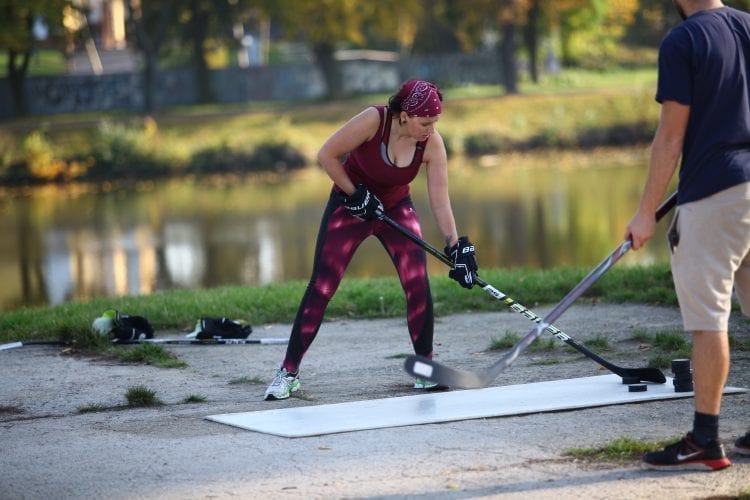 On-Ice
Our on-ice sessions were highly focused on skating, which was perfect for our group since we were all more or less beginners and it is hard to focus on stick handling if you still have to think about your feet. My skating skills improved a lot during my time in Nymburk. Before I went there I could not even skate backwards, now I can keep up during all the skating drill we do at home.
We usually started with a little warm up, went on with some basic skating drills (first without and then with a puck), then we were separated into small groups and did all kinds of small drills in those groups. From skating, shooting, stick handling, fake moves, to one on one drills, there was everything one could possibly want to work on.
Each drill was alway explained and watched by one of the coaches, all of who were incredible at explaining the drills and helping each player get better. During the group drills there was always between three and four people in each group, meaning we were also coached one on three or one on four, which gives you an incredibly personal coaching experience (if this is still not personal enough for you and you want to work on one specific skill more, it is possible to book private lessons with the coaches, which took place during the open ice).
After finishing one of the drill stations we always collected our fist bumps and "well done" and "thank you"  from the coaches, had a very small moment to drink something and went on to the next station. The fist bumps and compliments were something that had a huge effect on me, it was one of the greatest motivations, but that doesn't say too much as I am always a sucker for hockey fist bumps (let's be honest, who doesn't love them?!).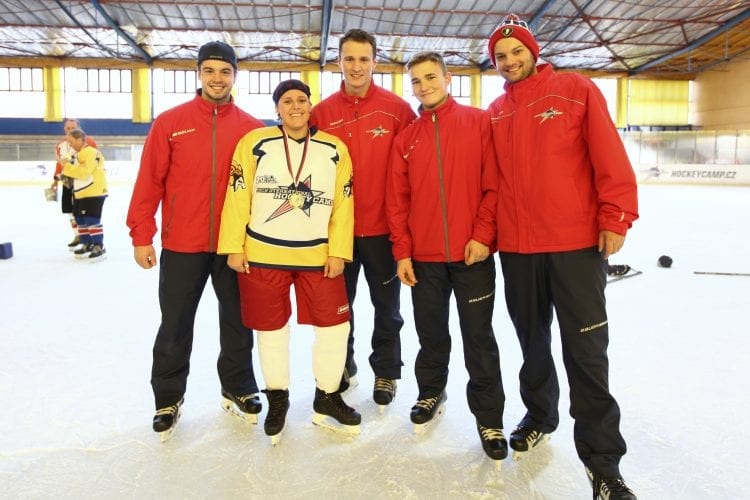 During the week there were a couple of things you could book extra next to the private lessons—if you ever wanted to try a skate treadmill, this is your chance! The one thing I booked extra during the week was a massage. That really was a blessing. On Wednesday I was so tired, but after a massage and jacuzzi and a good night's sleep, I gained all of my energy back and was able to finish the week even stronger than I had started.
Overall Experience
The hotel at the rink is nothing too fancy but it has everything one needs. Honestly by the end of day one you won't care as long as there is a bed to sleep in and besides, we barely spent any time in the rooms except for when we slept.
The food is just like the hotel, it's not fancy but it is everything you need to be carb loaded three times a day. I actually was surprised at the variety of foods that was served; at almost every meal, I was able to choose between something with potatoes, rice or pasta, or, what most of us did, just take some of everything! I often didn't feel hungry at first but as soon as I started eating, a whole plate of food just vanished. If you do feel like eating something else you can also order from a menu at the restaurant of the rink or, like we did on Friday night, go downtown and get something to eat there. The main square of Nymburk is about a five minute walk from the rink.
The entire camp is incredibly well-organized and includes everything you will need for a great experience. If you have any questions or problems during the week there is always someone in the camp office, which was in the hotel, who can help you out.
The End of Camp
After the last ice time on Friday we got together to take some pictures and  there was a small ceremony where everyone got a medal and shook hands with all of the coaches. At this point I had barely processed that I was at camp, and now it was already over? Too fast! Please rewind!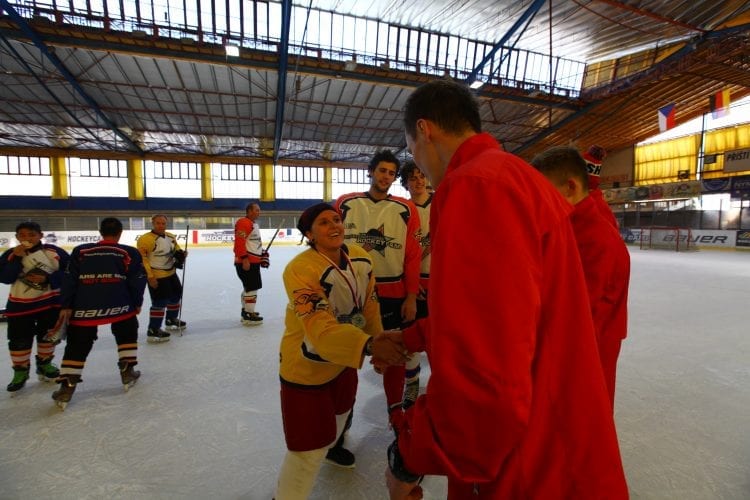 The real end of camp was on Saturday morning when the people who where still there and didn't have to leave early had a friendly game. Sadly, many people from our group had to leave early so we ended up playing three on three, which was still a lot of fun but it didn't seem right. Me and Patrick stayed to also watch the game the advanced and intermediate players had.
I stayed for one more night because I met up with some old friends in Prag on Sunday, so I had some time after the games and during the evening.
At first, Nat and I took a walk and talked about the week, the friendships we made and what we would take home, then I also had to wave her goodbye and had some time for myself to process everything that happened that week, something I did not think about during the week.
Final words
So this has gotten a lot longer than I thought it would, but clearly a lot can happen in one week!
All I can really say is that if you are wondering about going to hockey camp, do it! This was one of the best experiences of my life and I cannot wait to go again!
This might not be everyone's type of vacation but if you'd rather work your but off for six days in a row than lay on a beach and tan, like me, then this is your gig.
One last tip from me: if you like snacks, keep a look out after the second on-ice session when we sometimes got a chocolate bar from one of the office girls, and after the open ice they handed out sandwiches! We didn't know that at first and headed straight to the locker rooms until one guy from the other group told us about it.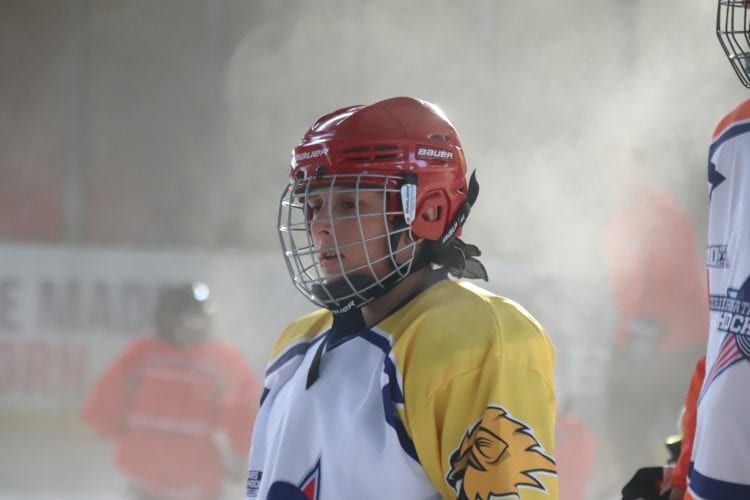 ---
Want to share your hockey experience?
Related Articles