No Maximum Age Required
Learning a new sport later in life can certainly be daunting, especially a sport as fast paced and physical as ice hockey. Whether it be the fear of injury, the financial commitment, learning a new sport from scratch, worrying about what others may think or being a woman in a male dominated sport, there is plenty to worry about, however there is plenty more to get excited about. Many people pick up a new sport later in life to try something new, challenge themselves, try a new form of exercise or to simply have fun.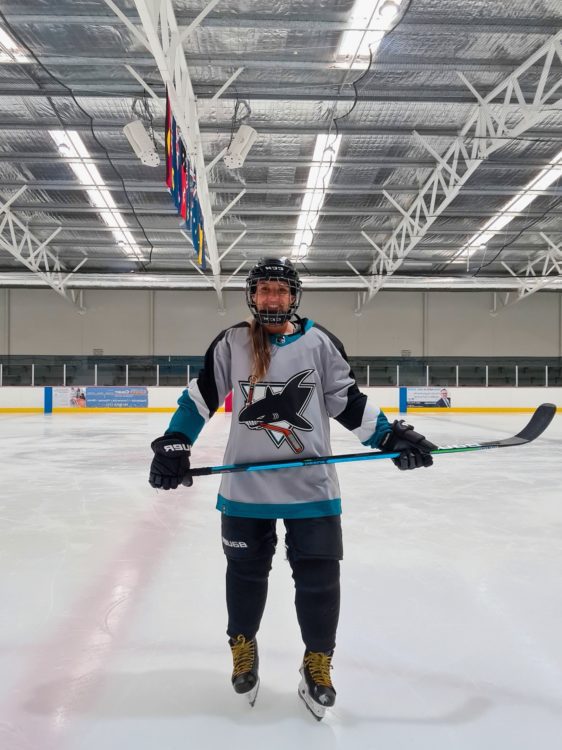 I put on my pair of first hockey skates at the age of 23. My dad and I had watched an NHL game in San Jose that year and I suddenly became intrigued with this sport in which people ran on knives and hit people for fun. At the time I was working as a ski instructor in Lake Louise, Canada and knew of the similarities between the two sports. Skis were basically just super long and wide skates…right? Well, my experience as a skier certainly did not translate when I first stepped onto the ice. Picture Bambi's first time on the ice, now picture a person and voila, you get me! Thank goodness for my Dad's patience as he helped me through my (long) 'Bambi phase'. Cut to 2.5 years later, where I am now playing for Western Australia's State women's team, the Perth Inferno. It can be done!
Perth, Western Australia is known for its sun, surf, and sharks. It is not exactly the buzzing hub of ice hockey in the world. However, we are lucky enough to have some incredible people who are extremely passionate about the sport and want to see as many people try it as possible. Although ice hockey is mainly a male dominated sport, Perth offers opportunities for women of all ages to become involved with the sport. Marina Nottle (Captain of the Perth Inferno) created the Perth Women's Ice Hockey League, which is an inclusive setting for women of all ages to join forces and begin their ice hockey journey or continue developing it. I was able to join the PWIHL in 2020 which was a hugely rewarding experience. I was able to play with women on the Perth Inferno who helped guide us through our hockey development and made us feel included. On the opposite side of the spectrum, there were many girls and women like me who were just starting their hockey journey. The wide range of ages made me realize that learning a new sport has no age limitation. From 12-year-olds to 20-year-olds to 60-year-olds, everyone was having fun and encouraging each other to give it a crack and do their best. 
The main obstacles I personally faced when I decided to pick up ice hockey were… 
The fear of getting injured

 

The fear of being judged by others

 

The financial costs of gear, ice time, lessons, and leagues
Playing in a male dominated sport

 
At the time, I believed these were rational fears and concerns, however now that I have been through the initial process, I have lost many of them. 
The fear of getting injured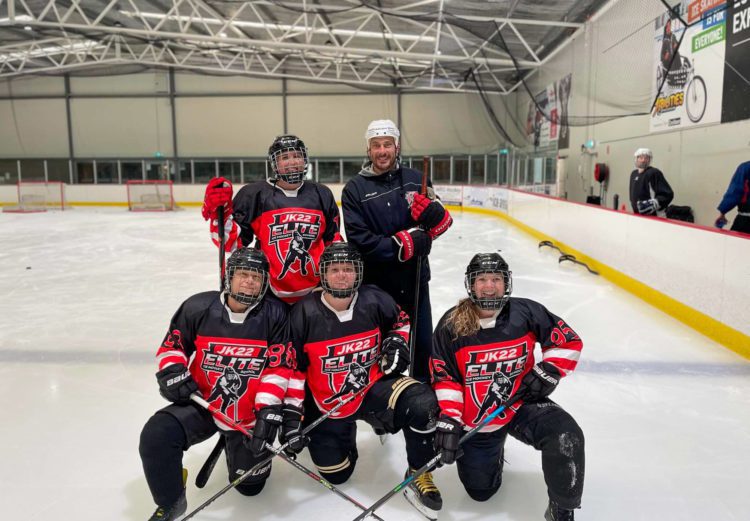 Of course, the older we get, the more creaks, clicks and clunks our body starts to make. If you chose to take on a physically demanding sport such as ice hockey, you must be willing to look after your body. Looking after your body does not just mean working out and staying fit, but also includes eating well and providing your body with the nutrients necessary to play such a demanding sport. 
My first game was a reality shock of the cardio needed to play ice hockey. I began walking long distance and riding my bike, as I will never be a runner! I started stretching every day and discussed exercises with my physio to strengthen my wrists, ankles, and knees as they come under a lot of stress. I decided to seek out professional advice as I had prior minor injuries of the knees, wrists and ankles from netball and skiing. Better to be safe than sorry! 
If you are not able to seek professional advice, the internet can offer some suggestions. There are many ice hockey websites which explain and demonstrate various exercises, training techniques and provide basic nutritional guidance. Of course, don't believe everything you read as it is the internet after all. Do your homework and find resources that offer trustworthy advice.  
The fear of being judged by others
I studied classical flute for 4 years at the Western Australia Academy of Performing Arts (WAAPA). This made me a perfectionist. Having some perfectionist attributes can be very beneficial especially when you want to excel at something. These 4 years taught me discipline, determination and 'practice makes progress (not perfection – it doesn't exist)'. However, other perfectionist characteristics that were not so healthy for my mindset included thoughts of not being good enough, constantly comparing myself to others, having unrealistic expectations and forgetting to have fun. I luckily realized in the moment that I was experiencing these thoughts and knew they needed to be shut down immediately.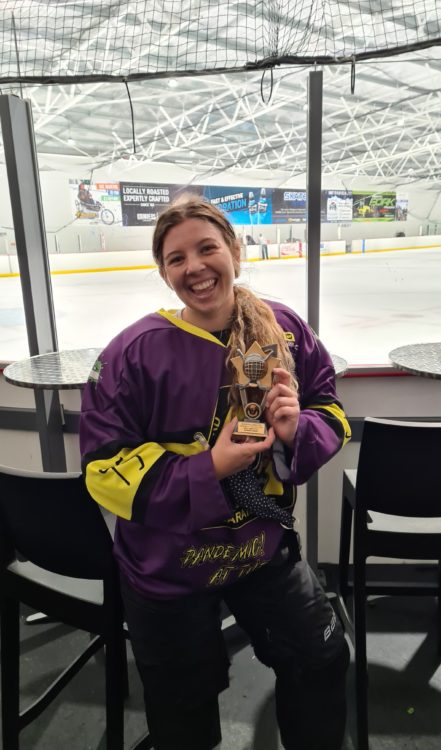 I strongly believe that the only person you should compare yourself with, is yourself. I record videos of myself skating almost every day. I look back on these in a few months' time and notice small things that have improved. There is no point comparing yourself to others when everyone has a different hockey background, a different set of skills and a different learning speed.  
Finding an inclusive and encouraging environment to train and play ice hockey can make or break your hockey journey. Do some research, reach out to coaches and trainers, talk to other players, and find out what kind of environment you will strive in. Do you prefer a more competitive learning environment or a more relaxed and passive setting?
Financial commitment
Unfortunately, ice hockey is not a cheap sport. The upfront cost of buying equipment can land around $1000 AUD. Time after time, I see players who buy brand new hockey gear and decide after a few weeks that the sport is not for them. Unless you can sell the gear off, that is a lot of money down the drain. When I started training, I was lucky enough to skate at Canterbury Olympic Ice Rink in Sydney where a large storeroom was filled with donated ice hockey equipment and sticks. You were able to borrow anything for the training session and return it once you were finished. This was however pre Covid-19, so the sanitary concerns were not such an issue. 
If you are starting out and don't have any gear, talk to people! Post on ice hockey Facebook groups, reach out to ice rinks, talk to other players, and find out if anyone has some old gear you could buy or borrow. This will save a lot of money and stress! If you keep playing and decide you like the sport, then you can start gradually buying new equipment. 
I have worked hard to afford private lessons once a week for the last year or so. Although it's not cheap, you will almost certainly learn more in a 30-minute or 1-hour lesson, than you will trying to figure it all out by yourself. Often coaches will offer group lessons which can be a cheaper and more social way to improve your skills. If the standard winter leagues are too expensive, summer leagues can offer a cheaper and often less competitive environment for you to play in.  
Playing in a male dominated sport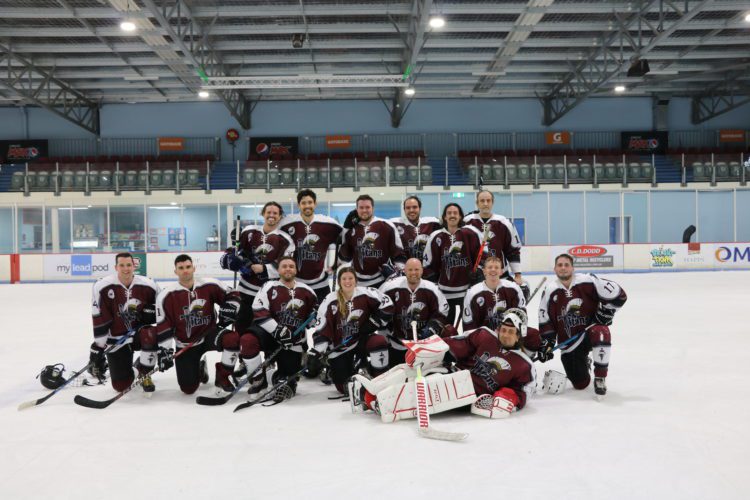 I am 157cm (5.1 ft) with a medium build. When I stand next to male ice hockey players, I am lucky to come up to their waist. It can be daunting being a woman playing a sport which is mainly played by males. My first ice hockey season in Perth was with the Titans, in which I was one of three women on the otherwise male team. Initially I was nervous that the guys would be more competitive, faster, and perhaps more physical. Although they were fast, competitive, and appropriately physical, they were also extremely welcoming and respectful. 
I am personally not an overly physical player and prefer to use my agility and skills to get around bigger players. Play to your strengths! Whilst ice hockey is a physical sport, not every player needs to be 6ft and built like a brick wall. You need small, quick, and agile players who can manoeuvre around the 'lumberjack' players. 
Ice hockey communities should feel inclusive and welcoming for all. If you feel like you are being disrespected or excluded, speak up about it, there is always someone who will listen. Worst case scenario, change teams or clubs and find a tribe who respects you and welcomes you. 
Learning to play ice hockey has been one of the most fun and rewarding things I have ever tackled. I have met a diverse range of people I otherwise would never have met; I have challenged myself to constantly learn new things, I have found another way to stay fit and look after my health, and I have found a sport that makes me incredibly happy. If you have even the slightest voice in your head telling you that ice hockey could be fun for you, go out and try it! There is no age limit to having fun and finding a new passion in life.
Related Articles