Only 33 years young, Amanda Asay lived a remarkable life. One, which encompassed so much promise, representing the exciting potential for women in sport and society. With a series of athletic endeavours, from competition on the frozen perimeter to summers spent on the baseball diamond, Asay, raised in Prince George, British Columbia, brought a combination of remarkable versatility and an enjoyment of life.
From a hockey perspective, Asay held the unique distinction of having played university hockey at the Ivy League and USports levels. Going across the continent, Asay graced the ice for head coach Digit Murphy with Rhode Island's Brown University Bears.
Recording over 60 appearances with Brown hockey, Asay made over 50 with their softball program. Statistically, her final goal in the Bears jersey took place on January 7, 2007 versus the Union Dutchwomen, said goal assisted by Erin Connors.
Coincidentally, Asay enjoyed another statistical milestone versus Union. Her final point in Bears paraphernalia took place against the Dutchwomen in a November 1, 2008 contest. Scored by PaigePyett, Asay collaborated with Jacqui Pierri, a future Clarkson Cup champion with Brown teammate Erica Kromm, on the assists.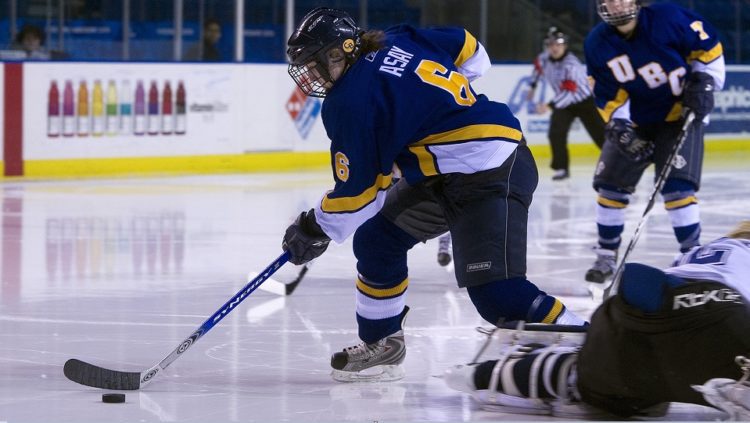 Spending a pair of seasons at UBC, playing for head coach Jen Rawson, Asay provided strong leadership for a young program, featuring the likes of future Isobel Cup champion Tatiana Rafter and Rebecca Unrau, who played professionally in Sweden. Although Asay's final season of university hockey was a difficult one, as the Thunderbirds managed only a pair of wins, her sense of sportsmanship and determination continuously set a positive example.
Finding the back of the net in her second last game with the Thunderbirds, it signified another valiant effort for the assiduous Asay, determined to end a difficult season on a solid note. The February 11, 2012 match versus the Saskatchewan Huskies saw Asay score her final USports goal, putting the puck past goaltender Mackenzie Rizos. Later in the decade, another Ivy Leaguer, Cornell's Kelly Murray joined UBC, earning All-Conference honors.
Running parallel to Asay's on-ice heroics involved excellence on the diamond. Having first appeared with the Canadian national baseball team as a teenager in 2005, she blossomed into a key member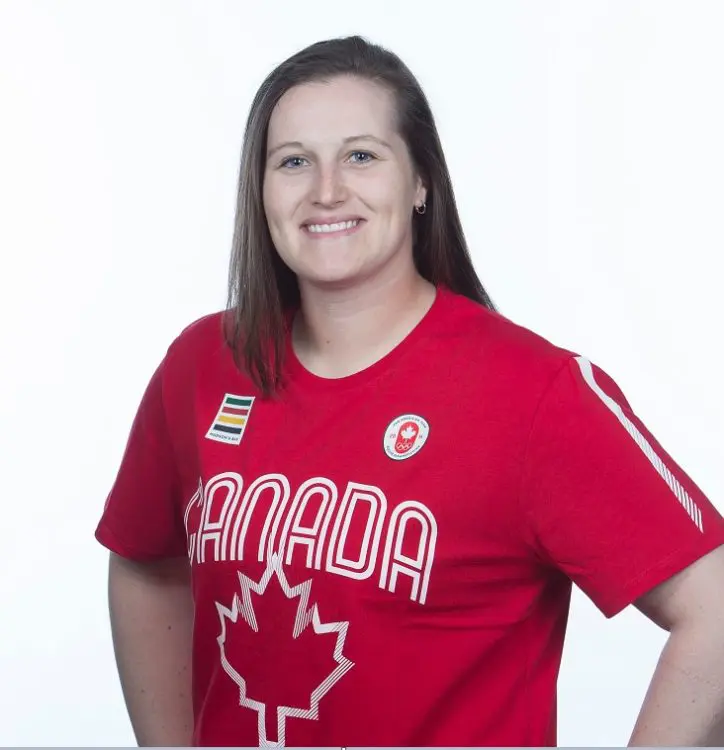 of the pitching rotation. Also capable of competing at the catcher and designated hitter positions, it stood as testament to her versatility, one equally evidenced by Asay's abilities as a two-sport star.
Enjoying numerous bronze (2004, 2006, 2012) and silver (2008, 2016) medals in the Women's World Cup of Baseball, the 2015 Pan American Games served as a seminal moment for Asay. The milestone of the first women's baseball tournament at the Games, highlighted by a podium finish for Canada, was part of a richer narrative. 
The presence of multiple members on the roster possessing a women's ice hockey background was truly remarkable. In addition to Asay, other baseball stars with hockey on their sporting resumes included Ashley Stephenson and Kate Psota, both teammates with the Laurier Golden Hawks, along with York Lions alum, Autumn Mills, also a former Marion Hilliard Award winner. 
Perhaps the most captivating of these remarkable athletes involved Ella Matteucci. Merely 16 years young when she called Asay a teammate at the Pan American Games, Matteucci would continue to carve a tremendous on-ice legacy. In addition to winning the NCAA Frozen Four with the Clarkson Golden Knights, she would don the popular green jersey of the Markham Thunder, participating in the club's final season. 
Along with Delta, BC native Marika Lyszczyk, who made history as the first woman to play at the catcher position in men's NCAA baseball, competing for the Rivier University Raiders in Nashua, NH, their achievements served as tribute to Asay's contributions towards female sports stars from the Pacific province. Fittingly, Lyszczyk called Asay a teammate for the 2019 COPABE Women's World Cup qualifier, the event bridging two generations of elite baseball talent, demonstrating the barriers broken and the empowering future for women in sport.
Undeniably, Asay's efforts towards eradicating such barriers through her inspiring efforts shall always stand as her greatest legacy. From celebrated standing as a hockey hero on both sides of the border, to international play in baseball, she also displayed a cerebral side, earning a PhD in Forestry from the University of British Columbia. Although "Doctor" may have been Asay's title, she will live on perpetually as a role model and a cherished friend in the hearts and minds of those who found tremendous inspiration. 
Team Canada image obtained from: https://olympic.ca/team-canada/amanada-asay/ 
UBC image obtained from: https://gothunderbirds.ca/sports/womens-ice-hockey/roster/amanda-asay/1324
Related Articles