Representing a new generation of sensational scorers, Samantha Cogan is currently playing her trade with the PWHPA. Currently aligned with Calgary's Team Scotiabank, earlier this year, Cogan participated in the inaugural Secret Cup, earning a pair of assists.
Raised in Canada's Capital Region, Cogan first made headlines as a member of the PWHL's Nepean Wildcats. A perennial contender in the league's scoring race, she was a key factor in propelling the club to a championship.
Equally notable during PWHL years, Cogan gained the honor of wearing the Maple Leaf, competing twice at the IIHF Under-18 Women's World Championships. With the Canadian contingent, several of her teammates would become future PWHPA stars, including the likes of Loren Gabel and Kassidy Sauve, among others.
The feelings of competing internationally were recently rekindled. Named to the inaugural Secret PWHPA All-Stars, Cogan graced the ice for a three-game exhibition series against the United States National Team. She was joined on the All-Star Team by fellow Team Scotiabank skaters Brigitte Lacquette and Sarah Potomak.
Contested in Blaine, Minnesota, the United States emerged victorious in all three games. In spite of the result, Cogan made her mark in the opening game, her playmaking skills certainly on display. Earning an assist on a third period goal by Alexa Gruschow, a one-time scoring champion and MVP in another league, the two collaborated on spoiling Alex Rigsby-Cavallini's bid for a shutout. Coincidentally, Cogan and Rigsby-Cavallini both played for the University of Wisconsin
"It was a great feeling. It brought back a lot of fun memories. Playing against players of that calibre definitely inspires you to keep improving your game. I was really excited about the opportunity (to be an All-Star). I knew it was going to be a fun experience and I was honoured to be a part of it."
Just as relevant for Cogan was the sense of reunion that encompassed being a Secret PWHPA All-Star. In addition to the former Hockey Canada U18 competitors, a handful of All-Stars once called Cogan a teammate at the NCAA level.
Having worn the colors of the dynastic Badgers from 2015 to 2019, calling Miracle on Ice member Mark Johnson as head coach, Cogan was the 26th player in program history to reach the 100-point plateau. Appearing in the NCAA Frozen Four national championship game twice (2017, 2019), Cogan would finish her Badgers career in grand fashion, capturing the championship in her senior season.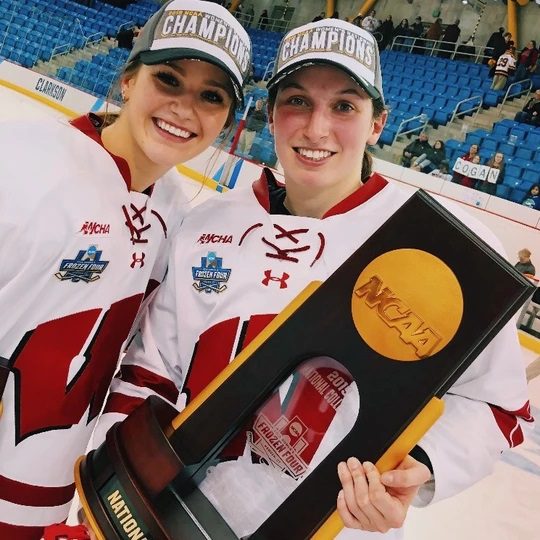 Among Cogan's fellow Badgers alumnae garbed in the All-Star gear included Sophia Shaver, Lauren Williams and Baylee Wellhausen. Coincidentally, the aforementioned all play for Minnesota's Team Adidas in PWHPA tournament play. In addition, other Badgers alumnae that currently play in the Association include Melissa Channell, Emily Clark, Ann-Renee Desbiens and Sarah Nurse.
Of note, Shaver also played at Wisconsin during every one of Cogan's four years. In a tinge of irony, Shaver wore the Stars and Stripes for Team USA at the 2015 IIHF U18 Women's Worlds, calling Cogan a rival. Sharing in so many tremendous milestones at Wisconsin, adding to the program's remarkable legacy,
"I actually got to catch up with three of my former Badger teammates. Not only was Sophia Shaver on the All-Star team, but also Baylee Wellhausen, and Lauren Williams. They are great teammates and even better people. So, it's always a good time reminiscing and talking about our shared experience of being Badgers."
Feature Image: David Holland
Related Articles