Having served as a captain for two seasons with the Carleton University Ravens, based out of Canada's capital region, Tawnya Guindon's game blossomed under the values of strong leadership. Also equipped with a resilient determination and a perspective in which team success benefits everyone, these qualities have become essential. Enabling her to be an asset for any team that she plays for, Guindon is on the path towards a satisfying chapter in her hockey odyssey.
Since her final game for the Ravens, the transition into professional athlete has transported the gregarious Guindon into a much larger world. Akin to so many Ravens alumnae, she has enjoyed a treasured opportunity to bring her skills to European play. In addition to Guindon, this most recent season in Europe resulted in other Ravens making their mark internationally. Delaney Ross, a former USPORTS All-Rookie selection called her sister a teammate in Poland, while Audrey-Ann Boutour, a veteran of play at the CBHA Nationals, graced the ice for Austria's Neuberg Highlanders.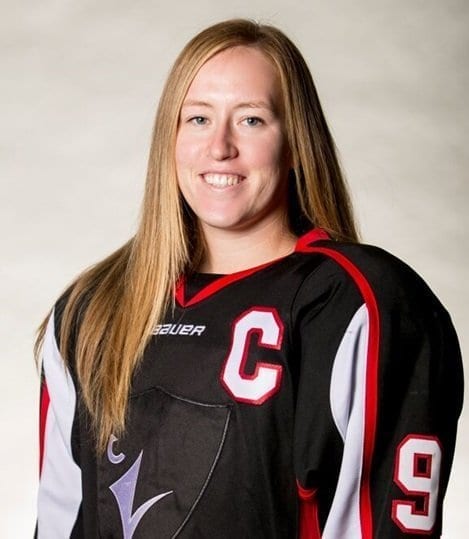 Calling the Swedish Women's Hockey League home, Guindon has adapted quickly, displaying both, a willingness to learn and an even stronger work ethic, signs of a mature player who is destined for greater seasons to come. Recognizing how the experience has also accounted for a tremendous personal growth, one of the Ravens' most charismatic players has evolved into a more complete player, grateful at the opportunity to ply her trade in a grander setting,
"I enjoy playing against some of the top players in the world and getting the chance to meet people from different countries. This experience has allowed me to grow not only as a hockey player but as a person as well."
Recently completing her second season of pro hockey in Sweden, it also saw Guindon garb the paraphernalia of her second team. During the 2017-18 season, her inaugural sojourn in the professional ranks involved donning the colors of Goteborg, accumulating a total of 26 points, on the strength of 15 goals, in 36 games played. Guindon ranked second in team scoring while fellow Canadian, Genevieve (who skated at the NCAA level with the Clarkson Golden Knights) ranked first.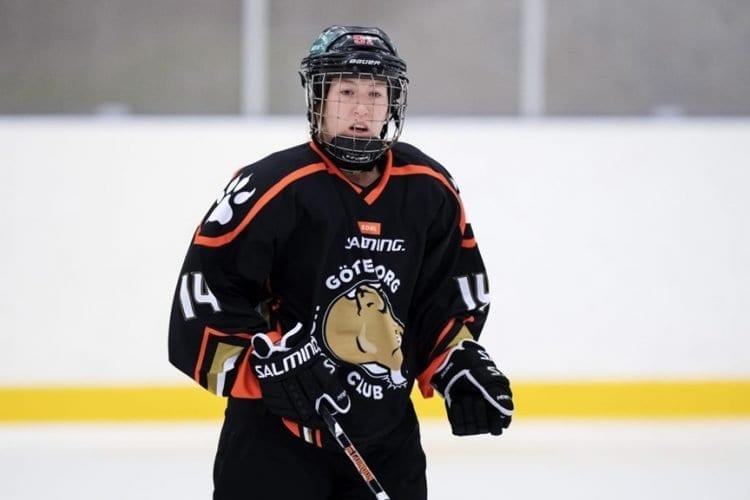 Making the move to Leksands IF, part of the league's upper echelon, it marked an upward trajectory for Guindon. Although her offensive production dipped slightly, logging 17 points, she still emerged as a strong contributor.
Ranking among the top 10 in scoring, Guindon also enjoyed a major statistical improvement. This season saw a reduction in her penalty minutes, spending only 10 minutes in the box, displaying a very disciplined approach. As a side note, among the top 10 scorers on the club, only Emma Lind had fewer penalty minutes, logging four.
Guindon also gained the opportunity to play Goteborg thrice, opposing her former team on October 20 and 28, plus a November 24 tilt. Of note, the first game versus Goteborg proved to be one defined by achievement. Enjoying a multi point game, she assisted on a pair of goals by fellow Canadian Danielle Stone, including the game winning tally in a convincing 5-0 final. Worth noting, Anna Borgqvist, who played for Sweden at the 2018 Winter Games was the other skater who logged both assists.
"It was a smooth transition for me, because Leksands IF did a good job at helping me settle in very quickly. The hockey expectations were greater this season, but I played on a very talented team with very good leaders which made the transition easier."
Among four players from North American on the Leksands IF roster, Guindon was joined by Stone, an alum of the CWHL's Calgary Inferno. Completing the group was a pair of alums from the University of North Dakota, Samantha Hanson and Gracen Hirschy. All collaborating to provide their club with a chance to be competitive, this fantastic foursome placed among the team's top 10 in scoring.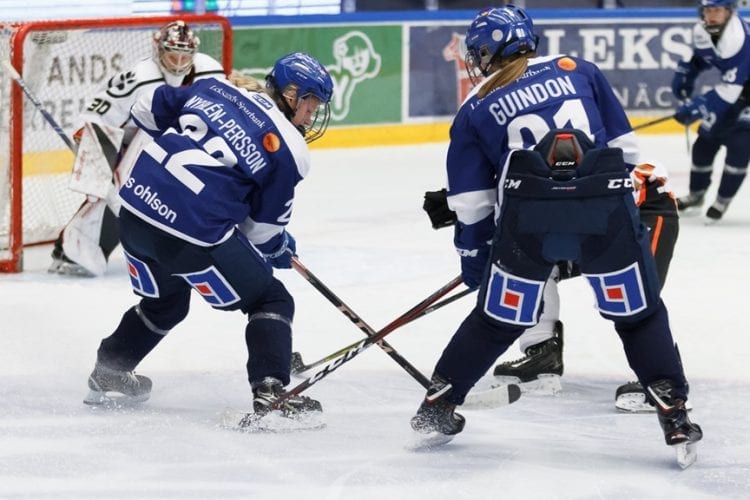 Adding a tremendous sense of relevance for Guindon in this breakthrough season was the opportunity to see a familiar face in the stands. Throughout her years at Carleton University, home ice advantage took on a richer meaning. Having grown up east of Ottawa, the regular attendance of family at Ravens' home games was a luxury truly cherished.
Understandably, playing in Sweden does not allow that same privilege. When Guindon's stepfather made the sojourn to Sweden to watch her play professionally at Tegera Arena, there was a combination of jubilation and validation, providing the skilled forward with a hallowed highlight that rekindled the feeling of playing back home,
"My favorite moment of this season was probably having my Stepdad come all the way to Sweden to watch me play. It is nice to have that family support in the stands."
Among the other highlights of Guindon's sensational season with Leksands IF also involved an opportunity to play in the postseason. As the last three seasons of her time with the Ravens involved missing the conference playoffs, while Goteborg did not qualify in the 2018 playoffs, Guindon's desire to play for a championship, bringing a greater meaning to her solid regular seasons of on-ice effort, proved to be elusive.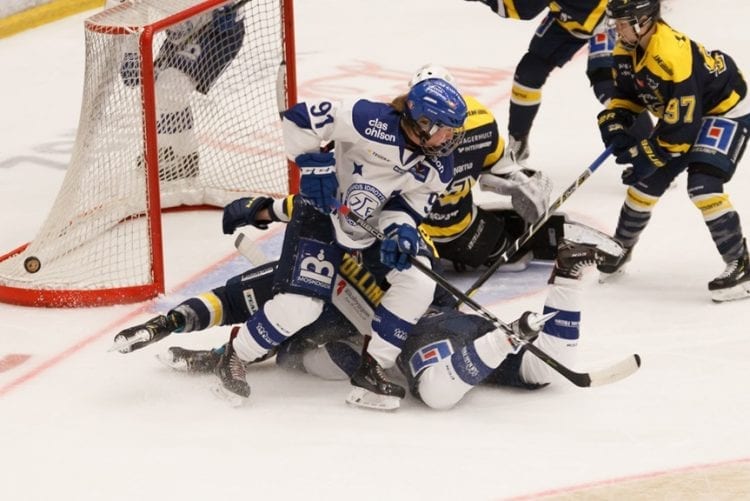 Elated at the prospect of returning to long overdue postseason play, understandably resulting in significant anticipation, it was also part exhilarating and part stimulating. Augmenting her competitive drive, Guindon was an apt contributor, absorbing the essence of intense competition, magnified by the prospect of emerging as the last team standing. Despite a championship eluding Leksands IF, as they were bested by HV 71 in the quarter finals, (Lulea would best Linkopings for the title), it served as a highly positive learning experience, supplying Guindon with motivation that greater things shall be within reach in the season to come,
"It was very exciting to play in the playoffs this season with this club especially. We did not get the result we wanted but having the opportunity to compete alongside these girls was a true special moment."
"All quotes obtained first hand unless otherwise indicated"
Related Articles